Dear Busy Event Planner,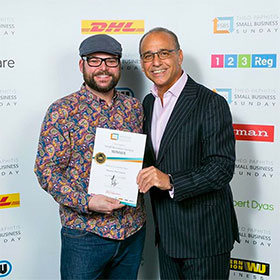 Is it your responsibility to organise the catering for the big corporate launch? Perhaps you've been told you've got to plan the Christmas party but everyone has different dietary requirements and you have no idea where to start? Are you worried that you won't be able to pull off the outstanding food your boss expects and it will affect your career?
Imagine the embarrassment of ending up with bland, boring food that everyone turns their noses up at. Or someone having an allergic reaction to their food due to a mistake and ending up in hospital!
The last thing you want is for everyone to blame you for terrible catering that winds up costing your company a new client. Or worse, never being trusted to be in charge of anything ever again.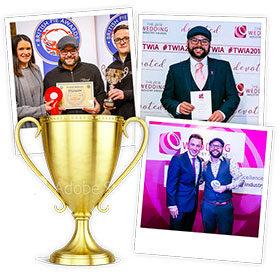 We know that when you're planning your company's big event that you need to know everything is going to be perfect.
You're imagining delicious, mouth-watering food that will really take your guests tastebuds on an adventure they'll never forget. You want the catering to be exactly as you've planned rather than the usual dull buffet food. You want food that will have people taking notice and telling you it was the highlight of the event.
With bespoke menus you can create the ideal food for your event. Whether it's canapés being served by our professional, uniformed staff to tantalise your guests on arrival, stunning grazing tables to amaze the eyes or a full three-course meal presented in style, your food will be tailored to your vision.
You'll be able to focus on your guests and when it comes time to eat you'll be able to tuck in with everyone else without reserve and enjoy the delicious feast we've prepared for you.
If that sounds good, you'll want to keep reading and here's why…
Multiple winners of some of the UK's biggest industry awards

including The Wedding Industry Awards, English Wedding Awards, The British Pie Awards and more.

Over 25,000 happy event guests fed and counting

100% bespoke menus to capture your tastes and tell your story

Over 125 awesome testimonials from delighted newly-wed couples

Winner of 2018 SBS Awards by BBC Dragon's Den star Theo Paphitis

The UK's only author of TWO Amazon 5-star rated wedding inspiration books
But this isn't about us, it's about you getting the kind of food you need to really impress your guests.
Here's What You Can Expect From Thomas The Caterer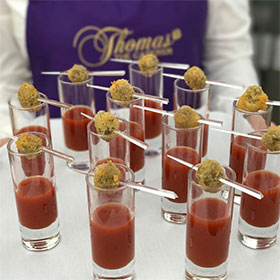 Check Availability For FREE

– Once you've got in touch with us we can create specially tailored quote for your event so you know that you're within budget right away with no hidden charges.

Experts In Food And Catering

– Our team of dedicated experts are here to help you plan your bespoke menus from scratch or provide mouth-watering ideas if you aren't quite sure what you want yet.

FREE premium taster samples

– We know you'll want to try before you buy, and when the food is this delicious, why wouldn't you? Hand-selected samples can be delivered to your place of work so that you can wow your boss with a fantastic taster session.

Venue Site Visit

– As part of your package we'll conduct a thorough site visit to check if we can cook on the premises. Don't worry if we can't, your food will still be just as fresh and amazing as if it had just popped out of the oven!
Relax! Your event is in safe hands
Over 125 glowing testimonials from super happy customers

Over 25,000 delighted guests have attended events which we've catered

Approved by BBC Dragon's Den star Theo Paphitis

and other highly recognised industry awards

To Thomas, Lynsey & all of your Fab Team! THANK YOU! For the best canapés pies & mash! pud and Cheese!! we've ever had. How lucky were we to even get the day we had going ahead!! 2020 is one for the history books a tough old year but with some lovely days in between Thanks…

Eloise and Richard's wedding at Hawthorn Farm! "If I could choose to put 11/10 on all of the above I would. Thomas the caterer are incredible in everything, from the first contact, to the customer services and the food is WOW. We were very very pleased to have found Thomas the Caterer to cater our…

Wedding Catering - Derbyshire

Francesca & Mat's Tipi wedding in Woodhouse! "From start to finish, Thomas and his team were amazing at delivering a wedding breakfast that was us down to a tea! We talked through all our favourite foods and Thomas created a menu across all different cuisines for our day. Everyone at our wedding commented on how…

Wedding Catering- Leicestershire
Take The Stress Out Of Your Event Catering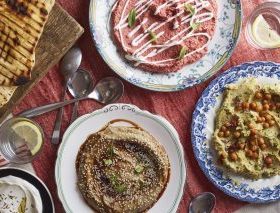 Organising your catering may seem like an impossible task on top of your already busy schedule but don't worry, we're here to take all that off your mind.
Not only will you get your unique food prepared to perfection, we'll also take care of setting your tables and serving your drinks. Our Front of House Manager will take care of every aspect of your catering, including any special instructions for anyone suffering from allergies or food intolerances.
We even have other trusted suppliers we can put you in contact with in case you want to hire something a little more speciality, like a mixologist to conjure up colourful cocktails for your guests. We work with many outstanding companies, just let us know what you've got in mind.
---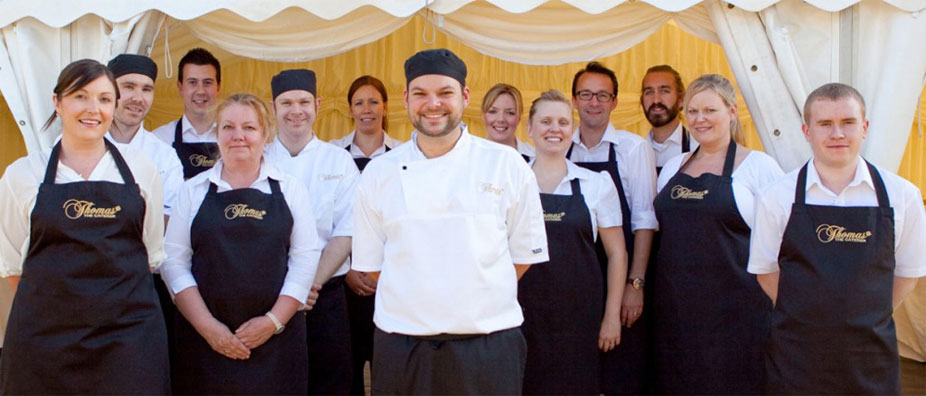 Check Availability For FREE! – It Only Takes a Minute
You're reading this page right now because you want:
Award-winning catering to the very highest standard to ensure your guests have an unforgettable time
Your food prepared and served by friendly, professional staff who are part of a dedicated team that runs like clockwork
An event that your guests, colleagues and boss will be congratulating you about non-stop
As you know already, one of the most important things is your date. Our schedule does tend to book up fast (sometimes years in advance). Make sure you don't put this off to make sure you don't end up being disappointed.
Simply click on the button below and check availability within a few hours. You can then find out in your own time which options work best for you.
Or if it tickles your fancy, you can drop us a line on 0116 3260 529 and one of our awesome humans will check the date for you whilst you're on the phone.
What If I'm Not Sure Yet?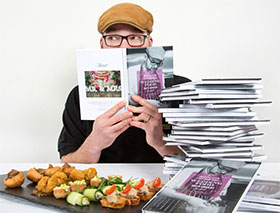 That's completely understandable and we wouldn't want you to rush into anything. You're probably worried about budget, location or just need to be sure that we're right for your company. That's okay.
The best place to start is by checking availability and getting a free quote to see if we're able to help you on your chosen date, along with lots of other useful bits of information you may find helpful.
Just click the button below to start your free quote now.
---
Do You Cover My Location?
We regularly work in Leicestershire and other surrounding areas and sometimes even further afield. If you want to confirm that we're ready and available at your location and on your date the best place to start is by before it's too late… it's free and only takes a minute.
You Really Have Nothing To Lose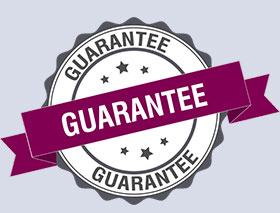 We're so confident you'll love your event catering that we even guarantee it.
"If at least five people don't come up to you and say how delicious, wonderful, tasty or any other amazing adjective the food is I will take you out for dinner to say sorry about that!"
Remember, we're not asking you to make a decision today. Just to check to see if we're available on your date and give you a better idea of what options are available to help with your planning.
They'll be no pushy sales calls, just helpful advice from our catering experts if you feel you need it.
Getting your free quote only takes a minute and means you can browse this at your leisure.
But Our Unique Catering Isn't Right For Everyone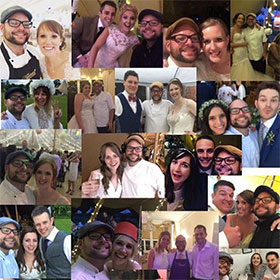 Though we're a small business, our talented and dedicated team has grown Thomas the Caterer into a multi-award winning name that stands for only the highest quality food and customer service. Our unique brand ensures we deliver only the best for your event, helping you get every important detail just right.
If you're looking for the quickest, cheapest possible catering option out there and would be happy with a run of the mill, standard buffet, then unfortunately, we're probably not the best company for you.
But if you want something amazing and truly special that you'll reap the benefits of organising, then stop what you are doing right now, and check availability for your date for FREE by clicking the button below.
Frequently Asked Questions
1) How long will it take for my availability check and quote to arrive?
Once you've let us know your email and your ideal date, the pricing guide will be emailed across to you right away. If you have any questions about pricing, availability or anything else then the team is always here to help out.
2) What if I prefer a set menu?
There is a menu pack to drive your inspiration or for you to choose for your event. You can choose from previous menus we have created for other events or mix and match them to create your own; it's easy.
3) Can you cater at my location?
We cover events all over the East Midlands and slightly further afield, as well as Leicester itself. Just let us know where you're thinking of and we'll be able to tell you if we can help. Part of our process includes a thorough site visit to establish if we can cook onsite. If we can't then there's no need to worry, your food will still be as hot and fresh as if it had just popped out of the oven.
4) Do you provide drinks as well as food?
Yes. We offer a fully stocked bar service complete with rustic wooden bar, including 3 staff (4 if over 150 guests), plenty of ice and glassware for your entire event so you don't have to worry about sourcing a separate company for drinks. There will even be fresh bar fruit!
5) Can you cater my outdoor event?
We are experts in outdoor catering and have all of our own equipment. All we need to cater your outdoor event is a sturdy, spacious tent, a proper, even floor, good, bright lights, and an electric supply for our equipment. We supply our own gas for our ovens.
6) What about specialist dietary requirements?
We've got this covered. Once you let us know of any dietary needs such as vegetarian or vegan, any intolerances like gluten or lactose and any allergies that may affect your guests, we can specially cater to them all. Your front of house manager will take care of all of the above, ensuring all the correct meals are served to the right guests so everyone can enjoy their food without worry.
---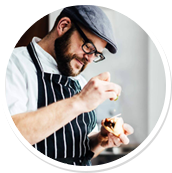 I look forward to helping you create a mouth-watering menu for your guests.
Thomas Bower,
Managing Director, Thomas The Caterer
5 Reasons To Check Availability & Get Your Quote Now
You'll be able to see if your desired date is available.

Remember, we book up fast, often a couple of years in advance, so don't delay!

It's so easy and only takes a couple of minutes.

Just click on the button below and enter your email and date

Join the exclusive club

of people who have had a fantastic, delicious, bespoke menu served for their event with Thomas the Caterer

Remove the need to worry about your event catering.

You can relax knowing your food is in the best hands and things are being taken care of by the experts

Don't miss out – Take advantage of our FREE, no obligation availability check

and price guide now before your date is snapped up by someone else.