So Christmas is coming! It may only be October but the recent drop in temperature reminds us all that the festive season is just around the corner. Before it creeps up on you, get your party catering in Leicester sorted in style!
So party season is almost upon us once again and this year, I have developed the most amazing Party Package! Alongside my good friend Thomas, of Mambo Mobile Bars, we've created the ultimate party catering extravaganza. Imagine having the BEST Caterer in Leicester and the BEST Cocktail Mixologist at your Christmas Party this year – it would make for a pretty spectacular shebang, no?!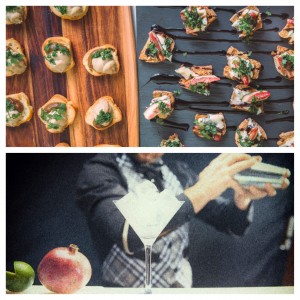 As part of this amazingly fresh, complimentary collaboration, we will provide;
3 Canapes
3 Bowl Foods
4 Cocktails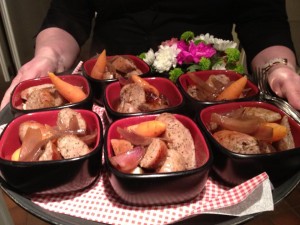 Christmas Party Catering in Leicester
Forget naff cold buffets or stuffy, formal sit down meals – this year it's all about the relaxed party experience! Each guest can feast on 3 delectable Canapes, before devouring 3 bowl foods, washed down with a range of deliciously fresh, tasty cocktails mixed by our Master Mixologist!
Bowl Foods are the perfect balance between a hot, formal, sit down meal and a self-service buffet and are perfect for Christmas Party Catering. Choose a selection of meals of your choice, served in miniature (but not too miniature!) for a relaxed, but delicious Christmas themed feast.
Forget the dry Turkey and boring Christmas Pud – do something different this year. Some examples of bowl foods I have provided for party catering in Leicester are below…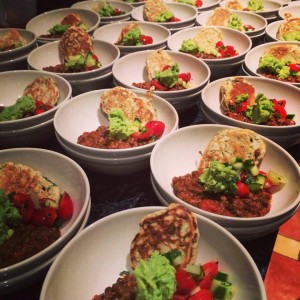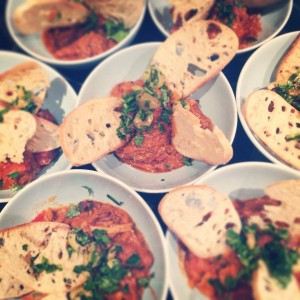 You get all this for just £60 per person, (based on a minimum of 40 guests). In addition, you and your partner eat and drink for free (saving £120!) on the evening of the party, just for being the hosts and organising the event!
For more information on Party Catering in Leicester with Thomas the Caterer, or to book a spectacular Christmas Cocktail and Canapes Party, call Thomas today on or enquire here.