Last winter I was approached by a very cautious bride to be named Lauren, her feet had been burnt, as she had already had a bad experience with a caterer.
That's the bad part over.
The rest was pure magic. Lauren & Ian have a story that well could be made into a movie and their wedding catering really tells a great story.
Are you sitting comfortably? …. then I will begin.
Lauren and Ian met of Facebook, he poked her she poked back etc. They took a chance and met each other after a few months of online courting (it's the modern way kids) Ian was training as a swimmer for the olympics… Settle down ladies!  While Lauren works in marketing for a large brand I cannot mention. To reach olympic standards Ian took a place training in America a million miles from where Lauren was, but love was blooming so they continued a long distance relationship. However, visa problems and tight training schedules meant time to visit was difficult to find.
When Lauren's visa was granted she jumped on the first flight and went to America and the rest truly is history… Well they do say that absence makes the heart grown fonder…
I won't tell you too much about Ians proposal but it included a Plastic bottle, a dog (Brody),a ring,a lake and a massive risk that Brody wouldn't retrieve the bottle (he did!)
They have travelled around the world together and this is where the theme for most of the wedding was born, though places they have been together or spent special moments.
Lauren was honest with me during the initial consultaion and said how she just wanted to feed people! So I asked what Ian would love to have and after a few ideas, a decision was made by both Lauren and Ian.
Their menu:
Mixed Hummus and Pitta

Sausage, Mash,  Veggies and Lashings of Gravy

Eton Mess (Ian's Favourite)

I thought it was great! Really simple AND they had no doubt that most people will like it, and it was just what Ian and Lauren chose together a genuine "Menu You" for their wedding catering.
Lauren said this about the whole experience with Thomas the Caterer
"Originally I had an alternative caterer booked who let me down 5 months to the wedding so I was very apprehensive about finding and trusting another caterer, then along came Thomas.  From the moment I met Thomas he made me feel at ease, he was professional yet caring. I was totally up front with Thomas and said while food is your passion for me its a necessity for the wedding and while I'd like it to be beautiful in taste and appearance, I do have a budget to stick to. Thomas listened carefully and advised tastefully on options within our budget, to me this was perfect as so many caterers fit you and your wedding around the menu but Thomas fits the menu around your wedding. He made me realise that my thought process around the food being a 'necessity' was actually not true it was such a huge part of the day. 7 months on and our guests still tell us how amazing the food was and how it perfectly portrayed our style for food. 
On the days leading up to the wedding Thomas was a god send, I don't know what I would have done without him. His calming and positive attitude enabled me to relax and know that it was all going to be fine. On the day itself Thomas and his team were fantastic, as soon as Ian and I arrived back from the church as husband and wife Thomas was there to greet us with his huge infectious smile. The service was faultless and their ability to work around us was just perfect as our guests decided to party for hours which meant Thomas was a lot later leaving the venue than planned but not once did he complain.
Thank you to Thomas and his team for making our day so perfect. I'm sorry it has taken me 7 months to thank you properly." – Lauren Hulme
Thomas the Caterer can always accommodate, whatever size of wedding and budget. I will always be able to create a menu thats right for you and your wedding.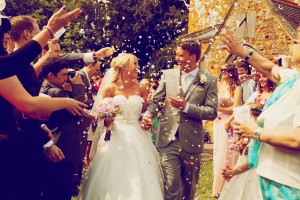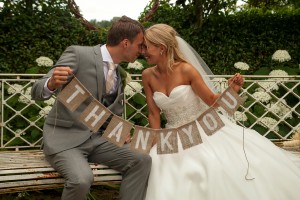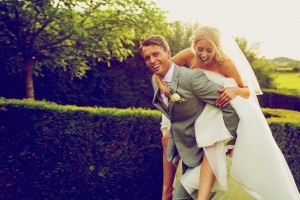 I hope you enjoyed this story as much as I enjoyed both writing about it and hearing about it first hand from Lauren and Ian.