With the glorious weather we've been experiencing recently, I was really excited for Adam and Ewelina's wedding which took place on 12th July 2014. They had opted for one of my favourite wedding catering options – a catered BBQ!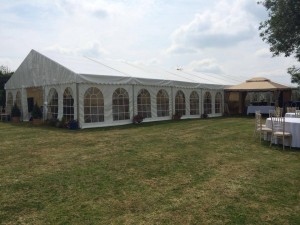 Their special day was set at their home in Billesdon, where they had a lovely marquee set up for 120 guests in their garden. They started their reception with Drinks, Canapes and Antipasti boards all served by my delightful team of staff, who, in Adam and Ewelina's words were, "nothing short of brilliant!"
They enjoyed a feast of pre-dinner nibbles…
5 Spice Seared Tuna, Rice Cracker and Herb Crostini, Soy Sauce and Wasabi Mayonnaise.
Mini Yorkshire Puddings, Braised Beef and Horseradish Sauce.
Smoked Salmon and Dill Cream Cheese Belini
Hoi Sin Duck Rolls with Cucumber & Spring Onion
Lime Baked Salmon Tartlets with Coconut and Coriander Cream.
Butternut Squash, Red Onion and Gruyere Frittata
BBQ Wedding Catering in Leicester
BBQ catering is always a popular wedding catering idea for a more relaxed summer wedding, but never fear, BBQ doesn't have to mean traditional chargrilled burgers and blackened hot dogs! Oh no! With Thomas the Caterer, BBQ wedding catering can entail a whole host of delectable flame grilled delicacies.  For Adam and Ewelina's catered BBQ wedding feast, their guest enjoyed:
Garlic and Lemon Marinated Chicken Skewers,
Pork Steak Marinated with Thomas' family recipe (a secret for generations!)
Beef Rump Steak Pave
Rosemary and Lemon Confit Vegetables Skewers
King Prawn and Swordfish Skewers Marinated with Lime, Chilli and Ginger.
Plus a range of delicious sides and salads, including;
Tomato, Feta, Cucumber and Olive Greek Salad
Mixed Summer Bean Salad with Red Onion and Traditional Shallot Vinaigrette.
Potato, Grain Mustard and Creme Fraiche with Rocket and Watercress
Mixed Leaf Salad
Bread Rolls and Butter.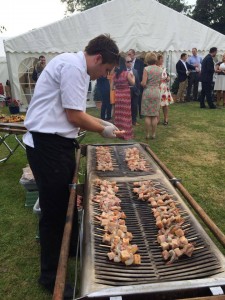 They rounded off their catered BBQ feast with these sweet treats;
Mini Lemon Cheesecake
Thomas's Signature Chocolate Brownie
Red Berry Pavlova
They also fancied a special picnic table with Camembert, Long Clawson Stilton, Sparkenhoe Red Leicester, Bosworth ash Goats Cheese, Honey and Clove Roasted Ham, Hambleton bakery Breads, Grapes and Celery. Later that evening I prepared delicious Pulled Pork Rolls with Apple and Herb Salsa.
Want wedding catering in Leicester with a difference, just like Adam and Ewelina? Let me help to tell your story… Call me today to discuss.