Hey!
I am excited to talk to you about bowl foods! This is something I have been doing for quite a while but its only just hitting the streets! It's becoming really trendy!
The concept is based on foods that can be eaten whilst on the move which is great for large gatherings over a meal time. Another word used to describe them is 'Roaming Dishes' so you can chat and walk around whilst enjoying a few!
Recently, I have done a few of these parties. It has been for a 50th and a 60th Birthday which I'm sure you will agree, are milestone events that need a Leicester Caterer to help with!
So what can I have! I hear you say?? Well pretty much whatever you like! Rob Lallo & his lovely wife Karen opted for:
Lovely Lincolnshire Sausages and Mash with Roasted Red Onion Gravy
Beef Stroganoff & Buttered New Potatoes.
Thai Green Chicken Curry and Rice
 Trio of Aranchini (Small risotto balls packed with flavour, bread crumbed and deep fried). A nod to Rob's Italian Heritage,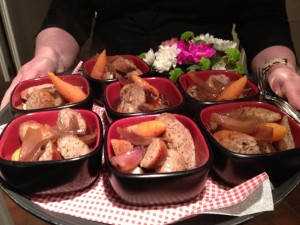 "Belissimo!"
Rob also had (lucky him) a delicious canape style dessert buffet, served on dry-ice incorporating Rob's favourite
Sherry Trifle served in Shot Glasses
Pecan Pie,
Lemon scented baked Cheesecake .
Creme Brûlée
Oh it was amazing! His guests were flummoxed with the amount of choice: I simply told them they need not choose and just take one of each as there was enough for everyone!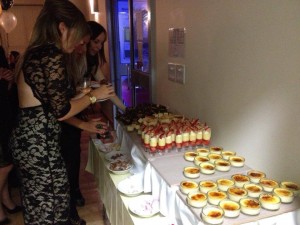 Here is what Rob said about the whole event!
"On Saturday 2nd November I celebrated my 50th birthday, I decided to employ Thomas to provide the catering largely due to the positive testimonials he has received form other customers, and his obvious passion for food. I can categorically state that the food and service were sensational! Not only did he match our expectations he exceeded them!
The quality and variety of the food was exceptional together with the attentive and courteous manner in which his staff conducted themselves. I have had so much positive feedback about the food from everyone I have spoken to since and have no doubt that he shall receive some quality referrals from me in the future.
I would urge everyone to look upon there existing network of contacts, their friends and family to engage the services of Thomas the Caterer for al their catering needs I can assure you they would not be disappointed.
Thanks once again Thomas for playing such a huge part in the success of the evening."
If you are considering having a party, wedding or family celebration, and need a caterer in the Leicester / Loughborough area call me on 01163 260 529. I would be delighted to come and see you have an informal chat and maybe even bring some taste testers!
Speak soon
Thomas
PS. Another very popular choice is Fish and chips served in paper cones like at the sea side!!