Let me take you back a month or two. It was a fairly grey day in July; I was all set to cater a delicious wedding feast for the lovely Emma and Chris. They had their ceremony at a local church before celebrating their marriage at East Bridgford Hill.
With a serious rain storm, 2 very interesting pairs of shoes and more picnic food than you could shake a stick at – it was definitely one of my favourites! All the amazing photos in this blog are courtesy of the exceptionally talented wedding Photographer, John Barwood.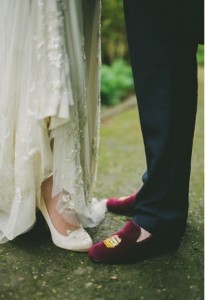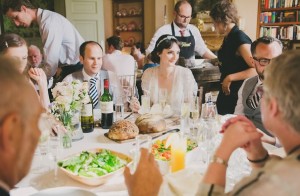 They had a marquee in the grounds of the house and had taken over one of the amazingly quirky rooms for their wedding breakfast. We started their banquet with Canapes before serving up a traditional English Picnic made up of the freshest, locally sourced produce, followed by my famous Chocolate Brownies. We had a little downpour in the middle of the day, but they partied on regardless!
Later that night we provided a scrumptious Meat Feast and left them to dance the night away with stomach's full of culinary delights.
Their Menu U was as follows;
Canapes
Mini Cheese Burgers
Posh Mini Pizzas with Various Toppings
Sun Blushed Tomato and Mozzerella Aranchini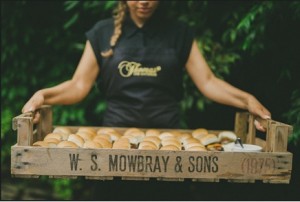 A Traditional Picnic served Emma and Chris's way
One Large Henry Walker Pork Pie,
Sliced Cured Meats including, Serrano Ham, Chorizo, Pastrami and Salami.
Four Scrummy Fresh Salads of their choice.
Two Sour Dough Loaves from The Hambleton Bakery.
Long Clawson Stilton, Lincolnshire Poacher, Bosworth Ash Goats Cheese.
Homemade Chutney, Pickled Vegetables, Hummus 3 ways served with Crudites, Mixed Olives and Antipasti
Homemade Vegetable Tart.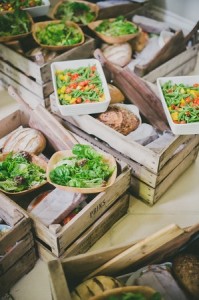 Chocolate Brownies
Coffee & Tea available all day on request.
Evening Food served at 9pm
Slow roasted Pork Shoulder served in Wraps with Burnt Apple Puree or Banana Salsa.
We also rounded up all the left over cheeses and breads to serve up in the evening!
Wedding Catering in Leicester and the surrounding areas with Thomas the Caterer…
So what is 'Menu U'?
I don't believe in Wedding Catering being categorised into Menus A, B or C – where you are given set menu options to choose from. I think your wedding should be your day – designed entirely around you, your tastes, your venue, your theme and your favourite foods. I don't offer set menus for couples to choose from. I like to meet with you, have a coffee and discuss what you want from your wedding feast.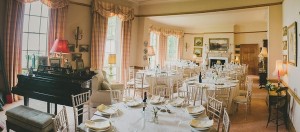 You might want a relaxed, quirky, English picnic feast like Emma and Chris, or a delicious catered BBQ like Adam and Ewelina, or a bespoke three course banquet with canapes where each course is designed entirely by you (with a little help from me!), like Alex and Kirsty!
Whatever it is you want from your Wedding Catering in Leicester and the surrounding areas, call me today on 01163 260529, or click here. I look forward to helping you plan your wedding!