Whatever way you wish to "water your guests' we've got it covered.
Bar Service options:
Option one – You provide the stock, we provide everything else
If you are looking to do a 'booze cruise' or source all bar drinks yourself but need a physical bar, staff to serve and glassware, we can help. Please note our staff are not trained to attach complex beer pumps or change barrels and are not professional mixologists. If you require lots of cocktails and draft beers we can make recommendations
Hire of our rustic bar – £180
Bar Staff (we recommend 3 staff, 4 if over 150 guests) Price on application.
Glassware hire – £4.80 per person for all glassware including welcome drinks, table glasses and bar)
Ice (based on 1 kilo per person)  – 1.20 per person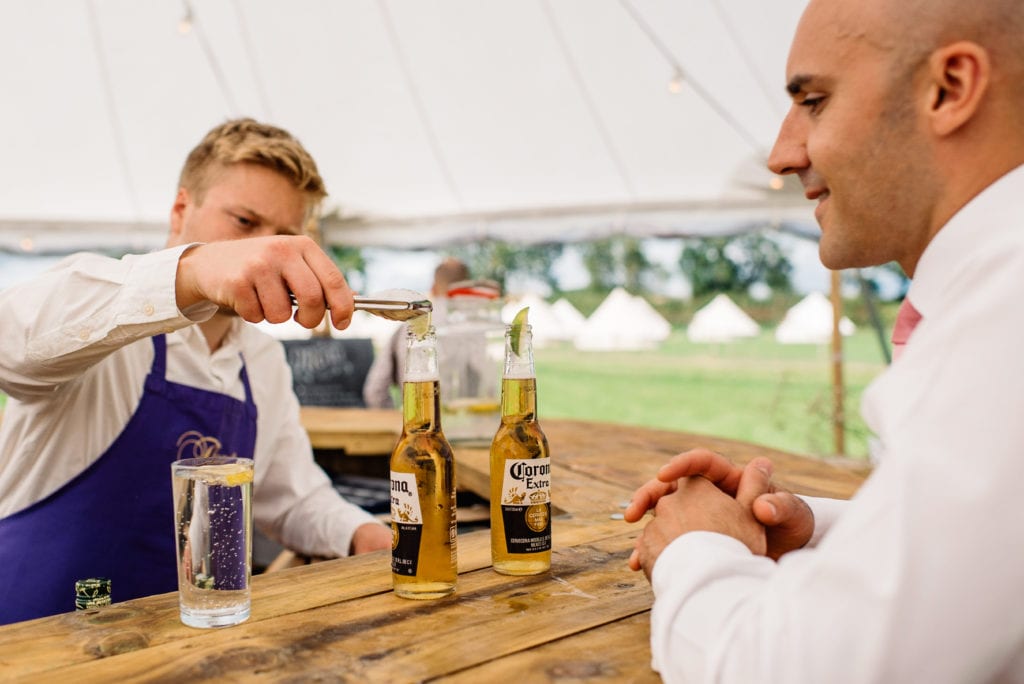 Option two – Fully stocked cash bar (Our most popular option)
We also offer a fully stocked bar service complete with rustic wooden bar, all staff, ice and glassware for your entire event.
Our bar service is very simple: We take a £700 deposit, this will be refunded to you after the wedding provided your guests have spent over the deposit amount. There is also a £25 non-refundable licence fee.
*Rustic bar – included
Bar staff (3 staff, 4 if over 150 guests) – included
Glassware for entire event (welcome, table and bar glasses) – included
Ice (based on 1 kilo per person) – Included
Tools – corkscrews, tongs etc – included
Bar fruit– included