10 Biggest Wedding Planning Mistakes (and how to avoid them)
It's exciting, magical and totally awesome planning your wedding but it can also be an ickle bit stressful. No matter how organised you are, there's always that pesky random curve ball that comes out of nowhere or that 'I wish I'd thought of that sooner' moment. Here's a few common wedding planning mistakes or road blocks you might face on your journey to the aisle and our advice to steer around (or steamroller right over) them.
Not putting yourself first.
You try so hard to please everyone, from grandma to your sister's cockapoo, that you forget the most important people, the two of you! You worry what granddad will make of the tipi ("you're getting married in a what, a tent?") or if Auntie Val can eat pulled pork with her false teeth and make so many compromises that it no longer looks like your ideal day. The laid back boho wedding is more formal than dinner with the queen and your intimate reception now resembles Hogwart's mess hall.
What to do
Be selfish. It's your wedding day and you'll only do it this once. If you can no longer see your personality or feel pressured into a direction that just isn't you, then stop. Take a few moments to imagine what your ideal day would look like if you were the only two people there. If your wedding is becoming dramatically different, it's time to make some changes.
Booking a venue without agreeing your guest list

Just popping in to a venue for an initial chat, a quick show around and a coffee with the wedding planner, what can go wrong? Before you know it, you'll fallen head over heels in love with the place. You can picture yourself in all those amazing photos she shows you. Frantic you'll miss out on your date if you don't act quickly, you've paid a deposit and suddenly have a venue. Hurray. But wait, the dining room only seats 80 and now you've created your guest list, it's at least 100. Time to call that lovely wedding planner at the venue – we can squash a few more tables in the back? What if we seat them in the garden, they could see the top table through the window, right?
What to do
Before you 'just pop in' to those gorgeous venues draw up a draft guest list for day and evening. If your wedding date is a couple of years away, granted the final list may change as friends move, marry, divorce or have little ones but generally speaking you should have a good idea if it's 50 or 500.
Ruling out a planner
You've got this, you don't need a planner, you have made lists about lists and have all things under control…until you don't. It's the morning of your wedding and instead of sitting sipping champers while your hairdresser works her magic, you are taking calls from the florist who's stuck in a sheep paddock as her sav nat can't locate your beautiful rustic barn or a teary Grandma who's got off the train at the wrong stop.
What to do
Hire in a professional to take control of suppliers and on the day management or at the very least delegate to a mini army of your nearest and dearest. People love to help so let them: Get Auntie Mary on flower duty, your brother to pick up grandma or Uncle Bob to build the lawn games. You should focus on one thing only – getting married!
Going over budget
You have your budget agreed and won't go a penny over it. But maybe just a few hours scrolling through Pinterest can't hurt or that amazing wedding show might give you some DIY inspiration. Suddenly you want it all, the sequined table runners, edible flowers, giant dream catchers, lace tied menu cards, personalised blankets. Little by little the budget starts to creep up. And that 'so easy to recreate a child could do it' display actually costs an arm and a leg and requires an army of stylists.
What to do
Work out your maximum budget and create an excel spreadsheet to cover all elements. Remember to build in a contingency pot for any last minute add ons such as additional plus ones (that just have to be invited).  Be honest with suppliers. Tell them your budget from the off and they'll work their magic. If you can't get the fairy-tale creation you've pinned for less than £5k they'll tell you. But they'll suggest other amazing ideas that work within your budget.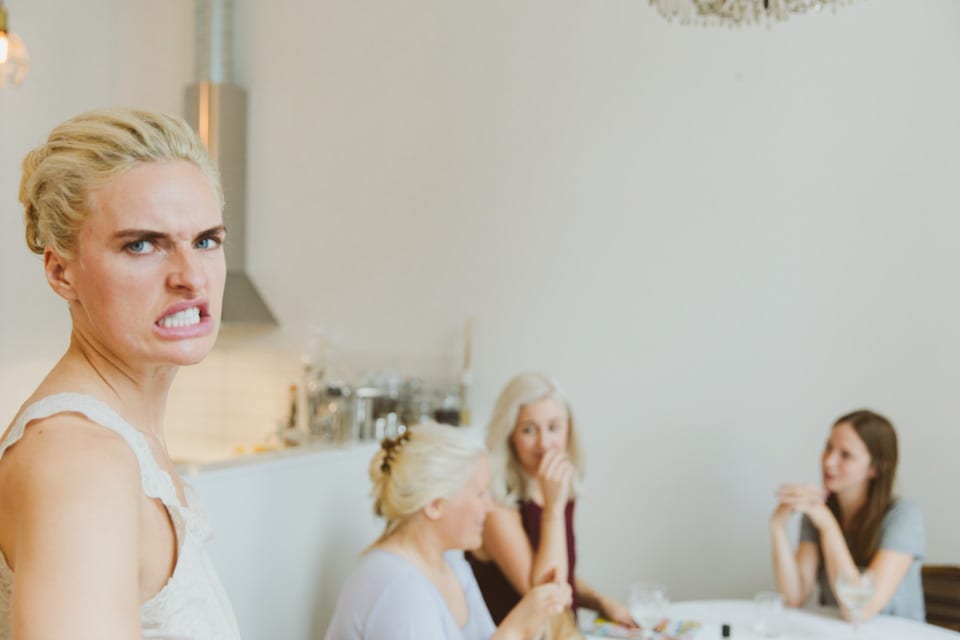 Too large a gap between the ceremony and reception
You're getting married at midday but not feeding everyone until 4pm which seems OK until you head off with your photographer to take loads of gorgeous snaps and leave your guests to their own devices. What could possibly go wrong? Queue liquid refreshment and lots of it..on an empty stomach. By the time you are ready for the speeches, some of the rowdier tables are doing a great impression of kicking out time down the Horse and Jockey…eekkk!
What to do
It's always a good idea to offer some tasty canapes or yummy snacks to keep guests going until the main meal and consider some fun stuff to keep them entertained; be it giant lawn games, space hoppers, magicians. Anything to provide a distraction from the bar, especially if it's a free bar.
Inconsistent plus ones
You've told Lorraine from work that she can bring along her cousin's friend's brother 'just as friends'. However, when Amy from the gym asked if she could bring the bloke she met on tinder two weeks ago you said no. Now Amy is fuming that she has to come "all by herself and feel like totally awkward all day" Drama drama.
What to do
It's always a toughie when you have limited numbers and can't give everyone a plus one. Wedding etiquette usually says if they are married or have a long term partner (even if you've not met them) they should be invited. If it's a new partner or they don't currently have a partner, it's up to you. Whatever you decide agree the rule and stick to it.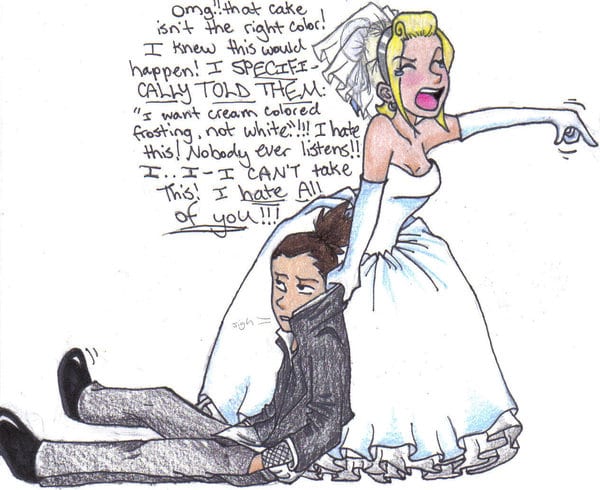 Copying hair and make-up styles that don't suit you
You have the image in your head of how you'd like to look on your special day, you've taken along photos of Sienna Miller looking gorgeous and Boho with effortless beachy hair and glossy skin so why has the stylist made you look like you'd been tangoed and dragged through a hedge backwards?
What to do
Be realistic, just because something looks great on a celebrity, it might not suit you and you want to look like you on your wedding day not someone else. Having said that a good hair stylist and make-up artist will make you look the best version of you so chat through your ideas together and maybe try a couple of different looks.
Forgetting staff meals
You have an amazing feast ready for your guests but what about the photographer, they have been on their feet and on the go all day and will definitely need something tasty to keep their energy up. And how can the poor poppets in the band get up and play another set without some form of sustenance? Oh and two of them are vegans who don't eat gluten or anything purple..
What to do
Check with all your suppliers how many people need fed and let your caterers know, they will do a special staff meal and price so you shouldn't have to worry about them having the full wedding breakfast. If only you'd selected the soloist rather than the seven piece band..
Not speaking to all of your guests
Uncle bob flew all the way from Australia to see his favourite niece get wed but he's hardly had a minute to tell you how bonza his life is in OZ. Your old workmates haven't had a second to bitch about the boss bringing her pug into the office the other week as you've been so busy trying to chat to everyone else.
What to do
The traditional welcoming line may have had its day but it was a great way to ensure you got to thank everyone. After dinner while everyone is still seated is a good time to walk around each table and chat to as many people as possible without missing anyone. Take some time away from the dancefloor in the evening to do the rounds and catch up with different friends and family groups. It's tough because, everyone will want a piece of you but they'll understand.
Forgetting to eat!
Your guests are fed, the staff are fed but you've been so busy racing around with photos and catching up with long lost relatives that you've missed the canapes and forgotten all about your panna cotta – you can't miss the panna cotta, it's epic!
What to do
Book us as your caterers. Team Thomas will ensure we save you a couple's platter of canapes and that you have plenty yummy stuff to keep you happy all day.
If you've got any other wedding woos or concerns you'd like to discuss get in touch we'd love to help.
Simply fill out the form, below and one of our team will be in touch.