What they don't tell you when you get engaged!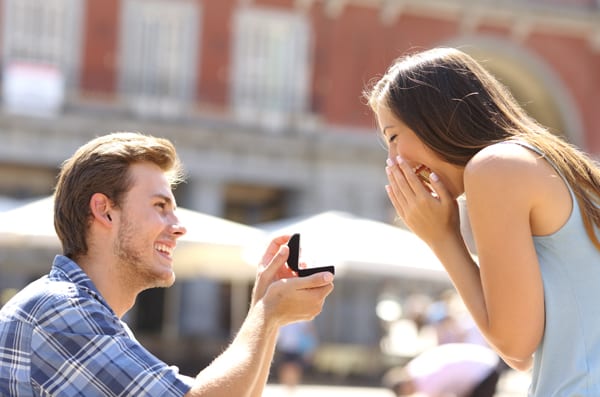 It's finally happened, the magic question has been popped, maybe on bended knee, possibly somewhere exotic and now you're engaged! How exciting!
So, what happens next? Get married, right? Well, yes, but there are a few things you might want to do before you race to the altar.
It's easy to leap headfirst into wedding planner mode, but take a pause, remember to enjoy that moment and all the exciting stuff that comes with being engaged. After all, a marriage proposal is the kind of memory that you should cherish for years to come, whether it happened in Leicester city centre after a few beers and a curry or on in a helicopter circling the Grand Canyon.
Life won't be the same again (hopefully it'll be doubly awesome) and it's time to start picturing the big day. Elegant stately home or festival feel in a tipi? Band or DJ? Chicken or Fish (or anything you'd like if you have the right caterers). But before all the preparation starts, here are a few things  they don't tell you when you get engaged! 
Zippity doo dah, you're engaged! What now?
1. Don't forget granny. You'll no doubt tell your parents pretty quickly but before you shout it to the world, start with other family members who don't want to find out second hand or worse still on Facebook; let them enjoy being among the first to know.
2. Check the ring fits properly and isn't going to slip off into the sink or cut off your blood supply it's that tight (after all, you're going to be wearing it for a while)!
3. Have your ring included in your home insurance policy, better to be safe.
4. Celebrate, have some fun! Planning a wedding can take up a lot of time so enjoy just being engaged for a little while.
5. Get a manicure – a lot of people will be asking to see your hand to cop a glance at that stunning ring on your finger (any excuse for a pamper session sounds good in our book).
6. Consider your proposal story, remember as much as you can because you're going to be asked about it a lot!
7. Start day dreaming about your perfect wedding, where you'll have it, who will come, what you'll wear, when it will be and how things will go.
8. Enjoy the exciting bits – start looking for inspiration in magazines, go to loads of wedding shows, get on Pinterest to get tons of ideas.
Then what? 
1. It's time to start planning for your big day! Consider the following in your wedding preparation:
2. Your budget – very important before you start visiting venues
3. The wedding date/ time of year
4. Theme and location
5. Check out venues and locations
6. Priorities – what is most important to you as a couple – decor, music, flowers, food and drink, the dress?
7. How and where the money should be spent
8. Choose your wedding party – you'll be your #bridesquad and ushers
9. Create a timetable for the lead up to the day
10. Shop for the dress and other wedding outfits
11. Book taster sessions to find the perfect wedding caterer
12. Hire the best suppliers and book them early to avoid missing out
Which brings me to…
Simply fill out the form, below and one of our team will be in touch.
*Please note prices start from £54 per person inc VAT
Get in touch
Check availability today!
Fill in your details and let's get started