Gill and Alex's Picnic Wedding Menu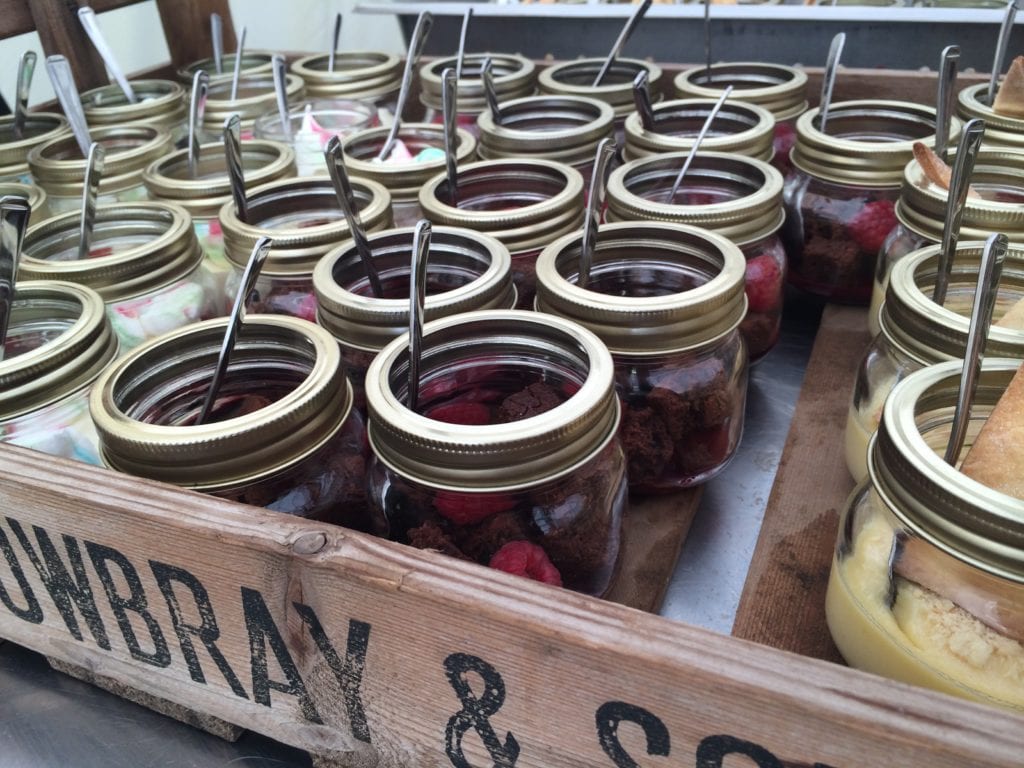 Gill and Alex wanted a menu that suited them perfectly as a couple; that their nearest and dearest would recognize instantly as 'so Gill and Alex'. So we sat with a cuppa and a piece of cake (standard procedure here at Thomas Towers) and discussed what style they had in mind. They were thinking of a a picnic, but classy…So we set about creating the perfect picnic wedding menu.
Having listened to all their favourite foods and tastes, we designed a menu that brought everything together. The canapes were ideal for summer – lots of light, fresh flavours with tons of colour.
The main served picnic style was a mixture of their fav dishes but with a funky twist. They opted for a trio of desserts (why settle for just one when you can have three?) served in cute kilner jars.
The evening snack was hot pork pie and mushy peas (Gill's a Bradford lass and this is a Bradford specialty).
So what did they eat?
Canapés
Pea Soup Shot
Steak Frites & Béarnaise Sauce Mayonnaise
Roast Pork & Apple Arancini
Smoked Salmon, Lemon & Herb Mascarpone Roulade
Dolcelatte & Fig Bruschetta Fine Herbs, Balsamic Dressing
Main Course
"Picnic" sharing style
Ham Hock & Parsley Terrine with Homemade Piccalilli
Mediterranean Vegetable Tart
Lime baked Salmon with Salt & Sugar
Thomas' mum's Beetroot, Feta, Chorizo & Mint Salad (yum yum)
Vine ripened Tomato & Red Onion Salad, Balsamic, Garlic & Olive Oil Dressing
Hand Cut Coleslaw
Charred Baby Gem & Pickled Shallots in Chardonnay Vinegar
Hot Buttered New Potatoes
Date & Walnut Bread, Sour Dough
Dessert
served in Kilner Jars!
Mix your own Eton mess
Lemon Tart – de-constructed
Chocolate Brownie Raspberry Coulis & Fresh Raspberries
Evening Food
Hot Pork Pies, Mushy Peas & Mint Sauce served in New York style takeaway containers and wooden forks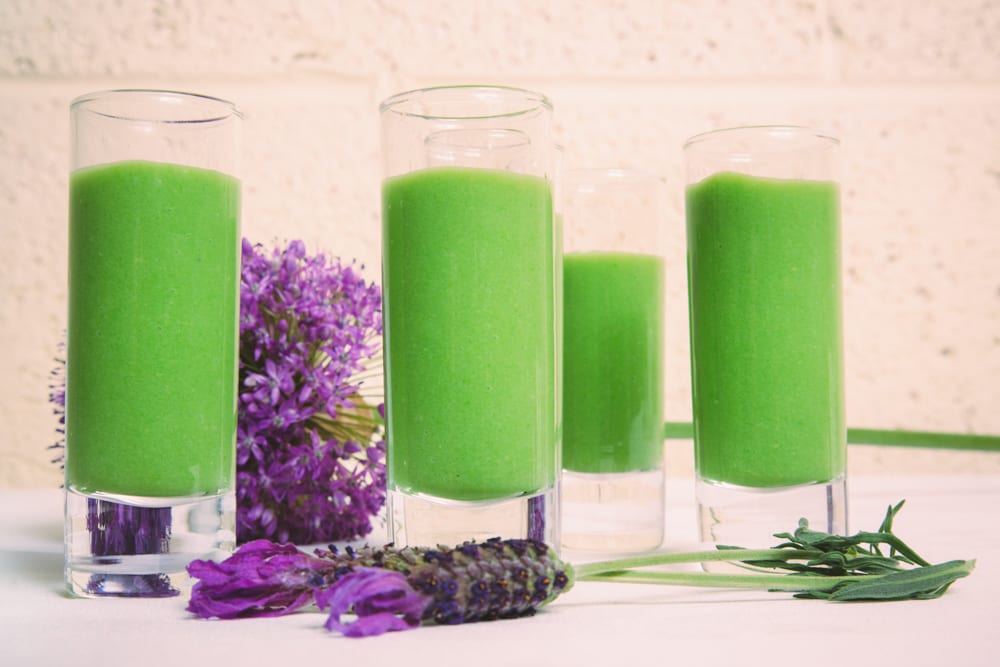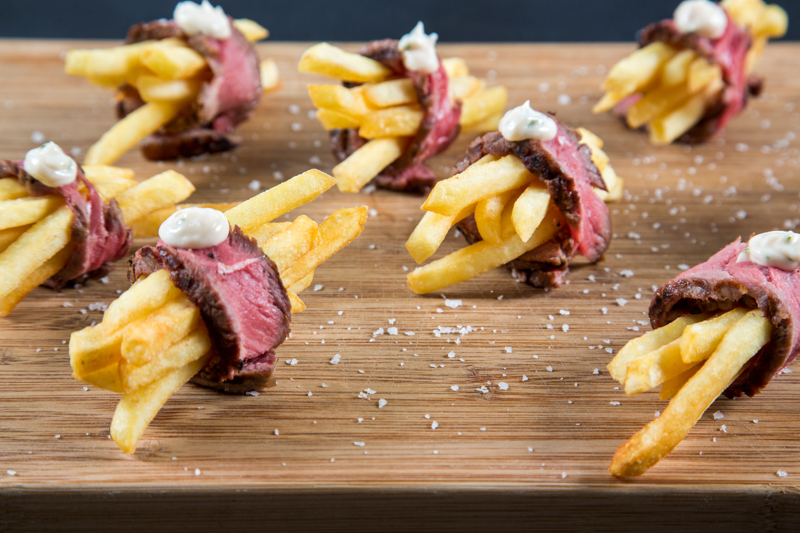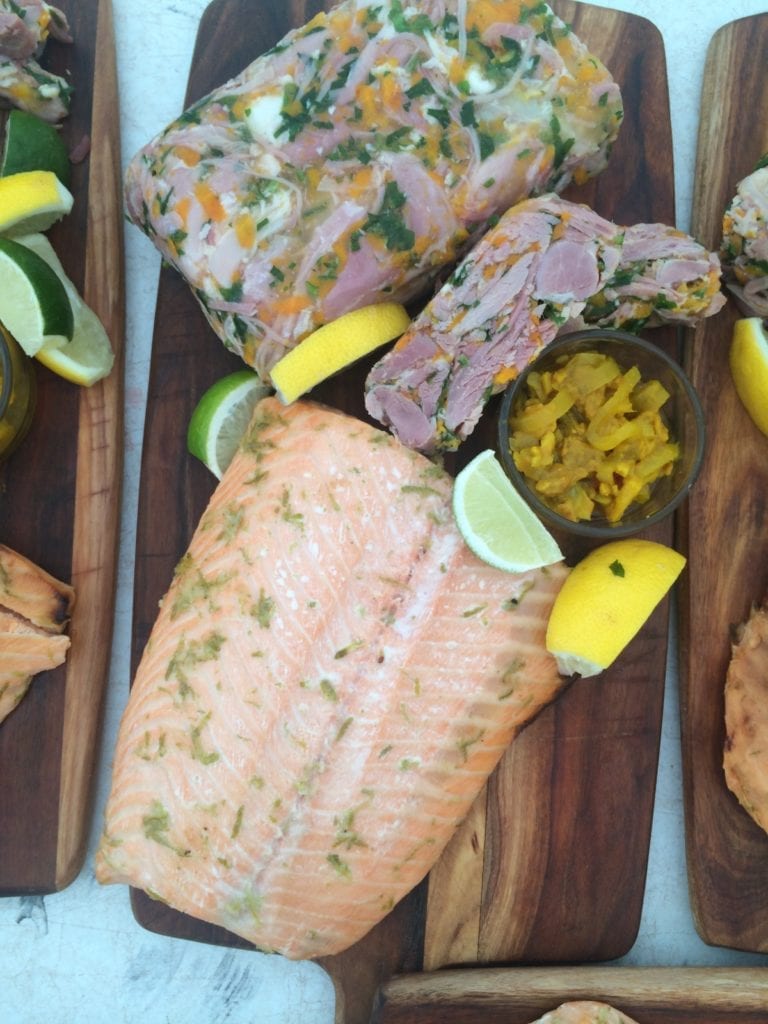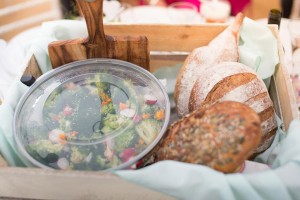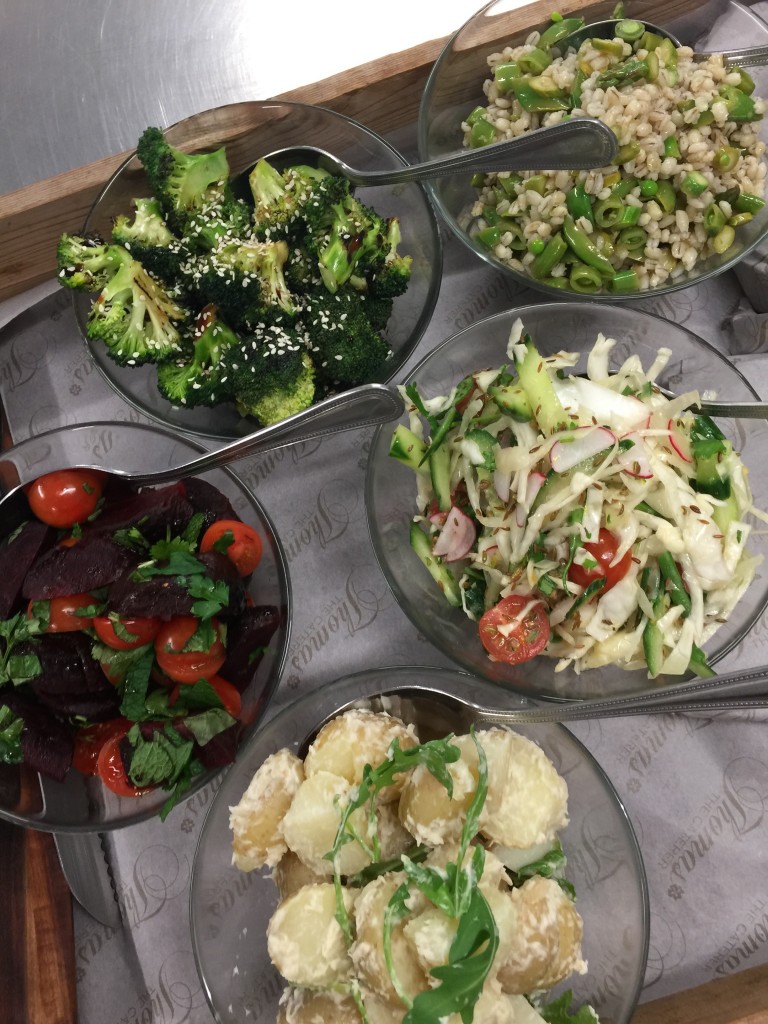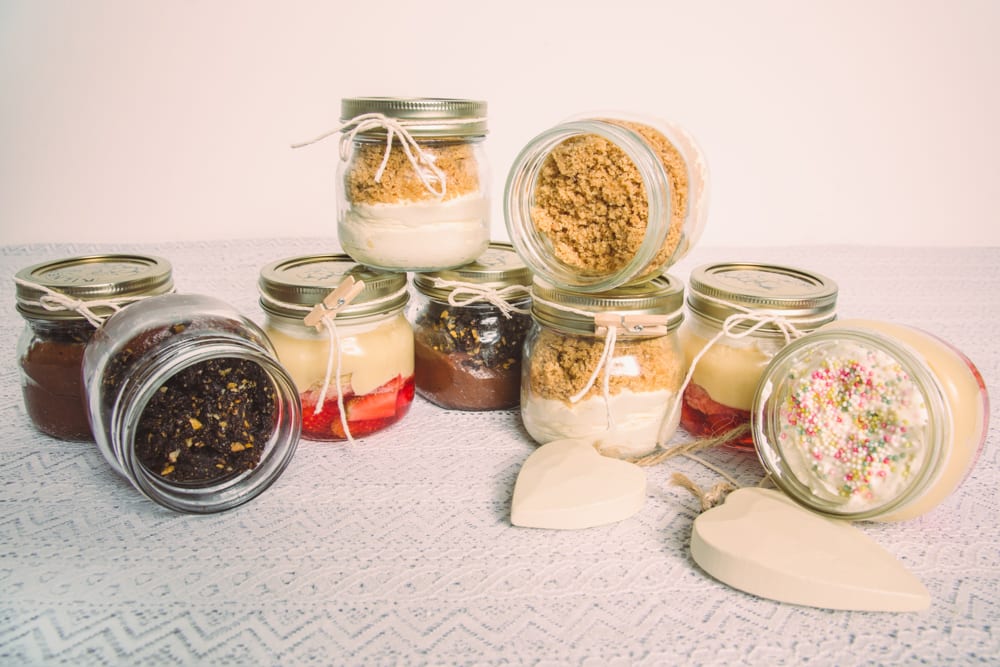 What did they think?
"We felt that we must drop you a line to say thank you to you and your wonderful staff for helping to make our wedding such a fantastic day. Firstly, in the run up to the event I cannot praise Lynsey highly enough. She was always at the end of an email and always reassuring and helpful. All of your waiting staff were extremely helpful and efficient – there was always water and wine on the tables, which in the 30 degree heat (maybe a slight exaggeration, but it felt like that in my dress!) was vital.
We have had so many positive comments about the food. Your steak and chips canapé has been described as the 'fittest canapé ever!' alongside an accompanying photograph of an ecstatic bridesmaid.
Everyone who has spoken to us about the food has mentioned how the main meal suited the weather extremely well and we have to agree. Thank you for taking on our ideas and making them so special.  Alex has promised he will attempt to make your pea soup and pork and apple arancini for me! I hope that you got to try the Bradford delicacy that is 'pie and peas' – again, we had very positive responses about it!
Lastly, we wanted to say thank you to you, Thomas, for helping to make our day so special. Every time we met, we left feeling as though we were in safe hands and knew as soon as we turned up, on that snowy February evening, that we had made the right choice in choosing Thomas the Caterer to make our wedding day so special and memorable."
Gill and Alex Flint