Joe's Recipe of the Month
Slow Roast Shin of Beef, Parsnip Gratin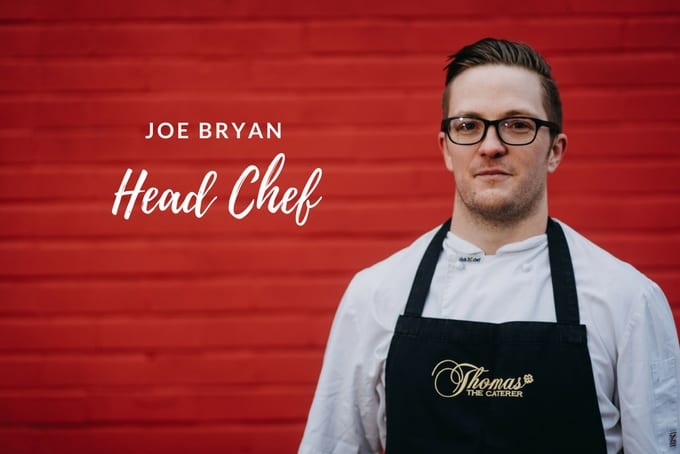 Meet Joe, our Head Chef at Thomas Towers. With oodles of experience in creating amazing wedding food he brings lashings of passion and creativity to every dish he prepares. He's going to be bringing you a new recipe each month so that you can recreate some of his awesome dishes in the comfort of your own home. This month it's slow roast shin of beef. Perfect for Valantine's day.
Slow Roast Shin of Beef, Parsnip Gratin
Serves 4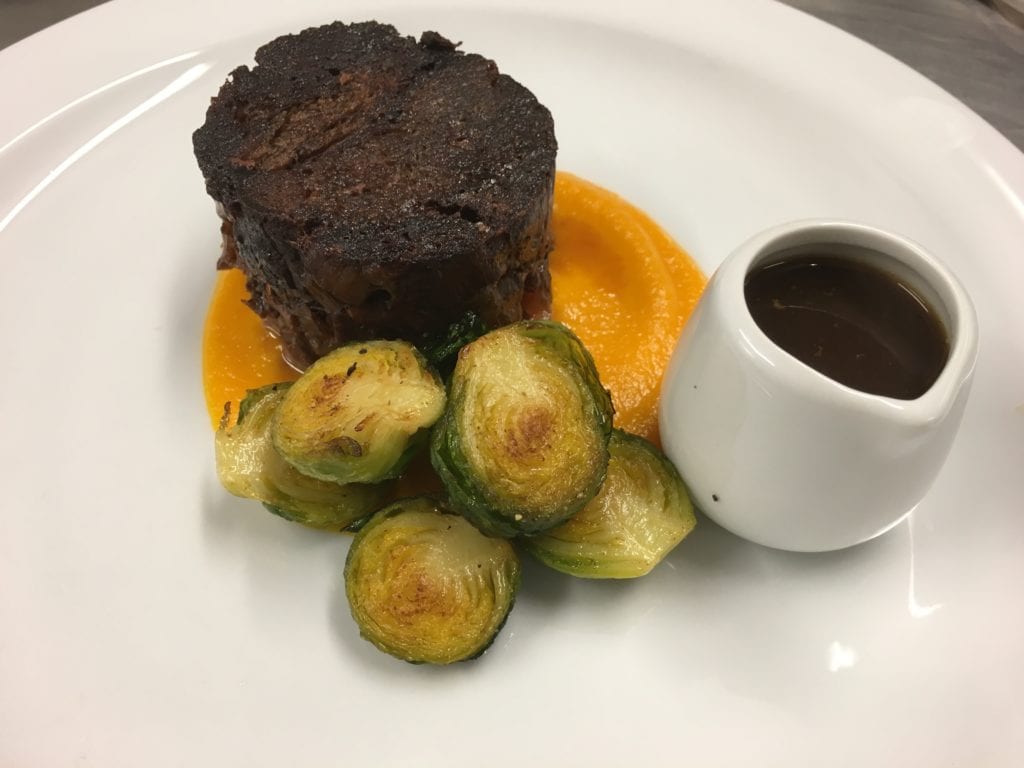 For the shin of beef
800g shin of beef in one piece, preferably
2 carrots, chopped
2 white onions, large dice
2 cloves garlic, chopped
1 stick celery, chopped
1 sprig thyme
1 bay leaf
500ml chicken stock
*Sear beef thoroughly on all sides, remove from the pan.
*Drain fat from the pan, then add all vegetables and cook until well browned, then deglaze the pan with chicken stock.
*Pour stock and vegetables into a large casserole pan or saucepan, add the beef, bay leaf and thyme and bring to the boil
*Reduce to a simmer and cook for 5-6 hours until the beef is tender and falling apart.
*Remove the beef and allow to cool slightly
*Flake the beef down and roll in cling film into a tight cylinder and refrigerate until needed
*Sieve out the vegetables, retaining the cooking liquor, reduce this liquor by half until it thickens, refrigerate until required
For the parsnip gratin
2 Maris piper potatoes, thinly sliced
4 parsnips, thinly sliced
200ml double cream
1 white onion, diced
1 clove garlic, chopped
1 sprig thyme
1 tsp coarse grain mustard
60g Parmesan, grated
*Preheat oven to 180c
*In a frying pan, sauté off the onion and garlic until soft, add the thyme and cream, cook out for two minutes, add the mustard.
*In an oven proof dish place the sliced potatoes and parsnips, pour over the cream mix and mix together thoroughly
*Bake in the oven for 30-40 minutes or until all potatoes are soft, test occasionally by pricking the centre of the gratin with a knife
*Put the Parmesan on top and return to the oven until well browned
To serve
Beef shin roll
Gratin
30 g butter
Reduced cooking liquor
Seasonal vegetables
*Remove the roll of beef shin from the fridge and cut into portion size pieces
*Brown off one side of the beef in a hot pan, flip the beef over and add the butter, place in the oven until heated through
*Heat up the cooking liquor in a saucepan
*On the plate, place the beef in the centre with the seasonal vegetables around.
*Pour over the cooking liquor.
*Serve the gratin on the side in the dish it was cooked in
*Enjoy!!
Want to chat to Thomas and Joe, get in touch on 0116 2605034
Simply fill out the form, below and one of our team will be in touch.
*Please note prices start from £54 per person inc VAT