New Years Eve Wedding
It was clear from the moment I met with Kate & Alex that they had a serious amount of ideas for their new years eve wedding. The main one being that they wanted rib of beef. Anyone who knows me will indeed know that rib of beef is my very favourite, so I was dreaming of the succulent meat marbled with tasty fats, melting into the tender meat roasted on the bone, OH! How delicious! I jumped at the chance to have this amazing beef in our capable hands!
Kate & Alex suggested having it carved at the table by a family member (at this point I should probably let you that Kate comes from a long line of Butchers in her family so the pressure was on) Never the less I love a challenge, indeed Kate's father actually supplied the beef himself for quality assurance purposes!

Their New Years Eve Wedding Menu
Canapés on arrival with Mulled Wine
Black Pudding Sausage Roll.
Chorizo and Pea Arancini, Basil Mayonnaise
Hoi Sin Duck Pancakes, Cucumber and Spring Onion.
Spiced Parsnip Soup Shot
Chicken Liver Parfait on Brioche with Apple Puree.
Butternut Squash, Red Onion and Swiss Cheese Tartlet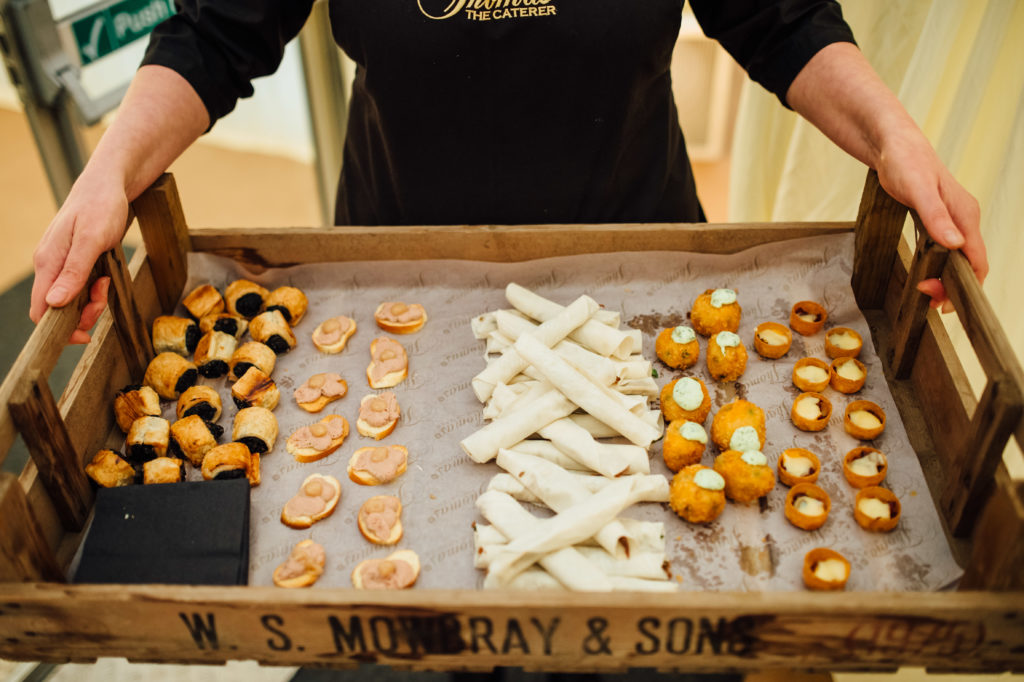 Main Course
Roast Four Bone Rib of Beef, served with Yorkshire Puddings, Dauphinoise Potatoes, Braised Red Cabbage, Roasted Root Vegetables, Steamed Broccoli & Red Wine Gravy.
English Mustard and Horseradish Sauce.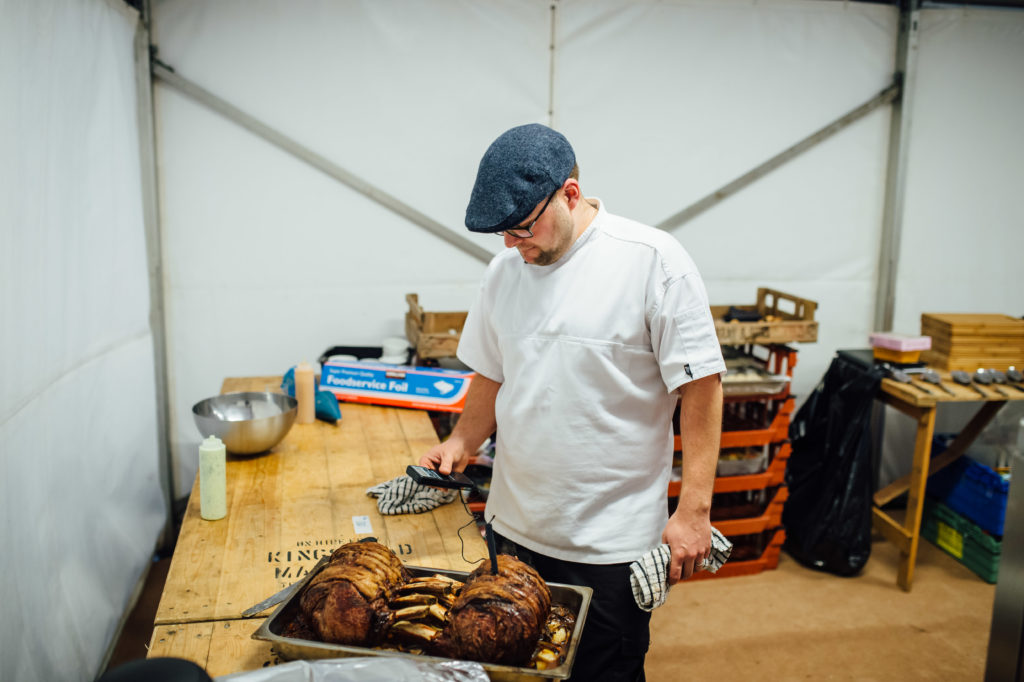 Build Your Own Dessert
I surprised the whole wedding party serving this with a dry ice fountain scented with Vanilla to compliment the Vanilla Panacotta, Kate & Alex's guests loved the theatre and there was lots of wooing and oohing!
Vanilla Panacotta, served with Chocolate Soil, Meringue Pieces, Red Berry Coulis, Brownie Bits, and Short Bread Crumbles.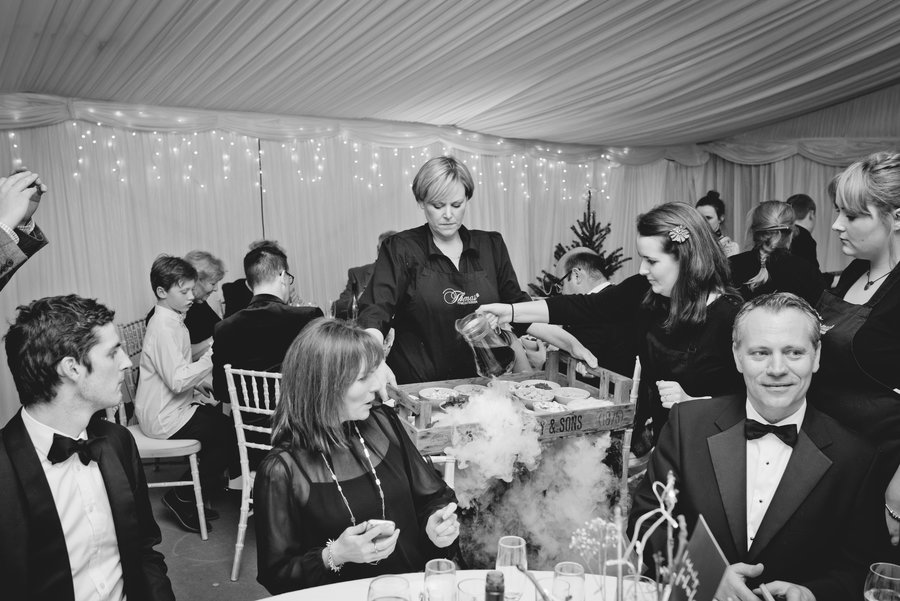 Tea and Coffee
Peppermint Tea. Builders Tea and Fresh Coffee
The show stopping Pork Pie and Cheese "cake" served with Crackers and our homemade Quince paste.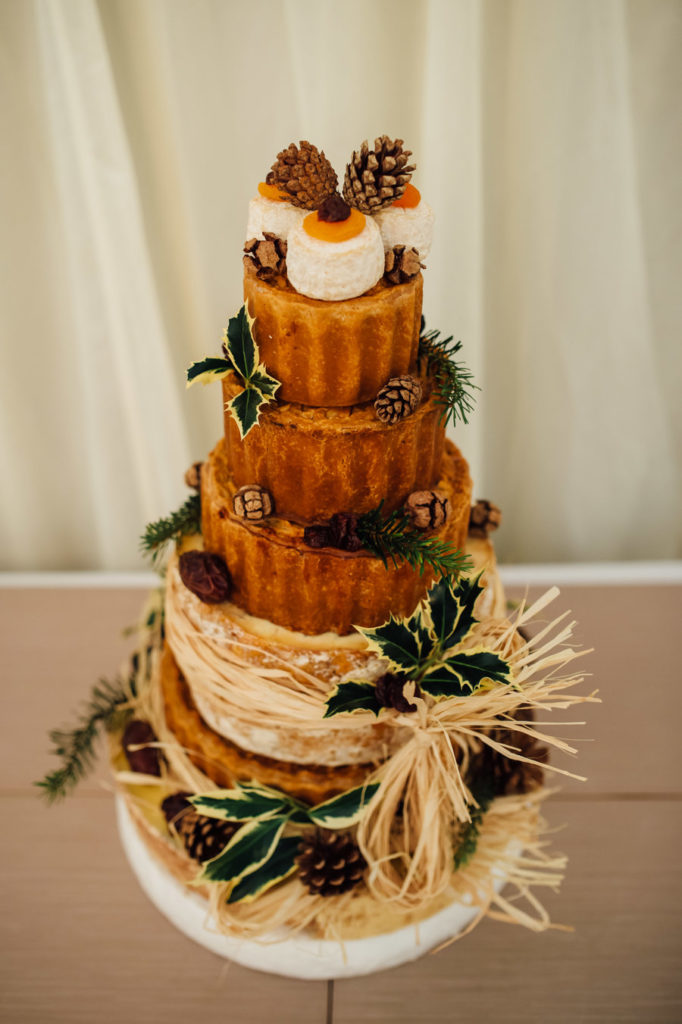 We get our Pork Pies handmade by a Master Pie Maker in Leicester who has been making Pork Pies for just shy of 50 years!
Kate and Alex or should I now say Mr and Mrs Villa were bursting with happiness! In fact at times I could barely get Alex out of the kitchen to enjoy his own party because her was chatting away to me about the quality of the food!
Here's what they said about the whole experience with Thomas the Caterer:
"From the moment I landed on Thomas The Caterer's website, I knew we were in with a pretty good shout of finding our caterer for our New Year's Eve wedding. Thomas and his super team were an absolute pleasure to work with – both in the run-up and on the day. There was always a smile, they were accommodating and the level of professionalism they showed gave us the confidence that they would more than deliver.
The food was delicious, presented beautifully and served just how we wanted it to be – we had so many comments on how our guests just loved it. I only wish I'd saved more space to eat more!
But…it was all the extra bits – that are not invoiced, that even the most organised bride could never have envisaged – that extra pair of hands which helps you hang mistletoe, in the dark, up a step ladder the night before the wedding that matter the most"
THANK YOU! Alex and Kate Villa
All photography by the AMAZING Matt Brown
Get in touch below to discuss your dream wedding menu