The Most Romantic Dessert Ever – Love Heart Meringues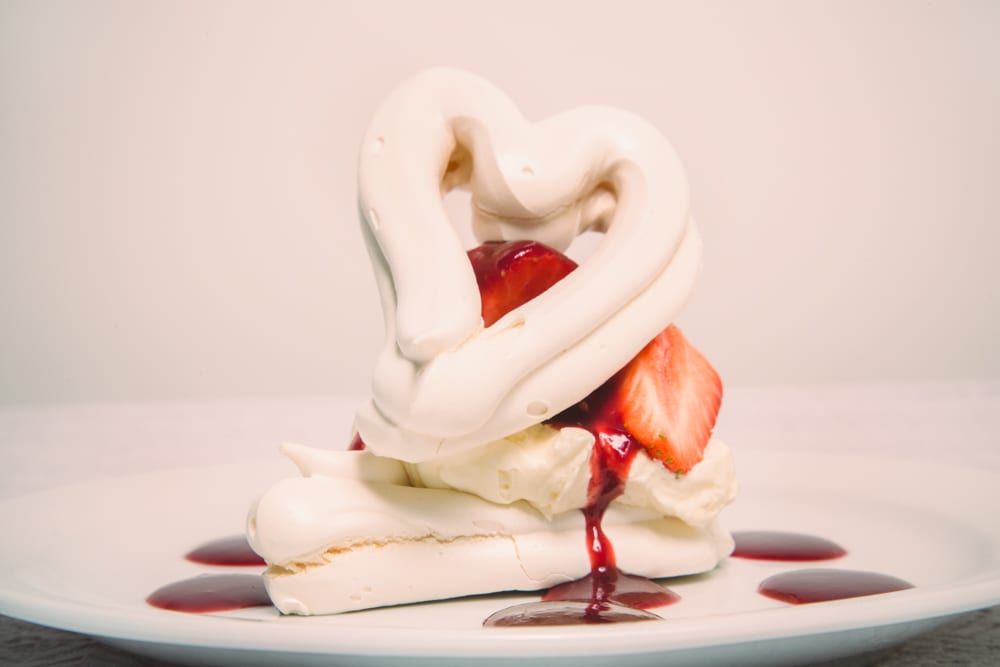 Forgotten Valentines Day? Thinking of stopping off on the way home for some petrol station blooms. Think again. Hop, skip and jump out of the dog house super fast by making the most romantic dessert ever.
It's really easy too, just pop to the local supermarket to pick up a few baking essentials .
All you'll need is:
150g Egg whites
300g Castor sugar
300g Red berries
1 Vanilla pod
100ml Water
300ml double cream
200g Castor sugar
Baking paper and piping bag
For the Meringues
Pre heat the oven to 180°C.
Spread 300g castor sugar on a sheet of baking paper on a tray and put in the oven.
Whisk the egg whites slowly using a stand alone mixer.
Keep an eye on the sugar (heating in the oven) – you want the edges to just begin to melt.
Increase the speed on mixer for the whites and begin to shake the sugar onto the mixture slowly. This will 'cook' the egg whites and will help create the meringue mixture.
Turn the oven down to 100°C
Beat meringue mixture well until glossy and well risen and slightly cooled.
Place mixture into piping bag.
Place baking paper on two baking trays.
Snip a 1cm hole in the end on the piping bag and pipe heart shapes and nest shapes onto the baking trays.
Place in the oven for 1 hour
For Cream
Whip the cream in a large bowl and add the seeds from the vanilla pod, add 100g of castor sugar gradually, whisking until the cream gets soft peaks. Cover and leave in fridge until ready to serve your meringues.
For Syrup
Heat 100ml of water on a low heat in a small pan with vanilla pod and 100g castor sugar. Bring to boil and reduce by half. Leave to cool.
Add red half red berries and mix, putting through sieve to get rid of any seeds.
To Build
Place meringue nest on a plate, add dollop of cream, spoonful of berries and drizzle of syrup. Add heart meringue.
Enjoy!