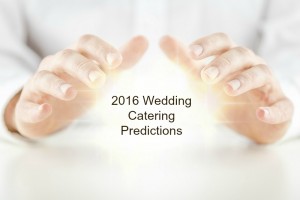 As a Wedding Caterer in the East Midlands, I'm often asked what the most popular Wedding Breakfast dish is. This is always a difficult one to answer as, year on year, fashions change and new trends evolve. Want something different for your wedding? Have a read of my Wedding Catering Predictions for 2016…
My Wedding Catering Predictions for 2016;
Evening Delights
Let's start at the end. My biggest bugbearer is boring, stale, tasteless buffets. The evening food at your wedding doesn't have to equate to the previously obligatory dry, flavourless Sausage Rolls and questionable Pineapple and Cheese on sticks.
Think outside the box – we could have a barbeque. Or stands with freshly made Burritos, Tacos and Tortillas with Guacamole, Sour Cream and Salsa. Or Slow Roasted Meats in Delicious Homemade Bread with Sauces and Crispy Salad. The list goes on.
Multicultural Menus
I'm seeing more and more multicultural menus at Weddings; incorporating fusion style cuisine and delving into the previously unknown territory of Persian, Thai, Vietnamese or Arabian Wedding Cuisine. Your courses can be different but still complement each other!
Maybe you want to reflect your heritage, or just really like Thai food. Or perhaps you want your menu to include lots of different memories of food you've eaten together on trips or holidays.
Whatever it is, don't be flavour shy! Your menu is completely bespoke. Whatever one wants, one gets!
Amazing Appetisers
This might be not ground breaking, but Canapes and appetisers are an increasingly important element of Wedding Catering. The reception is the first point of the day where guests are expected to mingle, often with people they've never met. Give them something to talk about and set the right atmosphere with the food!
Serve wave after wave of hot and cold Canapes, served extravagantly and presented beautifully. You can be as outrageous as you like with flavours and style as they are optional so can be avoided by any flavour shy guests.
Top Tip – Go all out and serve dry Ice Canapes for the ultimate 'Wow Factor!'
Sweet Treats
Little 'end of the evening' gifts are becoming more and more popular. Show your guests you've thought about them throughout the day with a sweet treat just before they leave. A little Thank you to show how much you appreciate them sharing your day with you. Homemade Fudge, wrapped or boxed, in any flavour imaginable, is the perfect option.
Pretty Plates
You don't have to opt for the basic plain white crockery that is provided by venues or wedding caterers. Choose pretty patterned or floral fine bone china plates to dress your tables. The chic, mismatched look gives a quirky yet traditional feel and adds to the decor.
Truly Bespoke Wedding Catering in the East Midlands
All of my catering is 100% bespoke. You choose whatever you'd like for your menu, with just a little assistance from me. (Please note – You can have a lot of assistance if you'd prefer!)
There are no set menus; no gold, silver or bronze packages. There is simply; very flexible, truly bespoke and as imaginative, unique, traditional or quirky, but ultimately delicious Wedding Catering in the East Midlands, regardless of the venue or theme.
Contact Us
I'm available for a chat. Drop me an email via my online contact form here, and I'll get back to you ASAP. I'd love to arrange a very informal meeting with you at Thomas Towers. I'll provide the coffee and cake. I look forward to helping you plan your big day.