Heather and Matt – French Inspired Wedding Menu
One beautiful, sunny day back in August I had the absolute pleasure of catering the wedding of one of our favourite couples; the gorgeous Heather and Matt. They had a stunning marquee in the grounds of Ashby School overlooking the ruins of Ashby Castle, famous locally for its battle reenactments – in fact there was a reenactment on their wedding day which made for quite an impressive entrance as the guests arrived. Thankfully, the cannons were silenced in time for the wedding breakfast and all important speeches!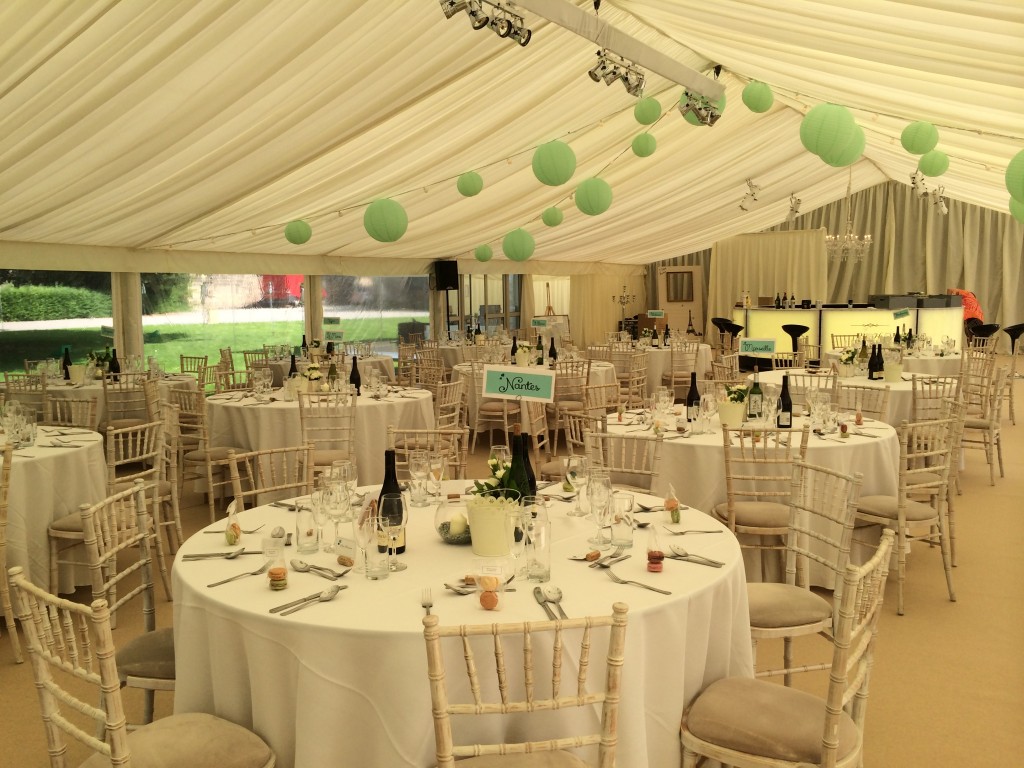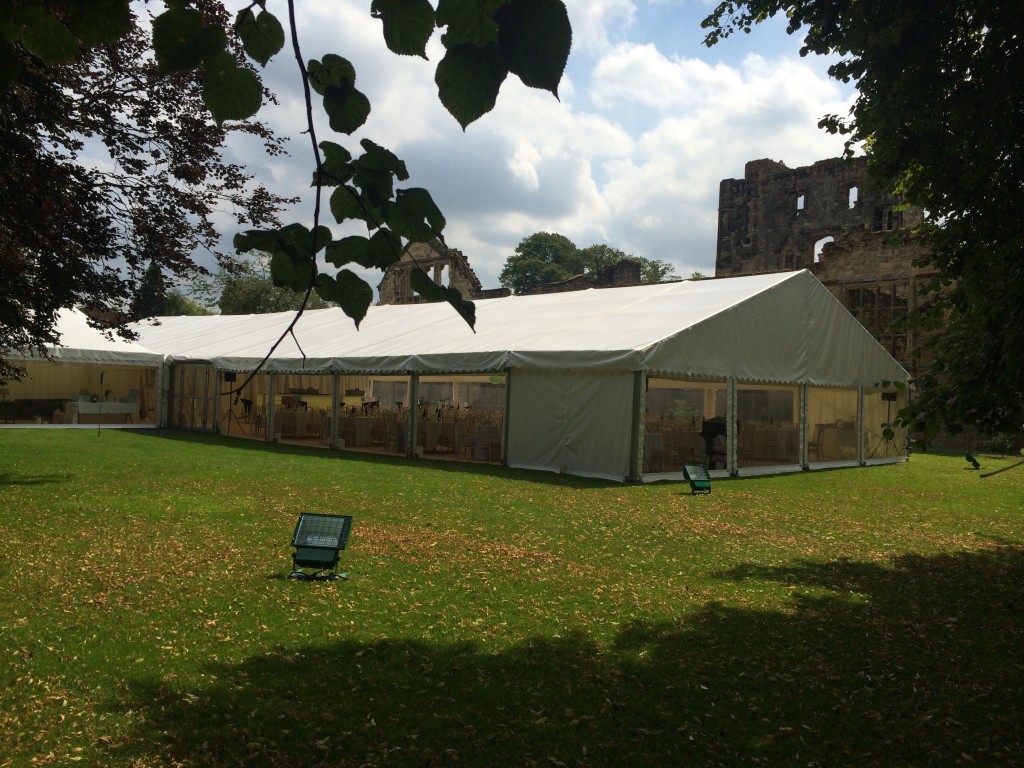 Matt and Heather live in Abu Dhabi, they are both teachers with a passion for the finer things in life, good wine, travel and of course good food! They were a pleasure to work with from day one as they knew what they wanted but were also open to any of my ideas.
As Heather is a French teacher they wanted a french themed wedding with a menu to match. I took inspiration for this wedding from my days in France cruising around the canals with a glass of Beaujoulais…. All the menus were also translated into French which added an extra touch of elegance.
Here is their lovely menu (in English)
Canapés
French theme
Beetroot & Goats Cheese Crostini
Chicken Liver Parfait served with Homemade Chutney on Toasted Brioche
Smoked Salmon Mousse Puff Pastry Tart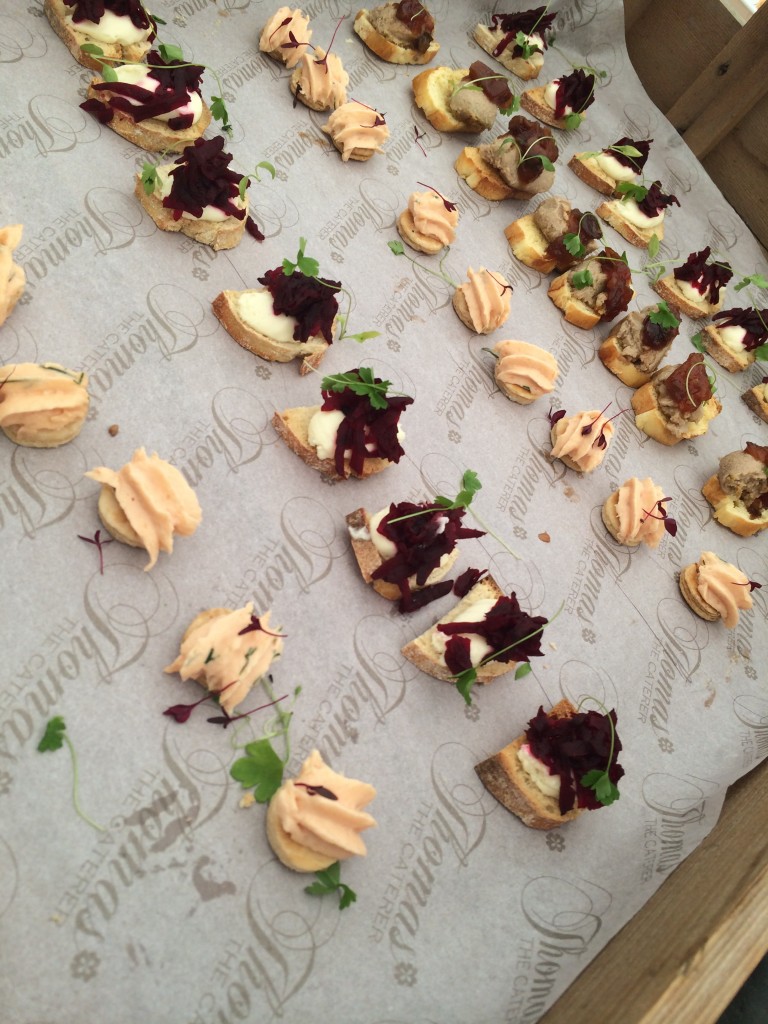 To Start
Mixed breads on the tables (sliced) brown loaf, white focaccia & thyme, bacon brioche
With reduced balsamic & olive oil, French butter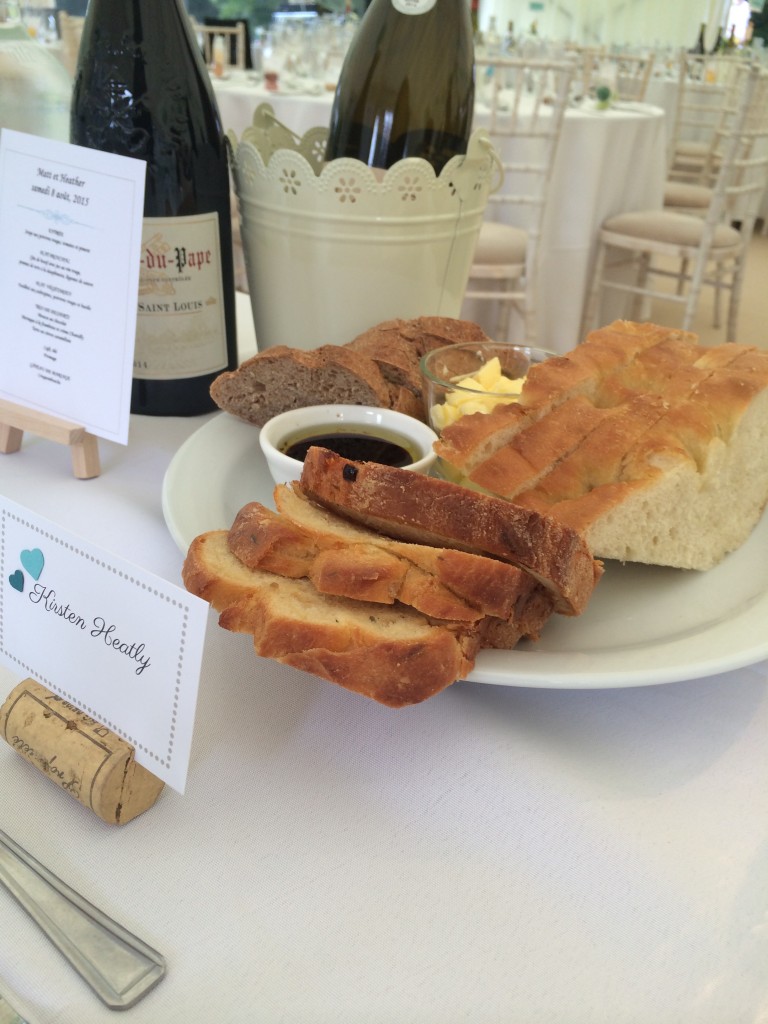 Tomato & Roast Pepper Soup with a hint of Chilli
Main Course
Topside of Beef, Dauphinoise Potatoes, Seasonal Fresh Veggies, Red Wine Sauce (jus)
Dessert
Trio of desserts
Chocolate Mousse, Raspberry Pavlova & Chantilly Cream, Lemon Tart Brulee!
Evening Food
Slow Roasted Shoulder of Pork, Apple Chilli & Coriander Salsa served in Wraps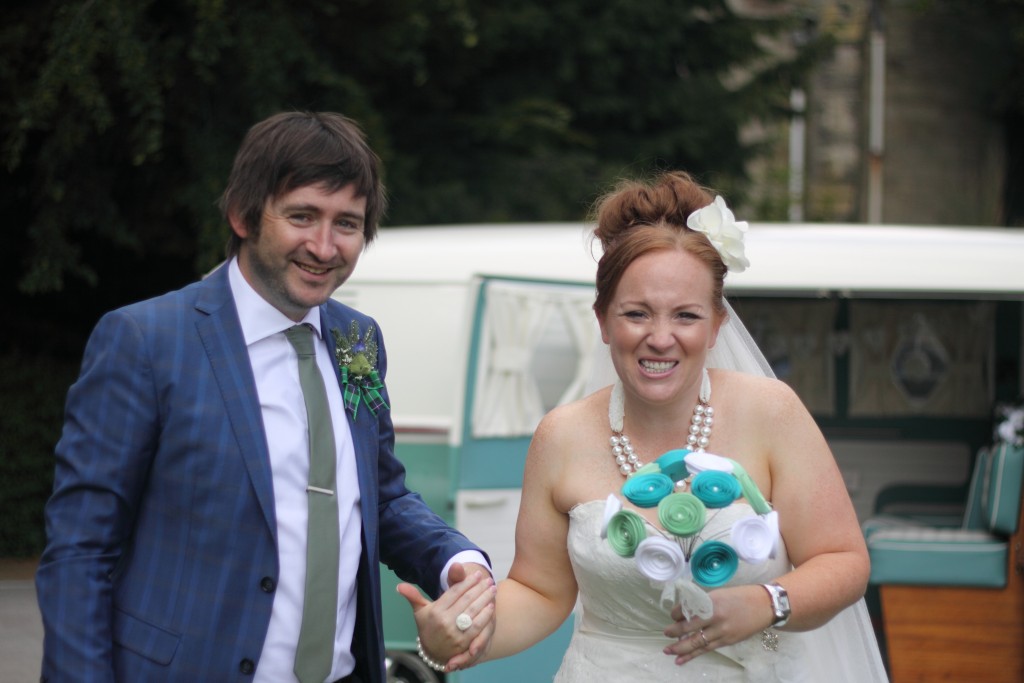 Here is what Matt had to say:
We first met Thomas as part of a series of meetings with different caterers in the planning for our August 2015 wedding. As soon as we met Thomas we wanted him to cater our special day; he shared a passion for food and fine dining with us and also had a lot of knowledge and experience into French food (which fitted our French-themed wedding). My heart was beating with excitement at getting Thomas and we were delighted when we were able to secure him for our wedding. He does not know this (until now) but I actually jumped for joy and rang my fiancee to share this joy once he agreed to cater our day!
During the following months, Thomas and his team were supportive and communicated brilliantly to cater for my every question, whim and demand (it felt like I had a lot!) – willing to prepare a personalised and triumphant menu that all of the guests could enjoy. He was even able to cater for my aunt who had so many allergies that I had never actually seen her eat in public before. The menu was exciting, dynamic and Thomas used his experience to make it work even better than what I had originally envisaged. We ended up getting him to do French-style canapes (these were amazing) and a hog roast-style, pulled pork wrap for the evening guests. All of this was done on top of helping me to organise our patisserie table, a cheese table, highchairs for babies, the chilling and serving of the wine, tea and coffee and many, many other things that made our day go so smoothly.
We live in Abu Dhabi but Thomas was always willing to email (via the wonderful Lynsey) and set time aside to speak to me over the telephone whenever I had an idea or worry (and he always put my worries at ease). We met in the week leading up to the wedding to finalise the details and by the time I was happy to go in whatever direction he suggested (such as the plates for the cheese) as he had my total confidence. I have spent many years working in a similar industry, consider myself to be something of an epicurean food addict and was called a groom-zilla (I may have been a tad demanding) along the way by my friends….yet Thomas had my full backing to make his ideas work. He delivered this with aplomb and I would not change anything about the day.
What about the food itself? Rather than a generic comment saying how great it was, I feel compelled to describe each course.
Canapés:
Brilliant idea by Thomas to have these and they were fun, delicious, and brilliantly served on rustic French crates. I would have eaten all of them were we not off having photographs taken!
Starter: 
This red pepper and tomato soup (with hint of chilli) was delicious and had me mopping my bowl with the three different types of freshly-baked bread that were provided (focaccia, brown and a special 'secret flavour' bread). The soup was primarily red pepper-based which gave it great body and the chilli provided that extra little 'kick' as it hit the back of the throat. Even though it was a freakishly hot day, the soup was a winner!
Mains:
The mains were the best part for most people and I could hear the "yums" and see the nods of appreciation as I watched my guests delve into this fantastic topside of beef with seasonal veg and dauphinoise potatoes. The red wine jus added a lovely finish to each mouthful of the tender, perfectly cooked beef. The potatoes were a major hit and the whole dish looked superb – it was presented just how I had envisaged and tasted even better. The veggie option was also a hit (many people were casting envious glances at the delicately structured dish, which I am told was brilliant and a nice change from the usual veggie fare at weddings – risottos and the like).
Desserts:
This was possibly the most important dish to me as a wannabe baker/patissiere! Thomas and I had similar ideas and we excitedly came up with this trio so that we could show off some amazing food. The creme-bruleed lemon tart was my favourite and I managed to steal some some more from the plates of unsuspecting guests (sorry!). What a brilliant idea to take the classic lemon tart, caramelise it and take it to the next level – this should be in every restaurant! The chocolate mousse was as light and yummy as you like (A certain Masterchef judge would have stuck his head in that, for sure!) and the fresh fruit meringue added the perfect summer lightness on a hot day. Almost every plate was cleaned up completely and Thomas kept his promise of blowing the guests away with a simple but classic presentation of great flavours.
Evening Food:
Although I nearly missed this (I was dancing away!) the evening food had guests purring with excitement just hearing about it….and their eyes bulging with glee upon tasting it! This was all served from rustic looking crates and tables and I heard some people even managed to get their hands on some juicy, crispy crackling. The pork was deliciously juicy with the apple cutting nicely against the coriander…..an absolute triumph. The only worry was that I thought some guests might end up fighting for the last few wraps!
My wife and I regularly eat at some of the best restaurants around the world, some of which have two and three Michelin stars. I was worried that whoever did our catering, we would not love the food but Thomas produced great food that did not feel mass catered or too wedding-y. He promised that at least two guests would compliment but the food but he was wrong….it was more like 60 or 70 that took the time to compliment it. Each person loved something different; whether it was the beef, the potatoes or desserts and so on. This all added up to a spectacular day and ensured that all of our guests were well fed and ready for an evening of partying. Thomas's personality and charm are part of the package and this comes out in the whole service and the food itself. The service was absolutely spot on and his team achieved what I asked for – effortless service that blended into the day and event.
Thank you so much for helping to make our day so special and we will be sure to use you for our next event!
Matthew and Heather Broderick xxx