Anna and David's Winter Dodmoor House Wedding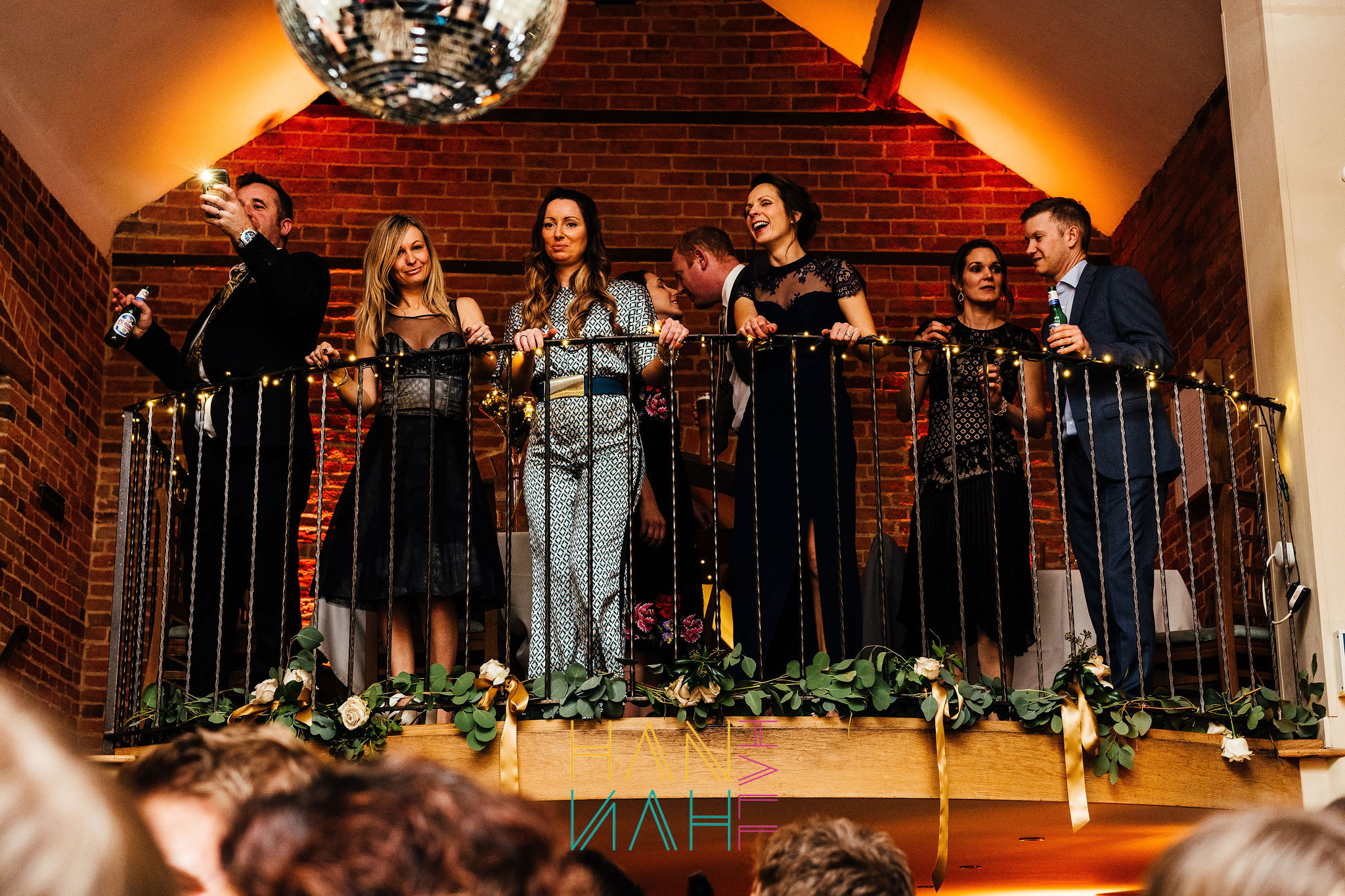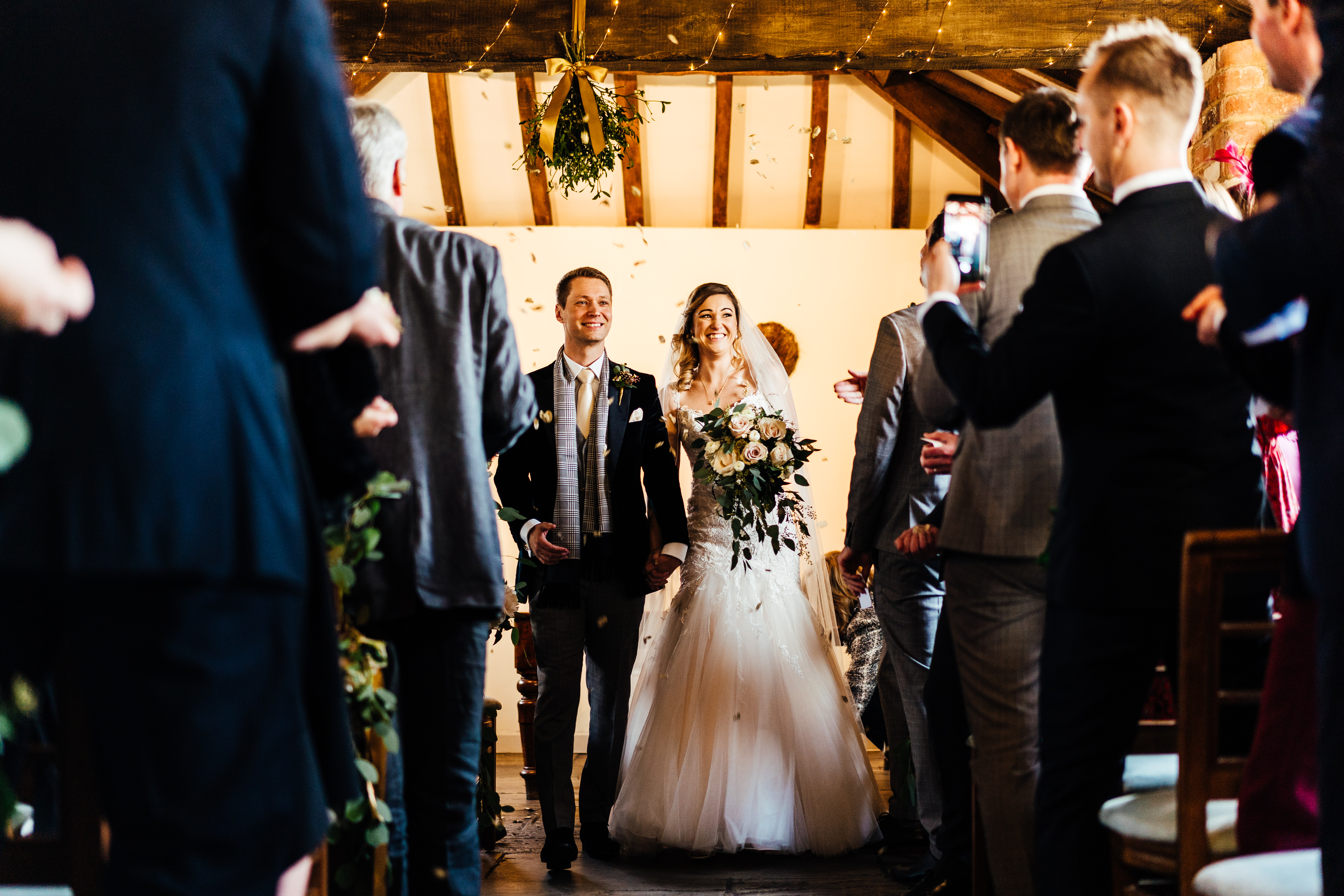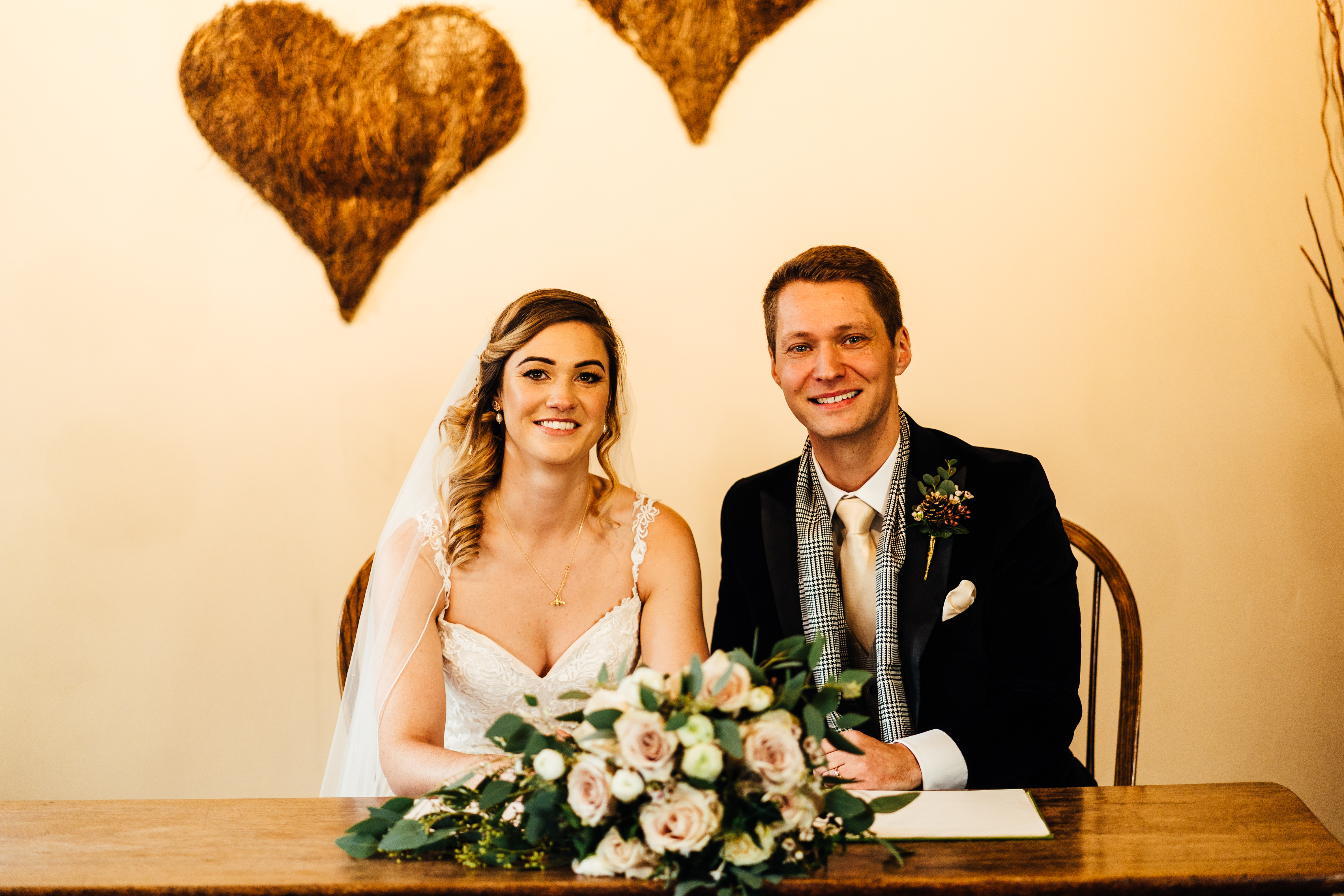 Wowzers this wedding was a cracker! Spectacular in every way. There was glitz, glamour and gold hot pants – don't ask but let's just say they weren't Anna's ;). Their wonderful Dodmoor House Wedding took place over a year ago now, on a chilly but beautiful December day.
December is the season to sparkle and boy did this wedding shine.  Great Gatsby inspired, their gorgeous Dodmoor House wedding was every bit the fabulous celebration of all things winter wonderful. Elegant and immaculately styled – all the festive feels without being too christmasy.
Dodmoor House is such an amazing venue to work in. It is no surprise that their event team win award after award for their impeccable service. It is seriously swoon-worthy even as a blank canvass but once Anna and her band of helpers (including mum who hand-made the table linen – wow that's some talent!) had sprinkled their magic it looked unreal. A sea of black and gold (sung in my very best Sam Sparro voice, remember him right?) with Martini glass centrepieces and gorrrrrgeous rose gold cutlery. Beautiful.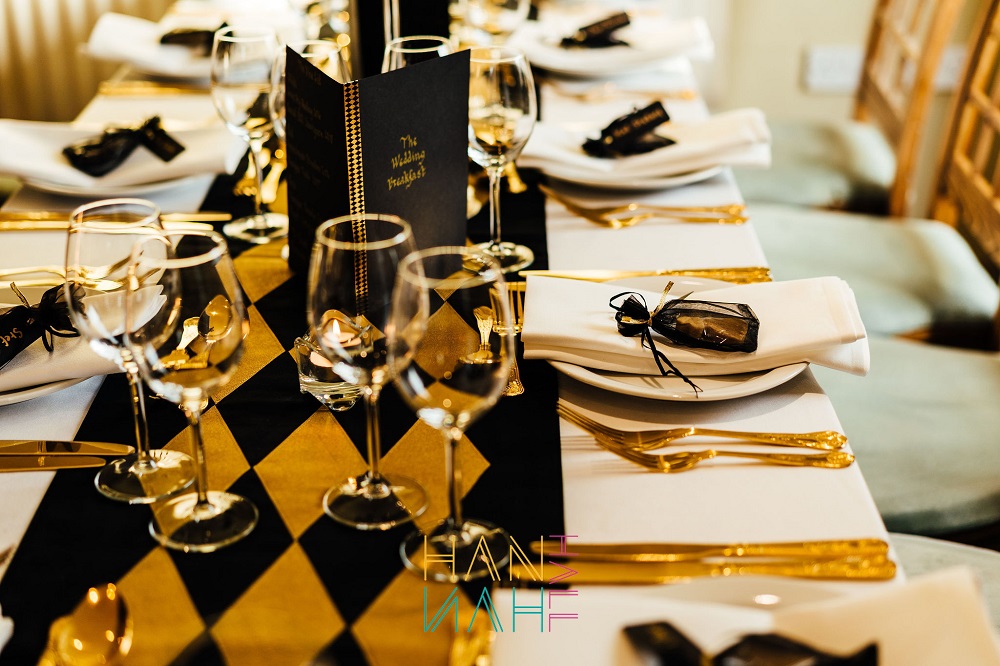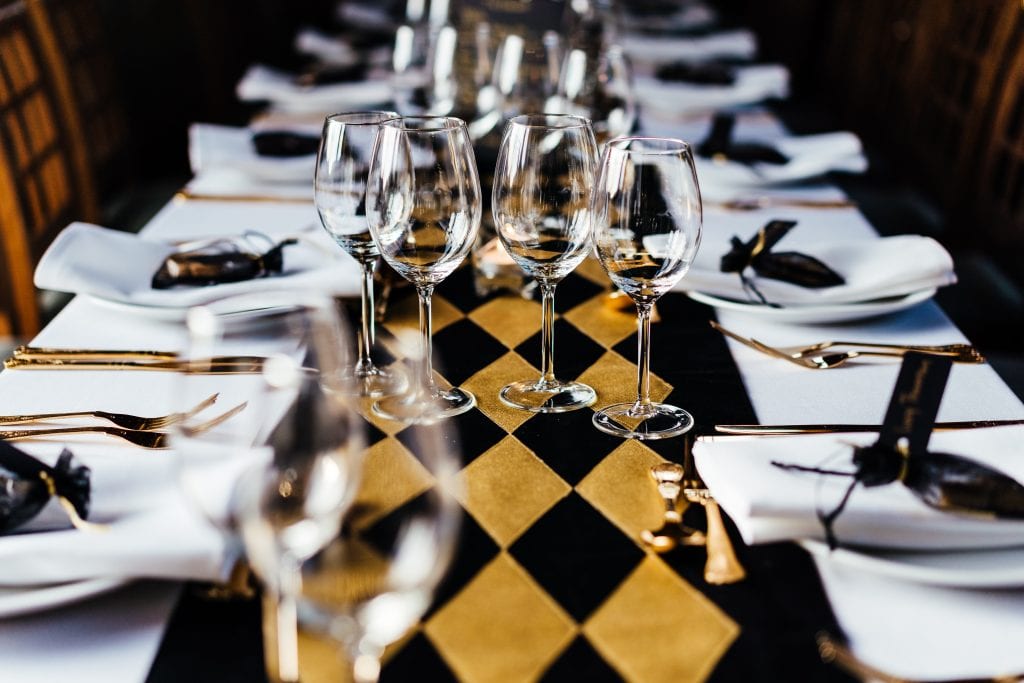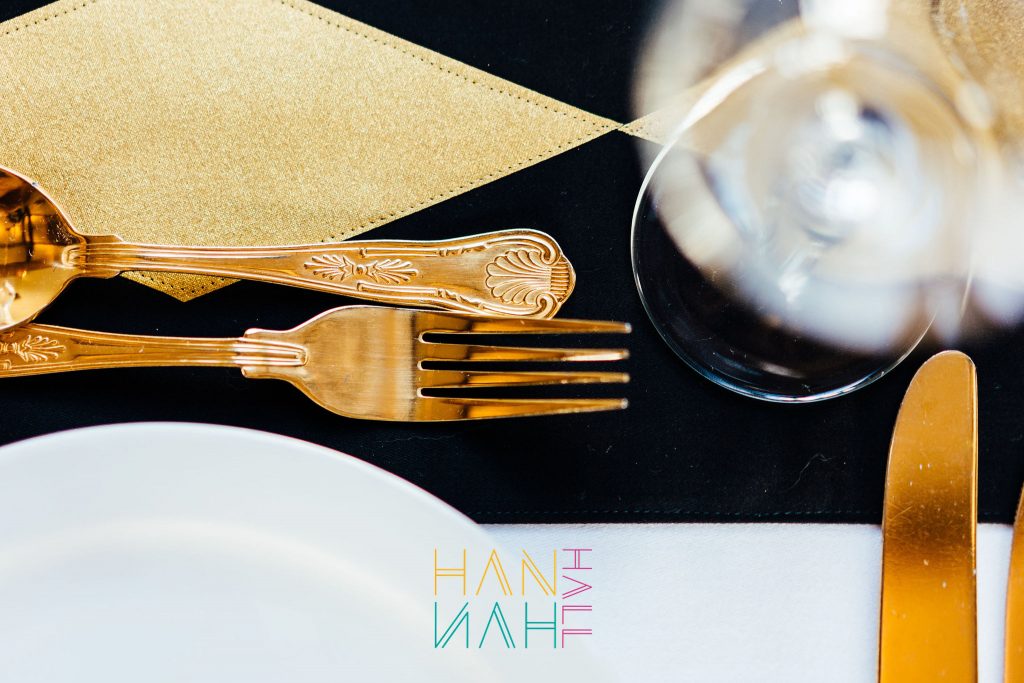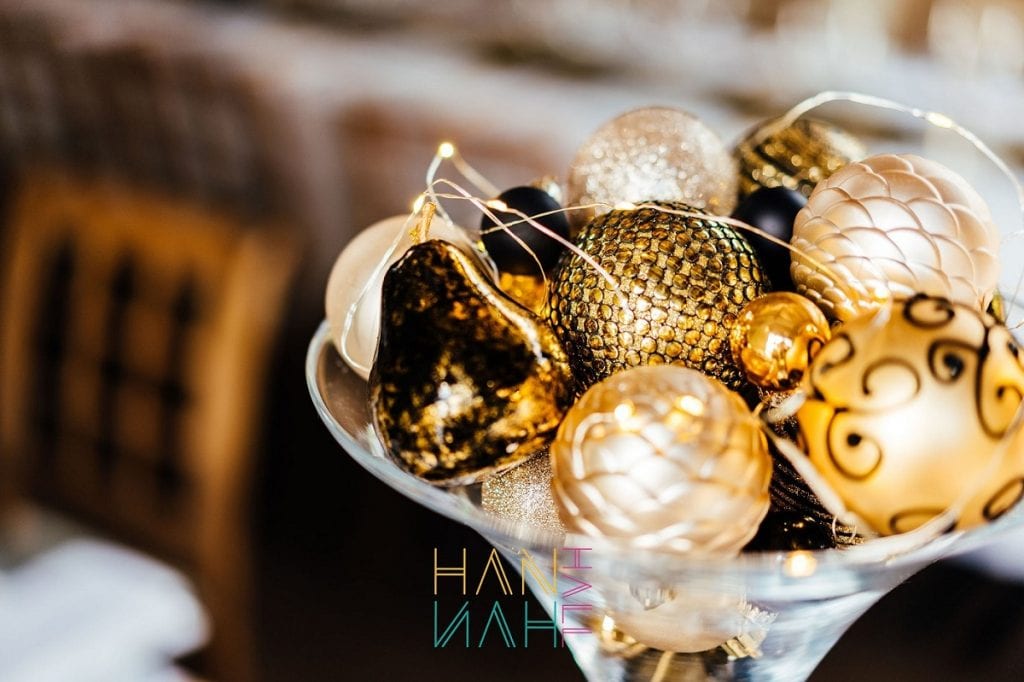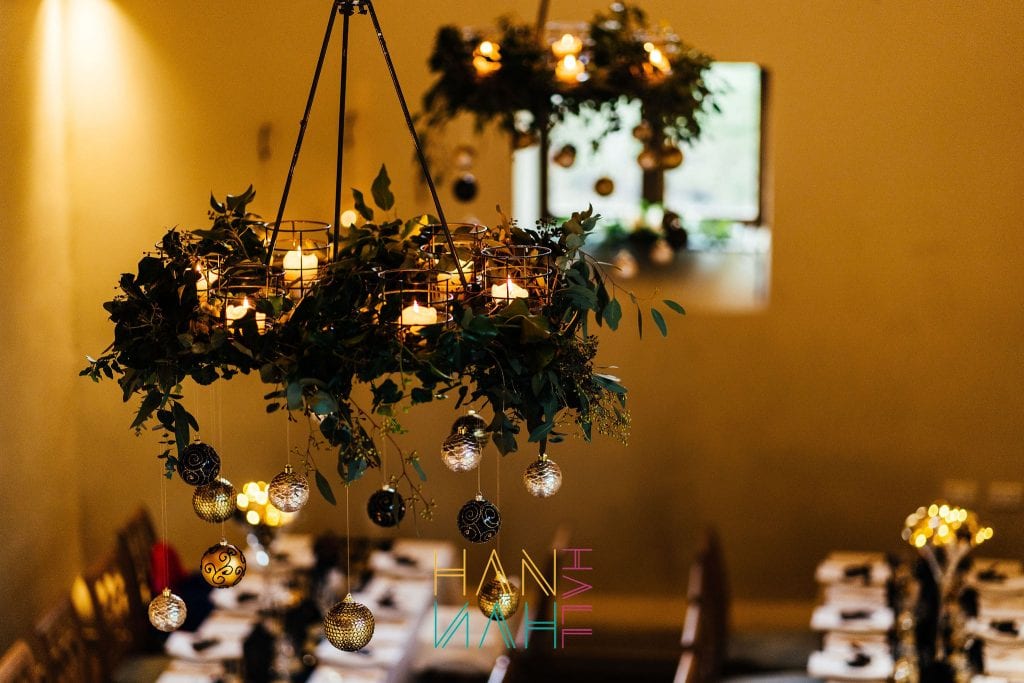 From their awesome guests serenading the newly weds with the most epic rendition of 'Merry Christmas Everyone' to DJ David himself taking to the decks, it was one of the most fun weddings ever.
The weather smiled down on their big day too with glorious winter sunshine meaning al fresco cocktails and scrumptious photos courtesy of the super star snapper Hannah Hall.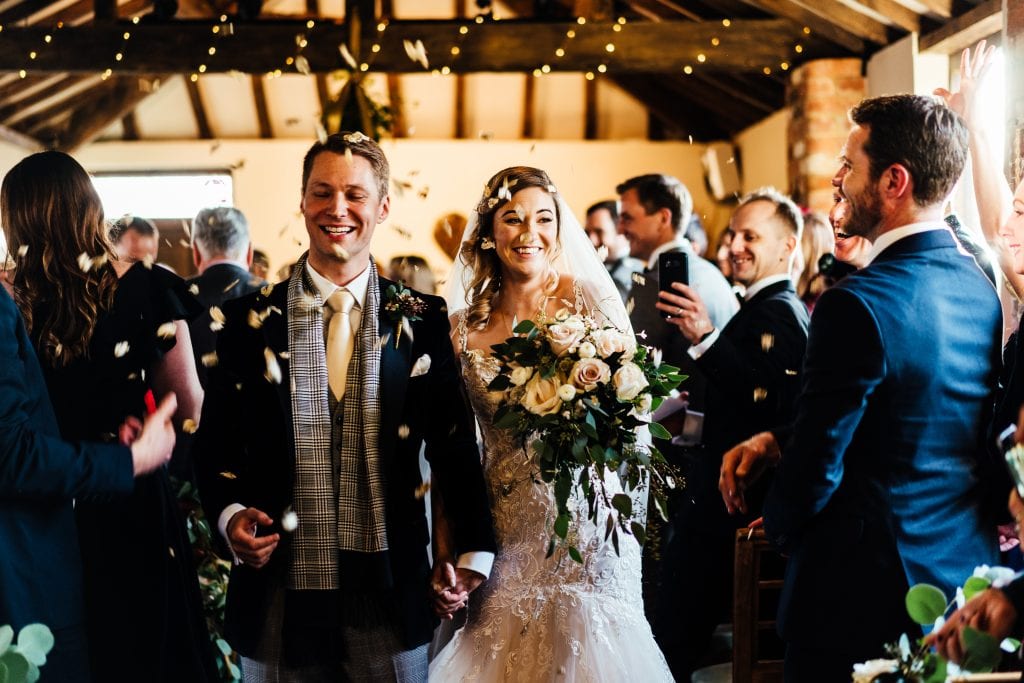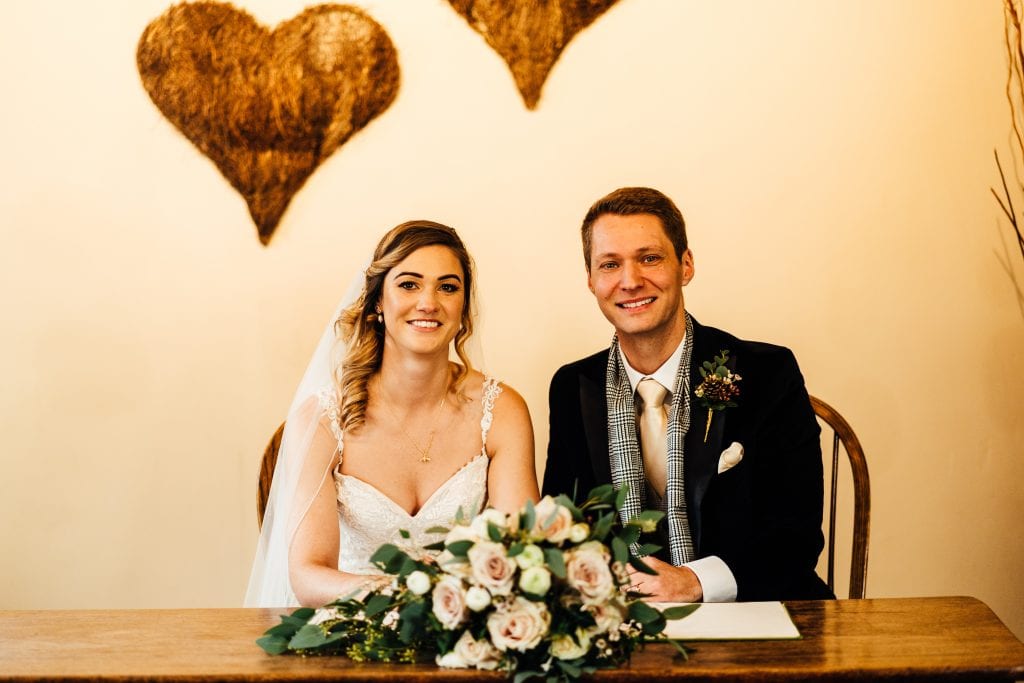 So what deliciousness was on the menu?
Anna and David were such great fun from the first meeting.  Not only are they the nicest people ever but they have amazing taste and a love of great food. They wanted their menu to embrace the festive season and celebrate the stunning seasonal flavours but without feeling anything like a Christmas dinner. Nothing too traditional, nothing predictable and definitely no turkey!  So we worked together to create their ideal winter banquette – warming, hearty classics done to perfection; with a twist.
The canapes were a fresh spin on the Christmas classics with pigs in blankets, chicken liver parfait and even the trusty brussel sprout given a shiny makeover. The starter was a cheeky wink to the much loved prawn cocktail but with crispy whitebait, mackerel pate, pitta with a cool pea and mint dip. The main was beef, carved at the table with all the trimmings including triple cooked chips and rosemary and honey parsnips – YUM! Pudding was lemon meringue pie, only deconstructed with dry ice for the a little bit of festive theatre.
Such an awesome menu needs a really great wine to bring out the awesomeness even more. Luckily, David's an expert in all things wine. He certainly knows his claret from his beaujolais (blur ;)). Picking the perfect tipple to wash down these delicious dishes.
Their Fabulous Menu
Canapes after the ceremony
Haggis croquettes, whiskey sauce.
Pigs in blankets in mini Yorkshire puddings mustard mayonnaise
Butter nut squash, Brussel sprout, chestnut and gruyere tartlets
Chicken liver parfait, spiced apple chutney
Bloody Mary Shot
As a starter to share
Prawns in marie rose sauce
Crispy Whitebait, lemon and chive mayonnaise
Smoked mackerel pate and Melba toast
Marinated tomato salad with padron peppers
Pitta breads with pea and mint hummus and tzatziki dip
As a main course
Fillet of beef cooked medium, to carve at the tables
Dauphinoise potatoes, triple cooked chips, red cabbage, honey & rosemary roast parsnip, chantenay carrots & lashings of red wine jus
As a finale
Deconstructed lemon meringue pie
Dry ice falls
Evening Food
Bratwurst dogs
Bratwurst or Currywurst served in soft white sub rolls
Sauerkraut, mustard and mayonnaise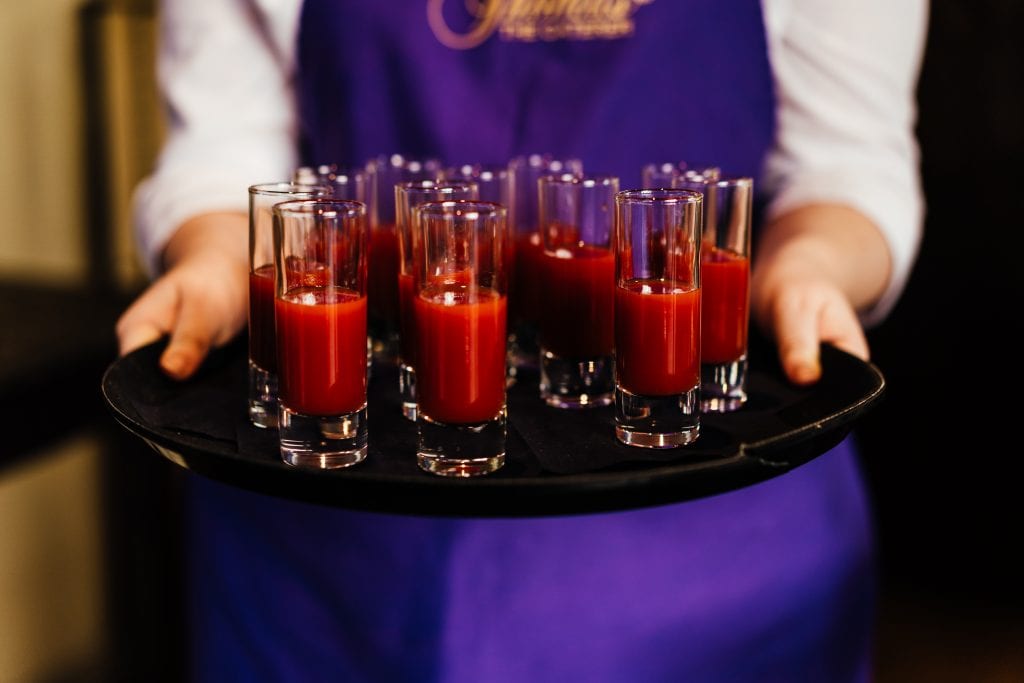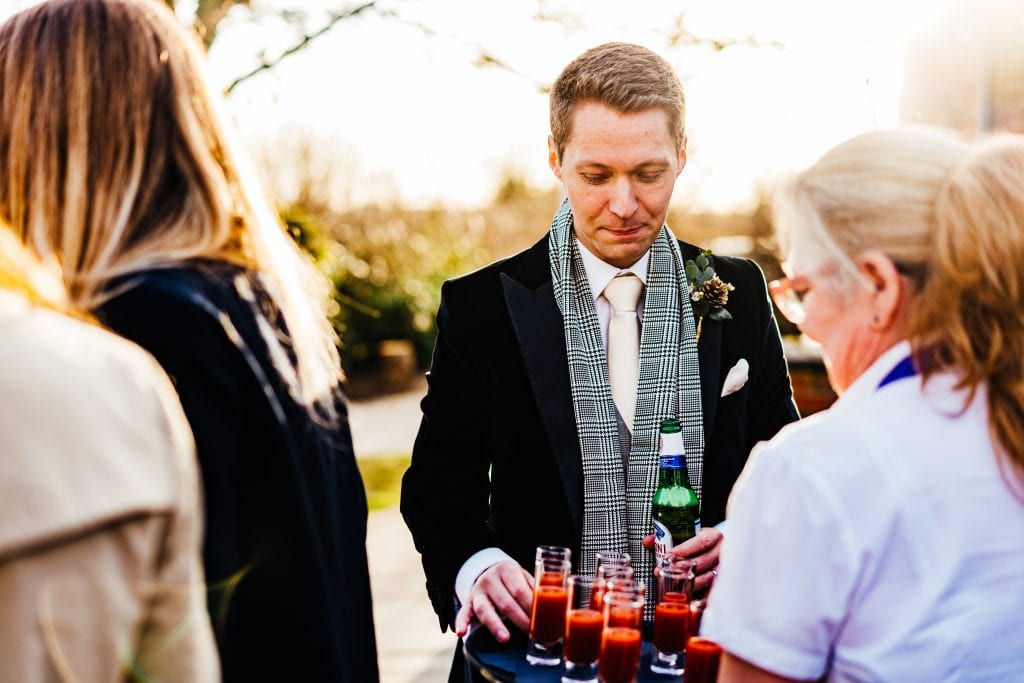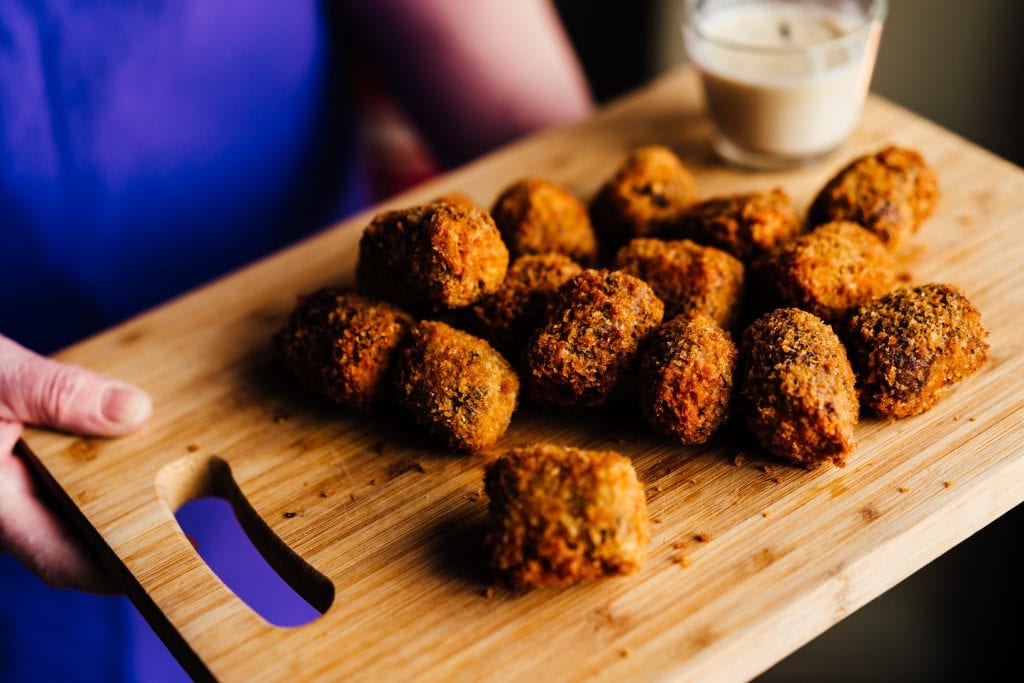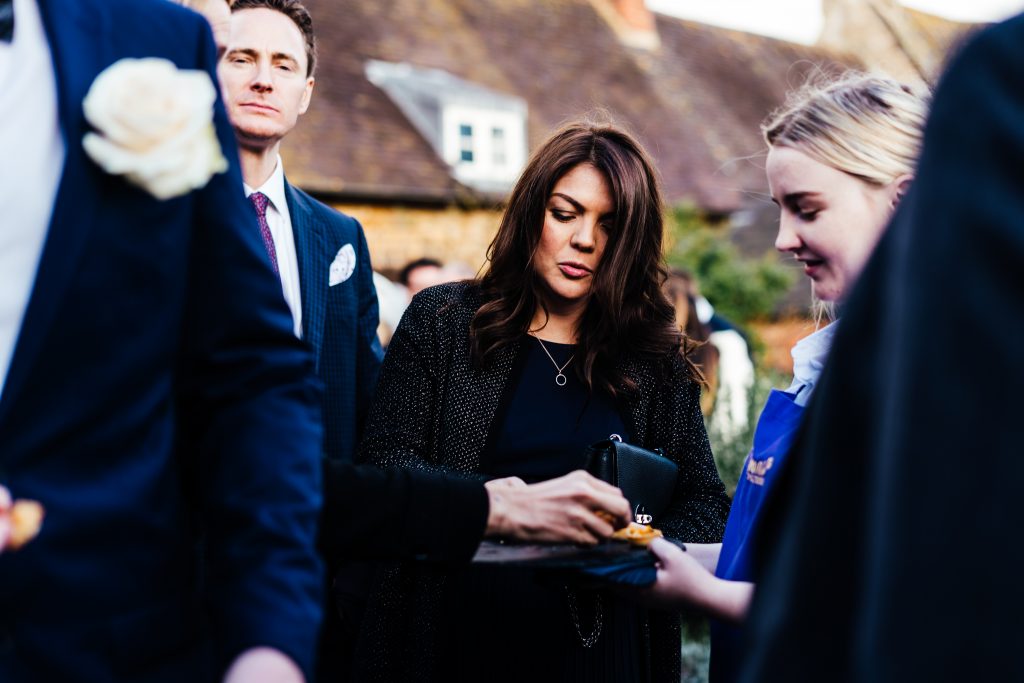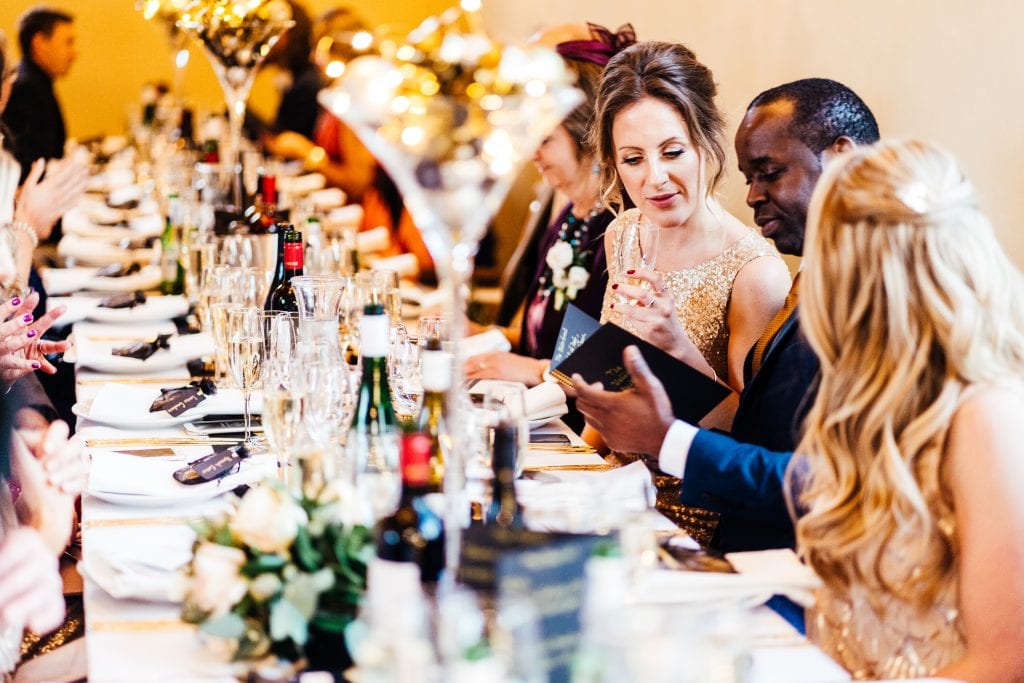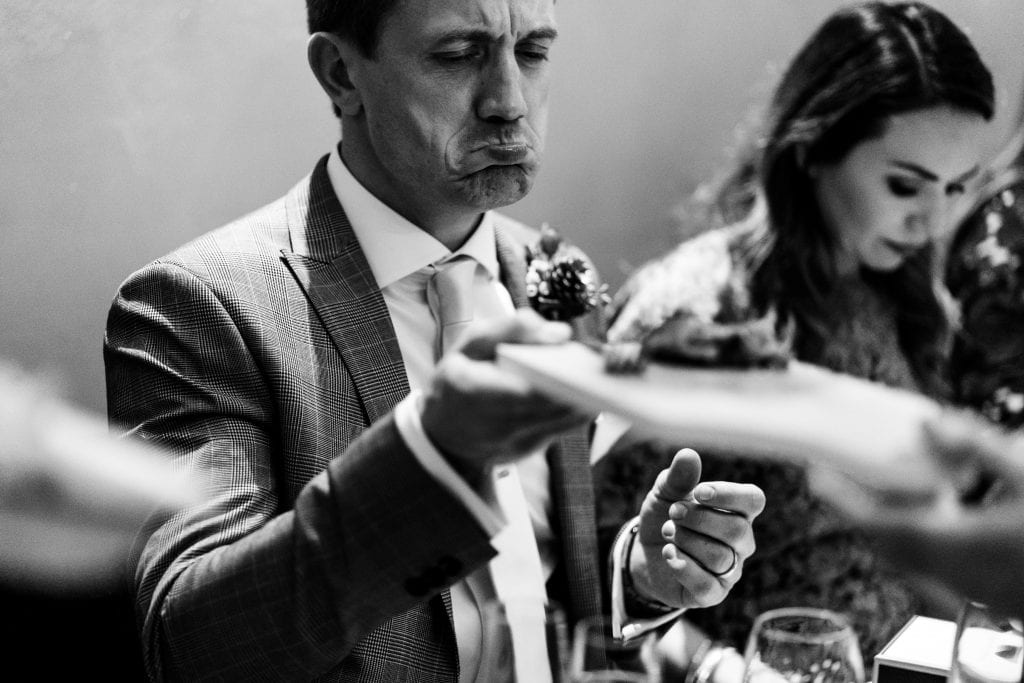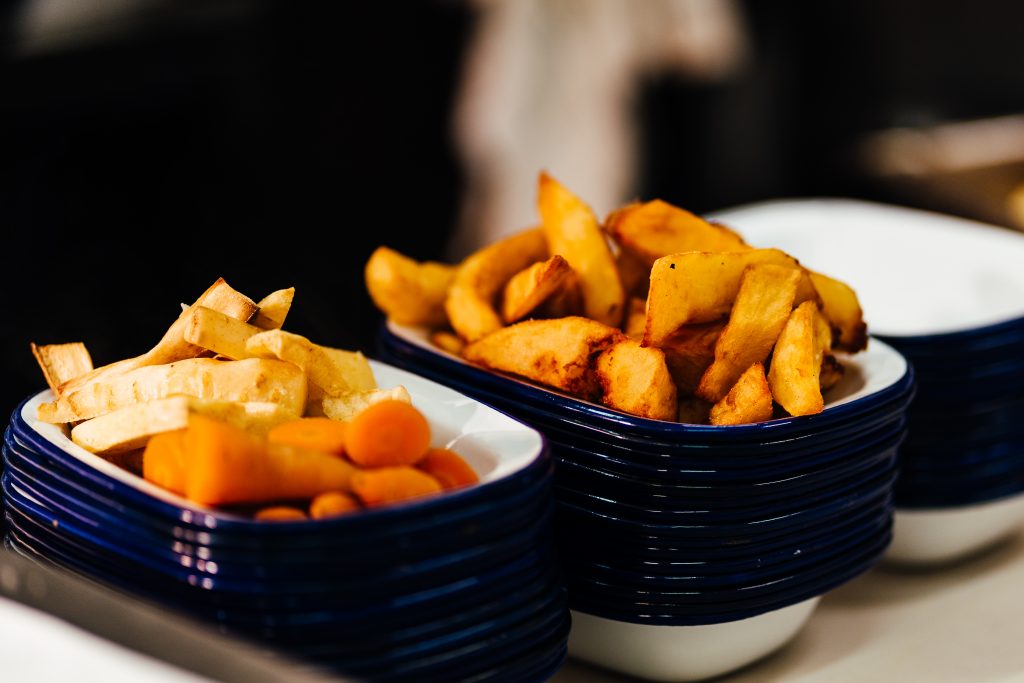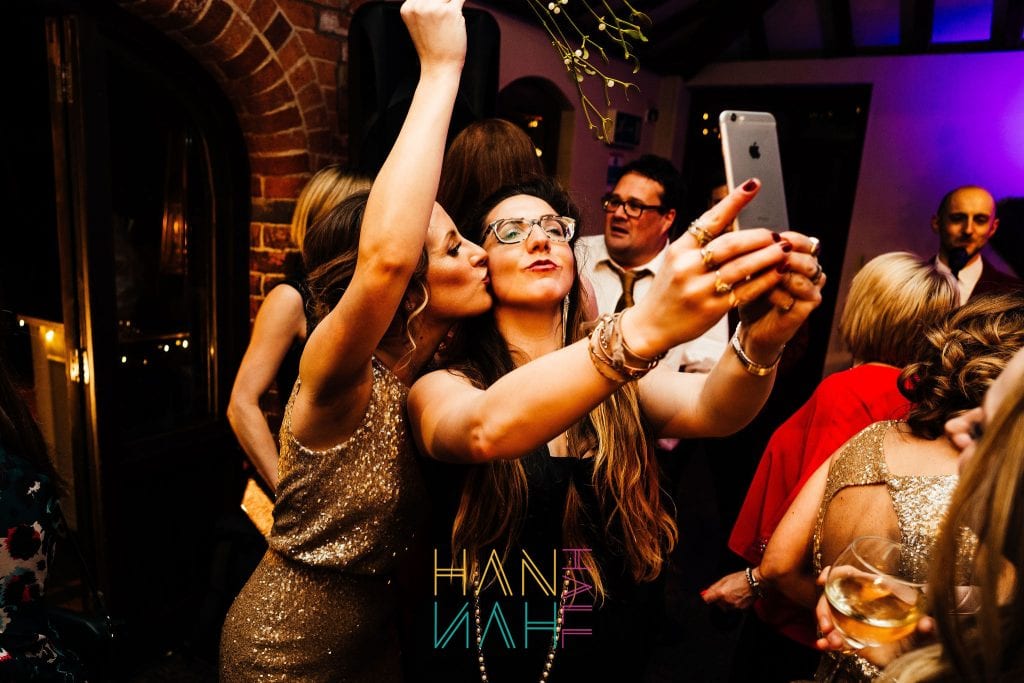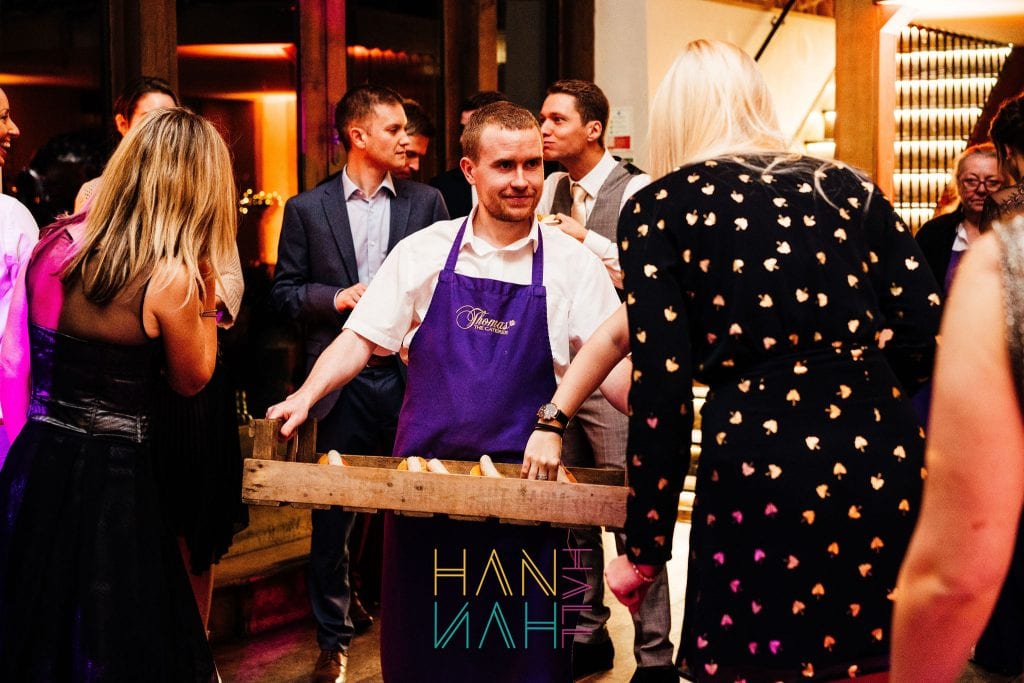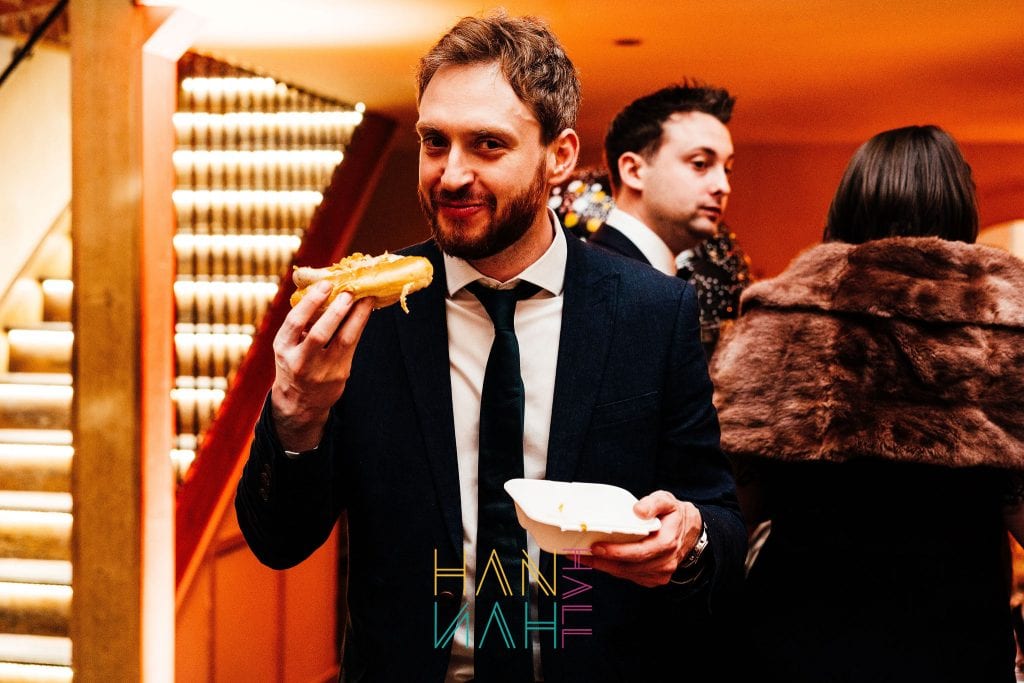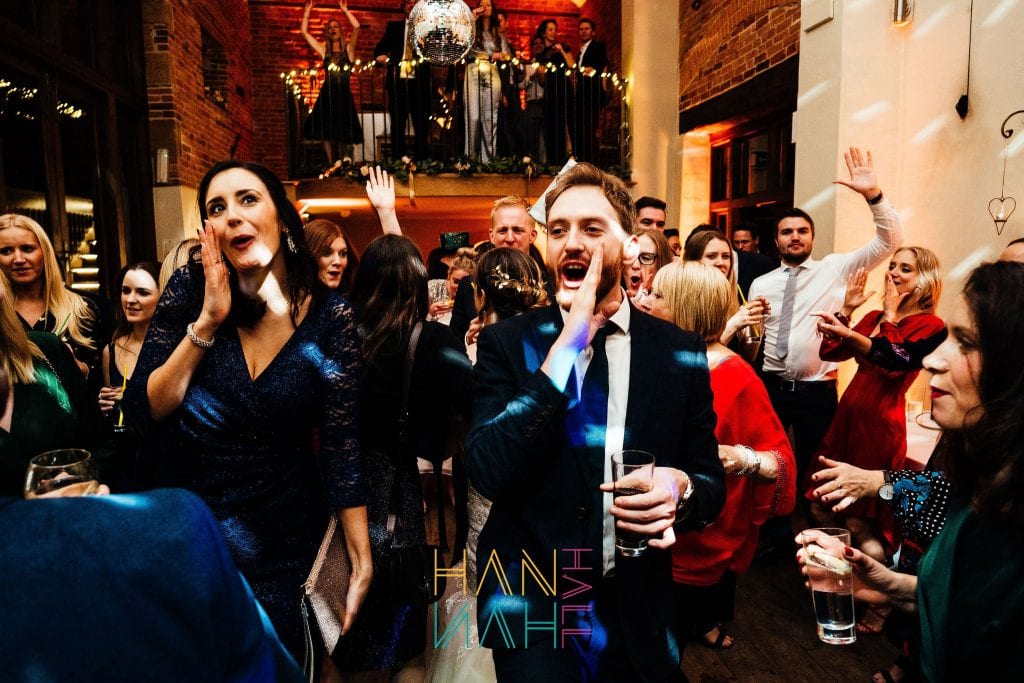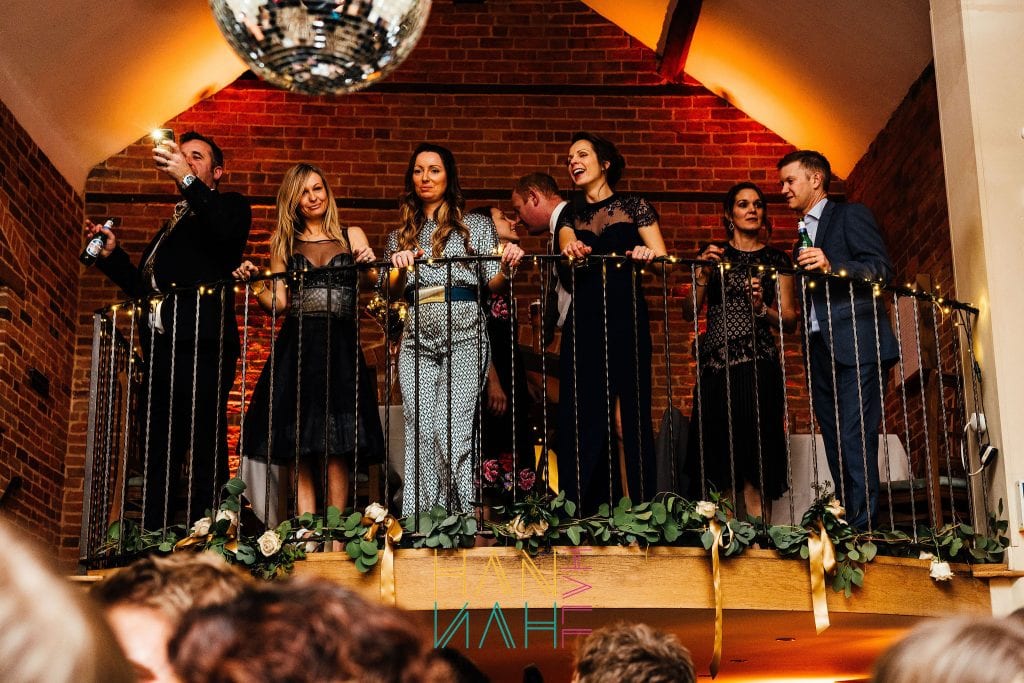 So what did the lovely couple think?
"What a fantastic team at Thomas the Caterer!
Their guidance, support, creativity in helping us design our bespoke menu and bringing it to life on our wedding day was brilliant!
The feedback from our guests was amazing so the canapes and wedding breakfast definitely lived up to the hype".
Anna & David Hammel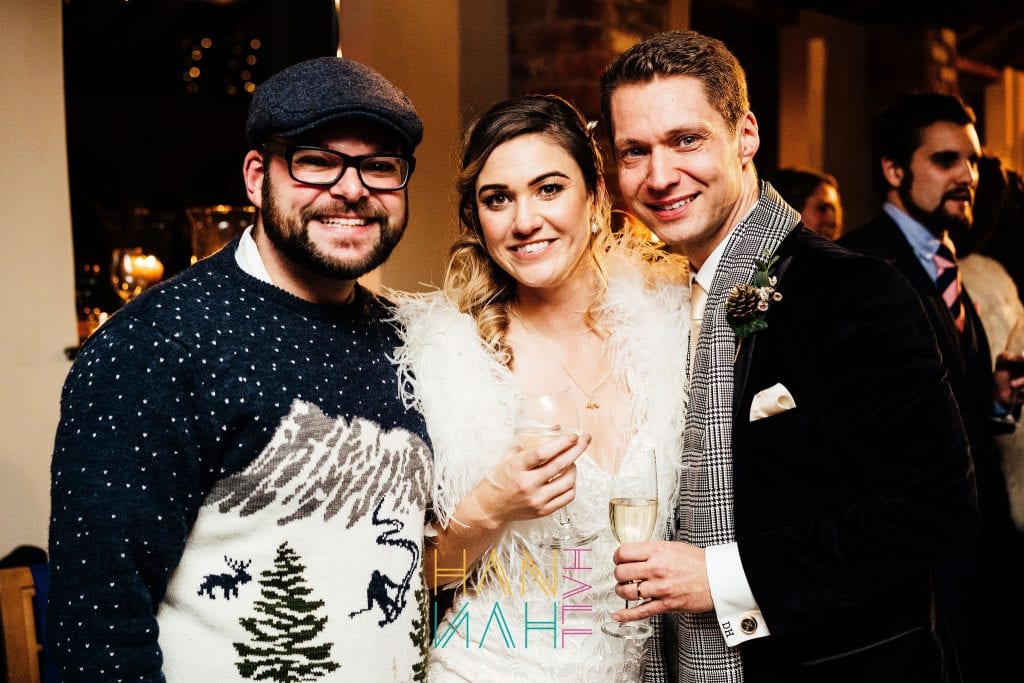 If you are planning a winter wedding at Dodmoor House or anywhere else across Northamptonshire or Leicestershire get in touch to design your own stunning wedding menu.