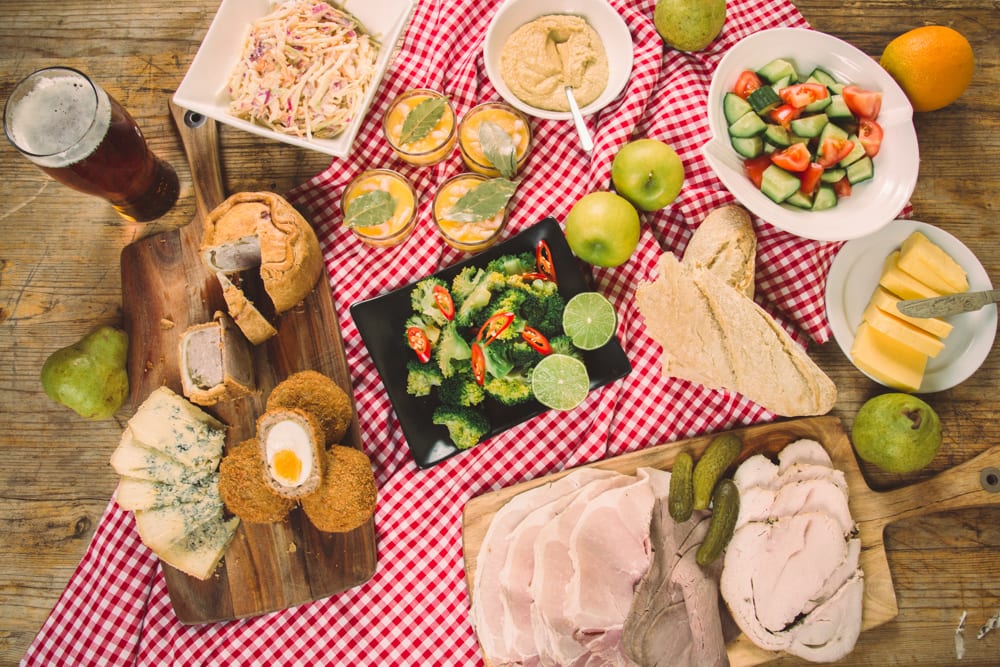 When the sun shines we all go a little crazy for al fresco dining. There is nothing better than enjoying some tasty nibbles and a glass of something ice cold on a warm summer day. We've all had that feeling when you arrive too late for lunch, it's a hot day and all the tables outside are taken. You have to sit inside the restaurant green with envy knowing that everything from the paella to the Pino would taste just that little bit better if you were outside.. That's why outdoor weddings work so well; guests can enjoy the wonderful weather while they celebrate your big day. And exactly why picnic style wedding catering is so awesome.
Whether dining under a tipi, an open sided sperry tent or yurt or completely al fresco on the beach or in a secluded woodland setting; laid-back, relaxed style wedding food works amazingly well, especially a 'posh' picnic.
Using the very best local produce from yummy sliced meats and freshly baked breads and dips to the finest cheese and tastiest veggies, you can create a delicious picnic style wedding feast that will fit your theme like a dream.
Serve canapes and sharing dishes in rustic apple and potato crates or go retro with mini picnic baskets for each table or couple to enjoy.
Summery, fresh and loadsa fun.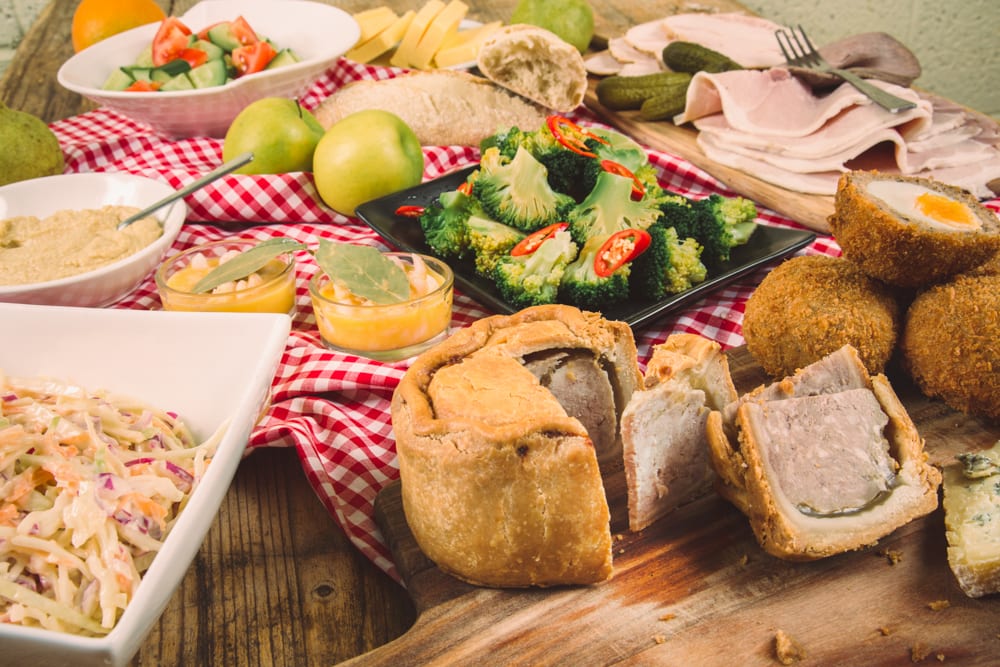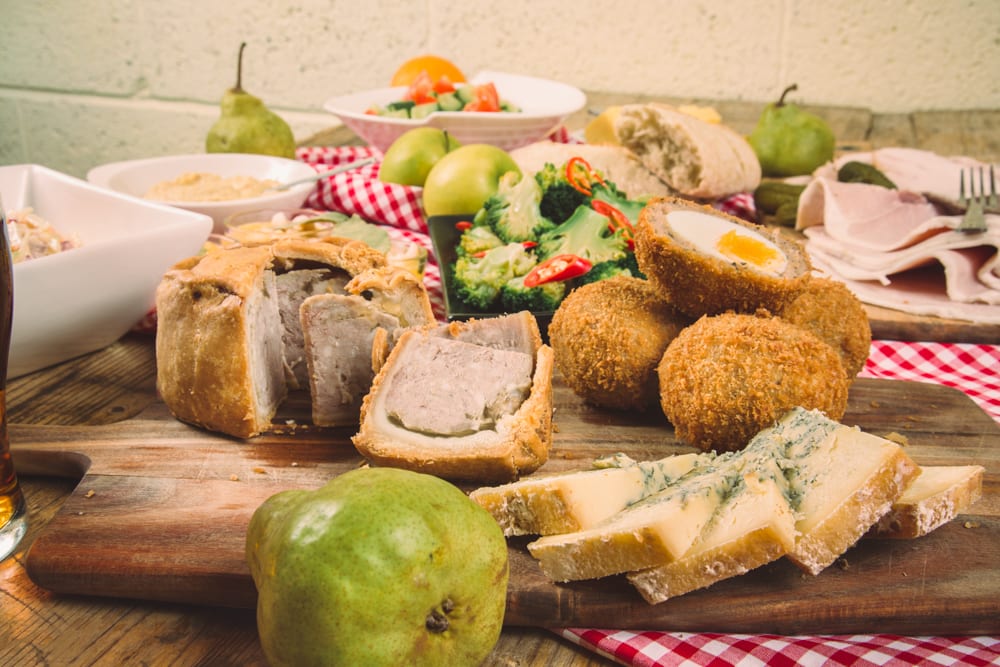 We've been serving up some amazing picnic style wedding breakfasts recently here's a few of our favourites:
Lauren and Thomas
Whole table to share – family style boxes served in Apple crates
Roasted & Sliced Leicestershire Meats
3lb Melton Mowbray Pork Pies
Lincolnshire Sausage Scotch Egg,
Pickled Vegetables,
Bosworth Ash Goats Cheese,
Lincolnshire Poacher, Long Clawson Stilton,
Jar of Mixed Fruit Chutney (Grandma's recipe)
Loaves of Sour Dough, Date and Walnut Bread (amazing bread)
3 of their Favourite Salads
 For dessert
A Hidden Chocolate Mousse with Chocolate Soil and Popping Candy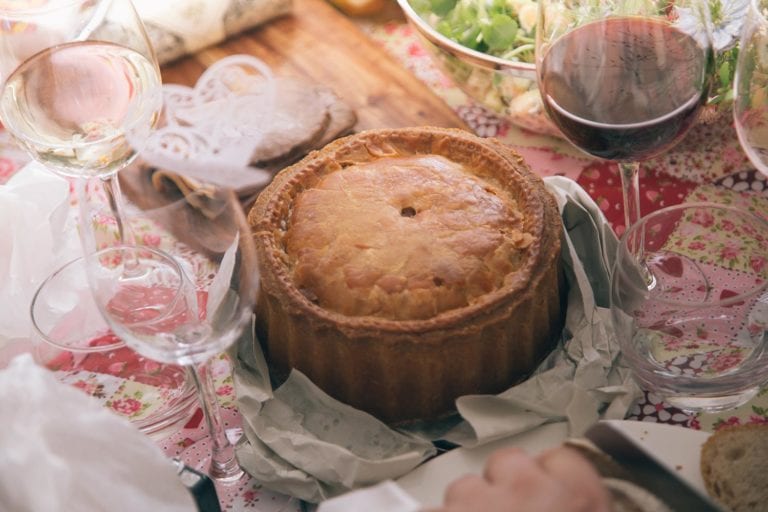 Connie and Tom
Starter
Baked Camembert spiked with Garlic & Rosemary served with Hummus & Dips, Olives, Antipasti Meats & pickled Vegetables
Chorizo Roasted with Honey, Balsamic & Garlic
Parmesan & Roasted Garlic Arrancini
Sliced Hambleton Bakery Breads on a board
Main Course 
Hot Carved Roast Beef served family style
Red Onion & Goats Cheese Tart
Garlic Roasted Courgette, Peppers & Aubergine Pesto Dressing
Torn Fig, shaved Fennel, Parmesan & Rockette Salad
Mixed Summer Bean Salad, Blood Oranges & Cashew Nuts
Served with Roast New Potatoes
Dessert 
Chocolate Mousse & Chocolate Ganache, Eton Mess, Lemon Cheesecake with sparklers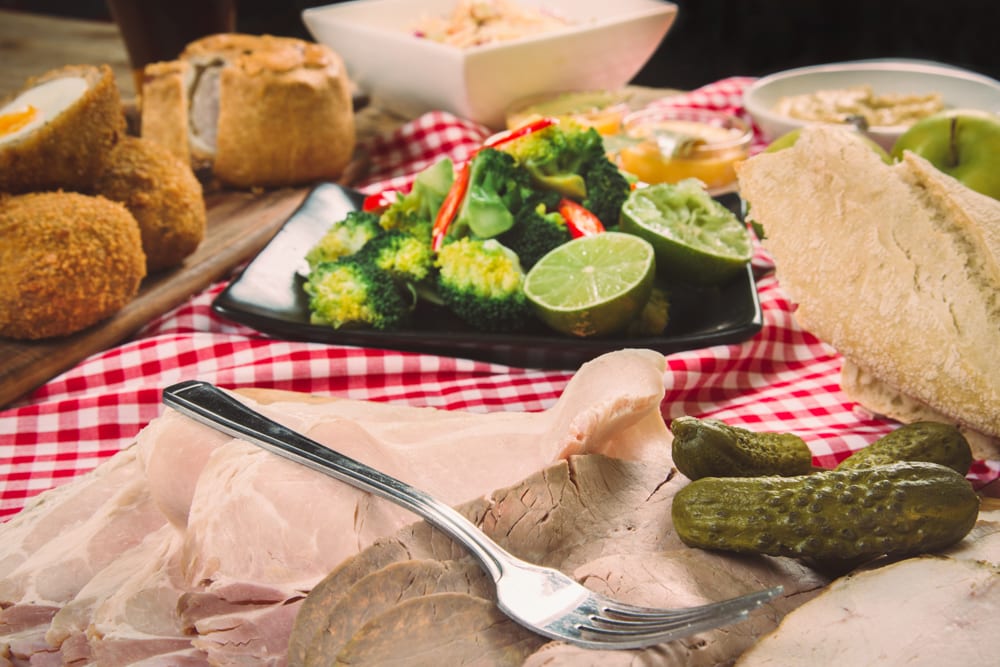 Bryony and Martin
Canapés
Lincolnshire Sausage Scotch Eggs
Steak wrapped Fries Béarnaise Mayonnaise
Smoked Salmon and Herb Mascarpone Roulade
Mini Falafel Bites, Tahini dressing (Vegan Friendly)
Sun Blushed Tomato and Mozzarella Arancini
Crunchy Fried Chicken – served in take away boxes
Main Course
Served Picnic Style 
from potato crates, on quirky wood boards and random plates
Roasted Topside of Beef, Moroccan Lamb, Herby Chicken
Potato Salad,
Beetroot with Mint Feta and Roast Chorizo
Plum Tomato and Balsamic Onions
Hand cut Coleslaw
Freshly Made Breads with Hummus and Beetroot Puree
Dessert "Cheese cake" and wedding cake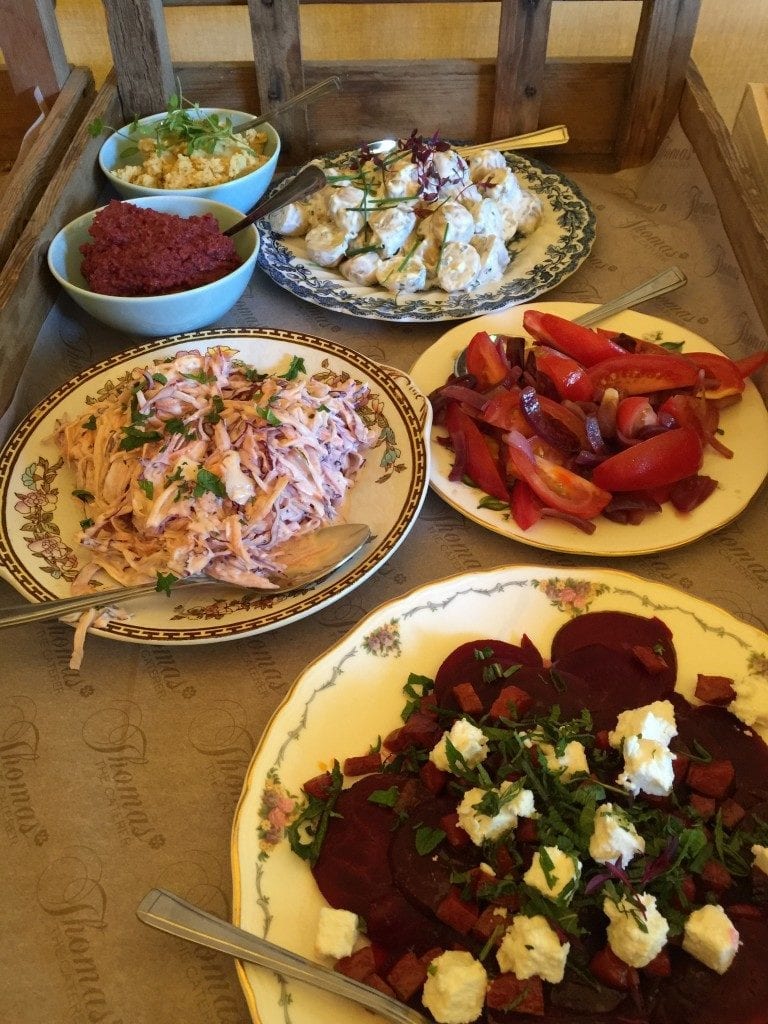 Yummy stuff and not a teddy bear in sight.
To discuss your picnic style wedding catering or any other foodie ideas give us a call on 0116 260 5034.