So this month we have asked the mind-blowingly awesome Liz Musson, founder of Mad Philomena what styles are sizzling hot for brides in 2016. Here is what the lovely Liz has to say.
"There are many emerging trends and styles for 2016 brides, which points to a new diversity emerging in the way wedding creativity is expressed.
The key is to find the elements of the trends that appeal to your personalities and style, then integrate them in your own way – putting your unique twist on they way they are featured in your day. Mix them, match them, adapt them, reinvent them, being brave is always the answer!
I have chosen to focus on Urban Nature for todays blog. Increasingly venues are popping up that have industrial heritage and offer something more than a blank canvas, they offer the character of decaying walls, imperfect surfaces and brick or stonework backdrops. They make a gritty foundation for this trend which mingles the structure of urban and industrial spaces with the organic loveliness of natural plants and foliage.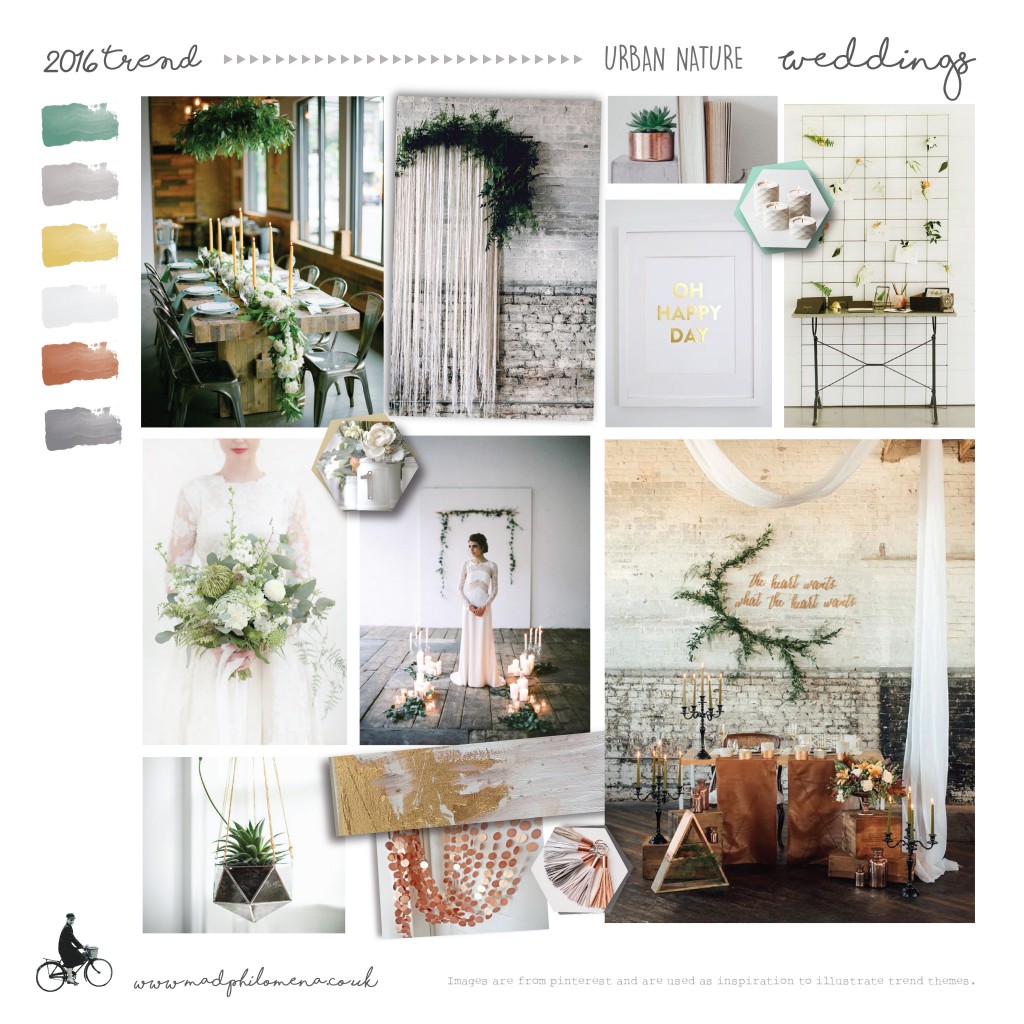 Integrating metallic finishes adds another layer to this mixing pot. It is a story of contrasts – crumbling stone and shimmering gold, faded paint and fresh lush planting, geometric structure and delicate florals.
Don't be afraid to mix your metallics, I always find this is highly effective and can make it easier to accumulate the required volume of props. Keep your flower palettes neutral and let the foliage do the talking as it creeps organically around your spaces.
If you don't have a venue with this in built character the principles can still apply – think distressed materials and papers for stationery and linens, up cycled tins for flowers – with peeling paint and scuffed edges. Integrate wire and metal, contrast the materials on your tables with the natural strands of greenery. Its all about the contrast – decaying and thriving, fading and shining, jagged and smooth.
Fresh detailing for Weddings
If you don't want to conform to a whole look for your Wedding day – but prefer an eclectic mix of elements, or you have a scheme in mind already – then key detailing is a way to integrate a fresh trend idea into you day.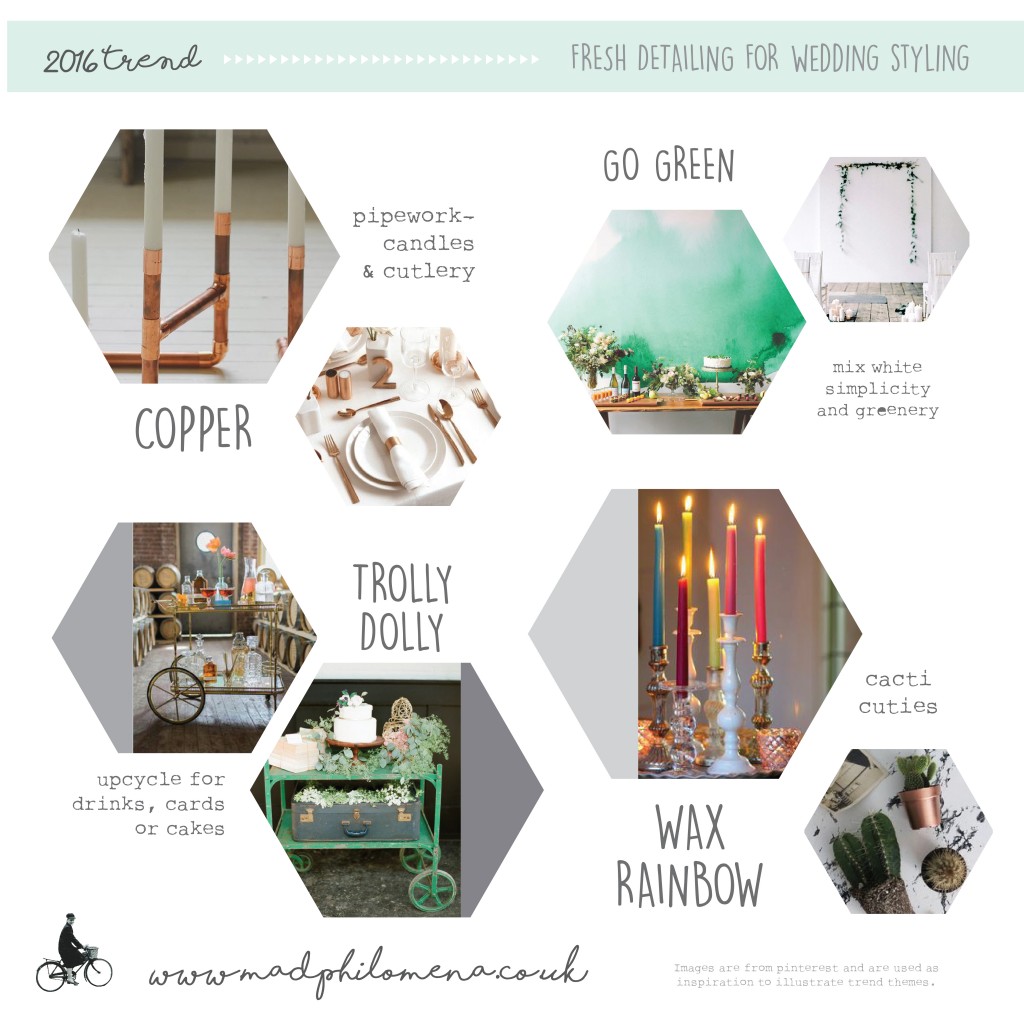 It doesn't matter if your theme is rustic floral or neon geometric, style your cakes or drinks on a funky retro trolley to create a trend feature and talking point. Customise the trolley to suit your day – spray paint it, or add tissue tails – make it prettier or groovier – get creative. Add copper accents around feature areas, you might decide to go all out and have total cool copper cutlery – or you could just integrate a few votives for the evening candlelight.
Candles can be a great way to carry your colour scheme, whether you are hiring our gorgeous brass candlesticks, or working with those provided by your venue, think about introducing some colour – there's so much more than ivory out there. Oh – and stop searching for succulents, cacti are so much easier to come by – cheaper to buy in bulk and look so cute dotted around the feature areas of your day.
If you'd like to see more 2016 trend boards, see how Mad Philomena could help you with styling,
stationery & props or have a look through our work to date – come and have a browse around
www.madphilomena.co.uk"