Vegan Churros, Chocolate Sauce and Chargrilled Pineapple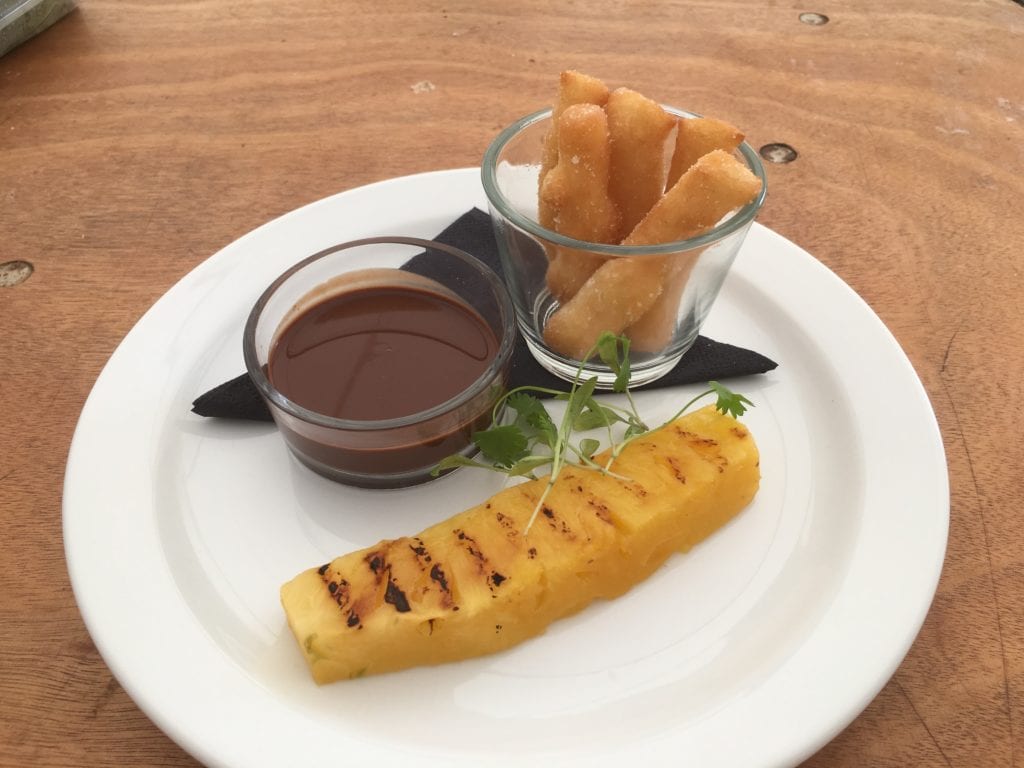 If you follow us on Instagram or Facebook, you'll have seen that we are fast becoming the go to caterer for vegan wedding menus in the midlands; serving up some amazing dishes that are so super tasty many guests can't actually believe they are vegan. Especially our vegan desserts which are going down an absolute treat at weddings this summer. So this month Joe is sharing the secret to creating awesome vegan churros with a dreamy chocolate sauce and yummy chargrilled pineapple.
For the churros:
2 cups water
1 cup sugar, plus extra for dusting
Pinch salt
2tbsp vegetable oil
2 cups plain flour
For the chocolate sauce:
200g vegan dark chocolate
1 tin coconut milk
1 pineapple, skinned and cored
To make the churros:
In a medium saucepan on medium heat, combine the water, 1 cup of sugar, salt, and vegetable oil.
Bring to a boil and remove from the heat.
Add the flour and stir with a wooden spoon, making sure all of the flour is completely mixed in. Allow for the dough to cool for about 15 minutes.
Transfer your dough into a large piping bag with a large star tip on it and place it in the fridge to cool for an extra 30 minutes.
In a large pot, bring 2l vegetable oil to 180 degrees (adjust the amount of oil depending on the size of your pot), using a thermometer.
Adjust the heat to keep the oil at a constant temperature during frying
Pipe 4 inch long churros into the oil very carefully, and fry for about 4-5 minutes until they are crispy and golden brown.
Using a slotted spoon, remove the churros from the oil and let them drain on paper towels.
Toss the churros around the bowl to coat
To make the chocolate sauce:
Add the coconut milk and chocolate to a heavy bottomed pan and heat slowly until all chocolate has melted, put aside until required.
For the pineapple:
Heat chargrill plate over a high heat
Cut the pineapple into 8-10cm strips, chargrill for 2 minutes on each side.