Tommy's Top Tips for Picking the Perfect Wedding Canapés
The perfect wedding canapés, miniature parcels of yummyness. Guaranteed to get the warmest of welcomes at your wedding reception. Just watch your guests' eyes light up as waiters bearing shiny trays begin to circle.
Not sure if canapes are right for your wedding or wondering what on earth to pick?  we will help you find the perfect wedding canapés, struggle no more! Read our top tips on picking the perfect wedding canapes from the ultimate crowd-pleasers to some right bobby dazzlers.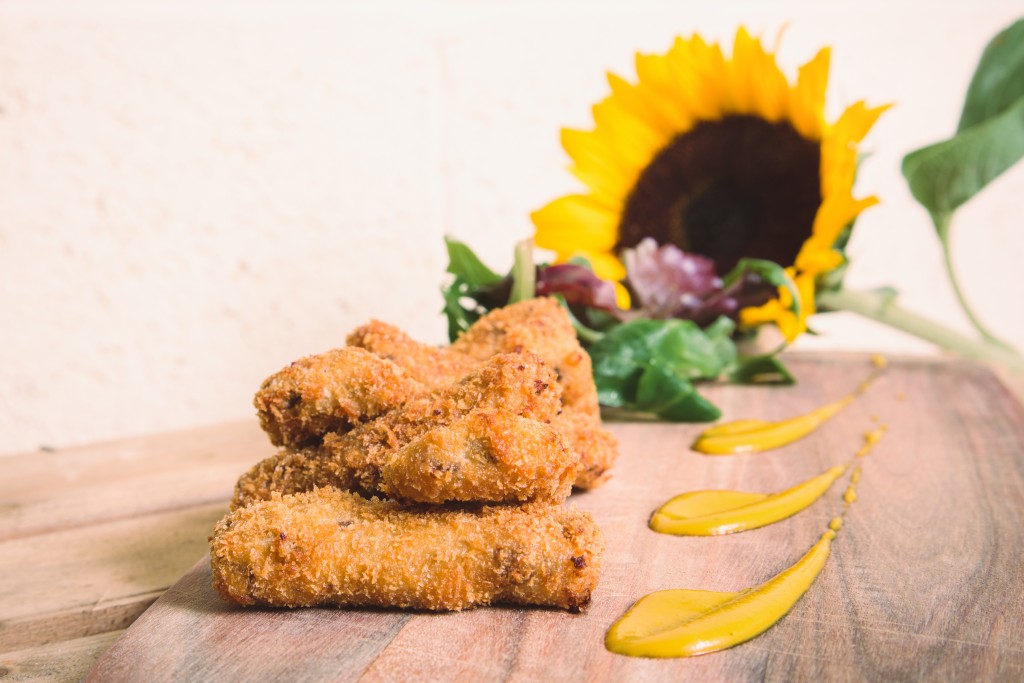 Do you need to serve canapés at your wedding?
It's down to you and will depend on the style and timings of the day. If you are seating guests pretty quickly after the ceremony then the answer may be no. It won't be long before your guests are tucking into their yummy starter. If however, there is quite a gap between the ceremony and the wedding breakfast, or you are not eating until late, then Perfect Wedding Canapes are just the ticket. They'll keep your guests going until the main meal and stop people getting too tipsy on an empty stomach.
How many should you serve?
This will be determined by how long your drinks reception is. We always say three as a minimum and six as a maximum, with a new option served every 15 minutes.  So for an hour long drinks reception four would be ideal. Any less and you risk them running out too quickly and we want to make sure there are plenty of your prefect wedding canapés but any more and people can fill up with no room for dessert (and trust me, they'll want room for dessert!). We always over cater slightly. We generally work to one of each option per person but know that there are some people who will want seconds (or thirds).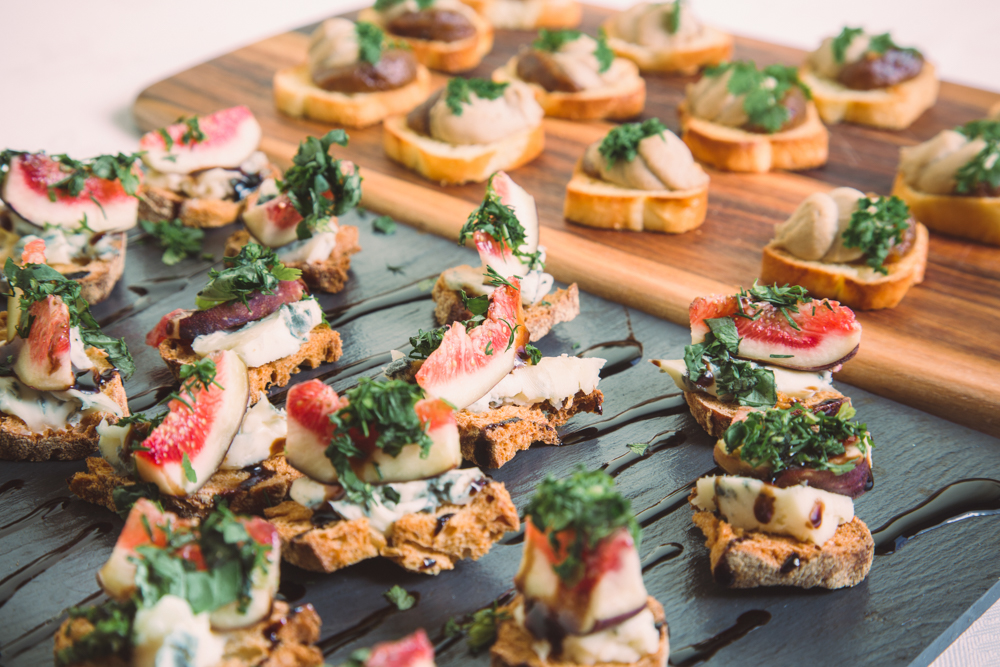 What to pick?
The choice is endless with canapés as you can have delicious and elegant mini versions of most of your favourites. As a guide we'd recommend including at least one fish, one meat and one veggie option.
Be creative. If your wedding or main menu has a theme then you might choice to follow this through to the canapés. For example if you are having a Caribbean style menu then why not showcase this in your canapés – think coconut chicken with mango salsa or lime roasted king prawn, plantain with black bean. Have fun with presentation using quirky serving styles or even some theatre.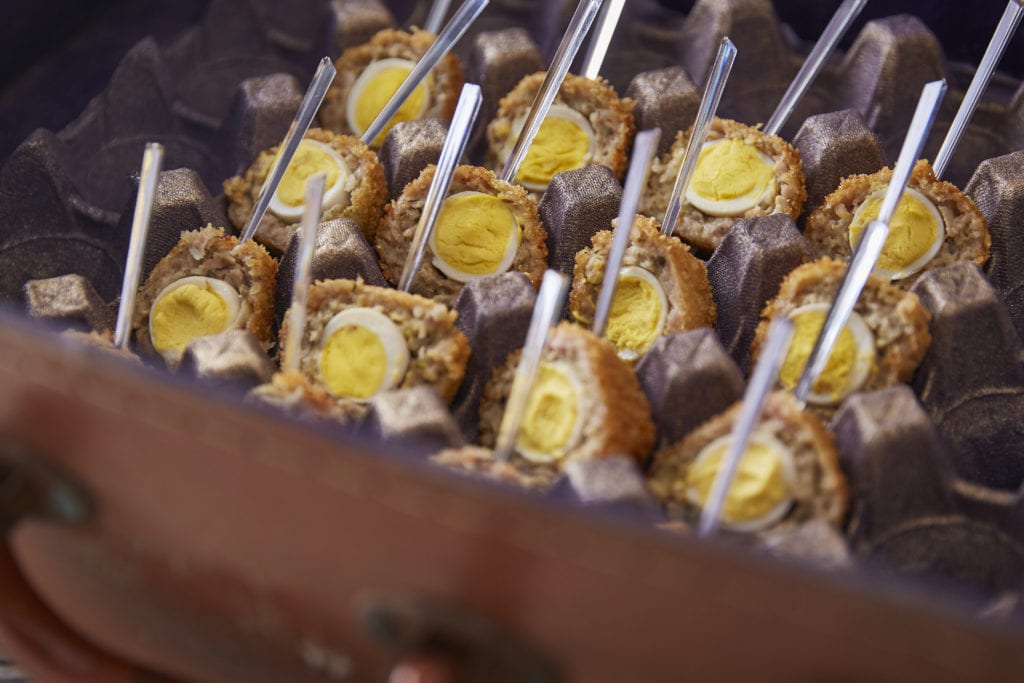 Show your personality. If you want to inject your personality or story into your menu, your canapés are the perfect place. Perhaps there is a signature dish you are known for that could inspire one of your dishes or if there are destinations that you have visited as a couple why not have a canapé to represent each country. Add little flags to make it even more fun.
Remember the kids. When catering for children at a wedding people usually include a separate kid's menu during the wedding breakfast but often forget them during the drinks reception. Why not include some child-friendy options such as mini burgers, pizzas, veggie smiley faces or keep it simple with mini milkshakes and cookies. They'll be much happier than if you try to give them a smoked salmon blini!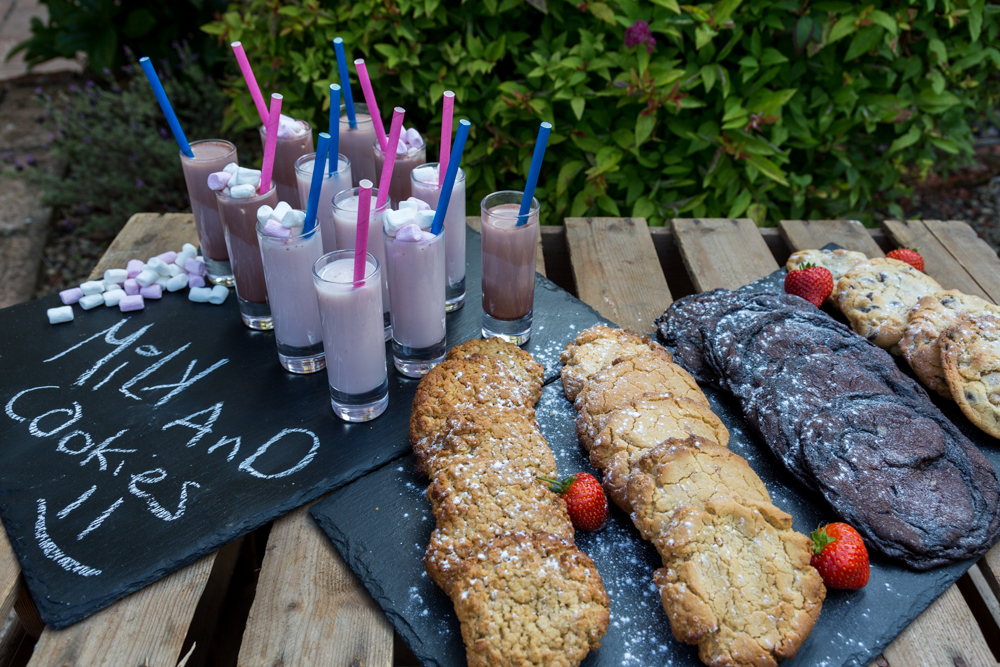 And any special diets. Again people with special diets can sometimes be forgotten during the canapé reception, so it is important that any vegetarians get extra veggie canapés and that gluten free or vegan alternatives are available to ensure everyone is catered for all day.
You can't beat the classics. Some of the tastiest options are the most simple such as mini yorkshire puddings with roast beef and horseradish, Camembert beignets and sweet chilli jam or steak wrapped chip with Bearnaise mayonaise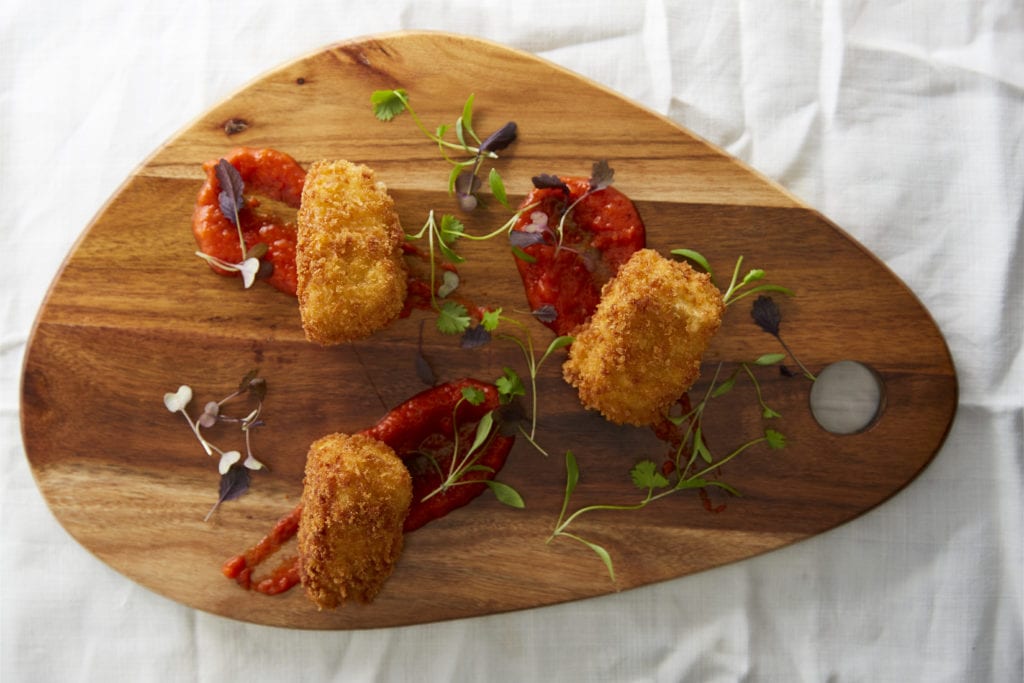 Be a sweetie. Flip it on its head and have dessert canapés either during the drinks reception or after the wedding breakfast. Think mini Eton mess, apple fritters with toffee dipping sauce or salted caramel popcorn with popping candy – delicious.
Go large. If you are looking for something more substantial than regular sized canapés, (although our canapés are always bigger than a single bite) why not upgrade to sliders such as mini gourmet burgers or fish goujons with triple cooked chips in newspaper cones. Guaranteed to tide even the hungriest guests over until the main course.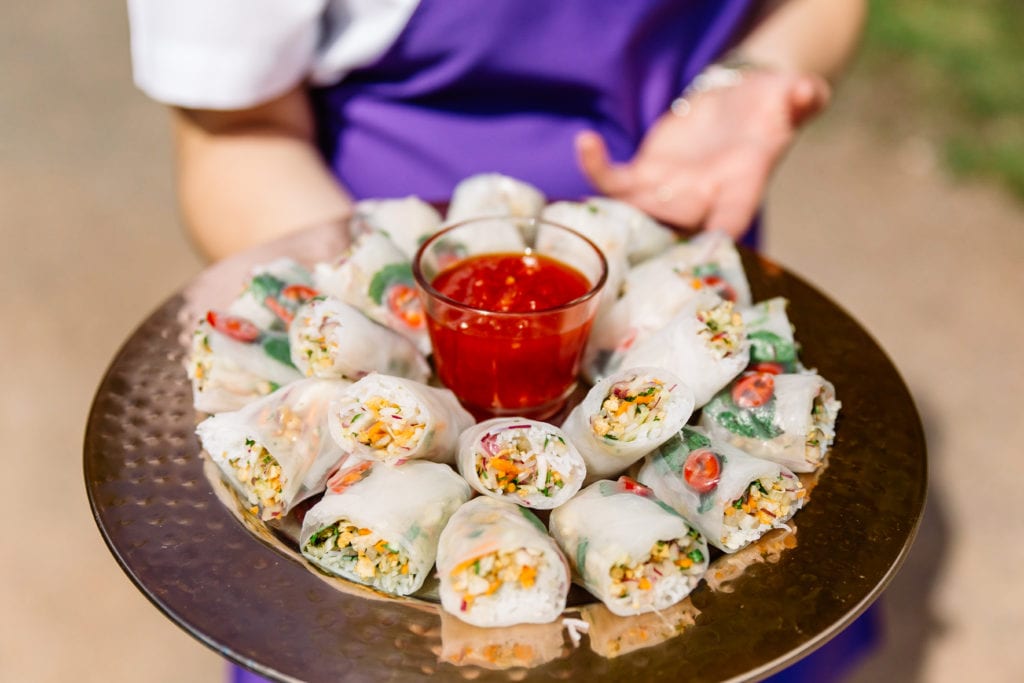 What would we recommend?
Oh that's a tough one, they are all amazing but if we had to pick here are our must haves:
Steak wrapped Chips, Béarnaise Sauce – once described as the fittest canapé ever by a guest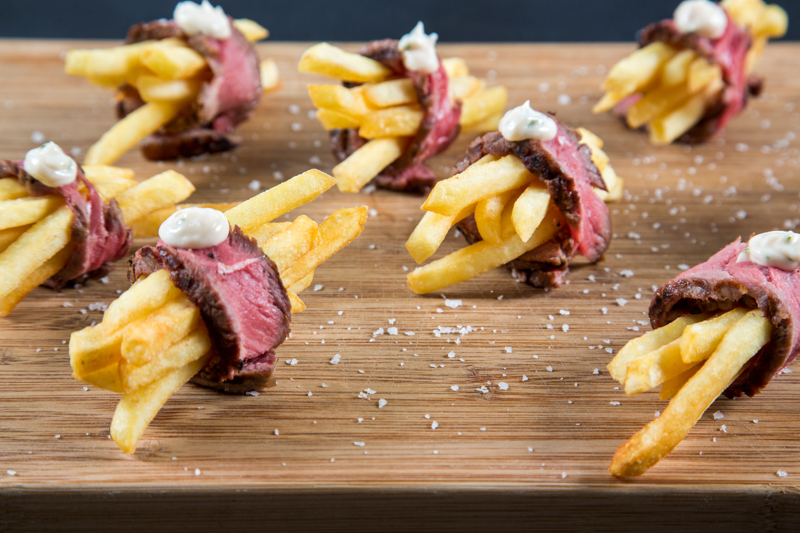 Mozzarella and Sun-blushed Tomato Arancini – deep fried risotto balls with a fresh Mediterranean flavour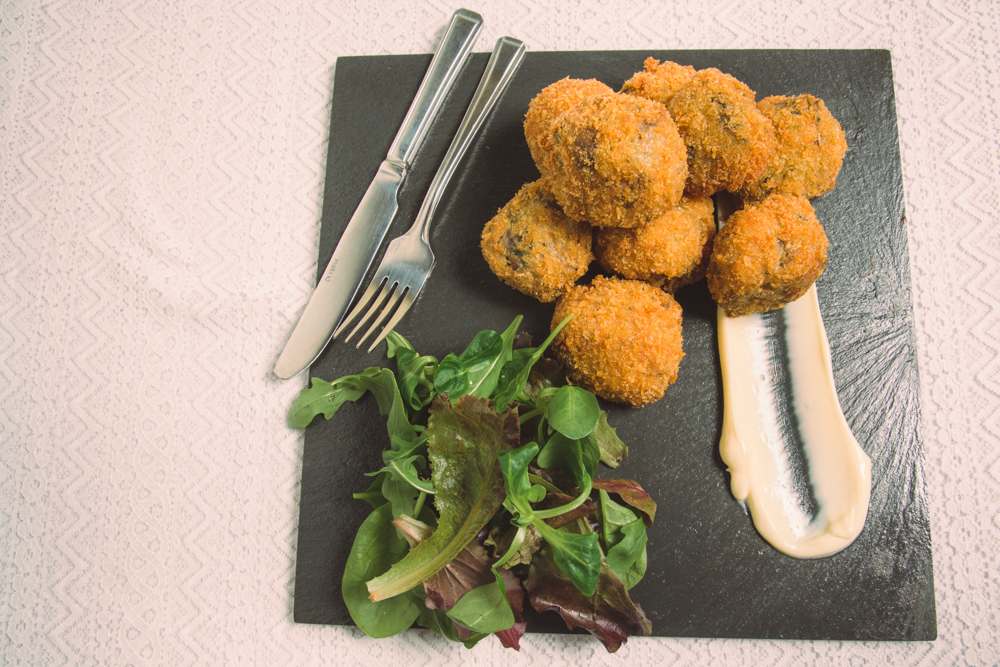 Chicken Liver Parfait and Red Onion Chutney on toasted Brioche – elegant and super smooth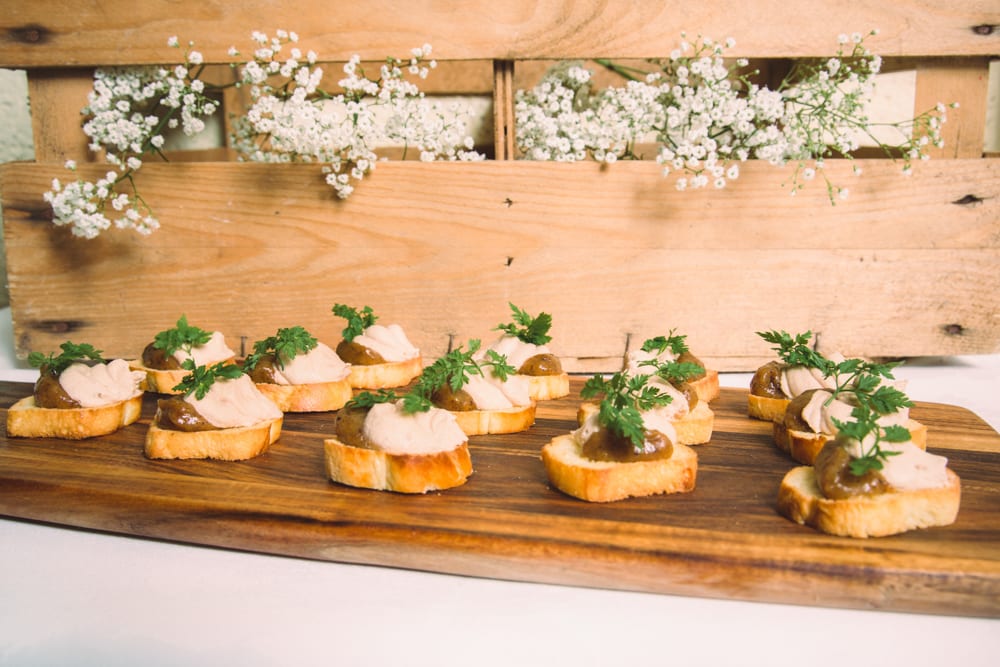 Mini Yorkshire puddings with Braised Beef Chuck Steak and Horseradish Sauce – always the first to disappear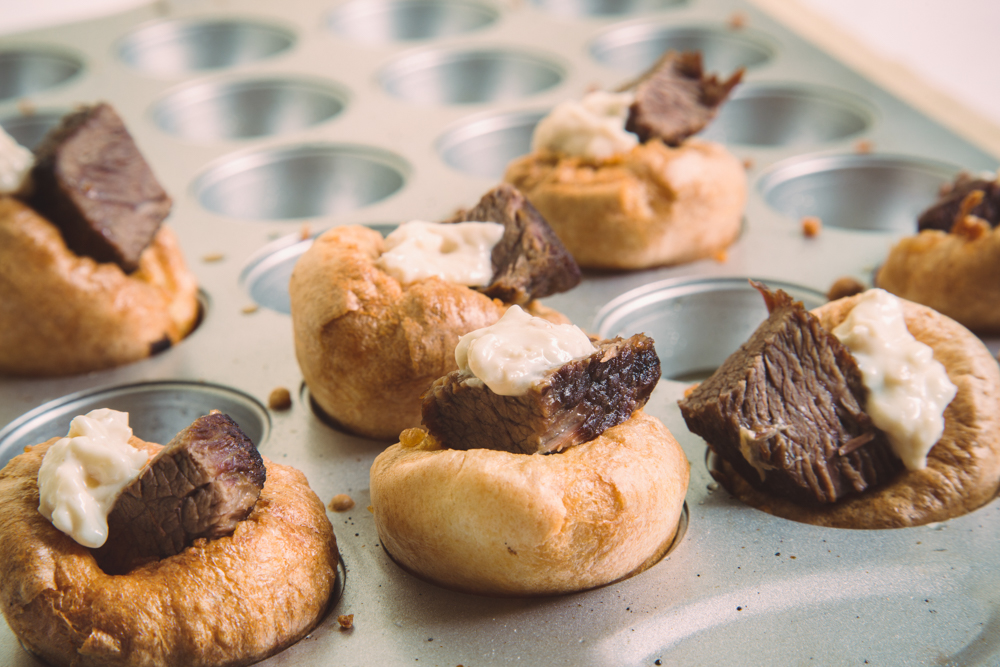 Black Bean Chilli Nachos with Guacamole (Vg) – Meat free flavour full!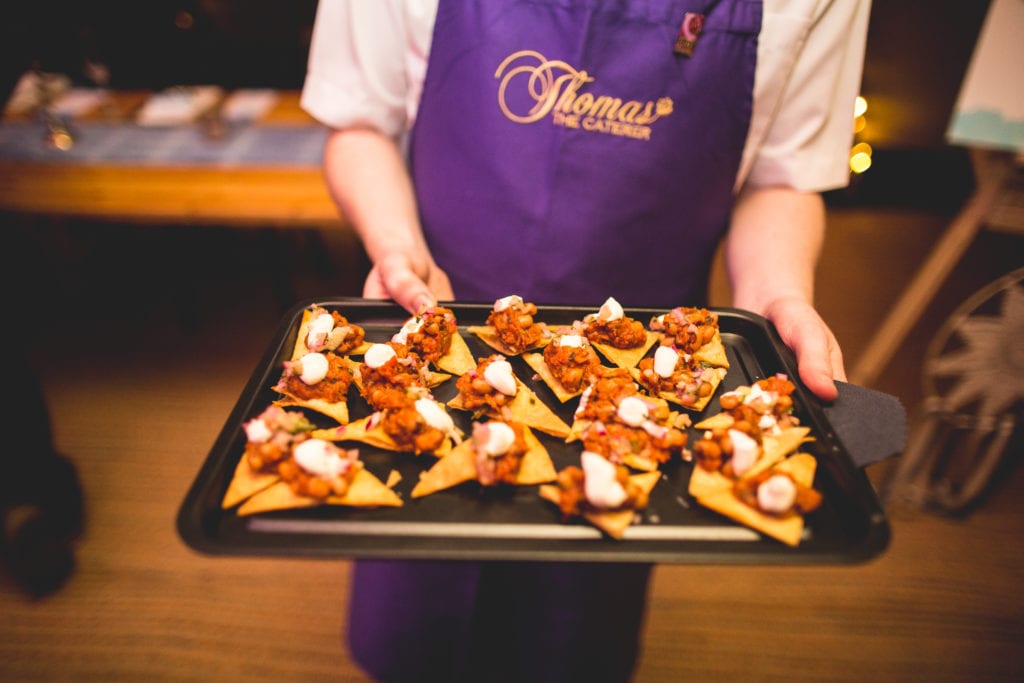 Crispy Salt and Pepper Squid with Aioli – Mega tasty and always a winner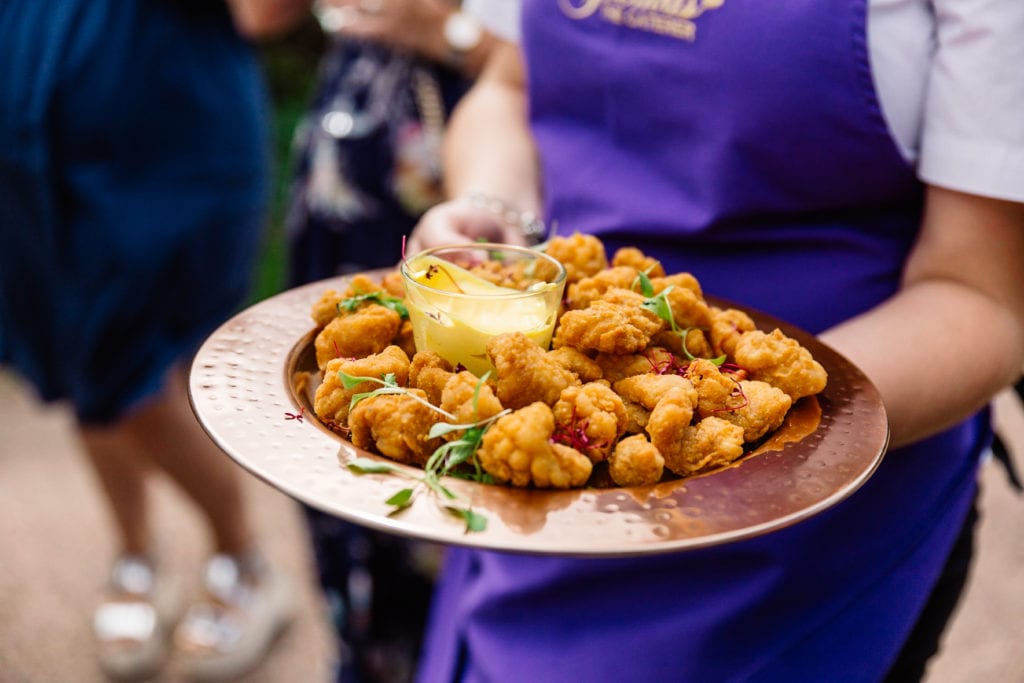 That's a few of our favourites. These always disappear quick smart. If these are not quite what you are looking for? How do these tickle the taste buds? What will be your perfect wedding canapés?
Perfect Meaty Wedding canapés
Beef, Lemongrass Chilli and Thai Basil Stir Fry (served in glass pots)
Black Pudding "sausage rolls" Tomato Chutney
Cajun Pork Fillet Charred Sweetcorn Siracha Mayonnaise
Chicken Leek and Bacon Pie
Coconut Chicken and Mango Salsa
Crispy Duck and Hoi Sin Sauce in Pancakes
Jerk Chicken, Creamed Corn Blini
Lamb and Smoked Aubergine Croquette
Mini Chicken Fajitas
Pig Cheek Popper Curried Cauliflower Puree
Pork Belly Poppers with Pineapple Salsa
Spicy Lamb Poppadum, Lime pickle yoghurt
Vietnamese Pork Nem
Wild Mushroom and Truffle Arancini, Bacon Mayonnaise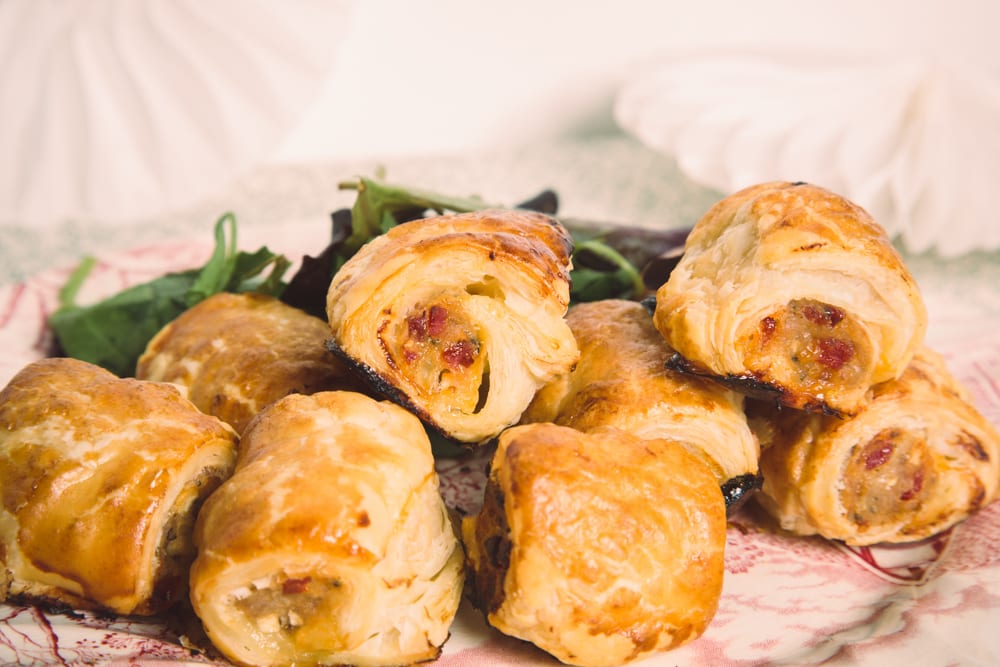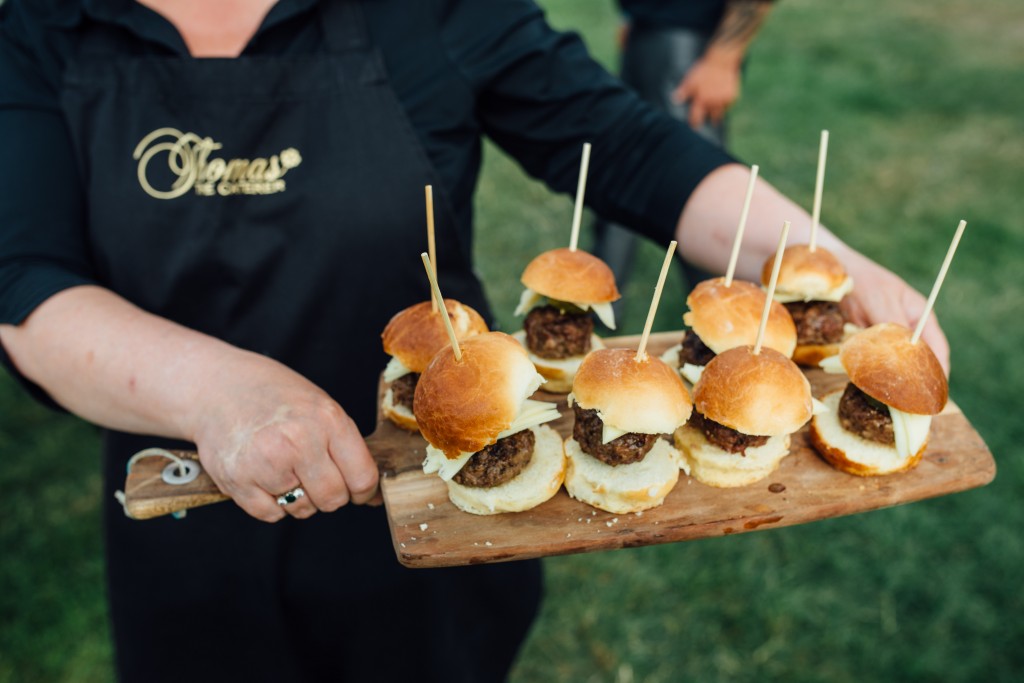 Astoundingly Perfect Fish Wedding Canapés 
Avocado, Lime, Crab & Coriander Verrine
Black Sesame Seed Sushi Rice Sashimi Tuna and Nam Jim
Burnt Mackerel compressed Cucumber Radish and Dill
Herb Coated Seared Tuna marinated in Soy, Wasabi Mayonnaise on Rice Cracker
Lime baked Salmon, Coconut Cream and Coriander Tarts
Mini Fish and Chips crushed Peas and Tartar Sauce
Prawn Cocktail Tartlets
Salt and Lime cured Salmon, Dill and Lime Sour Cream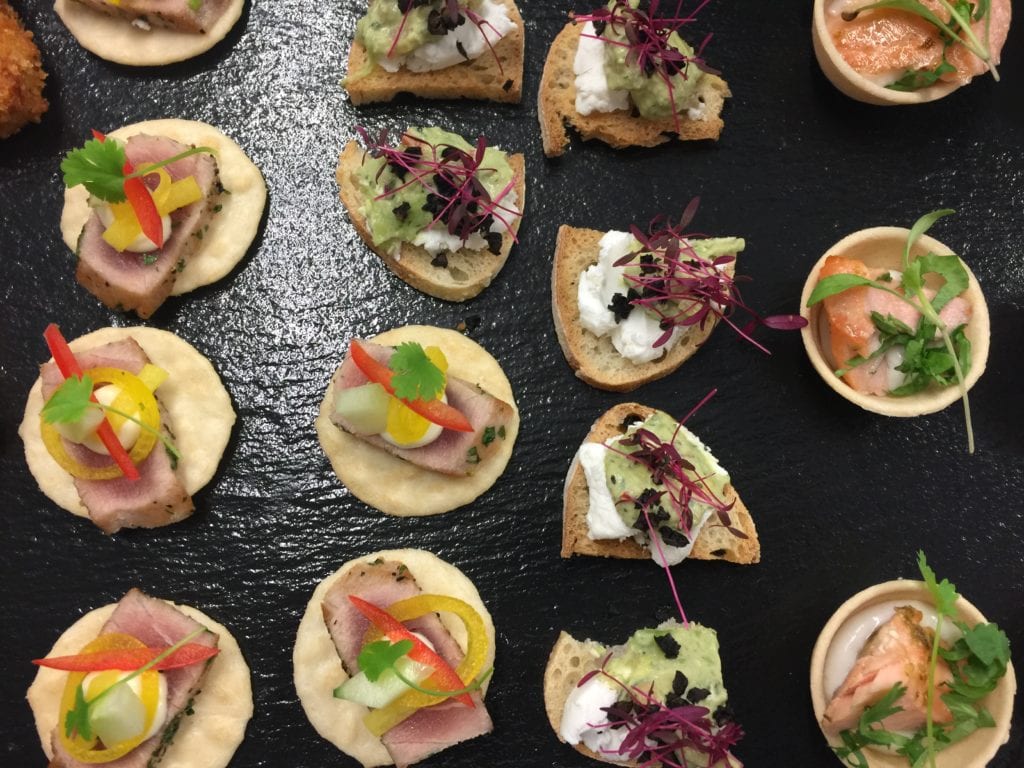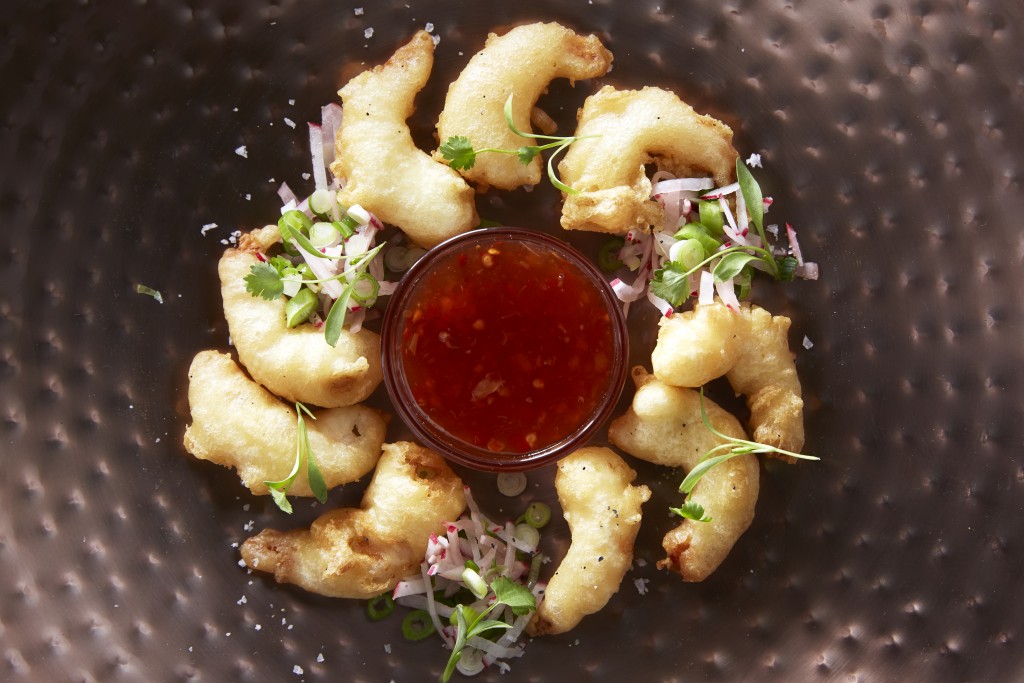 Perfect wedding Vegetarian Canapés
Goats Cheese, Walnut & Sweet Onion Jam Crostini
Mac and Cheese Bites
Mushroom Pate on toasted Brioche
Ratatouille and Parmesan Arancini
Spiced Parsnip Soup Shot
Sun-dried Tomato and Mozzarella Arancini
Sweet Potato Falafel, Carrot and Tahini Sauce
Tapenade and Red Pepper Bruschetta
Thai Rice Balls, Sweet Chilli Dips
Vegetable Pakora, Mango chutney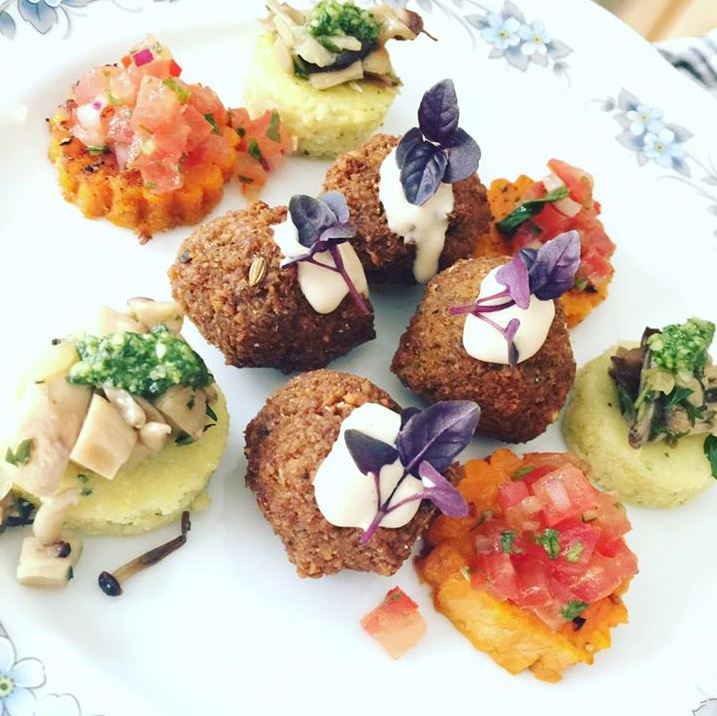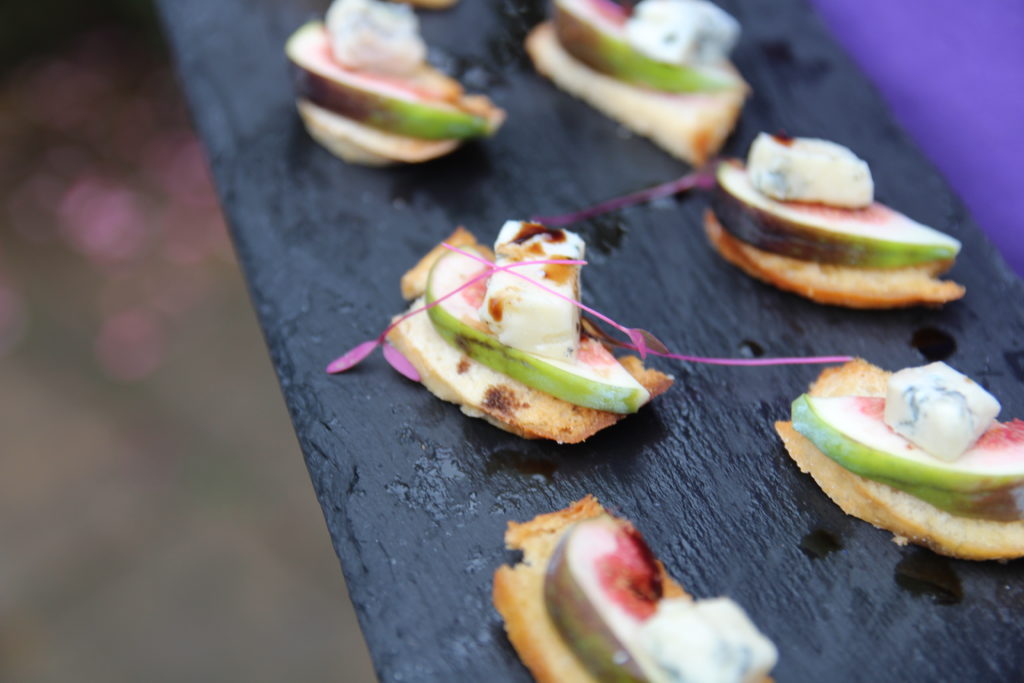 If that's made you hungry for more canapé chat then give us a call on 01163 260 529.
or check out more of our blogs here