Hello Sunshine.
Sarah and Jon's Summer Wedding Menu Sharing Style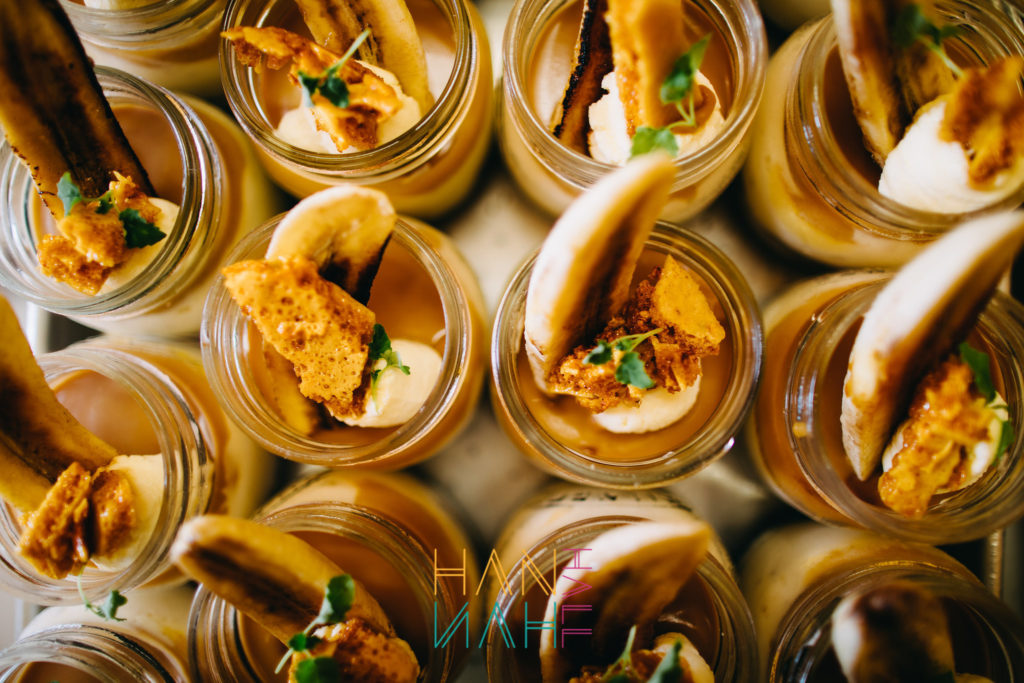 This absolute belter of a wedding happened early last summer (remember last summer? weeks of BBQ's and beer gardens, football fever and long hot sunny days that seemed to go on forever?) Well, the lovely Sarah and Jon were married last June at Bawdon Lodge Farm in Leicestershire and opted to serve their awesome summer wedding menu sharing style. Boy, oh boy, what a feast it was.
Sarah and Jon are literally two of the nicest people you could meet and when I first met them at a Sami Tipi Showcase they were full of exciting ideas. I couldn't wait to start brainstorming their menu. Sarah is a self confessed cheese 'oholic, so there needed to be plenty of cheese and dessert, well it had to be cheesecake. Initial ideas were picnic style, sharing platters or maybe an afternoon tea. They were looking for fresh, summery flavours with a relaxed sharing vibe to suit their chilled out tipi wedding beautifully.
So we got working on a menu that brought together all their ideas and favourite foods. Canapes were served in an afternoon tea style including the cutest mini sausage rolls and cucumber sandwiches served from vintage cake stands.
The starter was all about the cheese – deep fried Camembert, mac n cheese bites with crisp summer salads such as feta and watermelon and red onion served on table top boards.
The main was served sharing style with a posh picnic feel – tasty sliced meats, salads and freshly baked focaccia breads.
Oh and dessert was AWESOME – two types of cheesecake in kilner jars.
Evening food – fish and chips with mushy peas – so simple and so perfect for a warm summer evening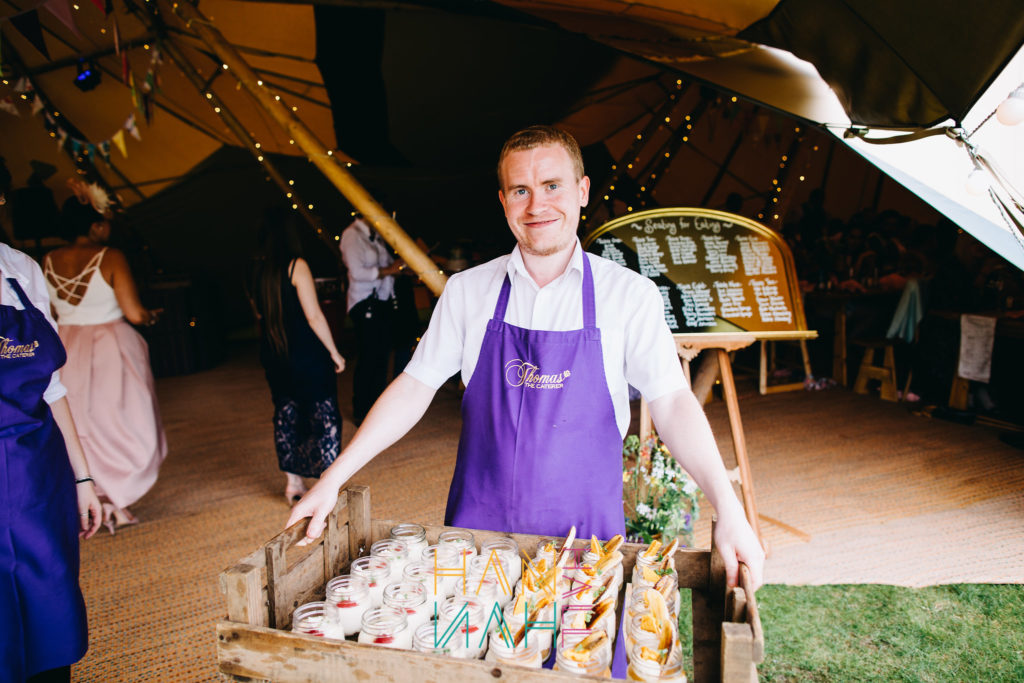 Their gorgeous menu looked like this
Canapés
In the theme of Afternoon Tea
Pulled Pork Sausage Roll
Smoked Salmon and Asparagus Tarts
Cucumber Sandwiches
Welsh Rarebit
To Start
Table Top Stands
Mac n Cheese Bites
Deep Fried Camembert, Sweet Chilli Sauce
Feta, Watermelon and Red Onion Salad
Red Onion and Goats Cheese Tart, dressed Rocket
The Main Event
Served family Style
Honey Roast Ham
Roast Topside Beef
Potato Salad
Summer Bean Salad
Coleslaw
Tomato, Olive and Basil Salad
Homemade Garlic and Rosemary Focaccia
Something Sweet
Served in Kilner Jars
Lemon Cheesecake and Banoffee Cheesecake alternatively dropped
Evening Food
Fish Goujons, triple cooked Chips and Mushy Peas
Served in NYC style take-away boxes
Fudge Kitchen
3-4 pieces per person
Chocolate orange
Strawberries and cream
Jelly bean
Rocky road
Photos by the super snapper Hannah Hall Photography obvs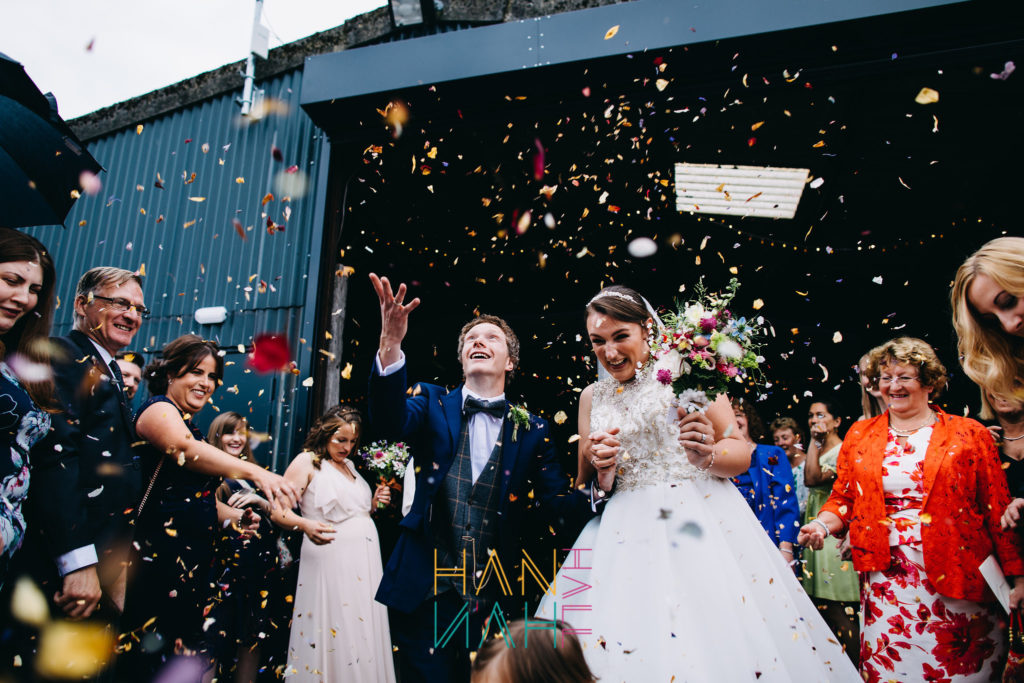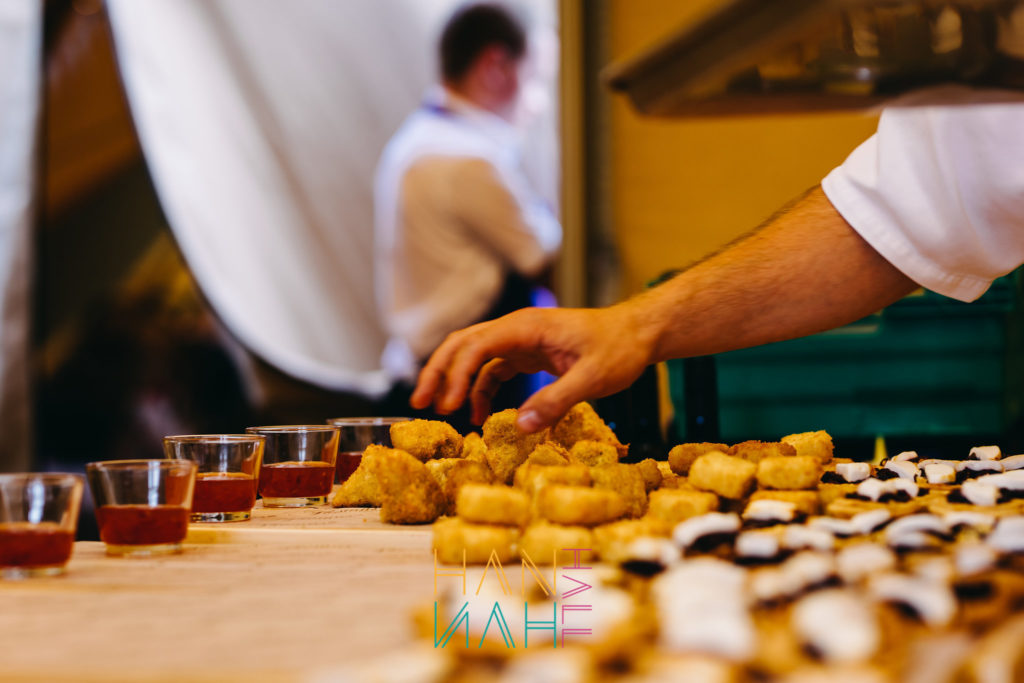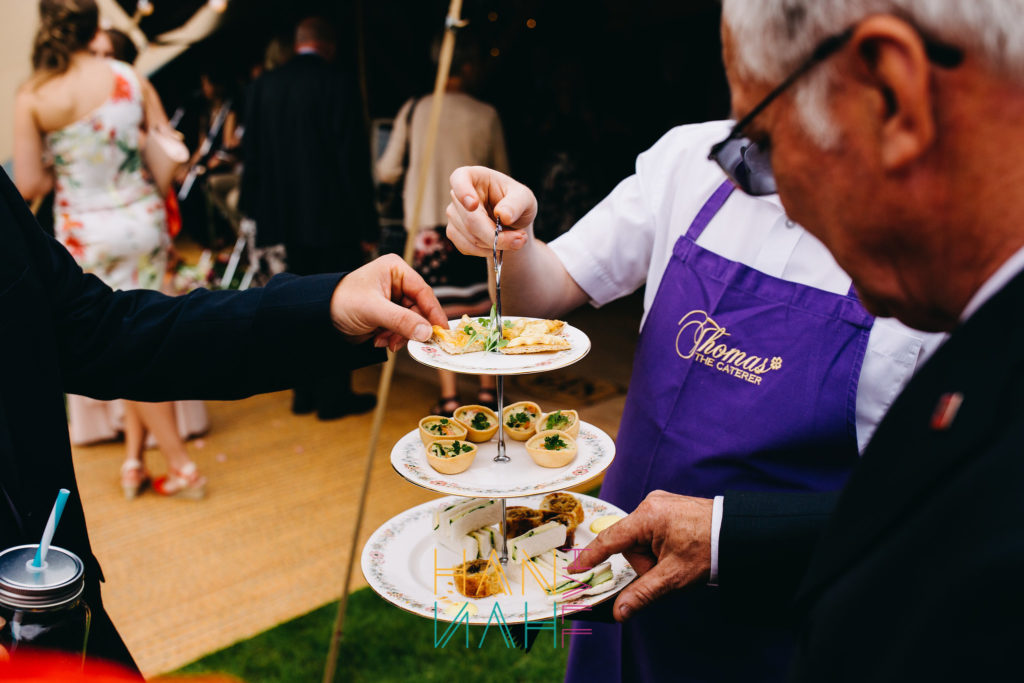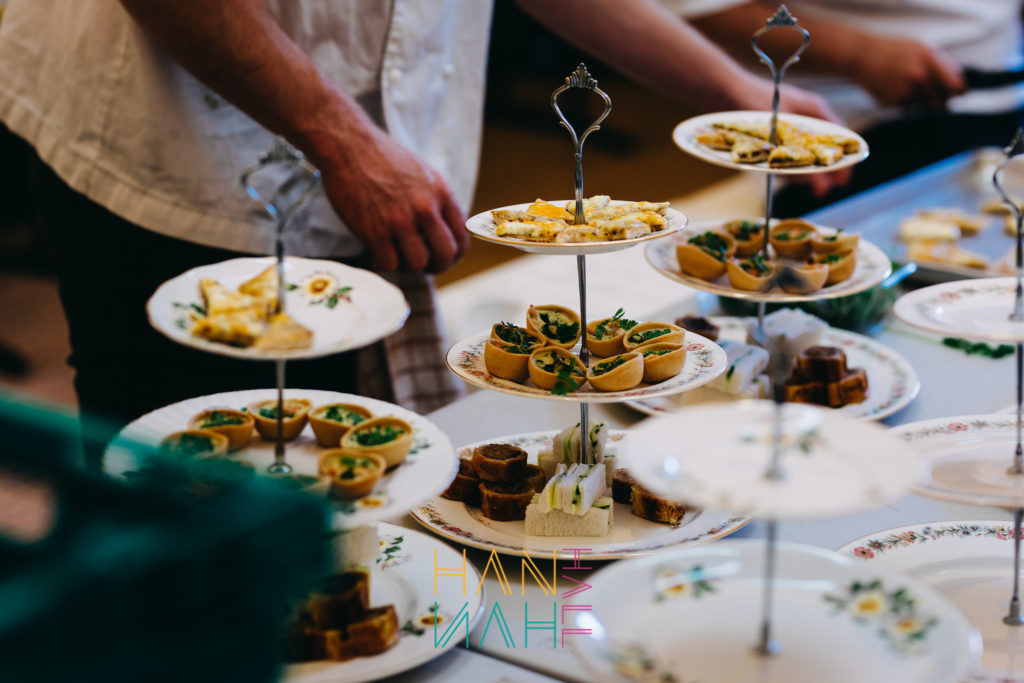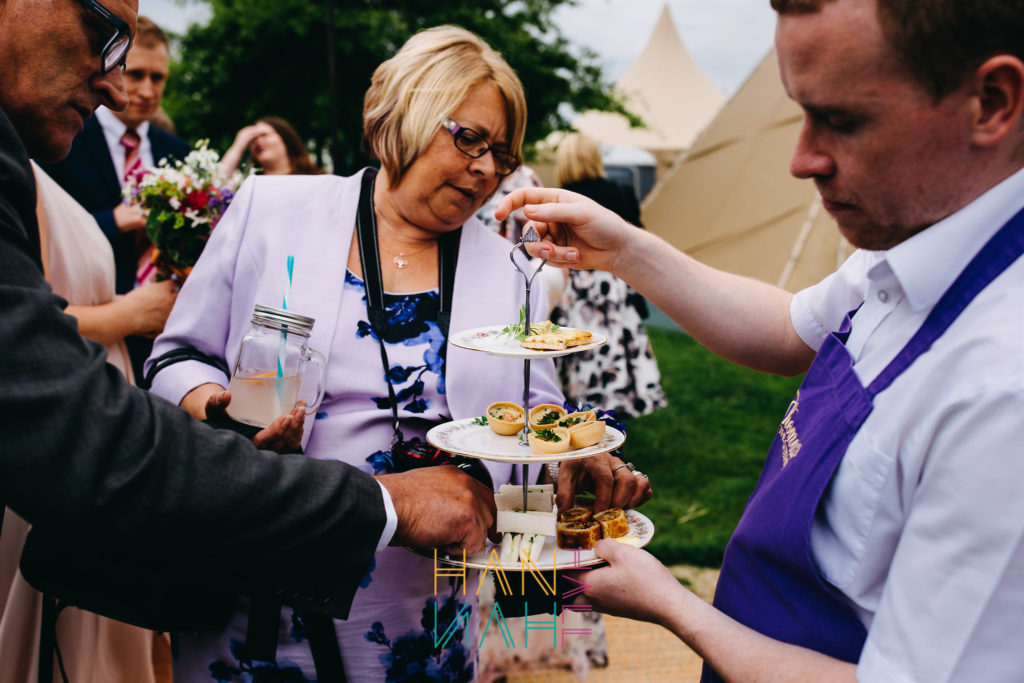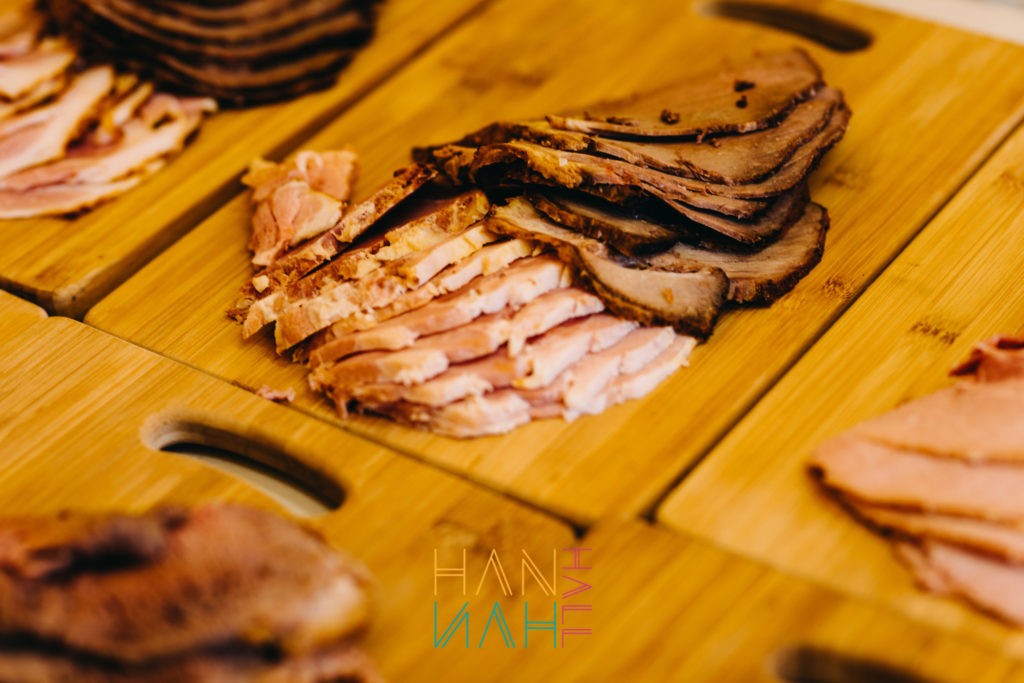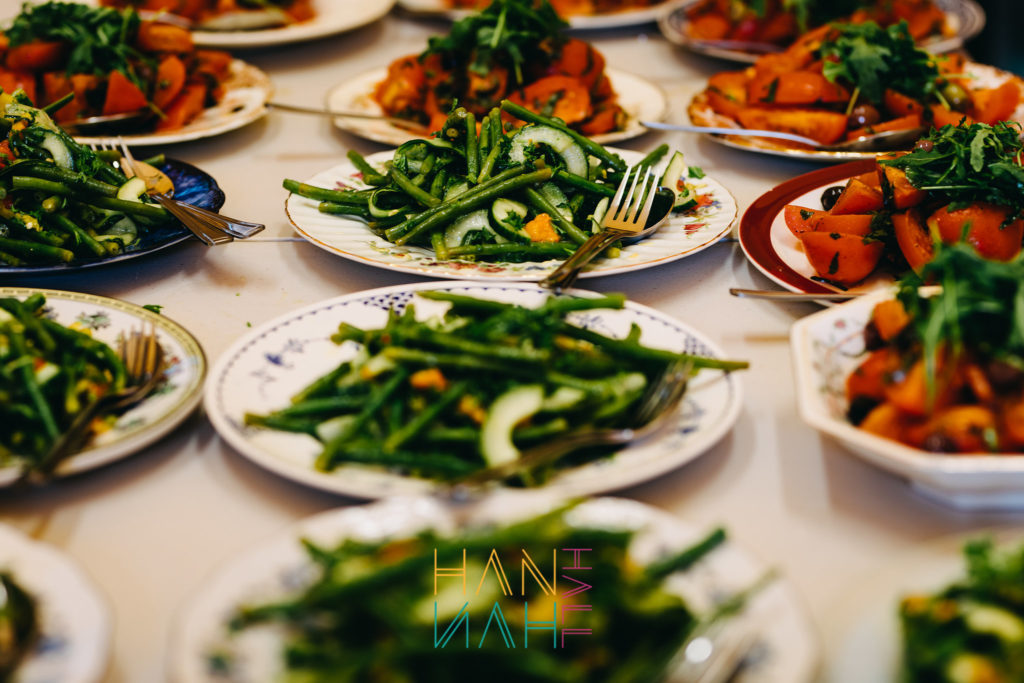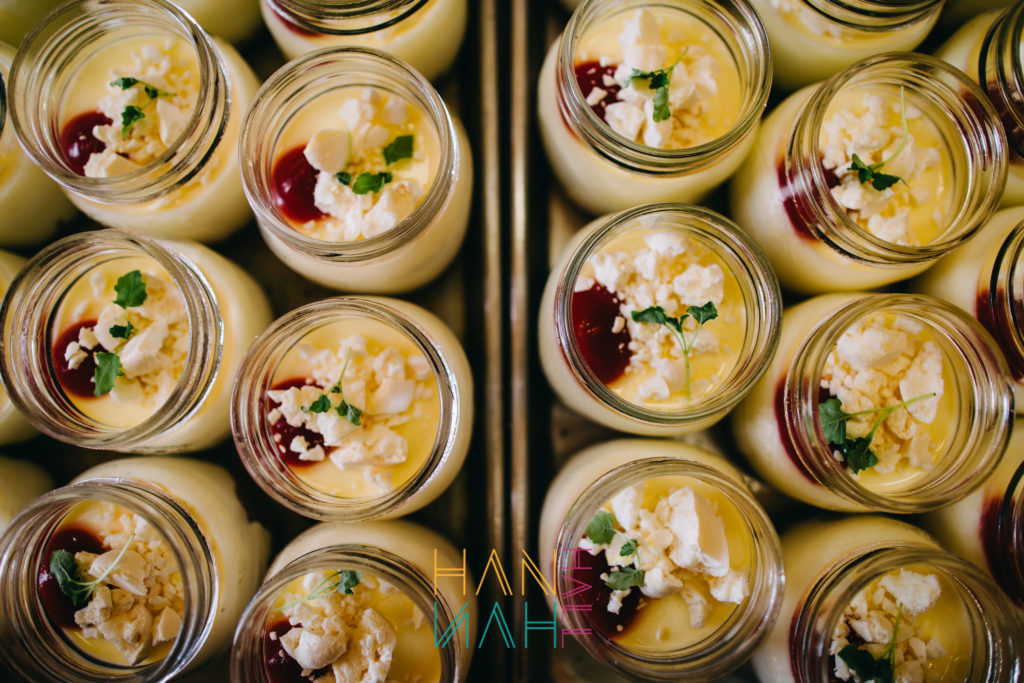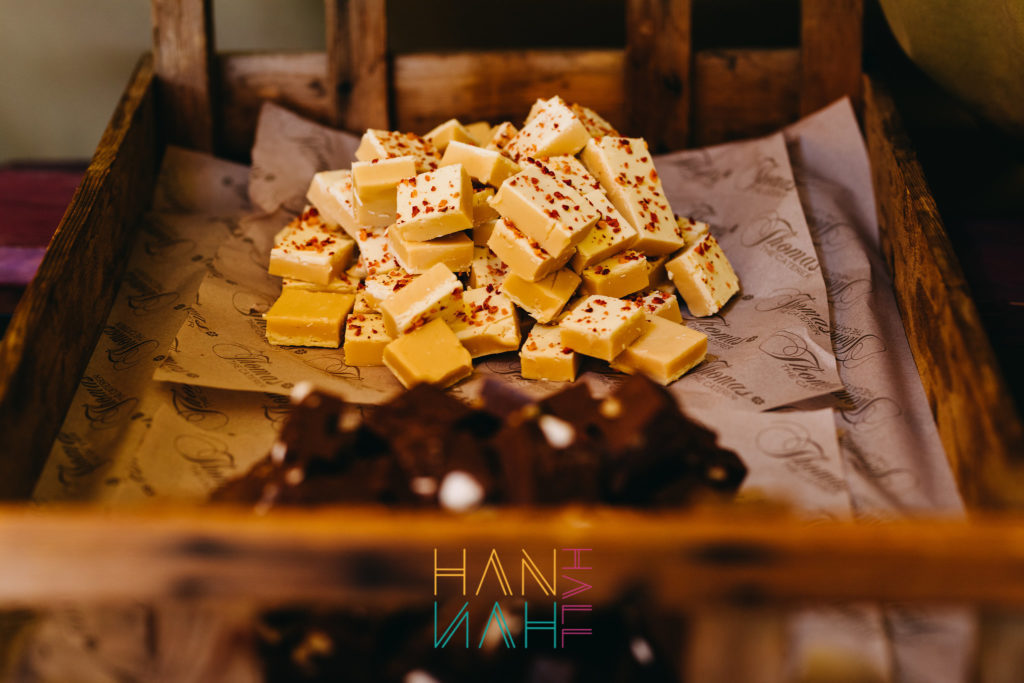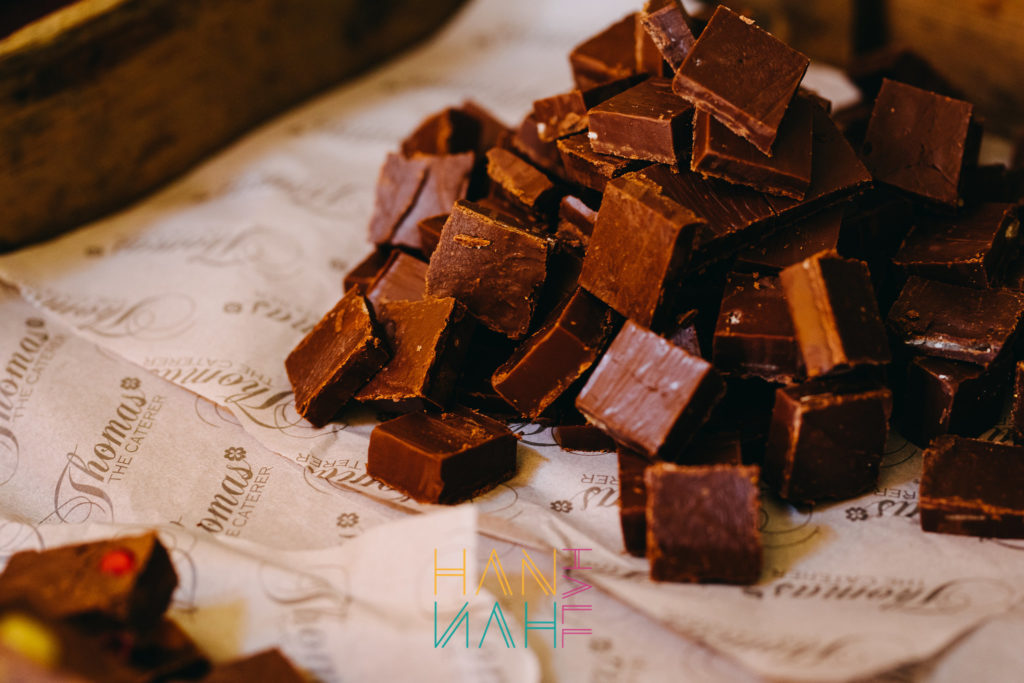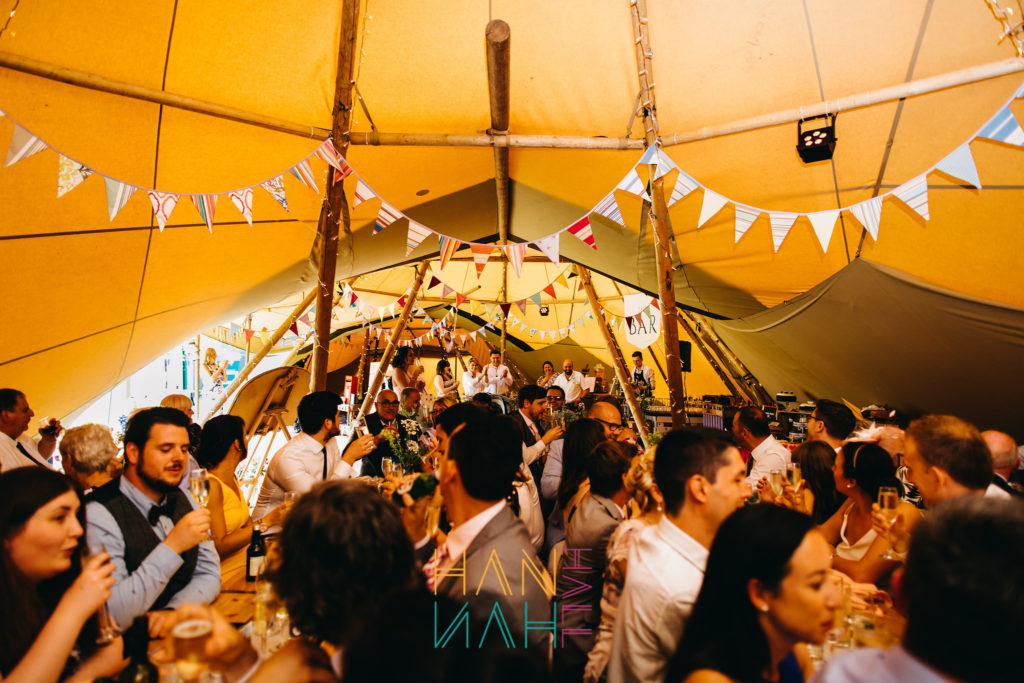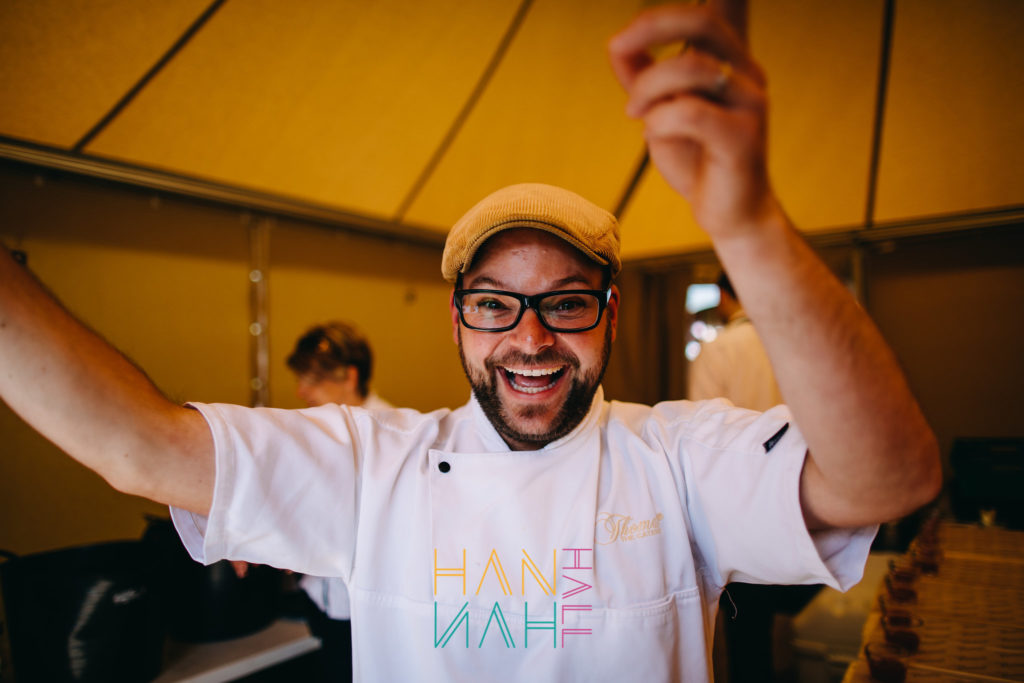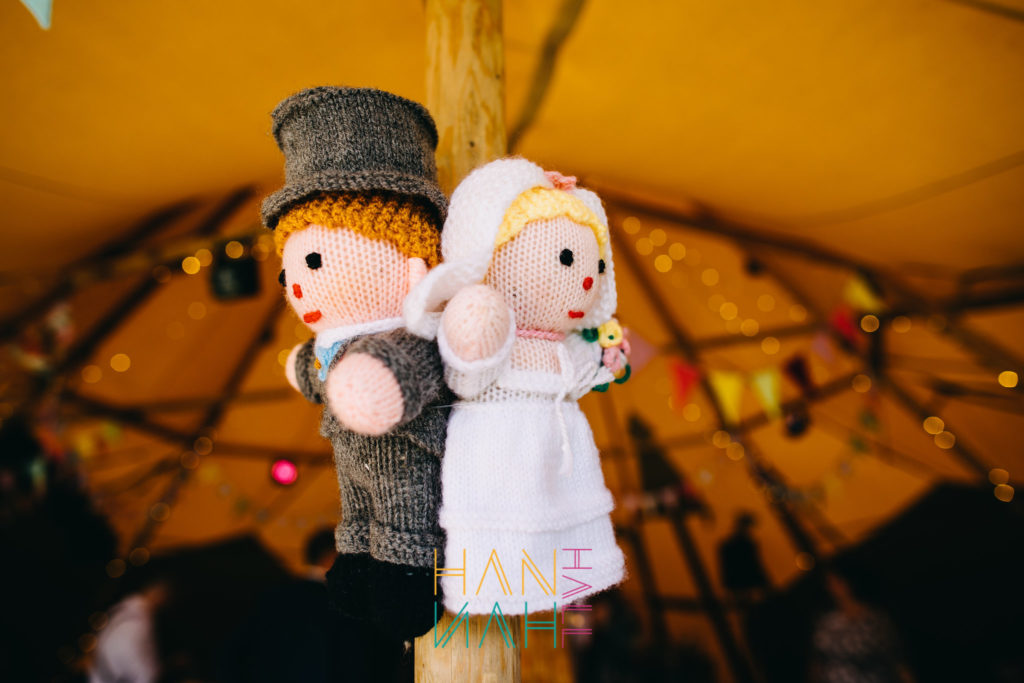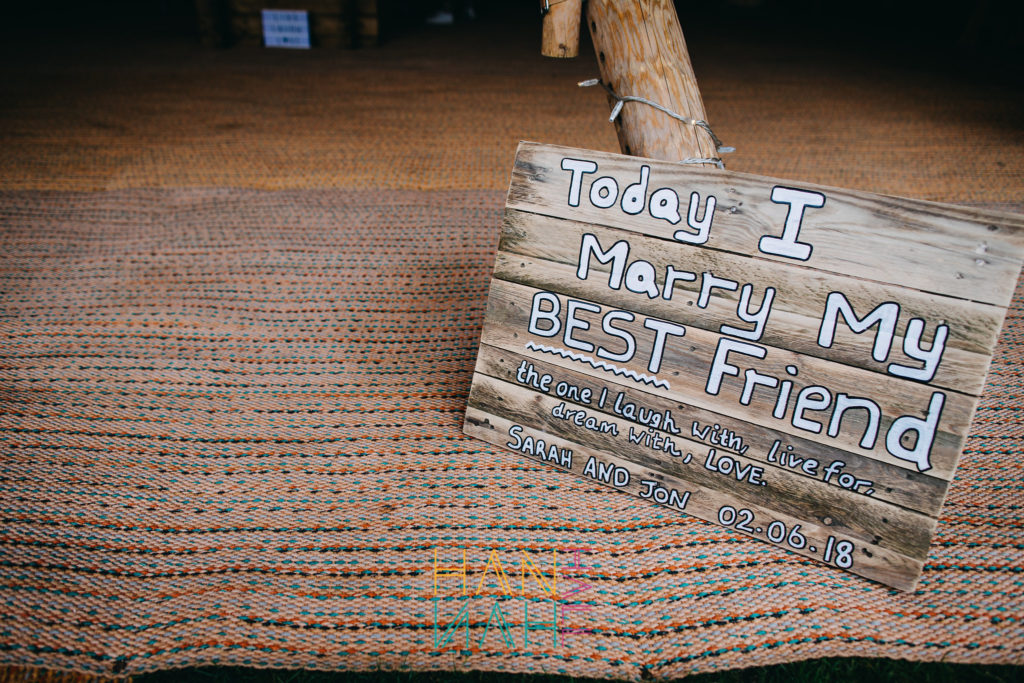 What did Sarah and Jon think of their summer wedding menu?
"From the moment we met Thomas I knew he was the man for us. Thomas has an unrivalled passion for awesome food. He listened and really brought our ideas to life with so much enthusiasm as so many of his creative ideas.
The final menu was truly 100% bespoke and jam-packed with personality just as we'd wanted it! The whole team are an absolute credit and were a dream to work with. They really went the extra mile to create something totally awesome for us and we are still receiving comments now!
Please never stop being awesome!"
Sarah & Jon Spouge June 2018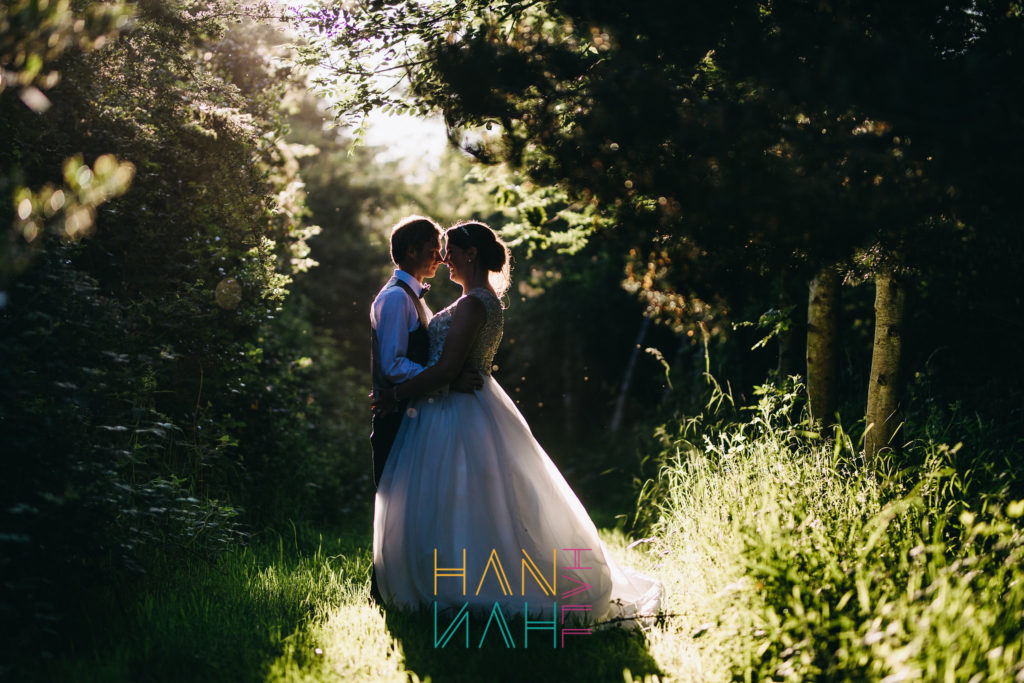 To talk through your ideas for a summer wedding menu sharing style or any other style give us a call on 01163 260529