Smokin'! Awesome BBQ Wedding Catering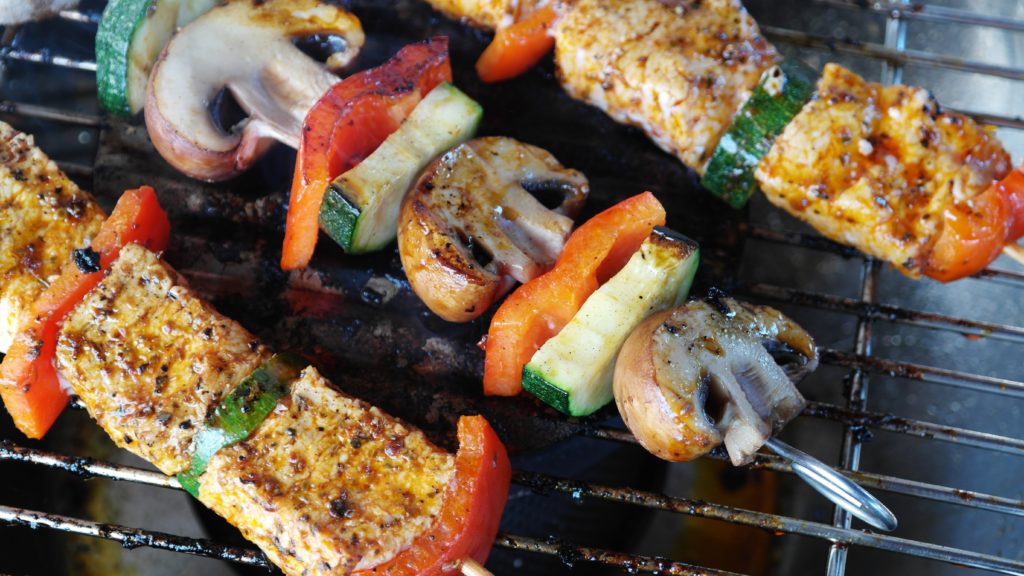 BBQ wedding catering is such a smokin' hot success. That short, blink and you're missed it, glimpse of sun we had a couple of weeks ago had me dreaming of BBQ weather; longer evenings,T-shirt tans, a bottle of something ice cold in one hand, pair of tongs in the other. Something about the sunshine that makes us all go BBQ crazy. There is no denying that everything from the humble banger to a wagyu burger tastes sooo much better cooked on an open flame. The sight and smell of all that tasty stuff sizzling away on the grill is what summer is all about.
Here at Thomas Towers we do cracking BBQ wedding catering that are so awesome and dripping with flavour that they are guaranteed to make your mouth water. Only the best locally and ethically sourced produce makes the cut all beautifully seasoned or marinated in the some incredible sauces before being cooked to perfection live in front of your hungry guests. There's no Q's at our BBQ's, we'll bring all the yummy dishes to your tables in waves so that you can enjoy along along with crisp, summer salads, tasty sides and freshly baked breads. Barbequte!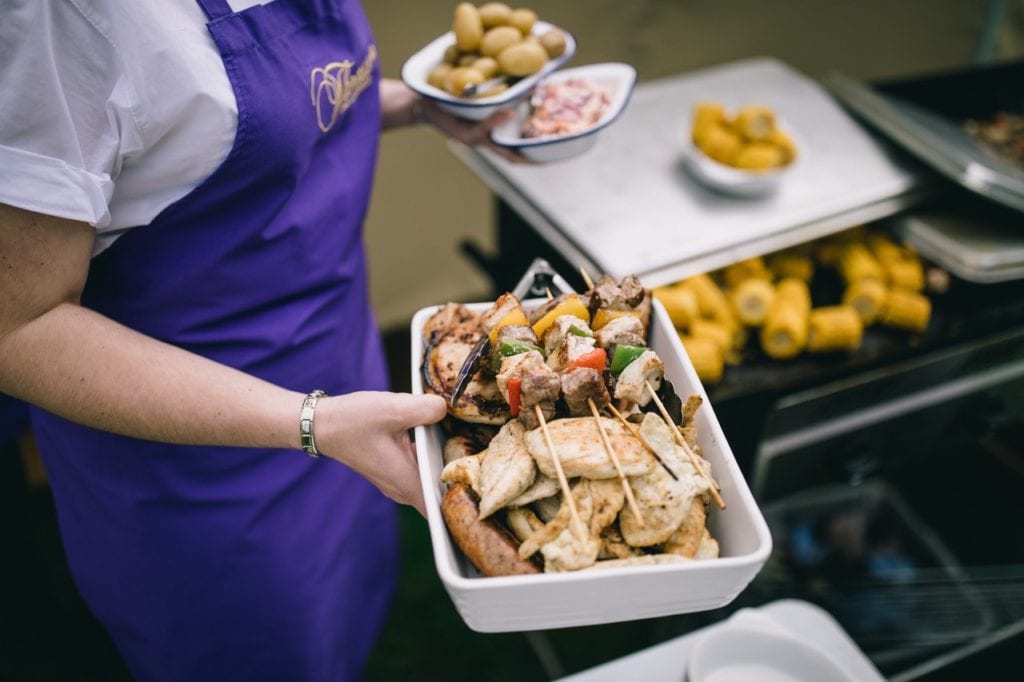 Here are just a few examples of the uber cool BBQ wedding catering we've created in the past to bring some summer fun to brighten up this wet and windy weekend.
Steph and Adam
Canapés
Hoi sin crispy duck pancakes
Smoked salmon and cream cheese blinis
Crispy calamari
Pakora
Main Event
BBQ
Served to tables on platters for sharing
Garlic and lemon marinated chicken
Glen Lewins Lincolnshire sausages
Pork steak marinated with Thomas' family recipe (a secret for generations!)
Pork and beef skewers
Corn on the cob
Hot buttered new potatoes
Leafy Green Salad
Coleslaw
French Breads
Vegetarian Menu
Mushroom, chilli and soy skewer
Halloumi, pepper and red onion skewer
See their full Bawdon Lodge Farm menu here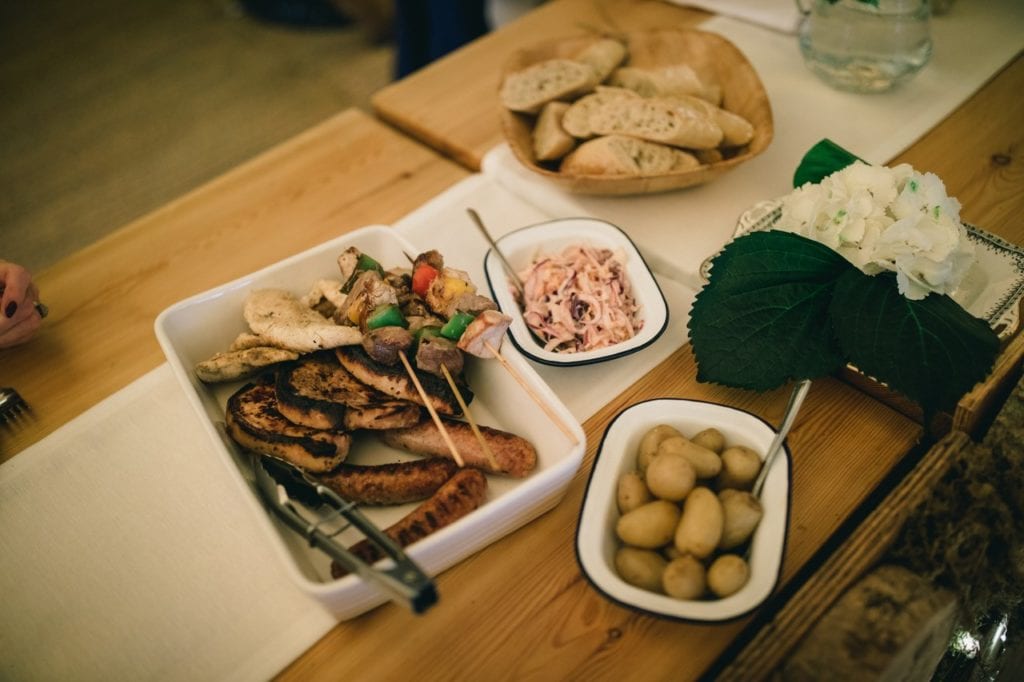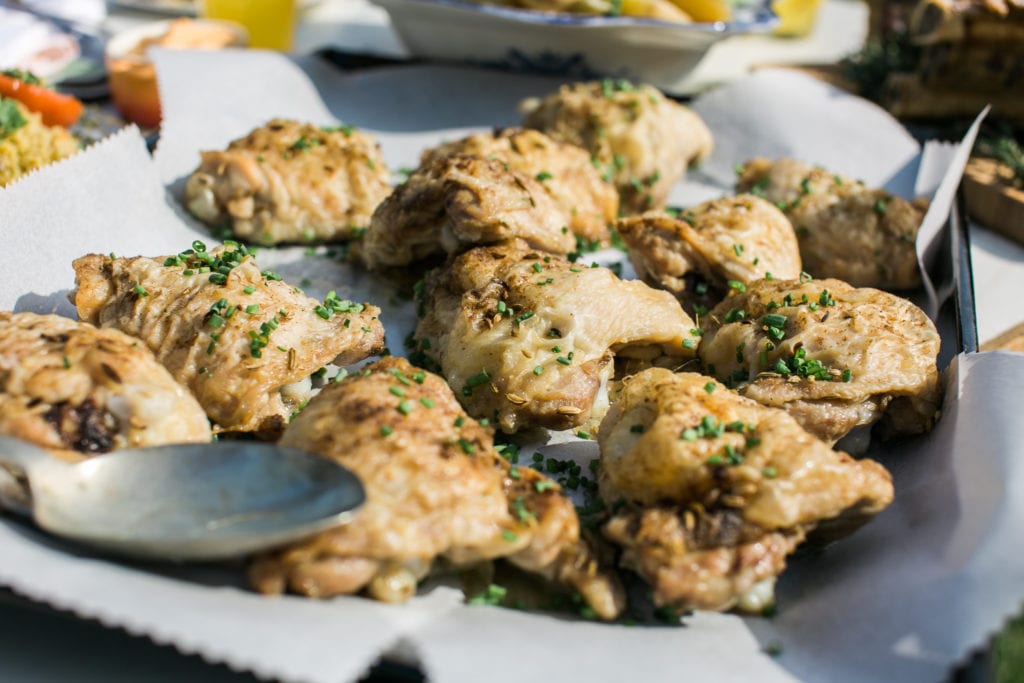 Jen and James
Starter Served on boards in the centre of the table
Antipasti Platters, Roasted Garlic cloves, salami, Parma ham, chorizo, Serrano ham, mixed hummus, crudités, grissini, roasted red peppers, caper berries, artichokes, olives, marinated tomato and mozzarella salad, rocket.
BBQ sharing main course
BBQ grilled Flank Steak with salt & pepper
Marinated Chicken skewers, siracha mayonnaise
Lemon and lime king prawns, lime mayonnaise
Rosemary and garlic marinated hulloumi and mushroom skewers
Sea salt roasted new and sweet potatoes fresh parsley
Vegan Main
Smoked aubergine and tomato grill. Rosemary and garlic marinated mushroom skewers
The salads
Hand cut no mayo slaw
Greek salad
Roast red onion, oven dried tomatoes, dolcelatte and rocket salad
See their full menu here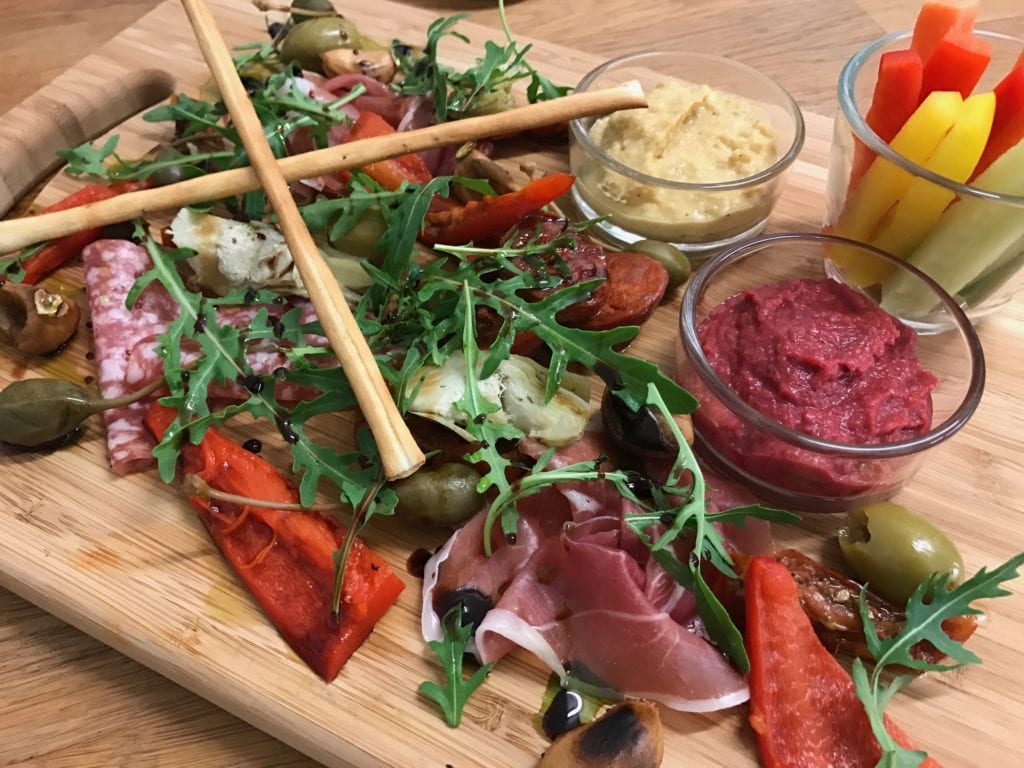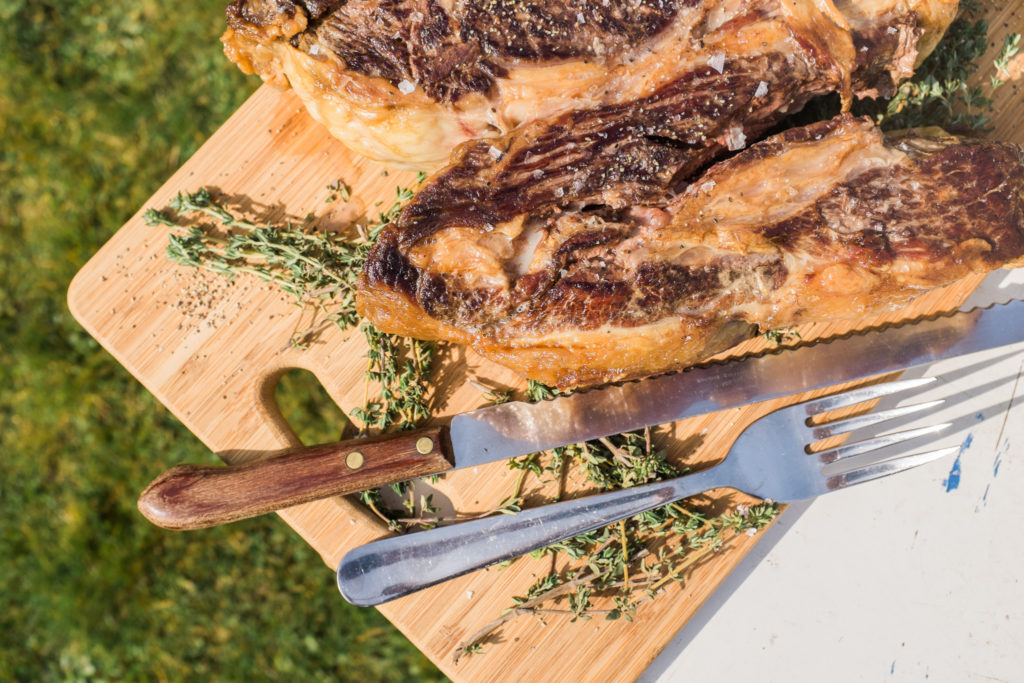 Ewelina and Adam
Canapes
5 Spice Seared Tuna, Rice Cracker and Herb Crostini, Soy Sauce and Wasabi Mayonnaise.
Mini Yorkshire Puddings, Braised Beef and Horseradish Sauce. Smoked Salmon and Dill Cream
Cheese Belini Hoi Sin Duck Rolls with Cucumber & Spring Onion Lime Baked Salmon Tartlets
with Coconut and Coriander Cream. Butternut Squash, Red Onion and Gruyere Frittata
BBQ Wedding Menu
Garlic and Lemon Marinated Chicken Skewers,
Pork Steak Marinated with Thomas' family recipe (a secret for generations!)
Beef Rump Steak Pave Rosemary and Lemon
Confit Vegetables Skewers King Prawn
Swordfish Skewers Marinated with Lime, Chilli and Ginger.
Plus a range of delicious sides and salads, including;
Tomato, Feta, Cucumber and Olive Greek Salad Mixed Summer Bean Salad with Red Onion and Traditional Shallot Vinaigrette. Potato, Grain Mustard and Creme Fraiche with Rocket and Watercress Mixed Leaf Salad Bread Rolls and Butter.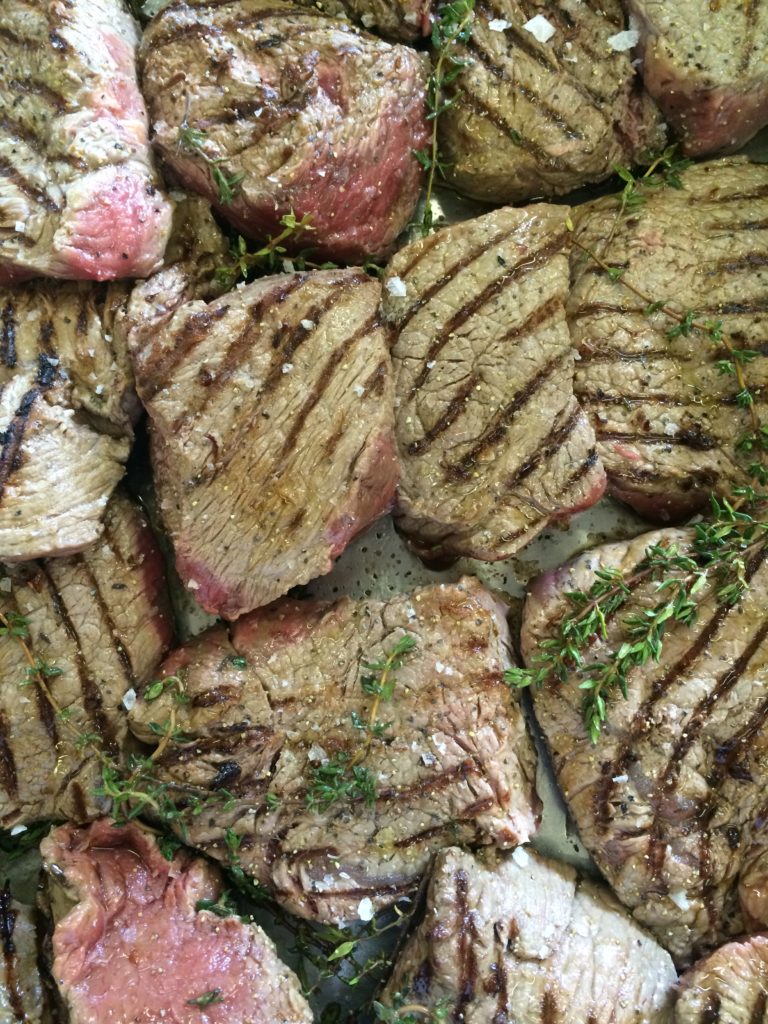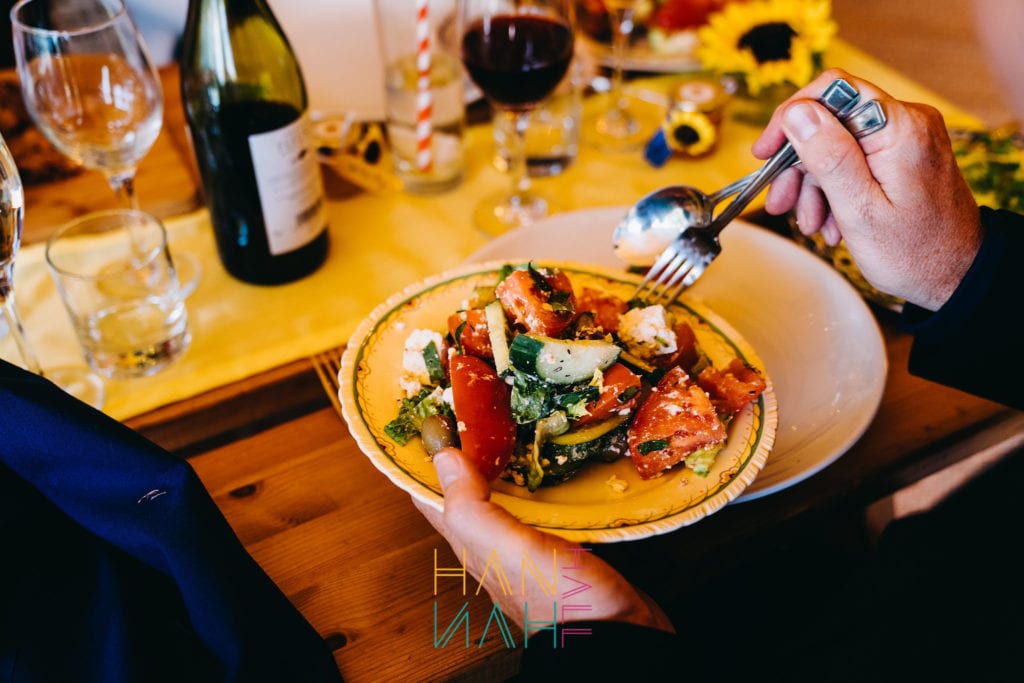 If you are thinking about BBQ wedding catering let Thomas the Caterer get all up in ya grill. Call us on 01163 260529 or a wedding feast that is totally smokin!!