This has to be one of my favourite weddings this year, Ellie and Tom had the perfect day, everything looked beautiful, felt relaxed and was soooo much fun. And, they ate pie! Perfecto!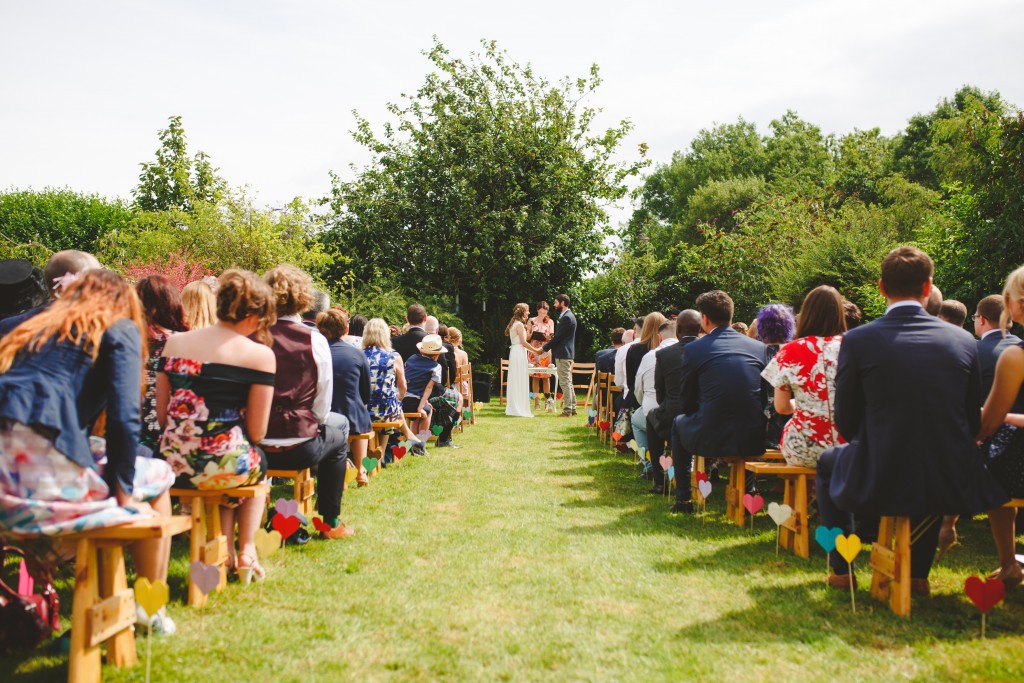 Ellie and Tom were married at the beautiful Shiningford Manor in Matlock. A stunning setting for a stunning wedding. They had their reception in a Sami Tipi, the wedding was officiated by the lovely Jo from My Perfect Ceremony and the super talented Val of Benessamy Weddings and Events was their planner. All photos by the amazing Camera Hannah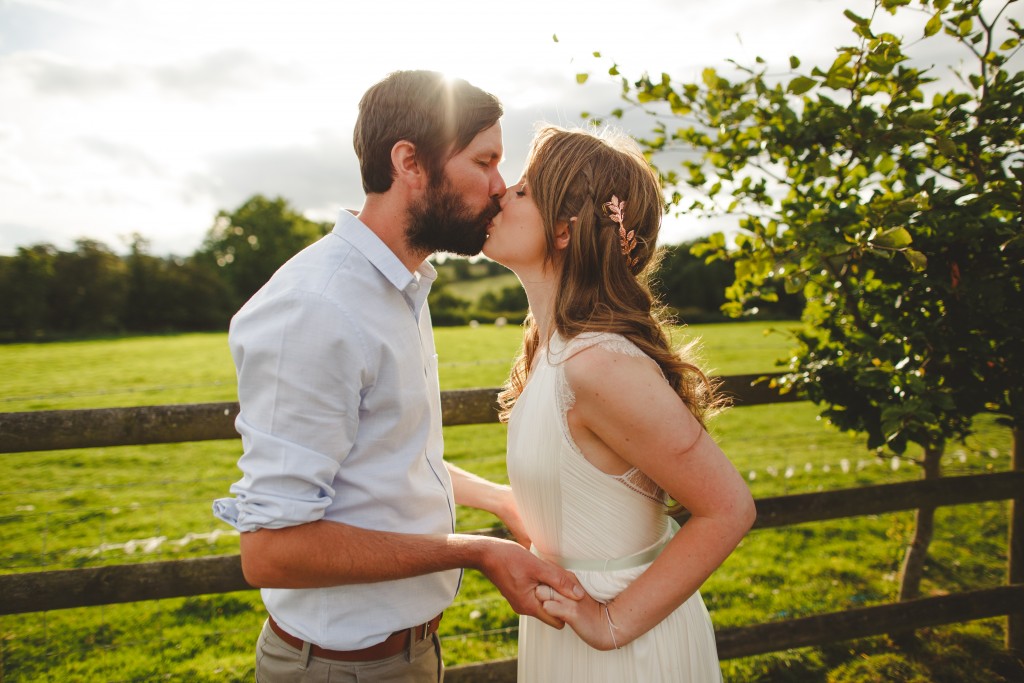 From the moment I met Ellie and Tom I was so excited and was over the moon when they picked us to cater their wedding; they are one of the nicest couples I've met and what's more they both love food – my perfect customers! They wanted their menu to really stand out, to tell their story as a couple. We had so much fun designing the menu together and I loved being part of their special day and bringing their ideal menu to life.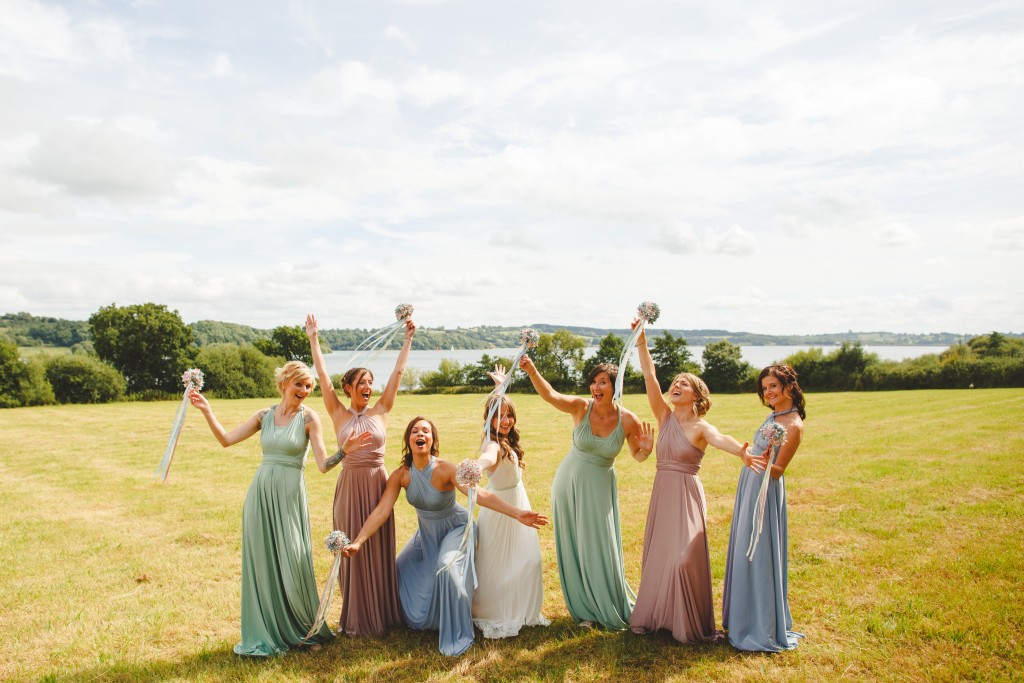 The tipi looked incredible with stunning detailing including 1,000 hand-made origami birds suspended from the roof.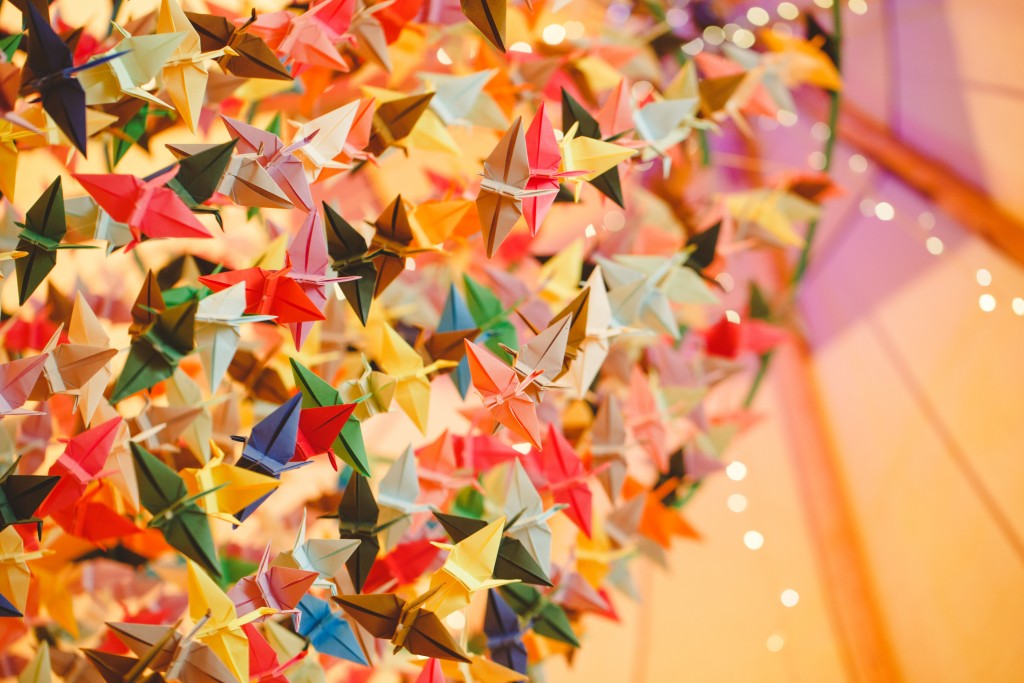 The couple injected their cool personalities into every aspect of the day making it so much fun for everyone, from giant lawn games and space hoppers to a bake off and silent disco – the tipi was filled with laughter all day.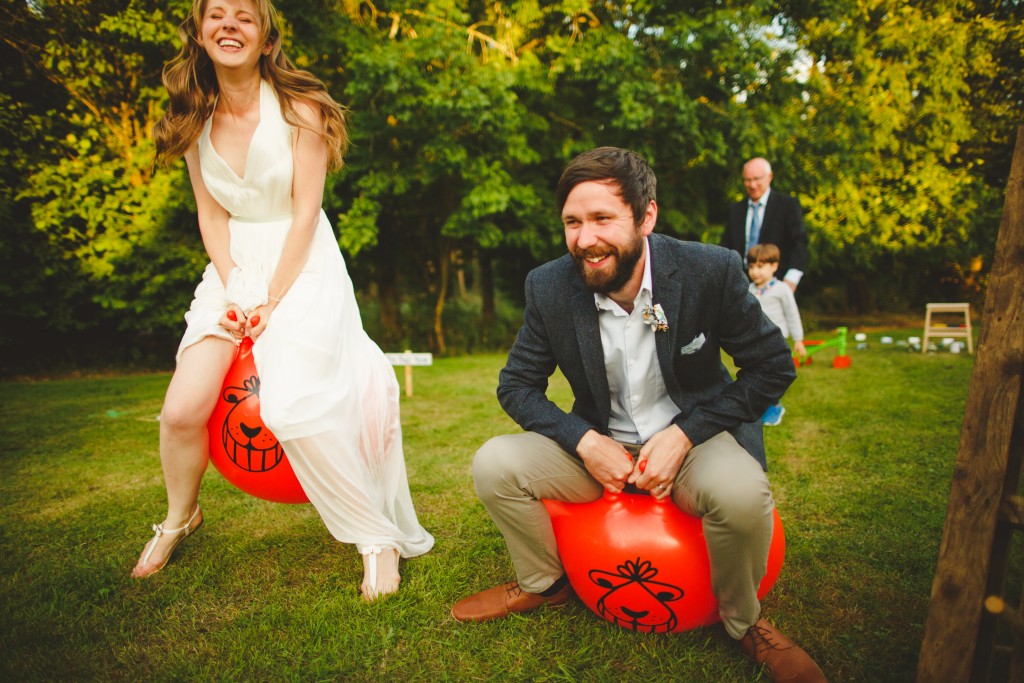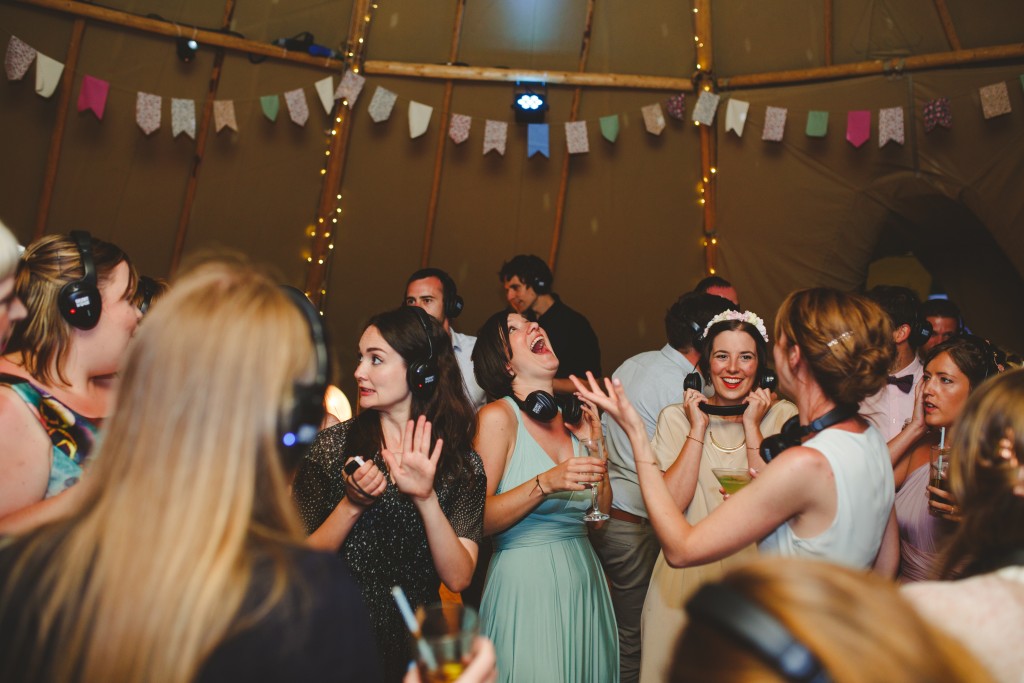 For their arrival drinks, the couple gave glass jars to each guest to personalise and fill with the cocktail of their choice. Team Thomas were on hand to help of course and make sure that everyone was suitably watered and ready to tuck into the amazing food.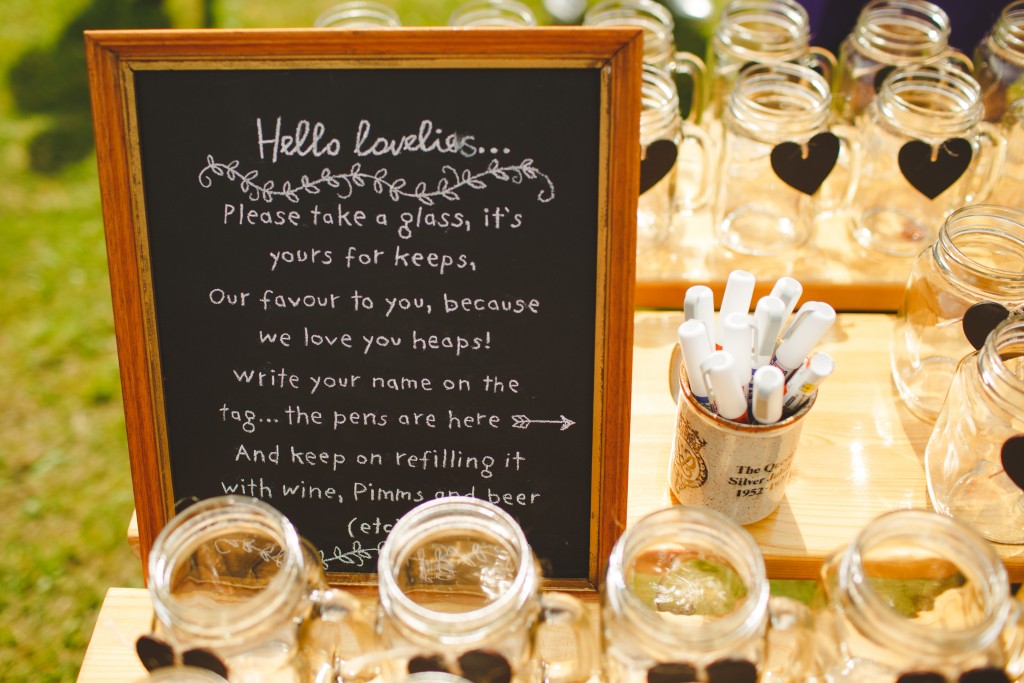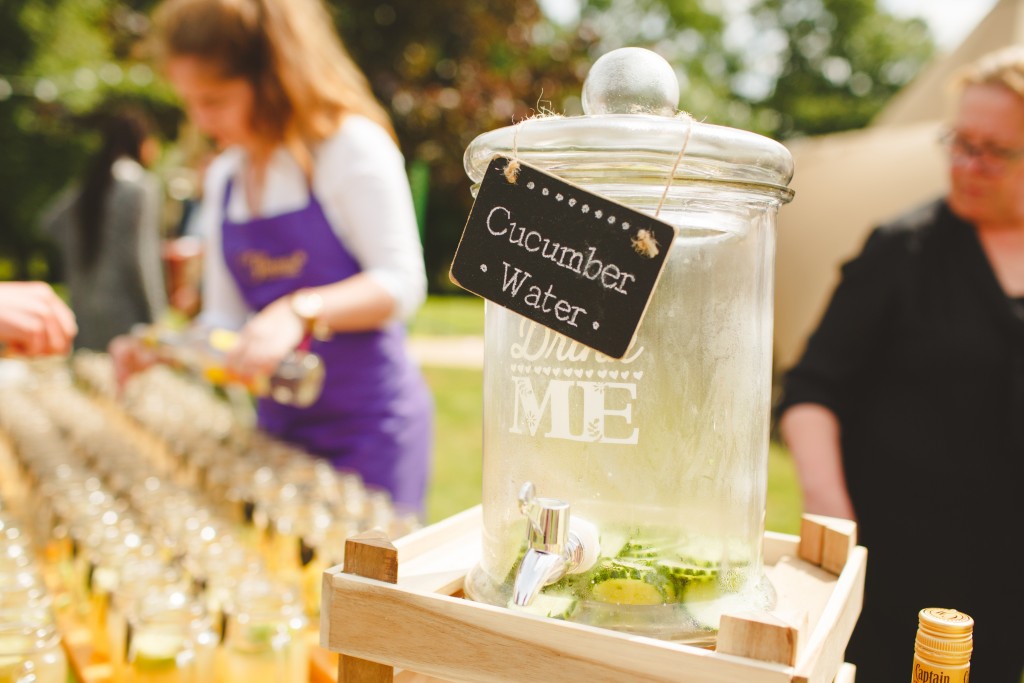 And the menu, well what can I say but YUM-MY!
Selection of Canapés
Ellie and Tom wanted each canapé to represent a destination they had visited together as a couple and a flavour that would instantly take them back to that special memory. These included Japan, Poland, Iceland and even Glastonbury so I needed to get creative.
We even added little flags to represent each destination.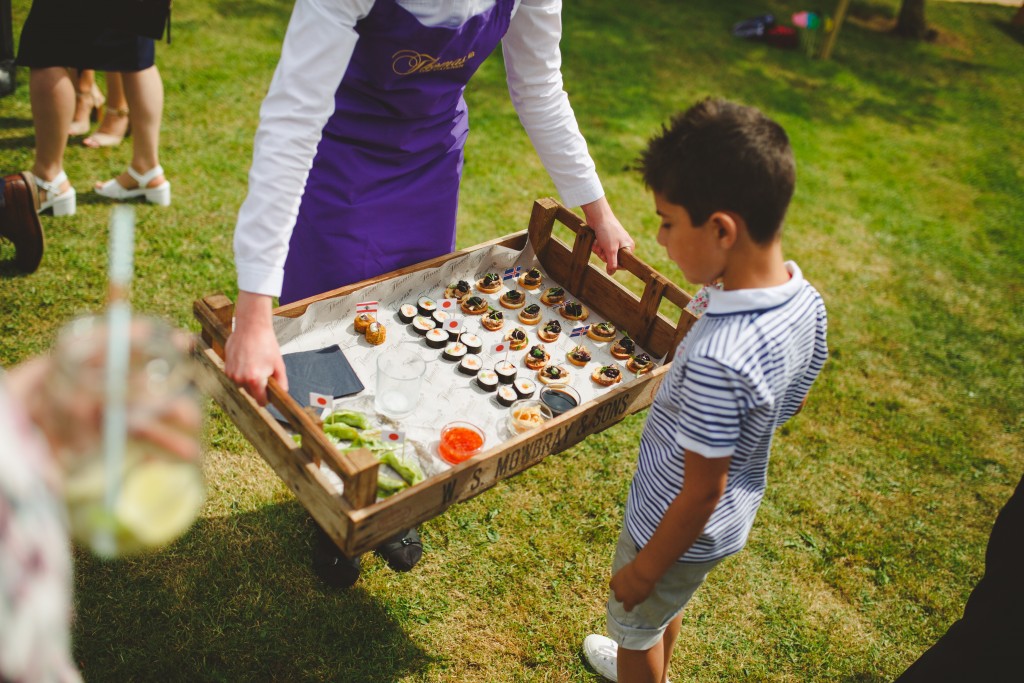 Sushi – Salmon and Pickled Ginger
Polish Beetroot Soup served in a shot glass.
Falafel and Herb Yoghurt Dressing
Vegetarian Gyoza with Sweet Chilli Dipping Sauce
Smoked Lamb Rilletes Blueberry Compote on Sour Dough Toasts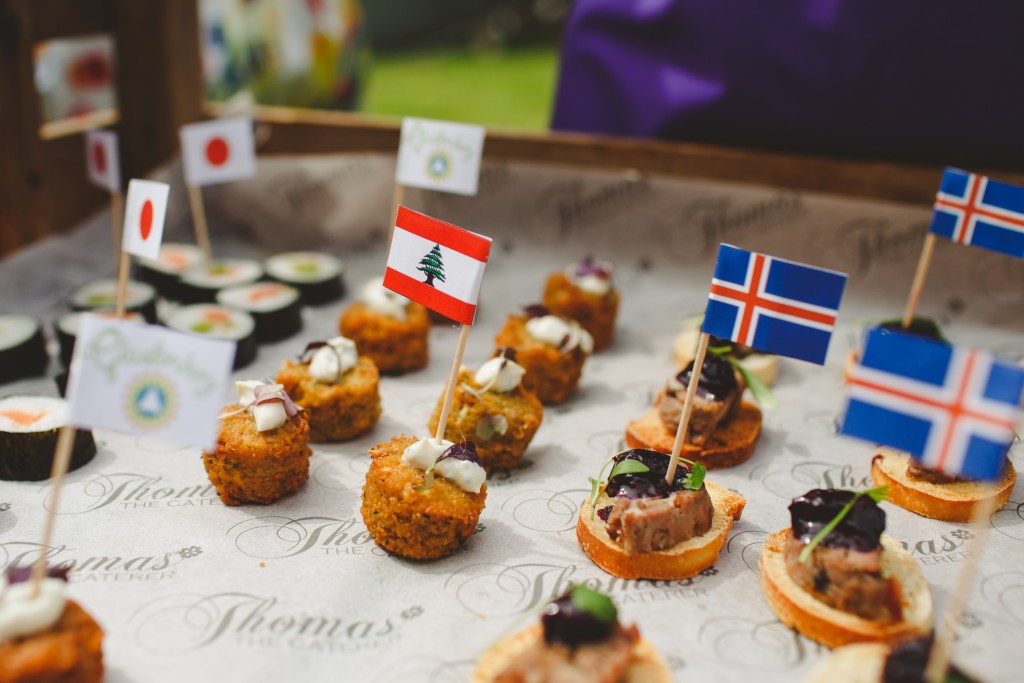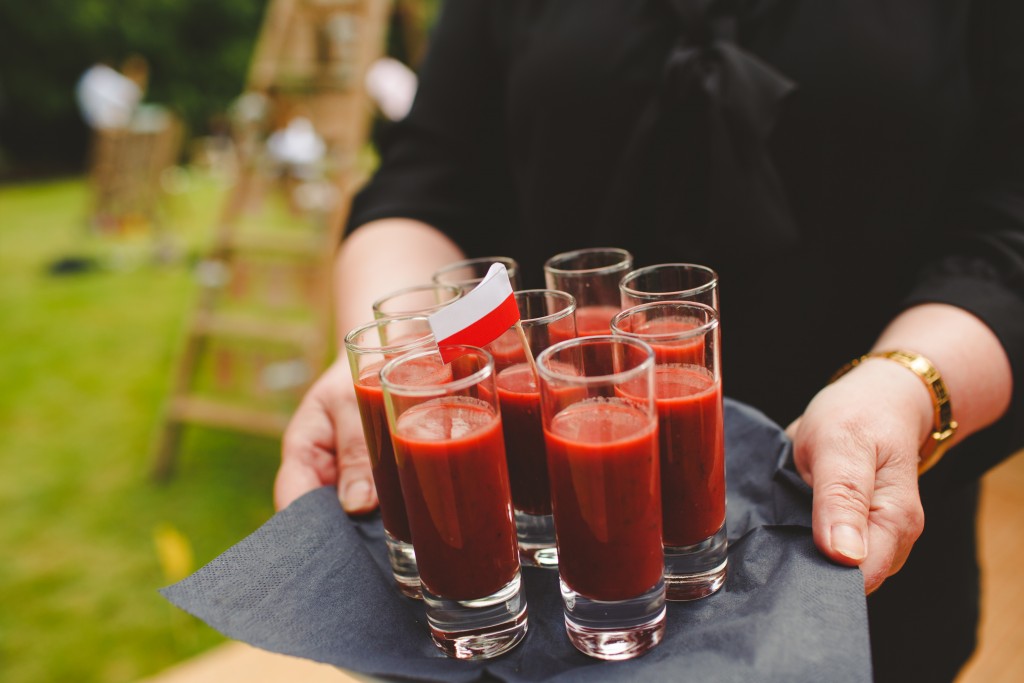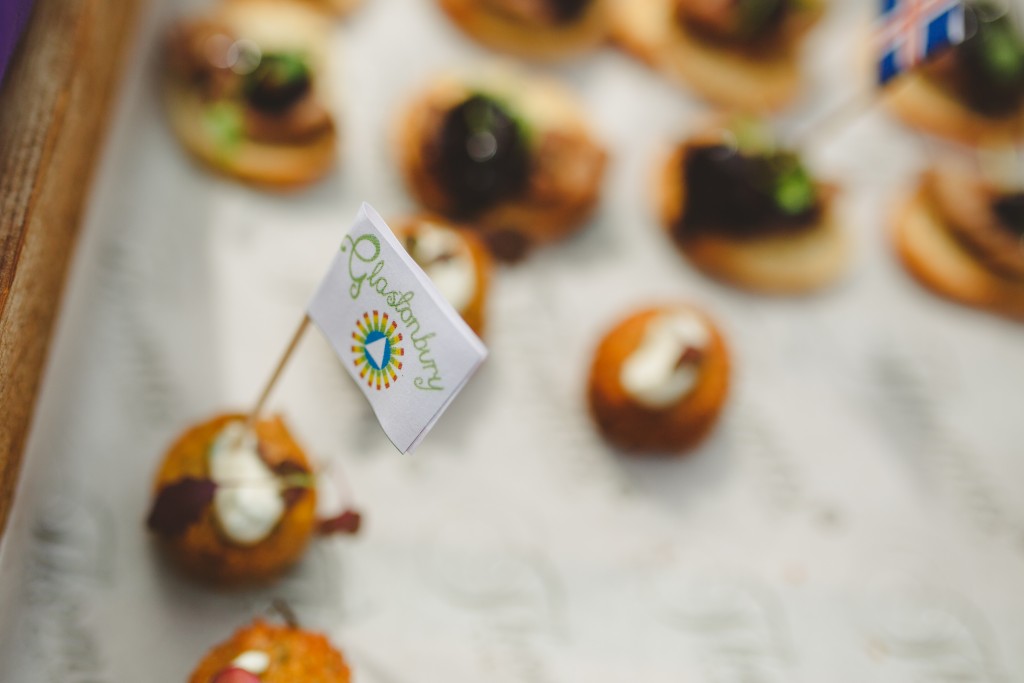 For the little people we served up Milk and Cookies while the adults enjoyed their canapes
Starter
Served to share amongst guests.
Chorizo roasted with Potatoes and Broad Beans, Ratatouille Aranchini with Rocket, Garlic Butter King Prawns and Focaccia Toasts.
Ratatouille Aranchini with Rocket Plated (vegan)
Main
Individual Pies
Beef, Red Wine and Mushroom and Chicken and Tarragon served with Mash, Veggies including Purple Sprouting Broccoli and Lashings of Gravy.
Butternut Squash, Goats Cheese and Sage Pie (v)
Mushroom, Tarragon and Butternut Squash Filo Pie (vegan)
Chicken in creamy white sauce pie with mash and veggies (children)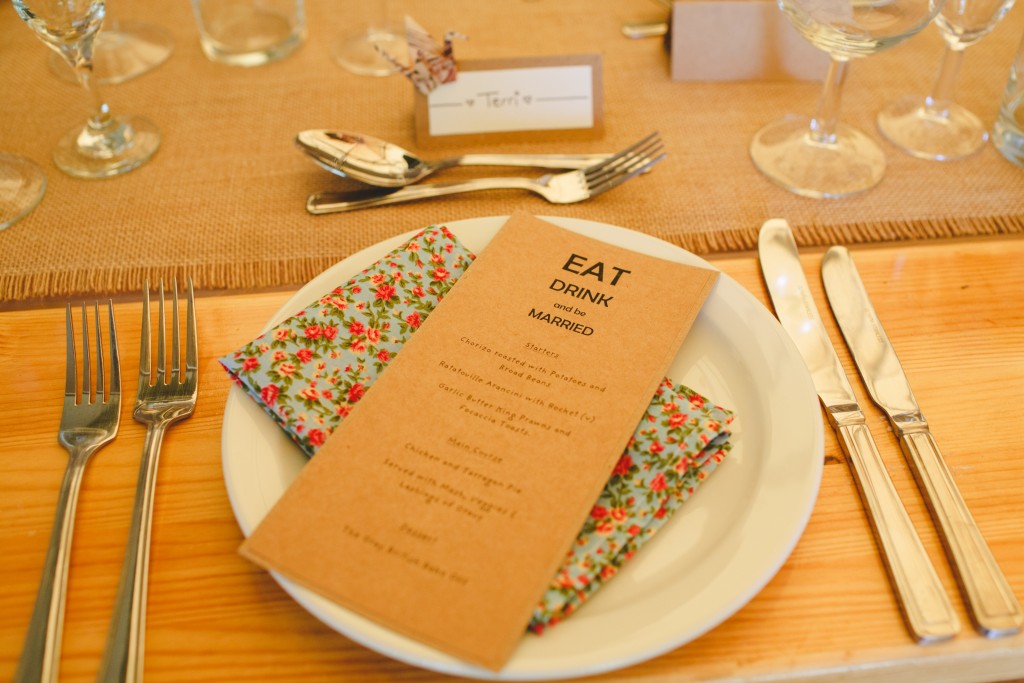 Desserts
For dessert Ellie and Tom held the "Gray British Bake off" (They are now Mr and Mrs Gray)
Guests were invited to bake their own cakes for a Bake Off judged by 'Mary and Paul' with all the lovely creations then enjoyed as dessert.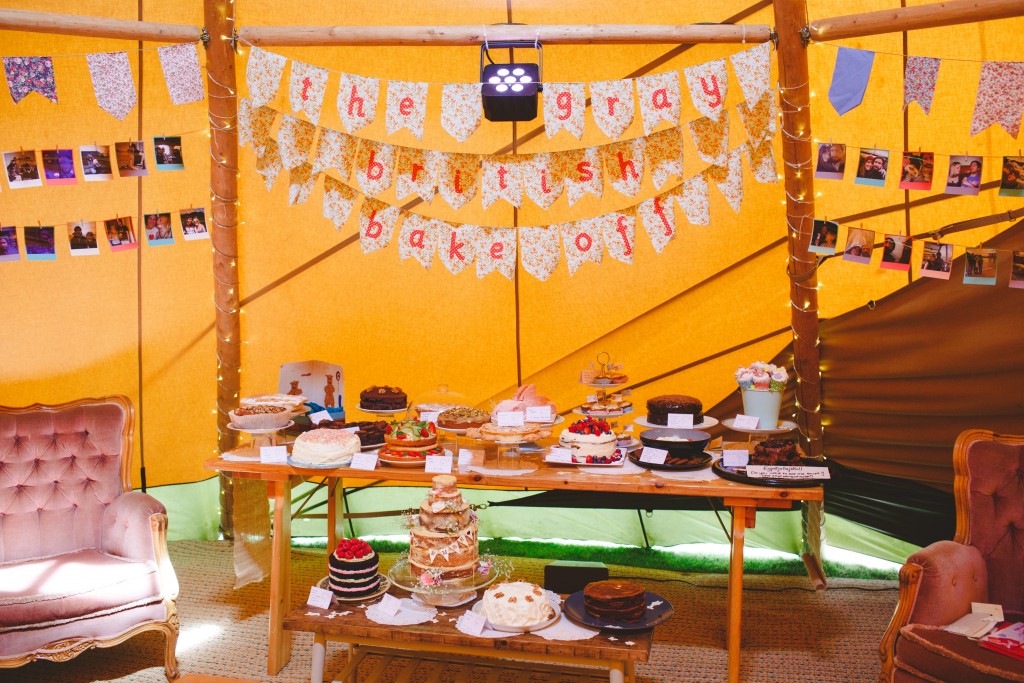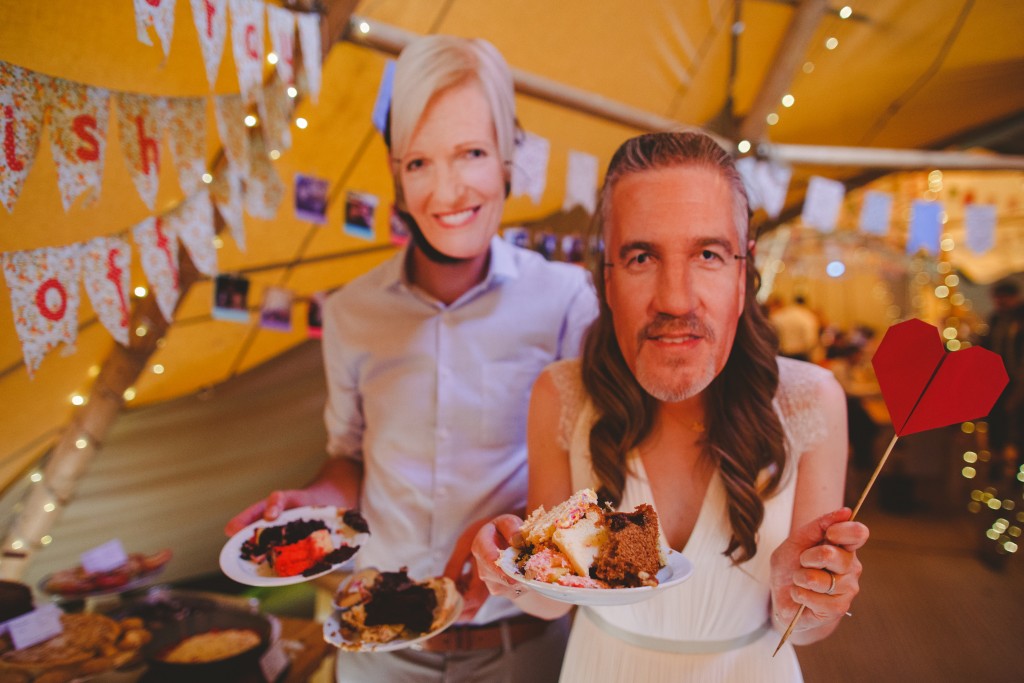 Evening Food
Cheese and Pork Pie Cake
 Falafel Scotch Egg, Black Pudding Scotch Egg, Pulled Pork Scotch Eggs
Bread, crackers, Quince paste, Tomy Ketchup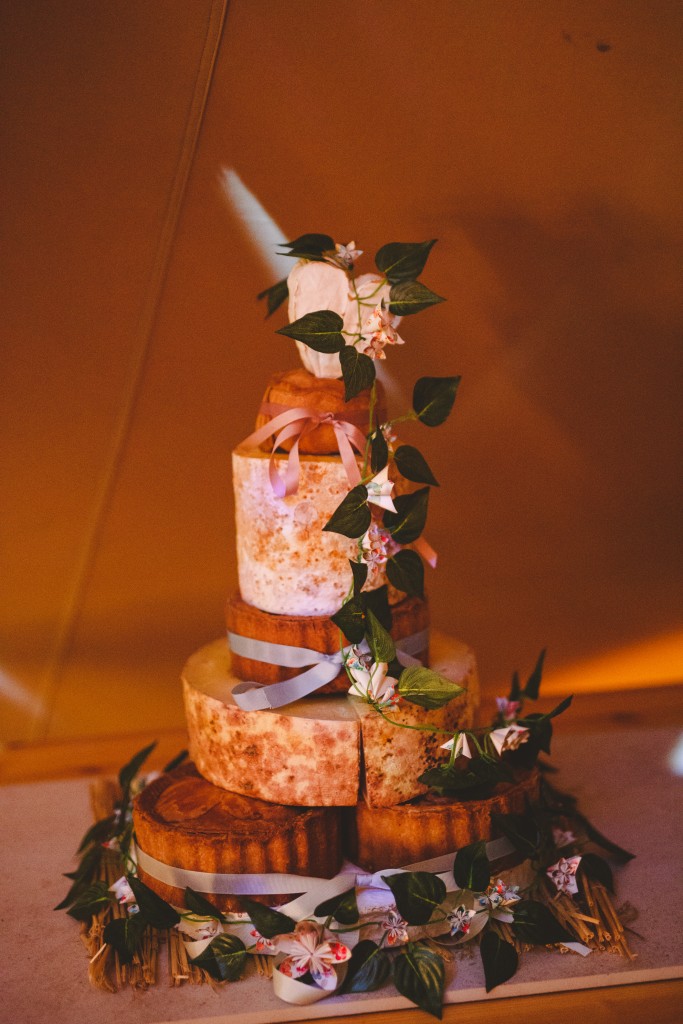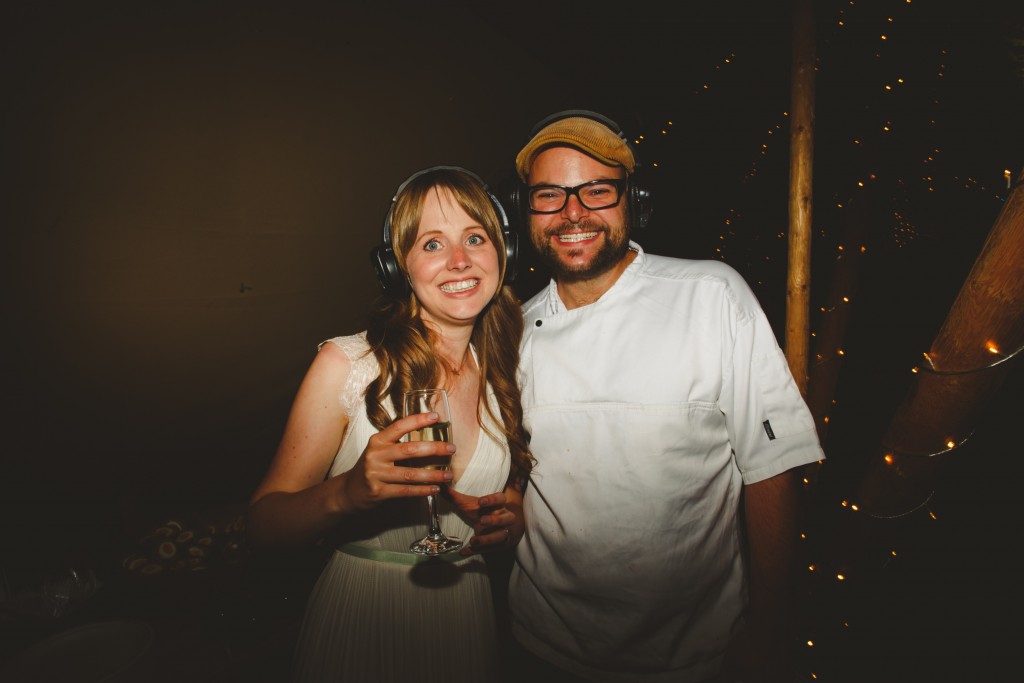 What Ellie and Tom told us
"Just found a moment to actually sit and reflect. I don't think there are any words to say how magnificent everything was on Saturday (and the scotch eggs were a huge help to keep us going as we cleared the tipi on Sunday too). I might have eaten my body weight in cheese!!
Please pass on our thanks to Thomas and the whole team, they went so far beyond any expectations! The reception drinks were epic (the rum and ginger beer was wonderfully potent), the tapas starter was a great ice breaker and…what can we say about the pie?!? Best pie ever!
Stepping in to save our ice emergency was just the icing on the (pork pie and cheese) cake!
Callum is an absolute diamond too….huge high fives to him for being absolutely incredible on Friday (as we hunted down table runners) and for hunting us out on Saturday to make sure we were fed and watered in all of the mayhem!!
I also have to tell you that we have a few bits and pieces of yours which we gathered up in the clear up….a pie dish, a couple of plates and some jugs. We will keep them safe until we come and gate crash any event where we can eat your food again, because you do know that you're never getting rid of us now right?!?
Thank you so so so much….we can't say it enough!!! You really did make our wedding catering AWESOME!!!"
Love from Tom & Ellie xxx