The Great Speech Debate – When's the Best Time For Wedding Speeches?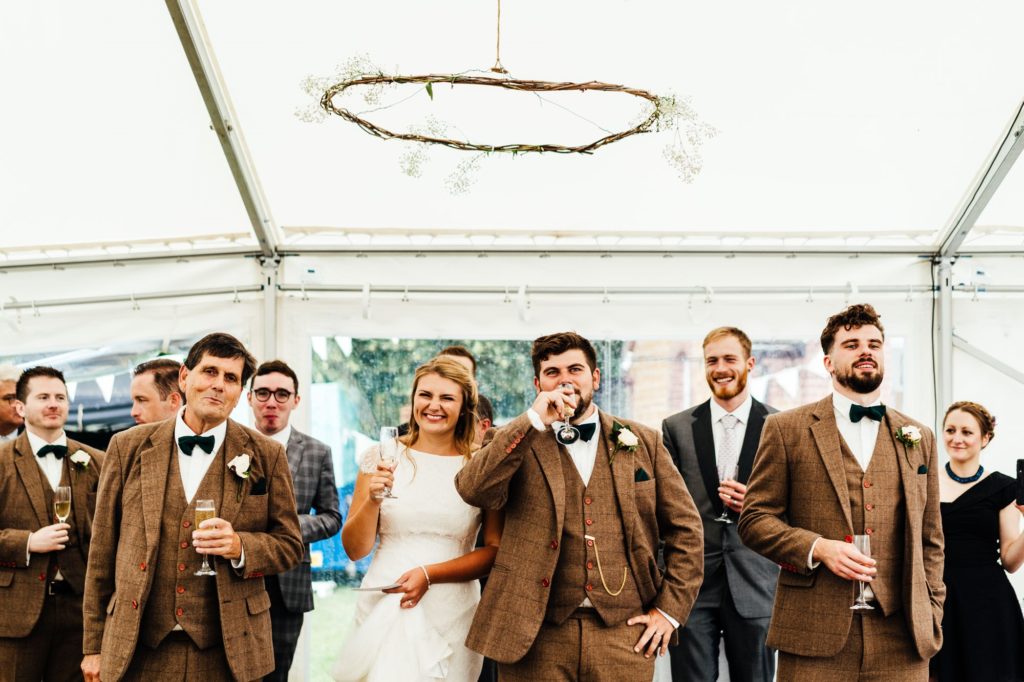 When planning your big day this question is always a tricky one – when is the best time for wedding speeches. Before, after or in between courses?
Well………. ask any best man, groom or father of the bride and he'd say before – get it done with! Actually, he may say not at all – if he really hates the limelight. I'm not one to shy away from public speaking – I know, hard to believe hey 😉 But, you know what, I'm tempted to agree. If dad really isn't gonna tuck into his steak and ale pie until he's spoken, let him speak first.
Ultimately, you have to go with what works best for you and your loved ones.
Here's the case for each option to help you decide the best time for wedding speeches on your big day.
Before (Speak first, eat later)

Everyone gets to eat.
Chances are the best man and your dad are feeling the pressure and that knot in their stomach might not leave much space for that delicious slow-roasted Moroccan lamb. Everyone can tuck into their meal and enjoy it when speeches are first. Especially poor dad – or it might be the most expensive meal he's never eaten.
The room will look awesome on film.
You've spent oodles of time and money creating the most gorgeous looking dining area, but how long will it stay that way? Once the eating, drinking and general merriment begins, your awe-inspiring dinning area will quickly start to look a little…untidy. True story. I'm afraid we see it every week! If you have the speeches first the room will still look wowzers in the pictures and videos.
Great for guest bonding.
Guests might be seated with people they don't know which can be a little daunting. Having the speeches first tends to relax everyone who can bond as they gasp and/or giggle at the story of the groom, the policeman and the Spider-man mask.
Less chance of any drunken antics.
Having speeches before the meal also means less drinking time. Not only for those giving the speech, (a couple for dutch courage is one thing but a slurry storyteller.. not so much) but also for the audience, who may be a little more howdy or over-enthusiastic after a few glasses of vino. No one wants to see drunk uncle Jim shouting "Get off you're rubbish!" as his idea of an amazing joke after a bottle and a bit of Merlot.
Your suppliers get to take a break.
Your photographer and videographer can capture all the emotion of the lovely speeches then sit down and have a break with some food. Recharged ready to get happy snapping all the evening frolics.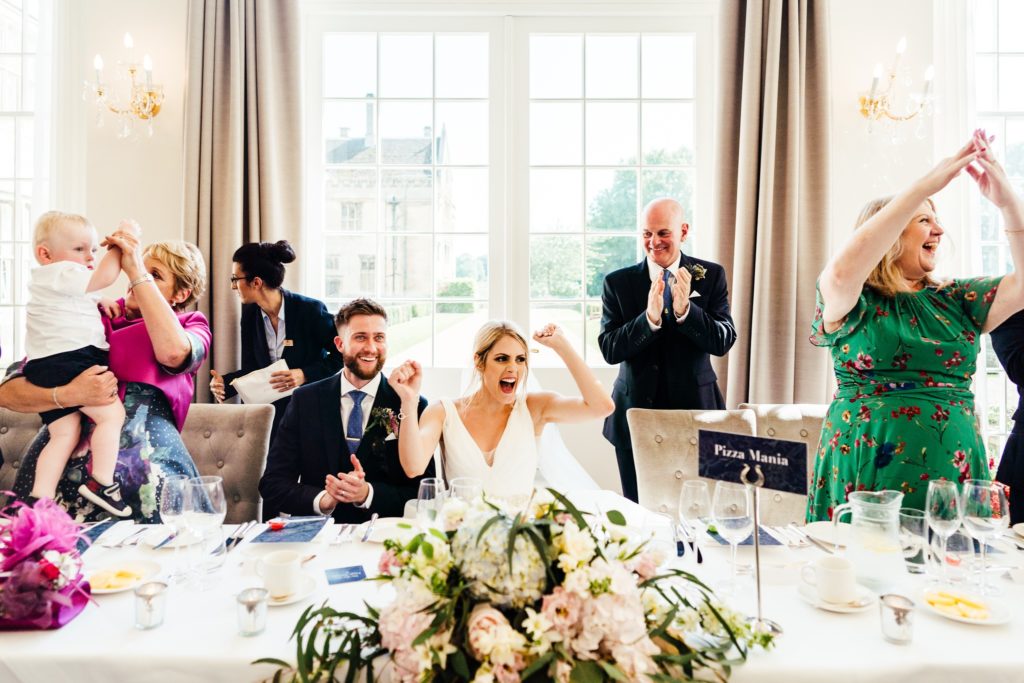 After (Eat first, speak later)

No hungry guests.
If there's a lot of people keen to speak or you know dad has written 18 pages (front and back), chances are that there will be some rumbling stomachs in the room. Especially if you're not having canapes. Guests might not have eaten since breakfast and could start to flag and lose interest by the time the best man stands up. Preferring to stare lovingly at the menu cards; daydreaming about when their rump steak will arrive.
Relaxed happy audience.
If your guests have eaten their delicious meal first they might be more relaxed and engaged when it's time to for the speeches. Laughing a little longer and louder at jokes that might otherwise have turned into a bit of a tumbleweed moment.
It brings the meal to a close.
Having the speeches after the meal gives everyone a reason to remain in the dining room in their seats rather than heading off to stock pile Jager bombs or catch up on the footie scores as soon as their Jaffa cake sundae and been demolished.
Super slick food service.
Your caterers will be able to get all your courses out quickly and efficiently without delay or interruption. We'd work with you whatever the order of the day but when the food comes after the speeches, timings tend to go a smidgen off track. Maybe Dad's speech is longer than you'd planned or suddenly Great Uncle Joe from Oz wants to stand up and say a few (hundred) words.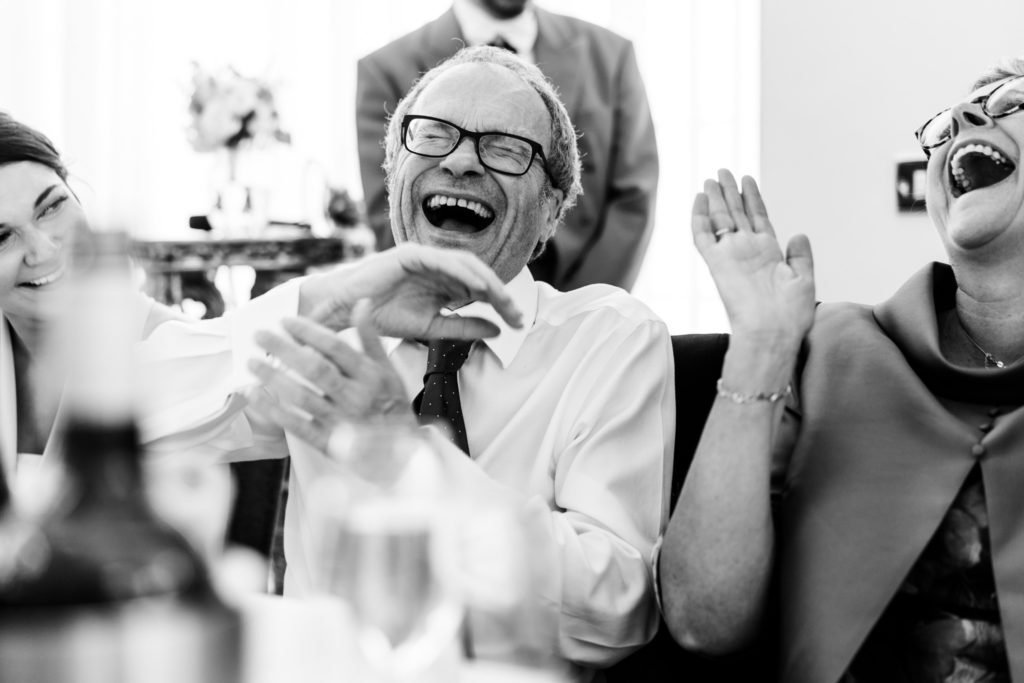 In-between (Eat, speak, eat, repeat)

It splits up the talking bit.

Let's be honest, folk don't have great attention spans and even less so when the wine and beer are flowing. Your guests can lose interest if they have to listen to a lot of people talking for a long time. By breaking it up, guests can give their full attention to each before tucking into their next course.
It allows for preparation time.
Speeches these days are elaborate affairs – there's often props, images and even video clips. Staggering the speeches between each course will give the best man/ maid of honour extra time to prepare for whatever extravaganza they're planning. Whether that's loading up a slideshow or bringing in a shopping trolley, gold hot-pants and a cut out of Elvis.
It gives the kitchen extra time.
A lot suppliers warn against having speeches in between course, feeling it slows service or puts extra pressure on the kitchen however, it can sometimes be helpful. As long as we know when and roughly how long each speech will be, we'll use the extra time to get the next course ready. More time to make those Mexican sharing platters look mega hot.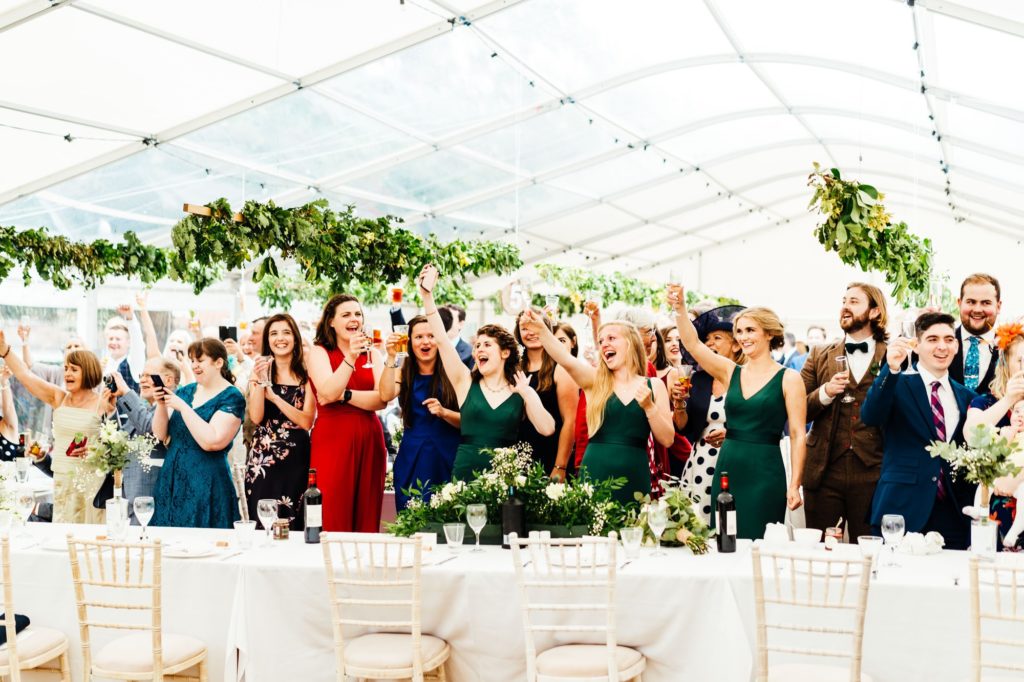 The Verdict
So when is the best time for wedding speeches? The answer is – go with what works best for you, your guests and most importantly, the lovely people who are speaking. As long as you let all your suppliers know the plan, we'll make it work.
Photos all by Hannah Hall Photography
If you'd like to chat about this or any other wedding stuff give us a call on 01163 260 529