OK so this bit is always tricky, who exactly do you invite to share in this most special of special days?
If money was no object and venues could magically double in size at the click of a finger, you could quite happily invite the world, his wife (and their dog too). But it isn't that easy and some difficult decisions, compromise and juggling is usually required:
Do stick to your budget. Once you've agreed your maximum figure you'll need to decide how much you will allocate to different aspects. Catering, drinks, stationery, favours and some venue costs will usually work on a per person cost so here you'll need to decide how best to cut your cloth – either invite more people at a lower price per head or less people leaving you more to spend per guest.
Don't invite more than your venue can hold. Don't listen to blogs that say allow for 10 or 15% of people declining. Always work on the assumption that everyone you invite will attend, if you have any declines you could always look at replacements or simply save some pennies.
Do split it fairly. Try to split your guest list down the middle 50/50 for bride and groom – avoid the temptation (or family pressure) to invite 100 of the bride's family leaving 20 spaces for the groom. After all, they'll soon be your family too….
Don't give in to parent pressure. This is the hardest part, particularly when your parents are footing the lion's share of the bill. There will be lots of family and friends they'd like to include who you may rarely see or not know at all but if you are limited on numbers and it means excluding a friend or colleague important to you, stand your ground as you'll regret it if not. So…
Do compromise. Ask your parents right at the beginning who are the people who are really important and would mean a lot to them to include. Explain numbers are limited and allocate a set number of extra guests that your parents can invite (maybe give them a table to fill). That way you are managing expectations right from the beginning so you won't get lots of "But you must include great cousin nine times removed Maggie, you know her, yes you do, she plays the piano and has a tabby cat called Frank" or "Why aren't the Browns on the list, you remember the Browns you used to play in their paddling pool when you were three?" – Which is probably the last time anyone in the family saw or spoke to them!
Don't invite the whole office. You've no doubt talked everyone's ears off at work about your wedding planning for months so may feel a slight pressure to invite your colleagues but only invite the people you want to be there, people who you see outside of work and are friends more than workmates. If you can't stand your boss, don't invite them simply for brownie points or end up asking the entire IT department just because they know exactly how long you've spent on Pinterest and sending wedding related emails.
Do have an evening list. This is often the answer to your prayers as you can invite additional people such as family friends, colleagues and neighbours to join the party without breaking the bank. For the people you'd like to be there, just not £80 per head be there.
Don't be afraid to limit plus ones. If your friend is currently single or has a new boyfriend of a week who you have never met don't feel like you need to give them a plus one just in case this turns out to be the one.
Do go with your heart. Above all remember it is your day and you need to be surrounded by the people you know and love the most. If you can't be selfish on your wedding day when can you be?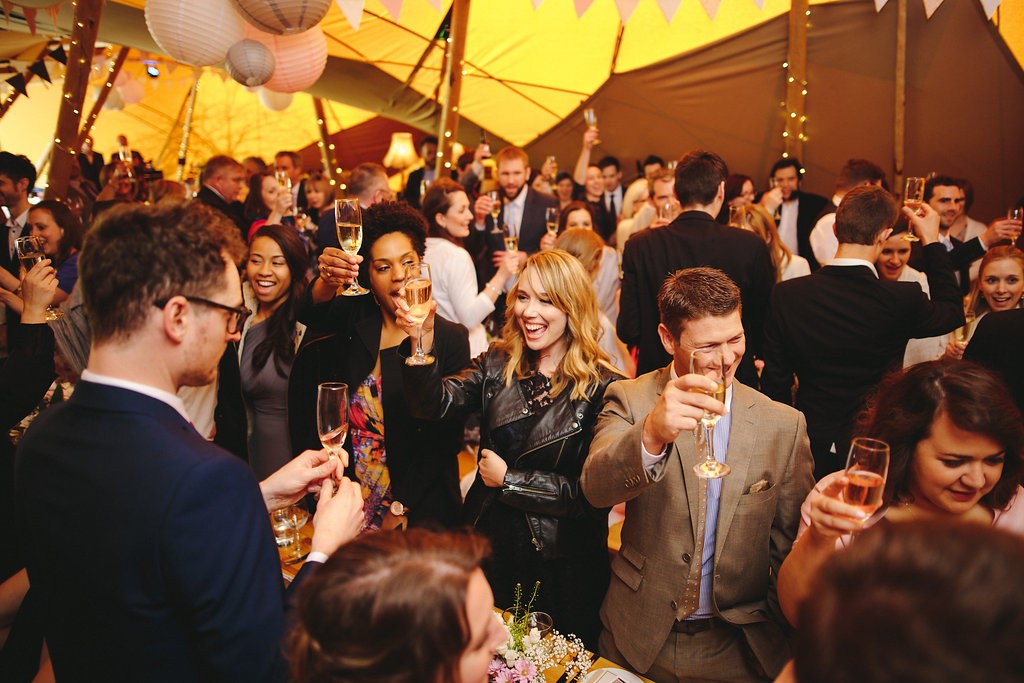 Photo by Voyteck London Wedding Photographer