Living on the Veg 
Vibrant Vegetarian and Vegan Wedding Catering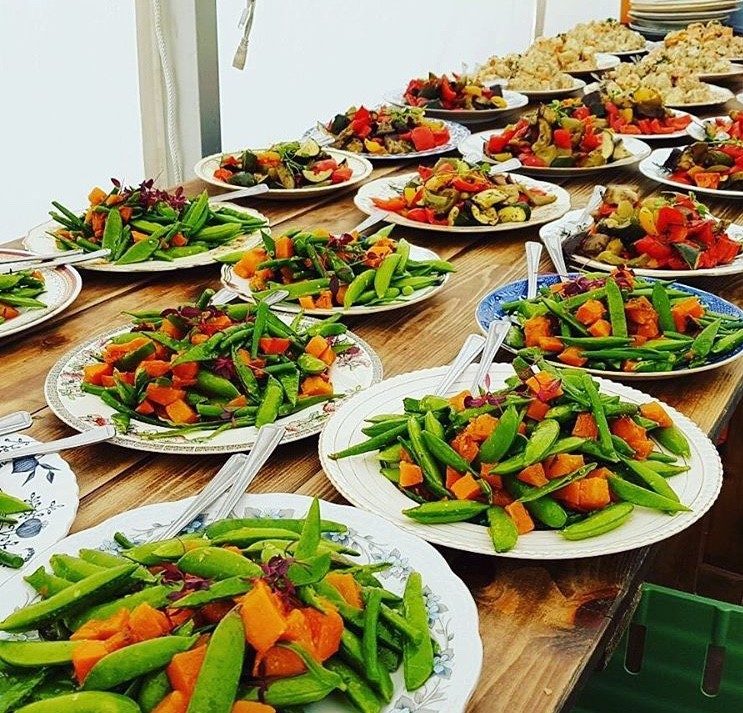 Be it for ethical reasons, to be kinder to the planet or for all those amazing health benefits, more and more of us are moving to the plant side. We are all eating less meat and dairy and opening our minds (and taste buds) to all the cracking flavour combos that vegetable based dishes can offer.  If you haven't completely left the heard behind yourself, chances are that your circle of friends has at least a couple of vegetarans and vegans who'll be at your wedding and will want to eat awesome food. A soggy goats cheese risotto or sweet potato bake just aint gonna cut no mustard. Check out how unbelievable vegetarian and vegan wedding catering can be with the right chef.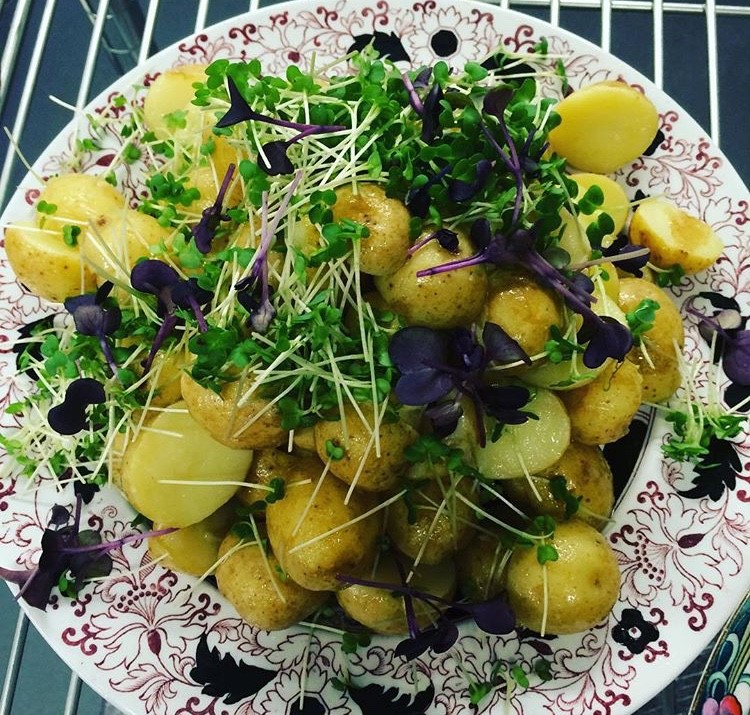 Plant Power

We are catering for more vegan and vegetarian weddings than ever before and virtually every wedding has some vegan guests so we are top of the crop when it comes to creating inventive and super tasty vegetable based dishes.  Introducing stunning flavour combinations that show off a little creativity and a lot of personality. Here's a few veggie dishes that have been going down a storm at our weddings recently.
Cool Canapes
Cauliflower and gorgonzola bob bon (V)
Beetroot and goats cheese arrancini (V)
Black bean and lime chilli salsa (Vg)
Halloumi fries (V)
Avocado, feta and black olive crostini (V)
Button mushroom, squash puree crispy sage
tarte fine (Vg)
Cherry tomato basil and mozzarella crostini (Vg)
Olive and bloody Mary shots (V)
Garlic and coriander falafel (Vg)
Homemade baked beans on sour dough (Vg)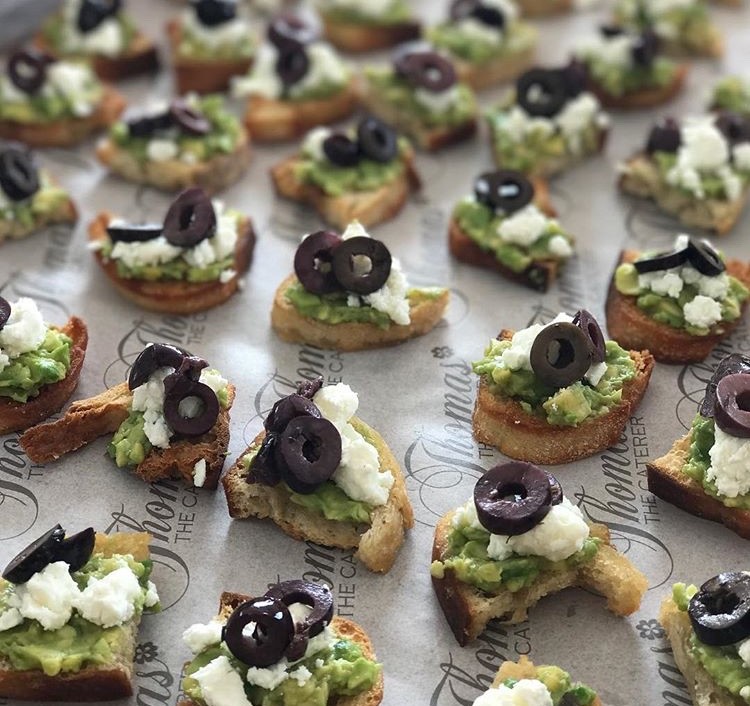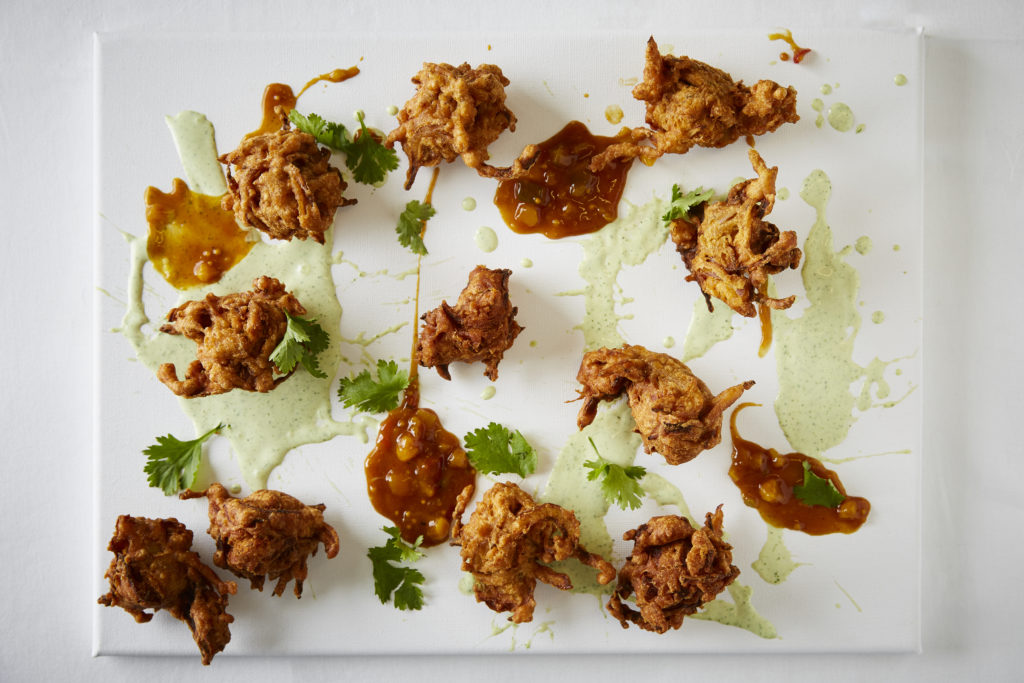 Scrumptious Starters
Mushy pea croquettes (vg)
Beetroot, stilton mousse, beer soil, pilsner picked onions (v)
Mixed arrancini (beetroot and , wild mushroom, sundried tomato and olive) (Vg)
Caprese salad (V)
Carrot and courgette pakora sweet chilli sauce (vg)
Balsamic roast tomatoes, avocado on sour dough toast, dressed leaf salad (Vg)
Mushroom crostini with harissa hummus (Vg)
Baba ghanoush toasted flatbread, beetroot relish (Vg)
Roast tomato and red pepper soup. Basil croutons (Vg)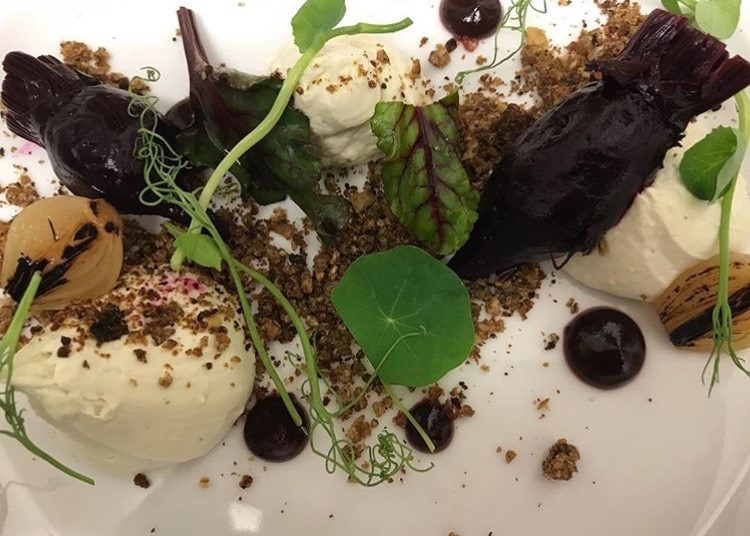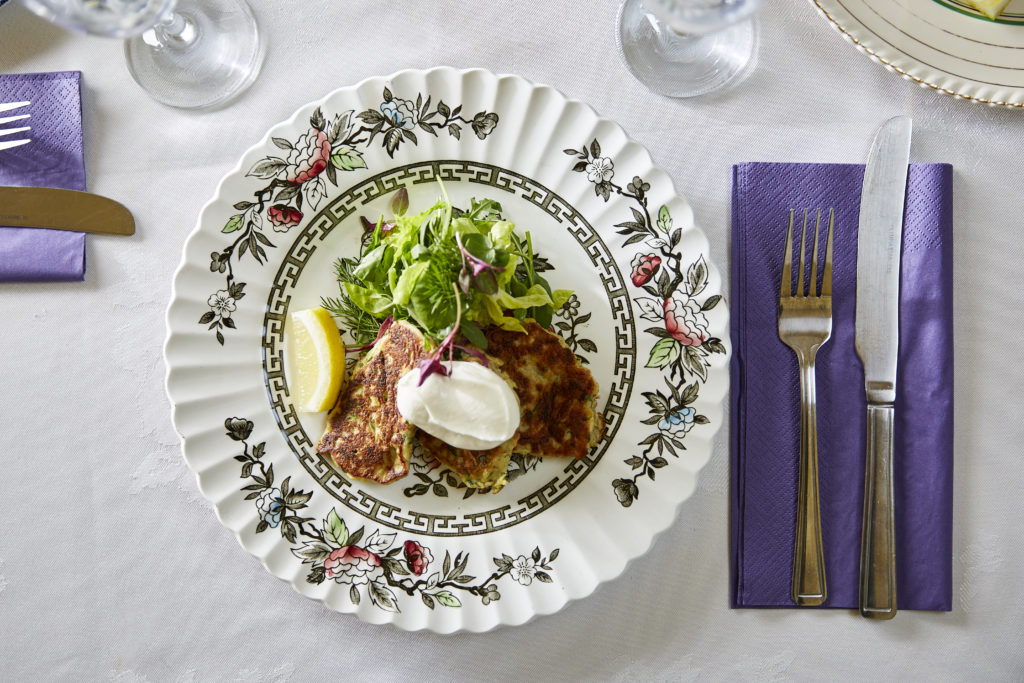 Mega Mains
Chickpea falafel, roasted red pepper hummus, roast vegetable salad and rocket (Vg)
Butternut squash, spinach and chickpea curry (Vg)
Black bean chili con carne, tomato salsa and rice (Vg)
Vegetable barley hot pot (Vg)
Seasonal vegetable roasted tomato and pesto filo tart, herb salad (Vg)
Chargrilled cauliflower steak marinated in garlic and rosemary with triple cooked chips (Vg)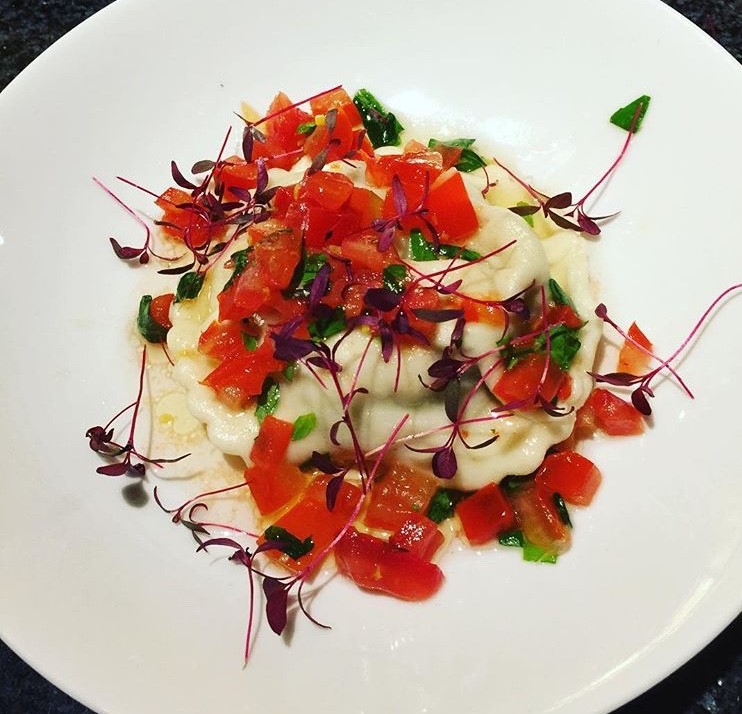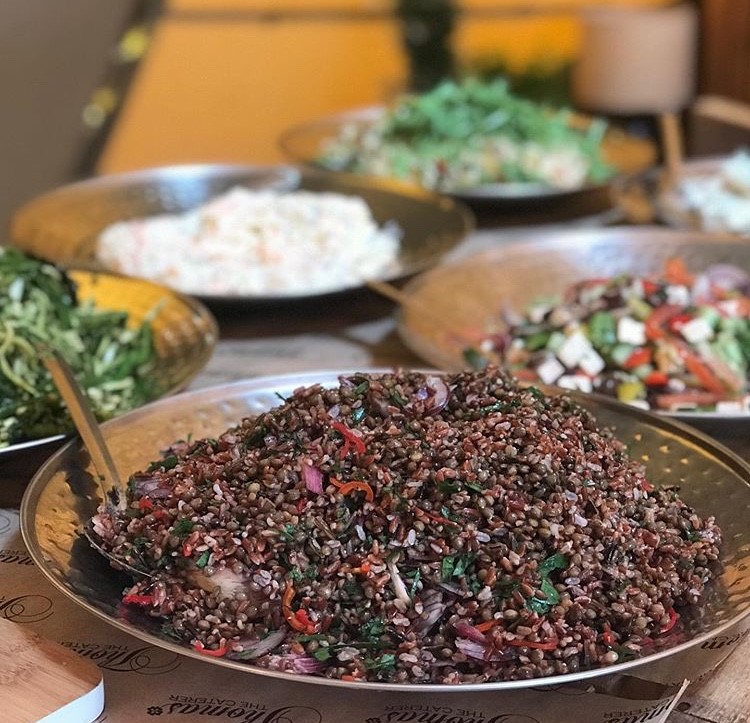 Dreamy Desserts
Dark chocolate and maple syrup pot (Vg)
Chocolate brownie, chocolate sauce and raspberries (Vg)
Caramel poached pears, oat crumble, vegan ice cream (Vg)
Baked apple and raisin filo pie (Vg)
Coconut rice pudding with confit passion fruit (Vg)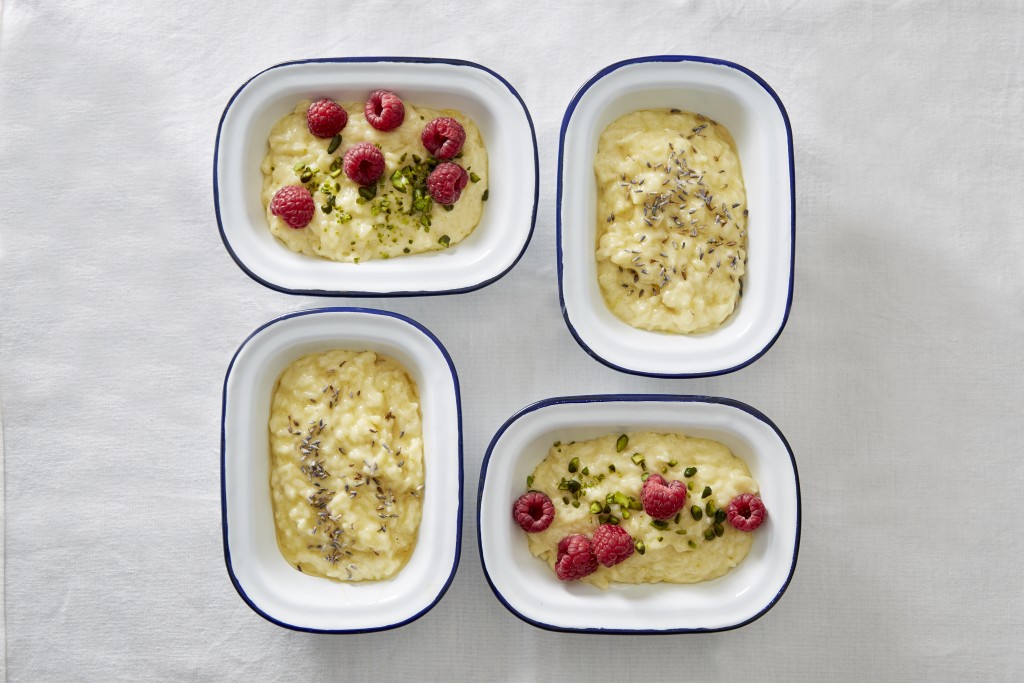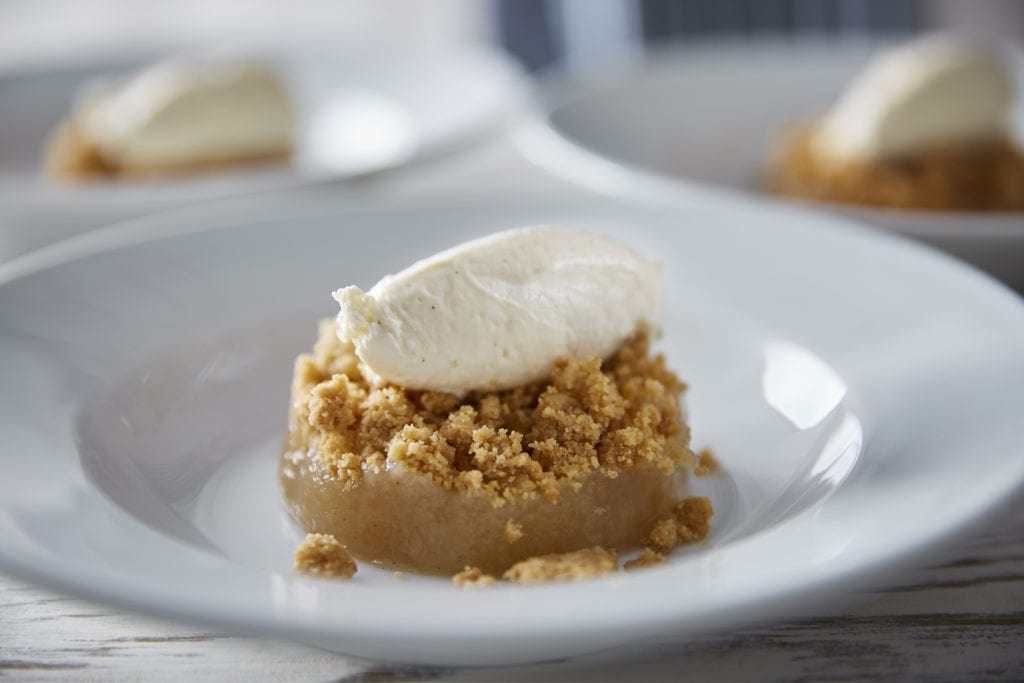 Meat Free. Flavour Full
If you or your partner are vegetarian, you may not want to include any meat on your wedding menu. That's totally cool and you should go with your heart and not worry what your guests might think. You can make your menu so jam packed with colour and flavour that they won't miss it at all. It's a chance to showcase how funkydory vegetarian food can be a little imagination. Don't compromise on your values on your big day, Uncle Jim can survive without a steak for one day I'm sure.
See how a few of our brides and grooms went completely vegetarian for their wedding menu:
Sharon and Colin's Vegetarian Mexican Fiesta
Canapes
Wild Mushroom Arancini
Wild Garlic, Butternut Squash and Spinach Mini Pies
Caramelised Onion Welsh Rarebit
Vegetable Pakora, Mango and Mint Salsa (Vegan)
Vegan Canapes
Mushroom crostini with harissa hummus
Balsamic roast tomatoes and avocado on sour dough toast
Starter
Vegan Mezze style sharing platters
Pitta Chips and Focaccia
Roast Peppers, Olives, Caper Berries
Hummus & Dips
Rice stuffed Vine Leaf
Grilled marinated Courgettes
Pickled Mushrooms
 The Main Event
Mexican Extravaganza
Sharing Style
Pulled Jack Fruit
Black Bean Chilli
Mexican Red Rice
Baby Gem Salad
Tortilla
Sour Cream
Salsas
Hot Sauce
Trio of Desserts
Lemon Posset
Sticky Toffee Pudding, Honeycomb & Toffee sauce (Vegan)
Raspberry Sherry Trifle
Evening Food
Cheese and Leek Burger with triple cooked chips + ketchup and Sweet chili sauce
Patisserie Boutique
Banoffee Cheesecake
Lemon Drizzle Cake
Treacle Tart (Vegan)
Chocolate Brownies (Vegan)
Fruit Tartlette and Vanilla Crème Patisserie
What the lovely couple told us afterwards:
The food was amazing and you even managed to convert a few people into thinking eating vegetarian is not such a bad thing! Also the waiting staff did a great job too, our whole day ran seamlessly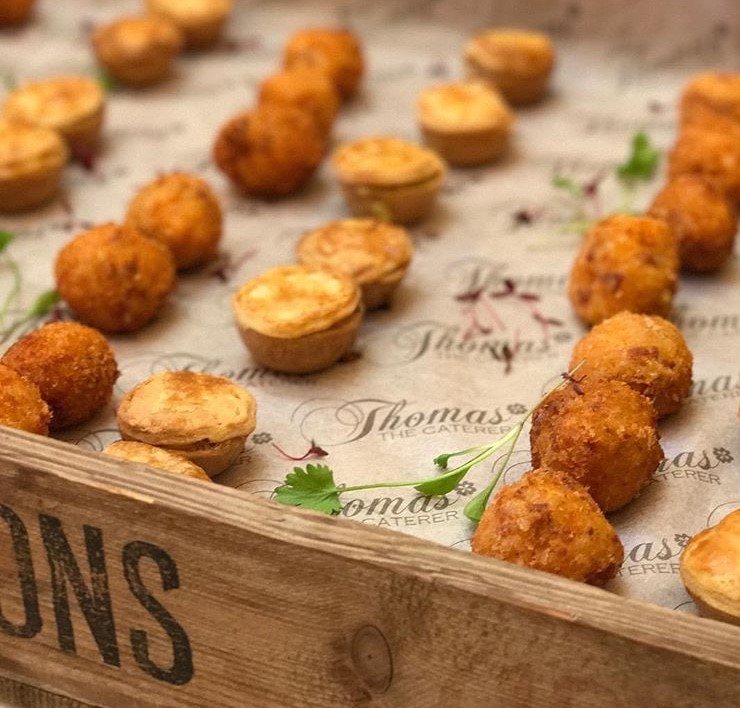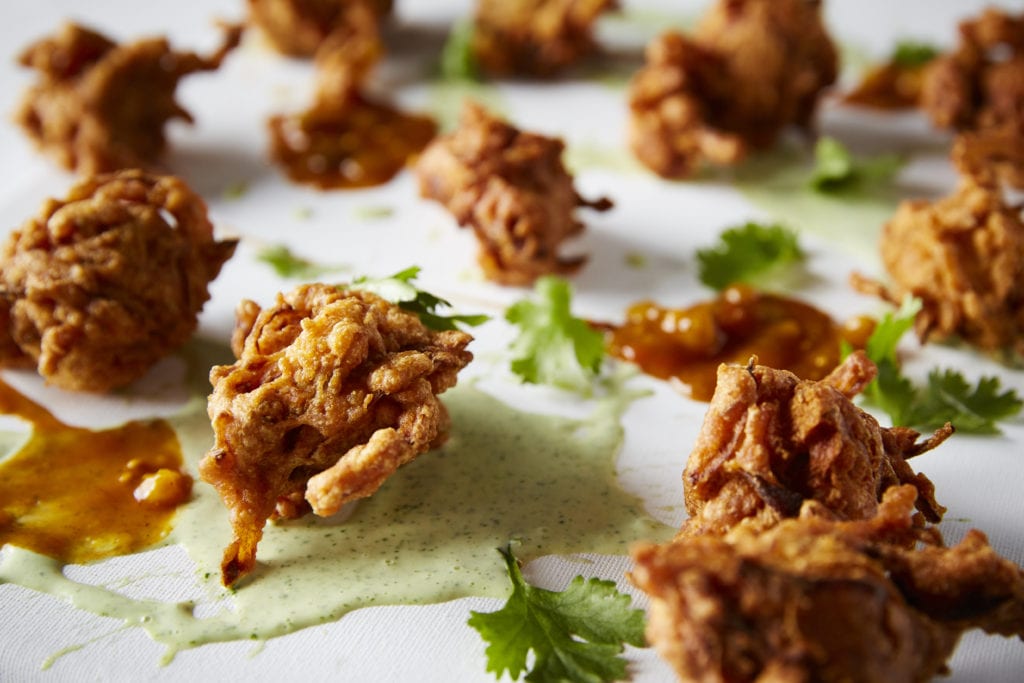 Sally and Rob's Vibrant Middle Eastern Feast
Canapes
 Minted mushy pea croquette, tartar sauce
Mini veggie pies
Tomato and olive bruschetta (Vg)
Chips and cheese dips
Main Event
Middle Eastern Veggie sharing style feast
Filo feta, bulgur and herb pastilla
Carrot and cumin Kibbeh (VG)
Chickpea, apricot and sweet potato tagine (VG)
Tabbouleh (VG)
Grilled Hulloumi, beans, peas and lemon salad with olive oil
Aubergine, saffron yogurt and pickled chilli
Courgette sumac and crispy onions (VG)
Hummus, dips and flat breads + vegan flat breads
Dessert
Lemon and raspberry tart, fresh raspberries and coulis.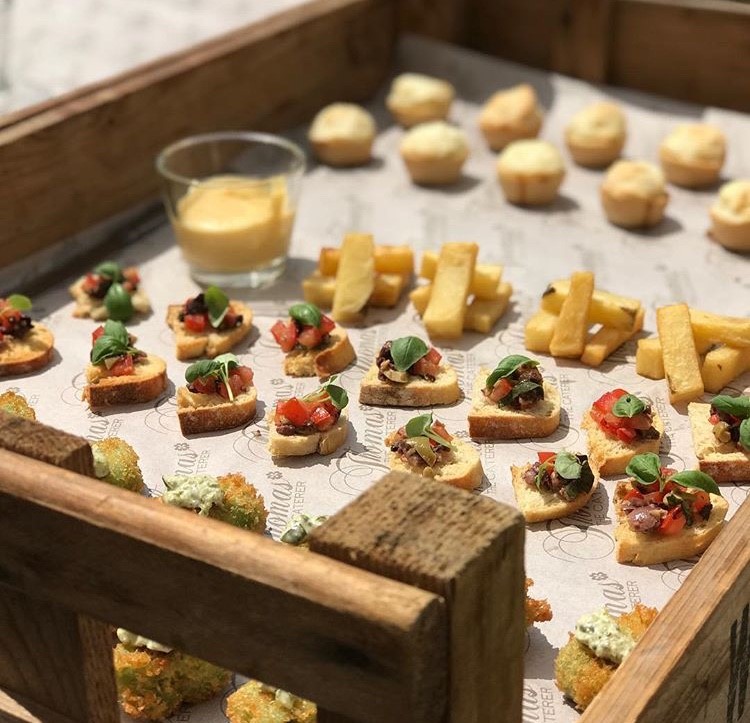 Emma and Dan's Delicious Vegan Menu
Canapes
Beans on toast
Vegan nem
Vegetable pakora
Olive, artichoke, sun-blushed tomato crostini
Starter
Zaatar flat breads
Baba Ghanoush
Hummus
Soy yoghurt, cucumber, roast onion and tomato
Falafels
 The Main Event
Aubergine stew
Persian rice
Broad beans, garlic and dill
Almond, fig, pomegranate herb salad
Indian ratatouille
Baby gem chive dressing 'Caesar' salad
Dessert
Tofu chocolate pots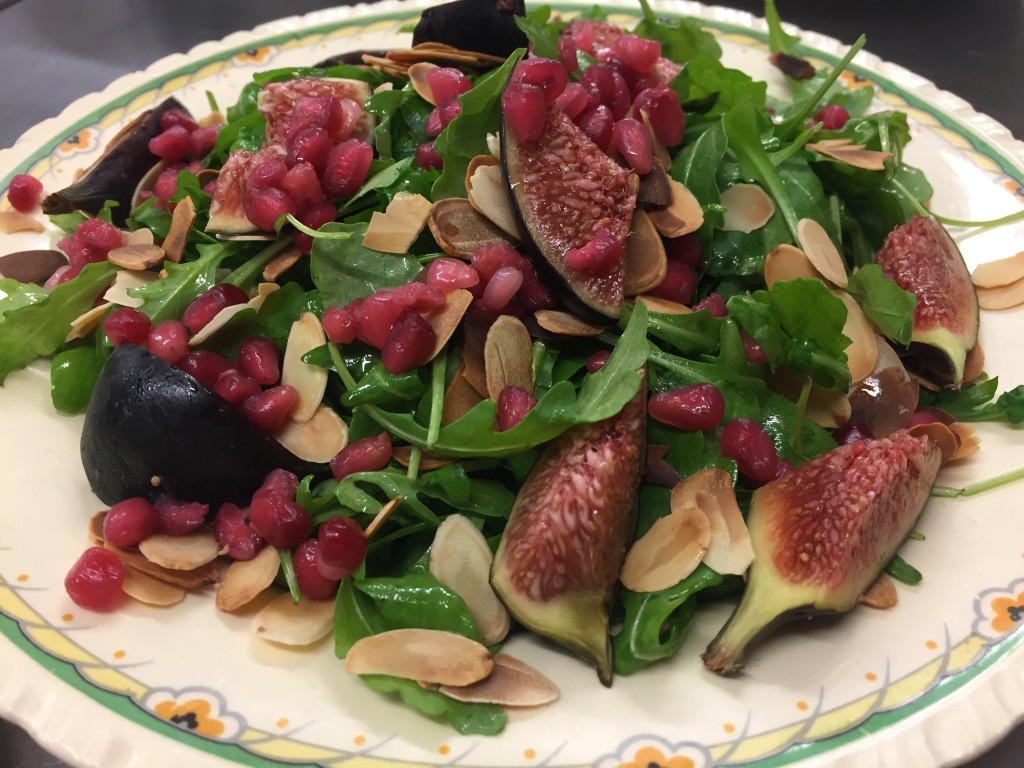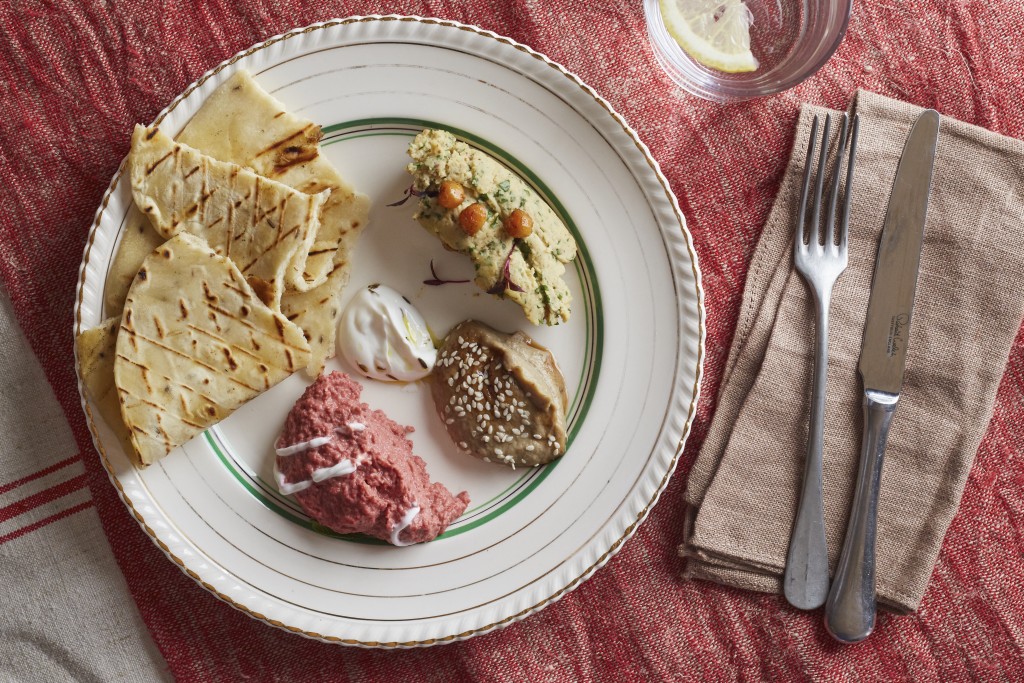 A Winning Compromise

If one or both of you eat meat but want to make your menu more approachable to vegetarian and vegan guests there are loads of clever ways to create something that will suit everyone. Opt for a relaxed sharing style with loads of yummy veggie dishes that are amazing stand alone or will accompany meat options. Alternatively, agree on the style, be that Mexican, Asian, Middle Eastern or even Spanish tapas. Then create a menu for the meat eaters with a vegan alternative to mirror each course so everyone has a comparable and equally awesome dining experience. Like these beauties below:
Iona and Josh



Afternoon Tea Canapes
Mini finger sandwiches – cucumber, smoked salmon, beef & horseradish and egg
Mini sausage rolls
Tomato tart fine basil and balsamic
Mini pea and parmesan quiche
On the table
Homemade focaccia, balsamic and salted butter
To Start
Pimp your mac n cheese
Crispy bacon bits, roasted chorizo, spicy sauce, crispy onions, gherkins, chilli flakes, extra cheddar, stilton crumbles
The Main Event
Gnocchi, sautéed mushrooms, parmesan, peas & broad beans
Dessert
Sticky toffee pudding, vanilla mascarpone, honey comb and toffee sauce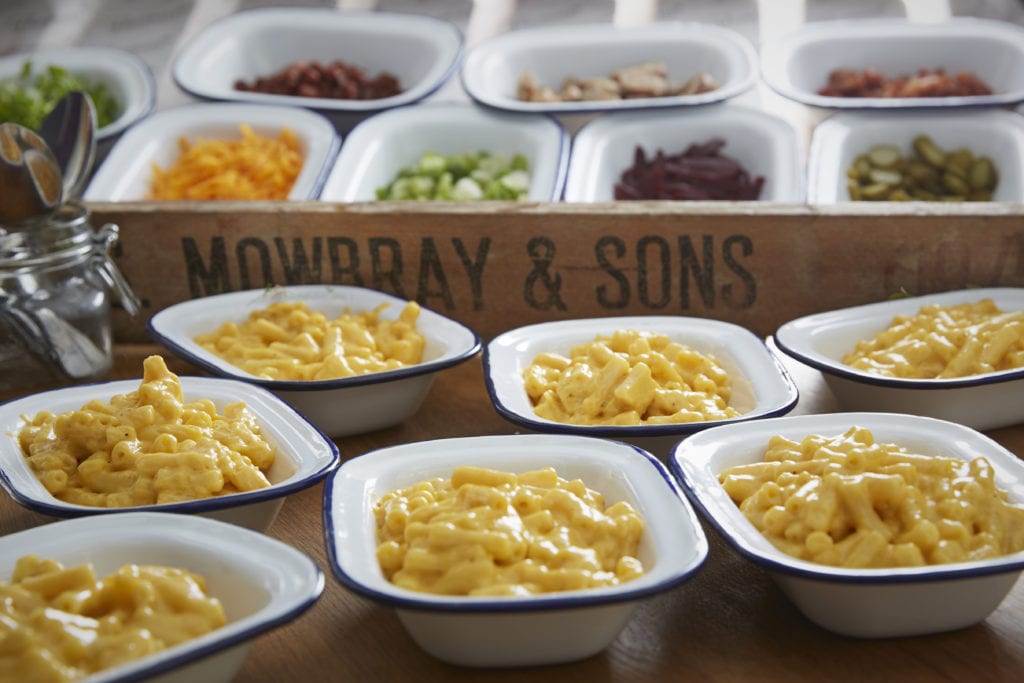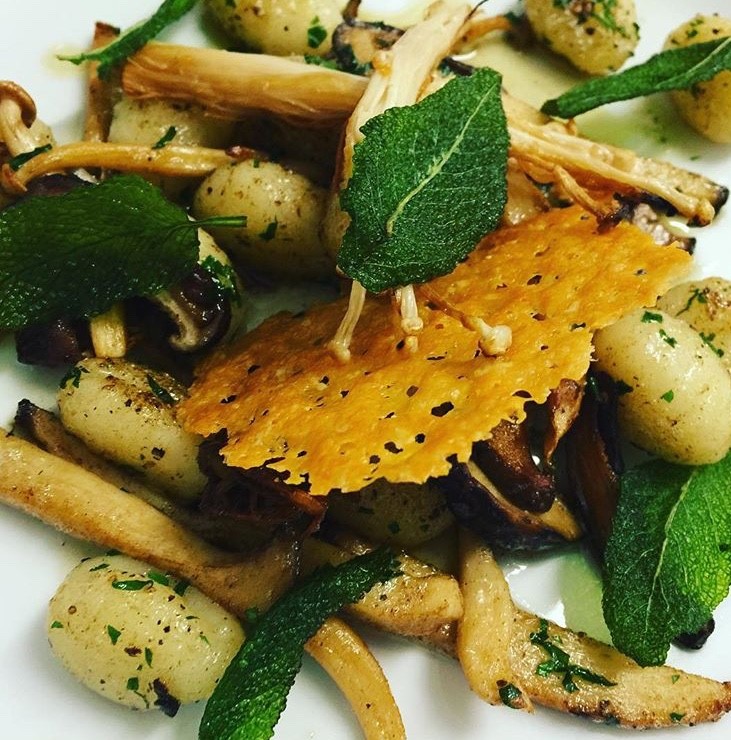 Amy and Chris
As main course served family style
Steak & ale pie
Chicken and chorizo pie
Creamy mash, seasonal veggies & lashings of gravy
Vegan
Aubergine, courgette, pepper & tomato ragu pie
Sweet potato mash, seasonal veggies & lashings of vegan gravy
Miniature Desserts served family style
Salted Caramel brownie, White chocolate and raspberry cheesecake
Mini lemon meringue pies
Vegan dessert
Vegan chocolate brownie, Sticky Toffee Pudding (Vg) and Raspberry Sorbet
Evening food
Mini chip cones & beef sliders
Vegan option
mini chip cones with smoky jackfruit sliders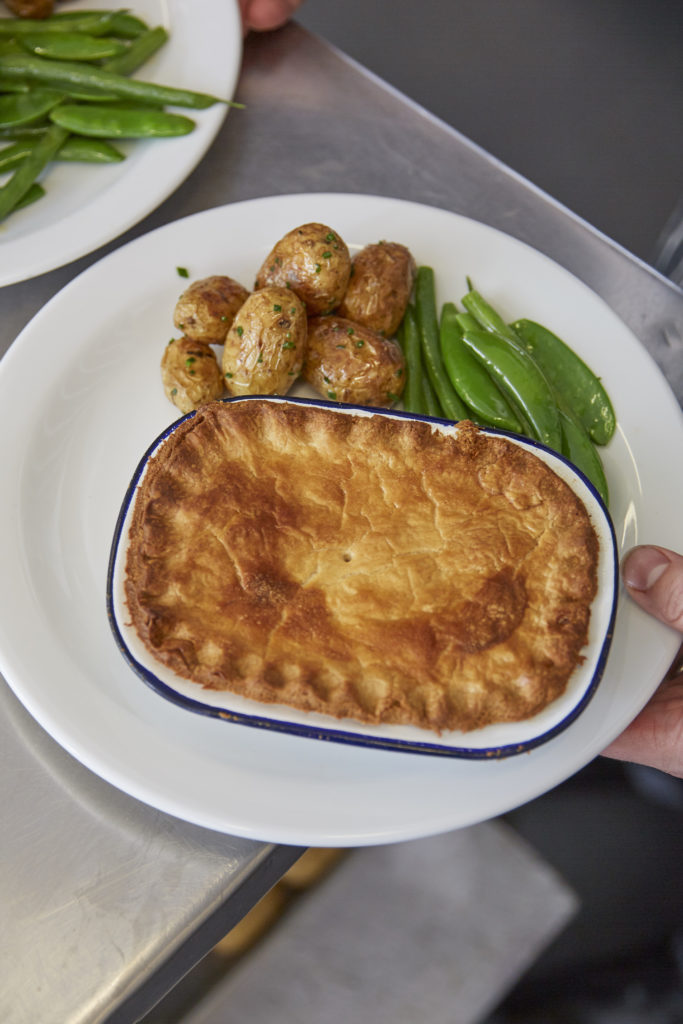 Becky and Knud

Canapés
Avocado sushi – with wasabi soy dip and soy dip (VG)
Vietnamese prawn Nem  (VG)
Hoi sin Duck pancakes
Steamed Chi su Pork bao
The Asian Banquet
Steamed and salted endemame beans (VG)
Chicken Yuc Sung
Vegan Option
Vegetable Yuc Sung
Main Course
Honey and soy braise beef shin, wok tossed greens, crispy noodles and vanilla capers
Green papaya & noodle salad cashew nut and spring onion (VG)
Stir fry Chinese cabbage, chilli and garlic (VG)
Slow braised pork belly, kimchi and apple soubise
Mixed mushroom stir fry with bean sprouts and water chestnuts in a ginger and soy sauce (VG)
Thai green king prawn curry
Egg fried rice
Plain steamed rice  (VG)
Additional Vegan options
Maple and soy braised aubergine, wok tossed greens, crispy noodles and vanilla capers (VG)
Grilled Tofu, kimchi and apple soubise (VG)
Thai green vegetable curry (VG)
As a finale
Passion Fruit, Yuzu & Ginger Deconstructed Cheesecake served with Almond & Coconut Macaroon
Vegan Dessert
Chocolate Chilli Lime Pot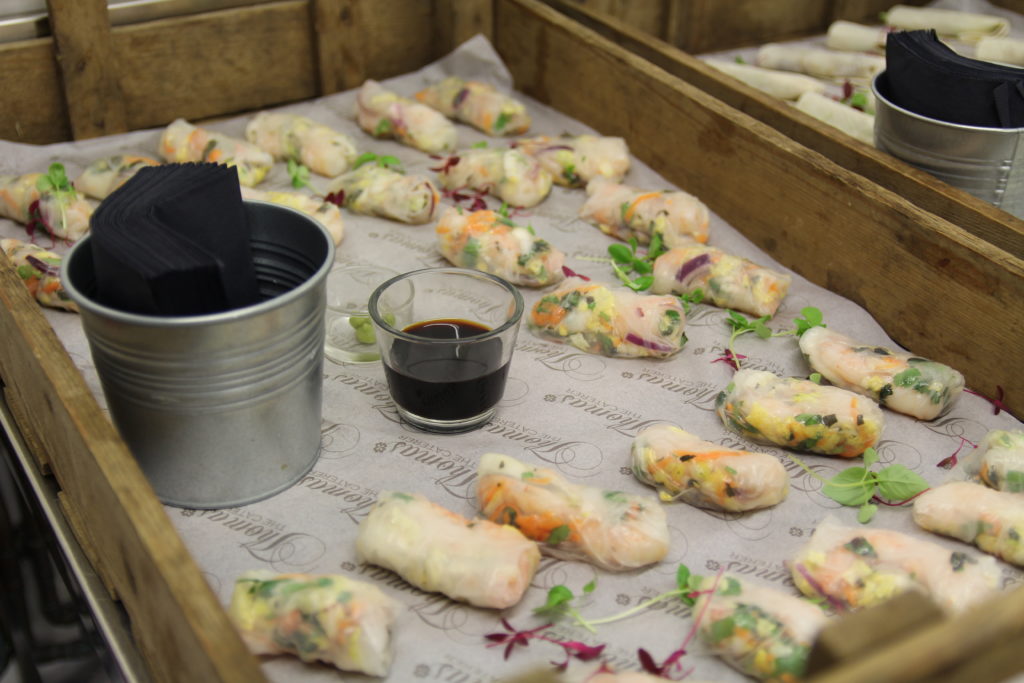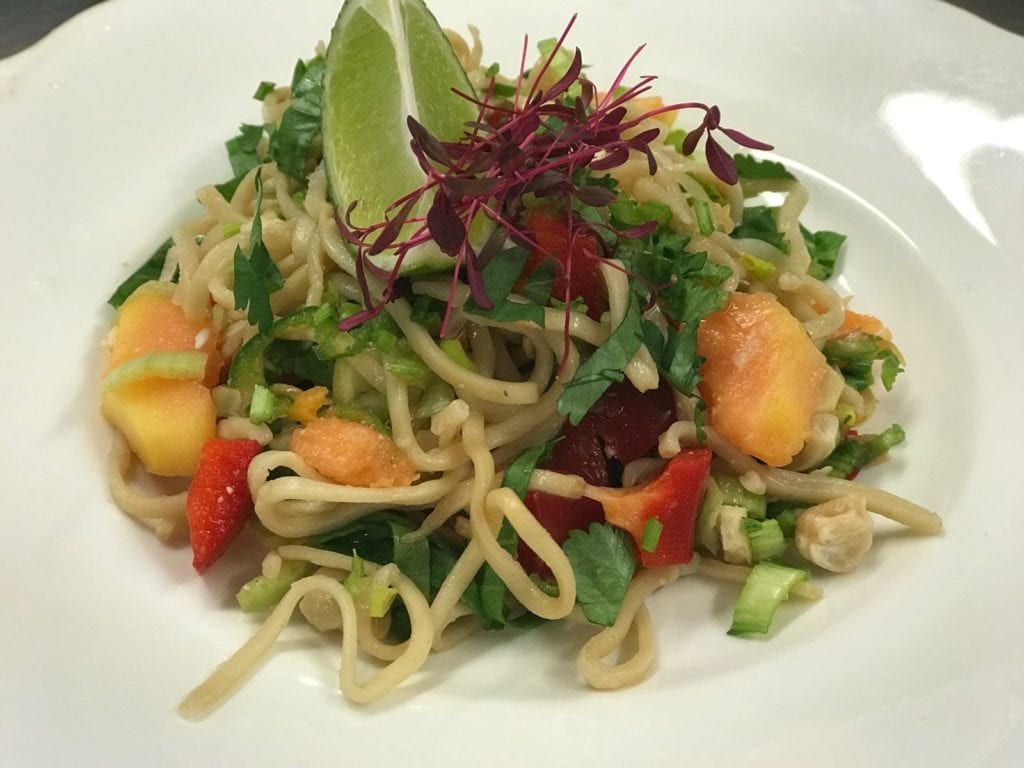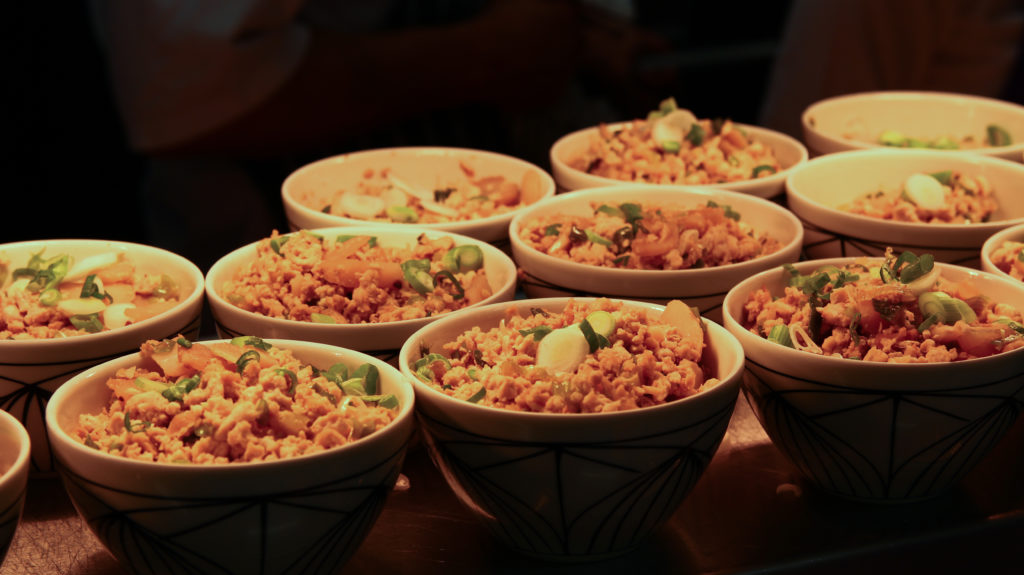 See veggie dishes can be incredible. For some more vegetarian and vegan wedding catering ideas check this out. Or give us a call on 01163 260529.