Style it Out
How to Find the Ideal Catering Style for Your Wedding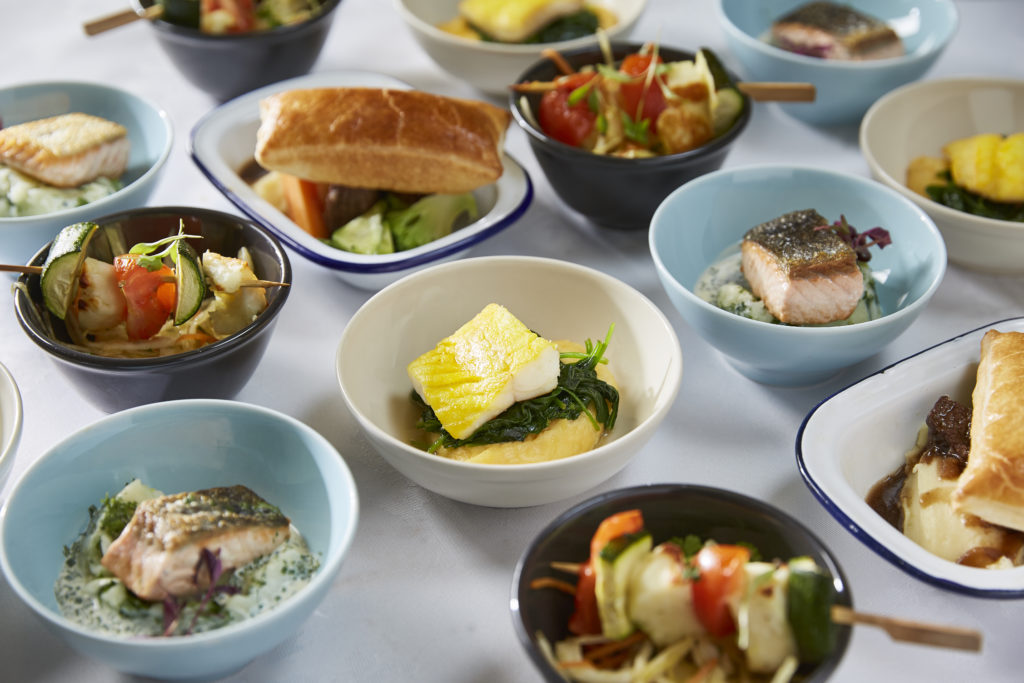 If you are getting married, step this way. Let's talk wedding food. You'll need to feed all the lovely people coming to share your special day but where to start? Traditional or more relaxed vibe? Sharing platter or separate plates? There are so many options out there. It's easy to get a little confuzelled. How do you decide the ideal catering style for your wedding? Read on, I'm here to help.
No time to read the blog. Watch the vlog here.
First things first. Start by asking yourself the following questions:
1. What do you want to eat?
Think about the foods you like. If you were going out for a special celebratory dinner, what restaurant would you choose? Tempted by tapas, leaning towards Lebanese or more likely to pick a gastro pub?
What's likely to catch your eye on the menu? Always opt for the steak or share a load of starters as you just can't decide?
On your wedding day you should eat what you love, don't worry too much about pleasing everyone else. Whatever your favourite food, some dishes lend themselves to a more relaxed service style like anti pasti or build your own sundaes. However, fillet beef with dauphinoise potatoes and sticky toffee pud are best served plated.
2. When you want to eat it?
When is it going to be served? Is it going to be in the daytime or early evening. November or mid August? Think about the month as well as the time of day.
Realistically, stew and dumplings then black forest gateaux doesn't go down so well in a heatwave in July; slow-cooked shredded meats with crisp salads, followed by a mango cheesecake would be perfect.
3. Where is your venue?
Where is it going be? Your own home or a stately home. Tipi in a field or beach in Ibiza? The venue and location will often lend itself to a particular style. Street food suits an outdoor wedding far better than a grade II listed building. Bowl food or buffet works when you are limited for seating space. Think about where exactly you are dining – a 700 year old drawing room with its original marble floor might have some restrictions.
4. How much you want to pay?
Everyone's got a budget, be honest with yourself and with your caterer as to how much you got to spend.
You might love fillet steak but is it going to blow the budget? Think about exactly how much you have and want to spend on the food and the different ways that you dice this up. Maybe look at just two courses with more substantial canapes or serve your wedding cake as dessert. You don't need to go down the traditional route. It's far better to have less courses that are all amazing than lots of just average tasting dishes.
Your answers to these four questions will help lead you towards the style that works for your wedding.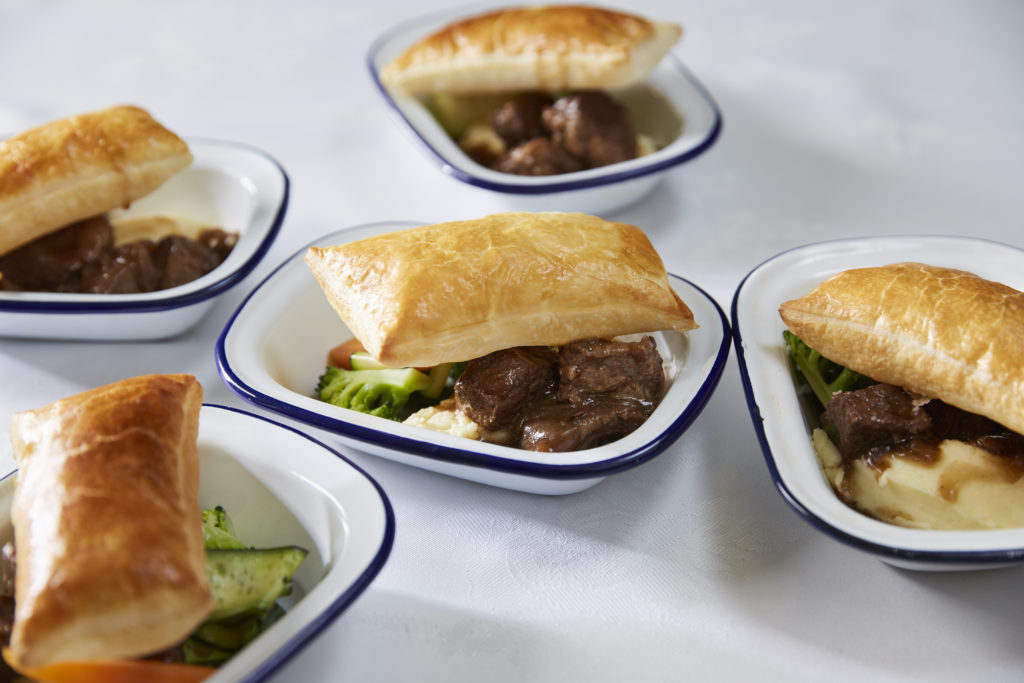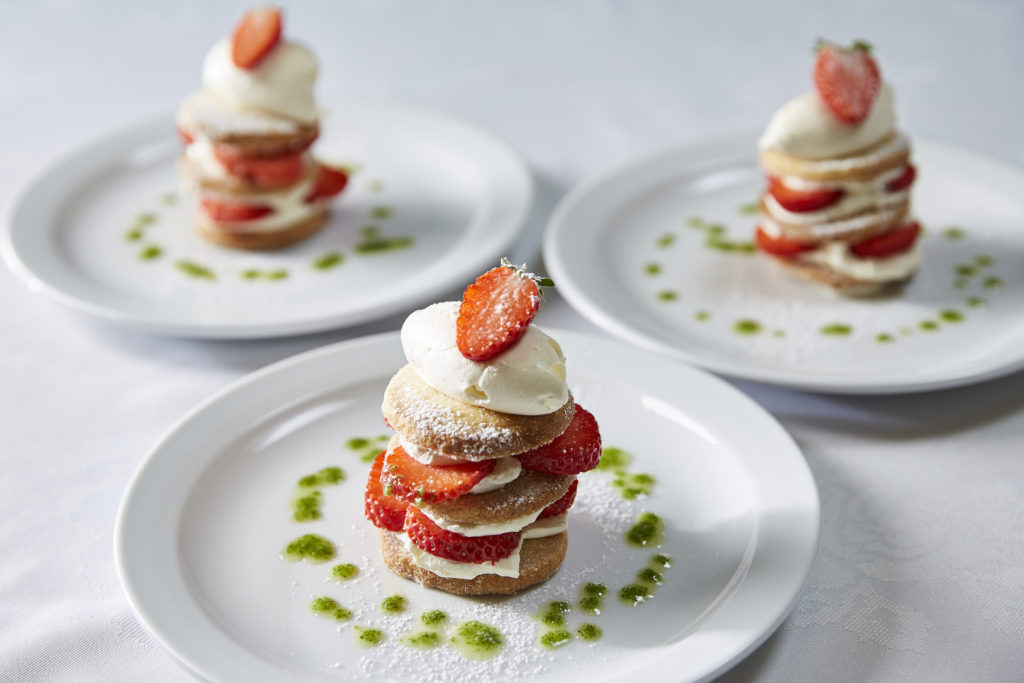 Catering Styles Explained
So there are six, yes six, different styles or ways of serving your guests:
Number one, the "Plated Meal".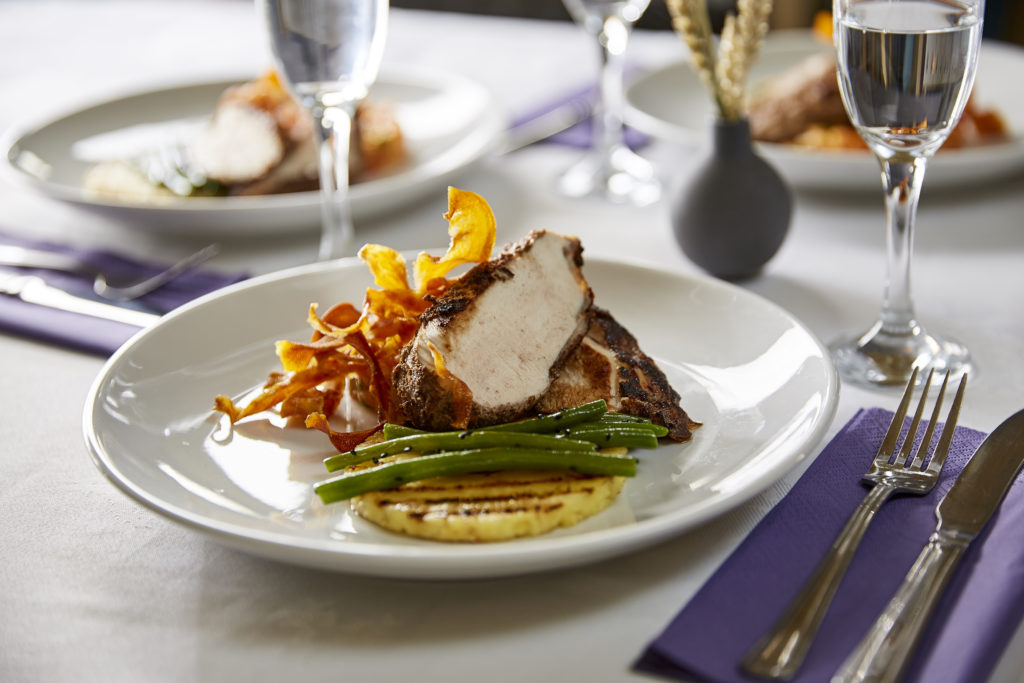 This is obviously the way that everyone and their dog has done wedding food in the past. There's nothing wrong with that. It works, really well, for some couples.  You select a menu, the caterers cook it beautifully for all guests. Voila!
You have a nice plated starter, a main course and dessert. Usually two to three courses. You can indeed add intermediary courses, such as a sorbet or a shot glass to cleanse your palate. Maybe even a small appetizer at the start of your meal if you'd prefer.
Traditionally, it's a really wonderful way to feed your guests. Everyone eats the same, less the dietary requirements. Service is super speedy and slick. Everyone's sat down around the table so it feels very formal in a lovely traditional way. Traditional and absolutely delicious (providing that you've got talented people cooking it for you of course).
Number Two – "Buffet"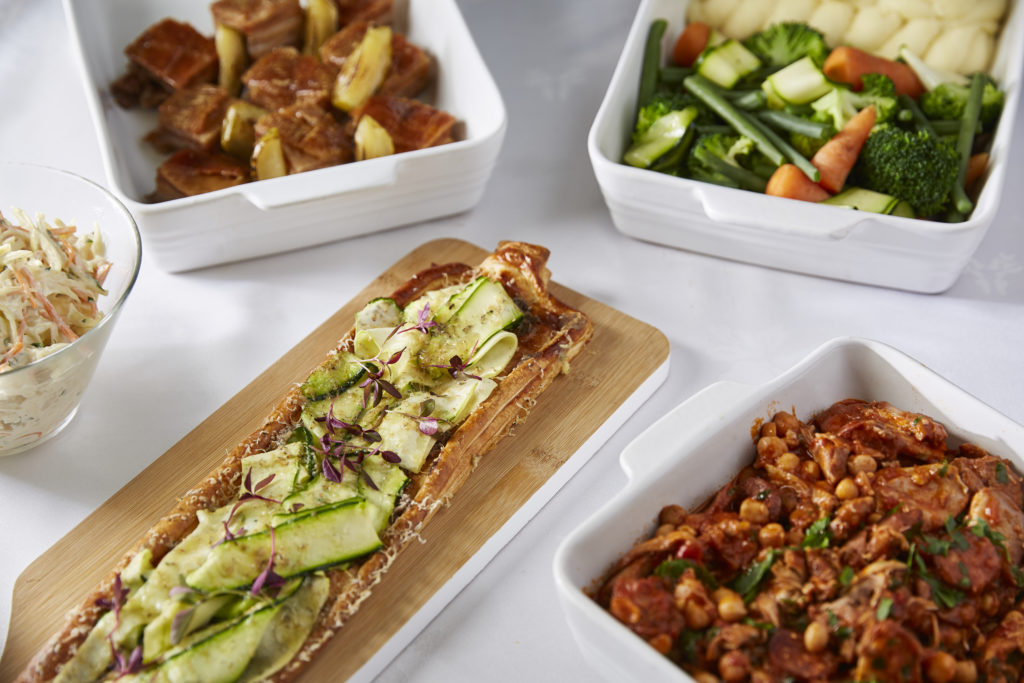 Now buffet has its merits but it also doesn't excite me so much. Not so much the food itself, more the way that your guests go and get the food. Do you really want people queuing up for your wedding meal?
My top tip – I would say maximum people to feed in a buffet is sixty.
You need to be careful about the dishes you have on the buffet. Careful with any saucy things that might spill everywhere, dishes that are super-hot or indeed, the opposite, likely to cool too quickly. Think about how long the buffet will be open with food exposed to the elements – heaps of salad that's out for an hour on a red hot day's not really going to work.
Something to add about buffet style is cultural differences. I know that a lot of Indian weddings, for example, go with a buffet and that's cool. It works because they don't bombard the buffet on mass. It's more of a grazing thing, over a long period of time. People come and go and food is always available.
At a western wedding it's more of a bell ringing, whistling "dinnertime" and everyone's up fighting over the Cajun fries or mozzarella bites. We've suddenly got a hundred people at the buffet. It's definitely a culture thing!
Number three – the rise and rise of "Street Food".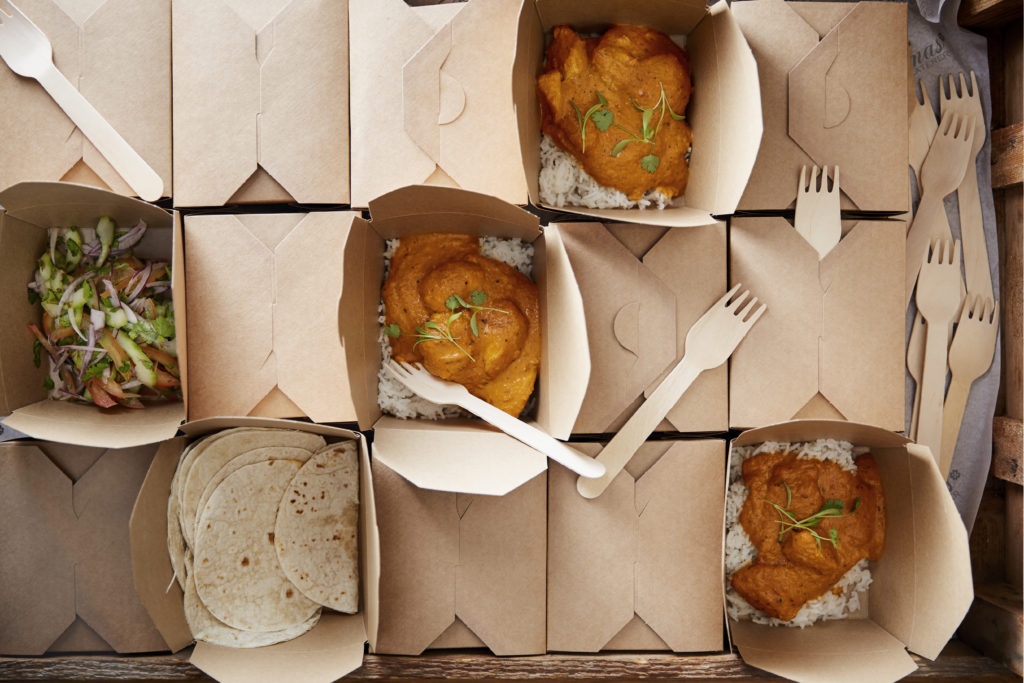 Street food is really cool, I love it. I love its informality and I love its variety. It does have its time and place; I definitely wouldn't have it in a grand formal house. It suits a more relaxed outdoor wedding venue. A festival feel.
My top tip is – Don't have too many choices. Keep it to three I think, that's really the maximum.
You might want to engage with a number of different food van's – giving you a proper festival vibe with a wood-fire pizza van, a falafel stand and a hog roast. It does look great to have food served from horse trailers, that cool converter van and gazebos. Beware this can be more costly than you'd guess. They're all going to want to be paid and very well to compensate for money they could be making at a festival or other paying guest event. It may well actually end up costing you more than regular catering, even though you think it might be cheaper.
It's definitely worth investing time and research into how many portions they're going to serve. As a greedy man, I would definitely want to try at least two of the three. If you've got hundred guests then that's potentially a hundred proportions of each. Yikes!.
What options to go for? Definitely have at least one traditional such as fish and chips, pie and mash or pizza. Going with Japanese street food or a spicy curry is totally cool but make sure granny can definitely have her fish and chips.
Number four, my favorite "Sharing style, Family-style".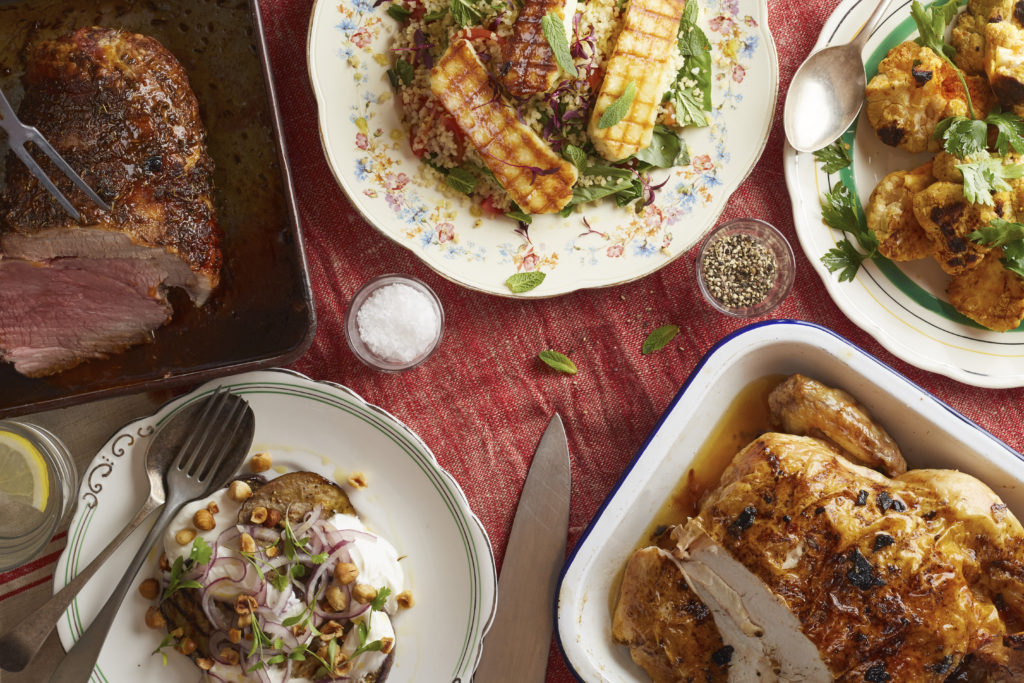 I think this is the way to go with wedding catering to be honest.
Over half of our weddings are on the sharing style. People love to relax, in an environment where it's not so fussy. The waiter isn't serving you with the white cloth over their arm "would you like some grape papansa". It's just not like that, the style of service is far more relaxed. The team bring heaps of delicious food to the table, similar to a buffet, accept it's at the table, family shared. Think Christmas day or a family barbecue, where all the dishes go into the middle of table and everyone tucks in. It creates a fabulous atmosphere.
Generally the dishes are each shared between 6 to 8 people. Everyone has an abundance of food so they can eat as much or as little of each as they like. It works for the more traditional roast dinners, pies or sliced meats with salads and sides. Or in a slightly modern fashion, like middle-eastern food or Italian food. Take a theme and run with it. For example, you can have massive spreads of Italian including beautiful arancini, garlic and herb roast beefs, gorgeous salads, breads, cured hams and cheeses and fill the table. Looking so delicious it will become part the decoration.
Which brings me to my next top tip – make sure that your decorations aren't too full on with sharing style. Small, elegant arrangements are really great. Think about how much space all your sharing platters will require, you don't want the catering team having to move giant centerpieces to make some room for the potatoes.
Number five "Bowls".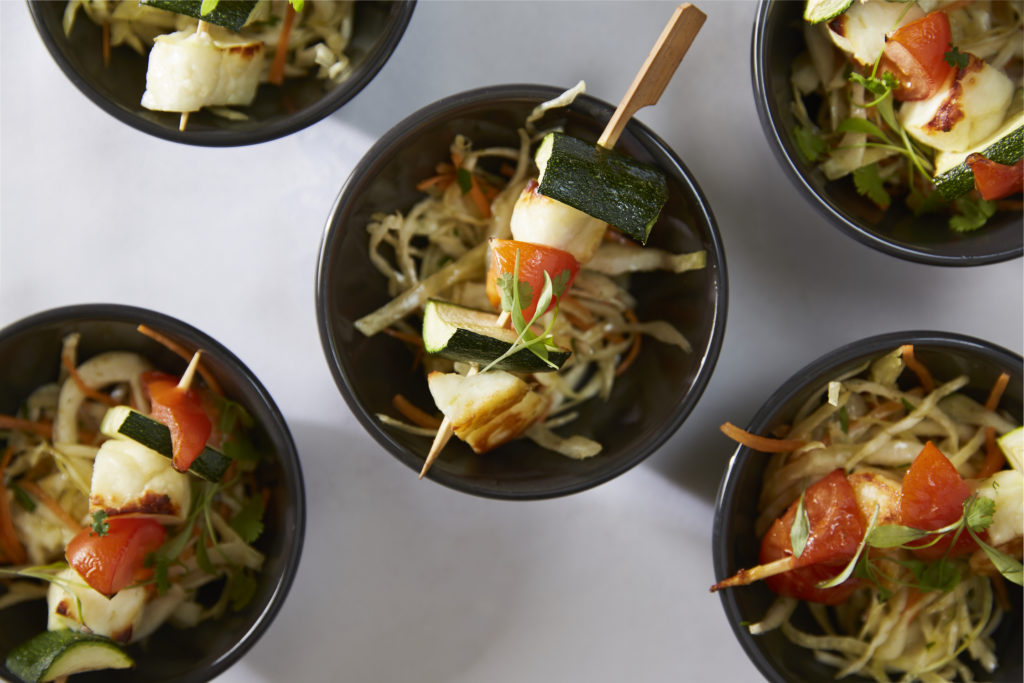 I really love bowls, bowls food style is really cool, smaller portions presented beautifully. Megan Markel and Prince Harry had this at their wedding. There was no pictures but we envision very traditional foods in smaller portions, done beautifully.
Pretty much anything you can think of can be served as bowl food. And it doesn't have to be bowls per say – fish and chip cones, slider buns, sloppy dogs, nachos, all these things can be done in a bowl food style. Then there's Thai curry, chili con carne, mac cheese, meatballs and Persian couscous, the list go on and on and on. There's heaps of choice and you can offer guests loads of variety.
It works brilliantly if you're having a wedding where there's limited seating or if you don't want people sit down. It's perfect with cocktails, just have a few places where people can perch or put the glass down. You can really show off all the styles of food you love in miniature form. I'd say a maximum of five bowls is the ideal.
Number six "Cake and Canapes".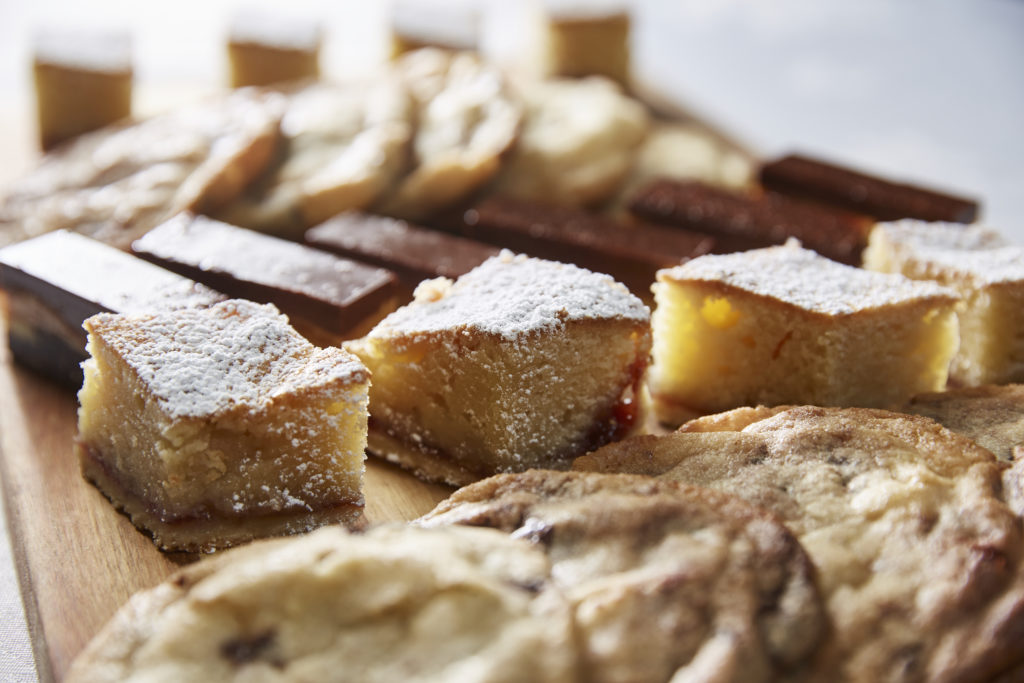 This is a new one but I really like this idea, especially if you're going for a very informal event. You don't want the party to go on too late. You are just literally having a beautiful ceremony and a nice little drinks reception afterwards. I think cake and canapes is a really nice way of doing that. You'll probably want a cake, everyone really wants a cake, so cut your wedding cake after the ceremony and serve with some awesome canapes – sweet and savory and totally delicious.
A fabulous drinks reception with a couple of speeches, couple of thank you's, maybe first dance, if you wish, then head off into the night, maybe drift off down the river on a boat. Sounds like magic right? It's a cute way of doing something a little different.
So that's it.
The six ways you could feed the guests at your wedding and the questions you should ask yourself when trying to find the ideal catering style for your wedding.
You can watch me talking about this further here.
Want to discuss the ideal catering style for your wedding? Get in touch below: