Anyone who has special dietary requirements, whether its down to illness, allergy or personal choice, will understand the sheer frustration of eating at places which are unable to cater properly for their needs.
We've all heard the jokes about a nut roast being the only vegetarian option on the menu, but when it's you on the receiving end of such a limited choice, it can be no fun at all.
I was delighted to cater for the wedding of Mari and Ben recently, which featured a fabulous outdoors reception and delicious food choices on a menu which we put together to cater for Mari's gluten allergy.
Working with dietary requirements is something which we pride ourselves on being able to do well and so, working closely with the bride and groom, we came up with a menu which would be delicious for everyone on the day.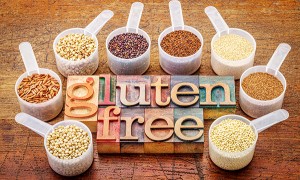 Cooking for Gluten Free
People who require a gluten free diet, including those who suffer from conditions such as celiac disease, have to completely exclude the protein gluten from their diet, or run the risk of all sorts of uncomfortable and painful results.
But, with gluten being present in grains such as Wheat, Barley and Rye, it becomes very difficult and frustrating to ensure that it isnt in the food you eat. That's why many gluten allergy sufferers often end up missing out which is no fun at a big event, especially when you're the bride!
When cooking for gluten free diets, all it takes is a little imagination to produces dishes which are absolutely delicious. And for lovely couple Mari and Ben, it was no different.
We created mouthwatering Canapés, which included Goats Cheese and Mango Croutons, Blue Cheese and Beef Arancini, Crab Lime and Ginger Mayonnaise and Cucumber Rolls.
The starters were Poached Salmon and Asparagus Terrine or Grilled Haloumi Salad with Avocado.
Main course was Braised and Roasted Pork Shoulder with some beautiful Green Vegetables and Sweet Potato Fries.

Catering for Vegans
The same amount of thought, creativity and imagination needs to go into the menu when catering for vegans or vegetarians at weddings and any other kind of special event.
Vegans, in addition to being meat free like vegetarians, dont use other animal products and by-products in their food such as eggs, dairy products and honey. So, when you look at it this way, a vegan guest can seem tricky to cater for.
I believe that everyone should have the right to enjoy their food and any caterer worth their salt will know there are many options to choose from (no, they don't all contain couscous!)
One example, for instance, is our Ratatouille with Sautéed Potatoes or Mushroom, Spinach and Walnut Filo.
We work with all dietary needs
Whatever the dietary needs of your guests, we can find a menu that will be delicious, whether you need it to be gluten free, nut-free, vegetarian, vegan, or specifically tailored to religious requirements.
We work with all dietary needs at Thomas the Caterer, so give us a call today to find out what we can do for your special event.