So, how do you define the new normal, when it comes to catering and specifically, outside catering in Leicester? 
One phrase springs to mind – "It's life, Jim, but not as we know it…" 
Kinda sums up the current situation we're facing with COVID-19, doesn't it? And as all of us try to find a way to make things work, both in our professional and private lives, we've found that, when it comes to catering for special events, using grazing boxes for outside catering in Leicester is going down a storm. 
Well, who wouldn't like a box of deliciously fresh food to nibble on while they make the most of being able to spend time with friends and family, once more?
Outside catering for limited numbers
With regard to special events, a wedding ceremony, for example, is currently (at the time of writing) recommended to include no more than 30 people, in order to comply with COVID-19 guidelines. A welcome move away from weddings with no guests, you might say, but still not the standard big bash. 
Bearing all this in mind, at Thomas The Caterer we have found the best way to conduct outdoor catering at the moment is by offering the delivery of food in grazing boxes or as street food. 
That means a sumptuous array of food comes already prepared and beautifully presented for guests to enjoy. There's no staff there restricting the numbers of guests allowed, no crockery or cutlery delivered, just awesome food without adding the risk of coronavirus.
As there are still social distancing guidelines in place, much of these weddings and other events need to happen in large outdoor areas. So that means we can bring the grazing boxes to the venue, set up your outside catering in Leicester and leave happy in the knowledge that the guests at your wedding will have a treat in store.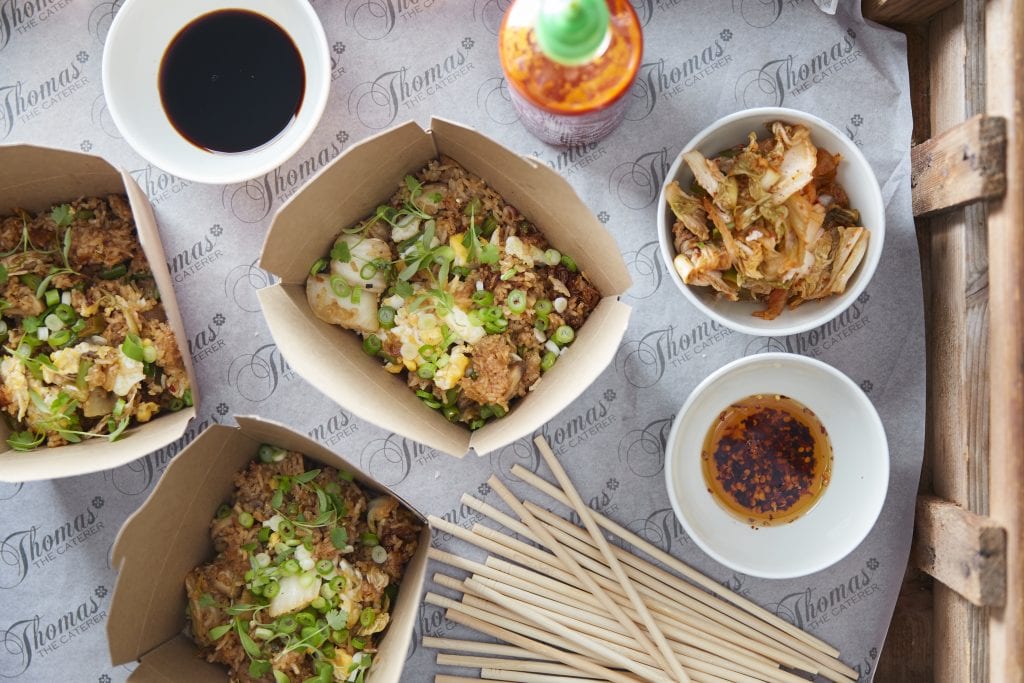 What's in a grazing box? 
Anything your heart desires. One rule applies – the contents of a grazing box must look and taste absolutely whizz poppingly splendiferous. So, when you decide to have grazing boxes for your outside catering in Leicester, what sort of delicious treats can you expect to find within? 
Examples include a marvellous mixture of the following: 
Selection of cheeses 

Fresh fruit 

Fresh dips and crudites – e.g. chopped carrots, peppers and cucumber 

Home made sausage rolls and scotch eggs 

Cold cuts of meat 

Breads and crackers

Salad leaves 

Olives and antipasti

Chutneys and pickles

Popcorn and sweet treats
Let's chat it through
Essentially, the food in your grazing box is all about what you want – so give me a call and we can talk through what is going to float the boat of you and your guests. Vegan and vegetarian options are of course available and we can provide outside catering in Leicester for special dietary requirements, too. 

Check availability for your date
When you look at the pictures of some examples of the grazing boxes we've done in the past, you can see how enticing it all looks, but how about having a try for yourself? 
Get in touch with us to check our availability for your date and have a free tasting session. That way, you'll rest assured that you and your guests will love the grazing boxes we provide and all you have to do is enjoy the excitement of your special event.