Introducing … Thomas the Caterer's All NEW Fudge Kitchen!
Delicious, homemade fudge makes the perfect sweet treat for a party or event, either as an addition to a buffet, a post dinner dessert, snack or as a sweet canape style treat. It's also a great party gift and makes perfect Wedding Favours for your guests.
We've had taste testers sampling this scrumptious new product and the feedback has been amazing!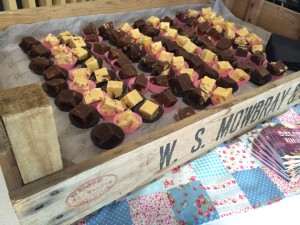 Jo Baker said, "Tasty fudge! Love the peanut butter one"
Cheryl Young said, "Delicious!"
Lisa Ward said, "Just delicious – can you make a diabetic version so I can gorge myself on it?!"
Fay Hollis said, "The best fudge I have ever tasted!"
Why not try it for yourself!
Previous flavours have included;
Banoffee
Strawberries and Cream
Chocolate Orange
Baileys
Dark chocolate and Ginger
Rocky Road
Peanut Butter
White Chocolate
Jelly Bean
Coffee
As ever, we are happy to create bespoke flavours of your choice. My 'Menu U' policy even applies to my Fudge Kitchen! It's perfect for Wedding Favours; wrapped in cellophane with pretty ribbon, boxed with personalised tags or placed in mesh bags.
The price, for a minimum of 100 guests, is £2.40 (inc VAT) per person. This is great value for Wedding Favours as it includes 3-4 sizable pieces of fudge per guest. We can work out your flavours between us and it can be picked up from The Fudge Kitchen (AKA Thomas Towers), or I can deliver it to you.
Please note, this price does not include any presentation props or trays.
For more information about Thomas the Caterer's Fudge Kitchen, or for any other enquiries, call today on 01163 260529 or contact us via the online contact form. We look forward to hearing from you!