'The Definitive Guide to Wedding Food That's Loved By Everyone' is a varied collection of deliciously scrumptious recipes. Canapes, Starters, Main Courses and Desserts, all inspired by some of the Weddings I have catered for over the years.
The book retails at £18 including all postage and packaging costs and would make the perfect Christmas present for any fans of my food, budding chefs or couples and wedding planners who are wanting inspiration for some truly memorable catering ideas for Weddings. I have also included the VERY SECRET (but now, not so secret) recipe for my Famous Extra Special Chocolate Brownies.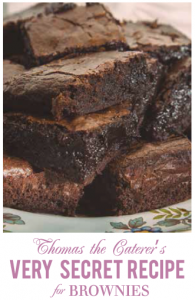 The recipes vary in difficulty, so there's something suitable for all abilities and I even reveal a handful of my favourite suppliers including the DELICIOUS bakery where I buy all my fresh Bread and the Ice Cream makers who supply me with the finest home-made dairy Ice Creams and Sorbets for my desserts.
The book will shortly be featured on Amazon, but for now, it can be purchased directly from me! Give me a call on 01163 260529 or alternatively, get in touch here.
IN OTHER NEWS…
We now have a huge collection of fine bone china! We've been collecting it for weeks, months, years even and now have enough complete china place settings for a party of over 100 people, which is available to rent for events.
It makes the perfect accessory for any quirky, chic, vintage themed event. Call me or click here for more information, or if you'd like to arrange to meet me to chat about your ideas for your upcoming event over coffee and cake.