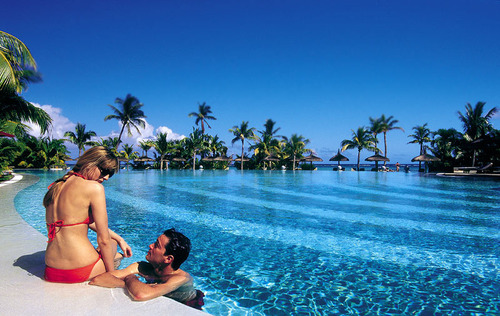 There's only one word to describe a honeymoon and that has to be heaven! Whatever your paradise consists of, whether it's white sands and crystal waters, active adventures, or cities and culture, the place that defines heaven in your book is absolutely where you need to be going, no questions asked!
Picking the perfect honeymoon destination has to be all about everything you've ever dreamed of. And for us, we like the thought of relaxation after all the hectic shenanigans of planning the wedding, so a blissful beach holiday with an extra touch of action and adventure sounds right up our street.
Of course, there are some completely crazy cool places to go, such as New Orleans, Marrakech, Panama City, Bali and Rio de Janeiro. Then there's the massive culture of the more remote parts of South America (Peru, Ecuador, Bolivia), the recently discovered mysterious cities of Southeast Asia, and the wonders of India and Ancient China to absorb – they are most definitely on our bucket list.
But, when relaxation and getting away from it all is your idea of the ultimate honeymoon, here are our top ten places to choose from (we've missed out Jamaica, Maldives, Seychelles, Dominican Republic and Mauritius, because they're obvious):
Top 10 ideal honeymoon locations
Hawaii – soaring volcanoes, stunning beaches, palm fringed lagoons, lush rainforests – sheer beauty is all around in the birthplace of hula. One thing you can be guaranteed of is the chance to relax and enjoy.
Tahiti (Bora Bora) – Bora Bora honeymoons have to be the height of luxury when it comes to a stunning beach holiday. Check out the Four Seasons for the ultimate in relaxation and beauty.
St Bart's – place where you'll find many a celebrity yacht moored, thanks to the pure waters and white sands. But, it's not only for the rich and famous – this outstanding beauty can be enjoyed on most budgets.
Whitsundays and Hayman Island, Australia – in among the Great Barrier Reef off the coast of Queensland, these islands have to be one of the most jaw dropping places in the world for stunning natural beauty, peace and tranquillity.
Aruba – horse riding on white sandy beaches, snorkelling in crystal waters, glass bottom boat rides and perfect year round weather, it's easy to see why this little Caribbean island is such a popular honeymoon destination.
Turks & Caicos – the proud owner of one of the longest coral reefs in the world, which makes it the ultimate for scuba diving, but if you're looking for sheer beauty and relaxation, the stunning beaches and waters are reminiscent of paradise.
Fiji – an island renowned for its blissful serenity and romance, not to mention the amazing natural beauty, hot springs and amazing beaches.
Cook Islands – desert island bliss between New Zealand and Hawaii in the South Pacific. Perfect, if untouched natural beauty and the chance to get away from it all is what you desire.
Koh Tao, Koh Samui, Koh Phi Phi, Thailand – heavenly beaches, exploration, perfect pampering and the chance for big adventure, it's totally not surprising that Alex Garland's iconic book "The Beach" was set here.
Santorini, Greece – visually stunning and pristine white sandy beaches make striking contrast to the beautiful scenery in this laid back and gorgeous oasis of calm.
Booking your wedding suppliers
So, now you've fallen in love with all of the destinations above, it's back to the wedding planning. Remember to research, check out reviews for and book all of your wedding suppliers well in advance, to ensure you get the very best of the best.
We've got catering covered for you.
To find out more about some of the stunning styles of wedding catering that we can provide to make your big day stand out from all the rest, get in touch with us today.