Wedding reception drinks!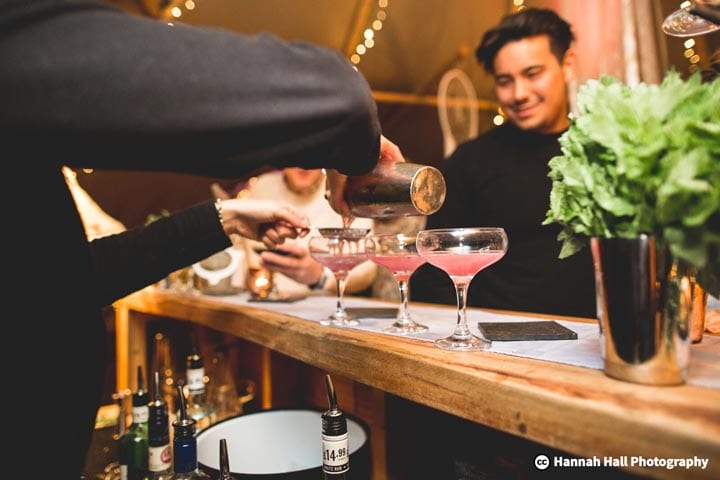 One of the most awesome things about your wedding reception has to be the gorgeous food. But what makes it all the better? Fabulous drinkies of course!
It's a party after all, so let's darn well let our hair down and have some fun!
Here are some spiffingly spectacular tipples to tantalise your guests with… check out my Thomas the Caterer guide to wedding reception drinks.
First off – ask yourself, who's going to be there? Do your friends and family love a good old booze fuelled raucous knees up? Are they cocktail connoisseurs who delight in a touch of elegance and style, or will the majority of attendees be older family members who only really indulge in a cheeky sherry on a Sunday?
Chances are it's a mixture of all of the above, so make sure you've got something to suit every taste – with, of course, more than a nod to the particular favourites of the happy couple.
The season for jolliness and much merriment!
What time of year will your wedding be held? Because, whether you're outside catering or not, what you serve up in the summer should be 'oh so different' from the warming beverages that you'll need in the depths of winter. Apart from champagne, of course. The champagne's a keeper and that goes without saying whatever the time of year!
In the summer, your guests will doubtless welcome the chance to cool down with a delicious tipple or two. Here are some gorgeous refreshing summer cocktails to try:
Mojito
Margarita
Peach Bellini
Cosmopolitan
Mango and Peach Sangria
Manhattan
Daiquiri
How about your very own adult-only fruity ice pops containing your favourite spirits, or a mimosa bar with tons of fresh fruit and plenty of fizz (perfect for sinners and saints)!
As the colder months draw in, it's time for some warming comfort from the delicious flavours of mulled wine, boozy hot chocolate and eggnog, not to mention some gorgeous winter cocktails, such as the following:
Espresso Martini
Brandy Alexander
Hot buttered rum
Apple and Cranberry Smash with warm apple cider and whiskey
Gingerbread martini
Cinnamon flavoured cider
And of course – the toast!
Did we mention champagne? Well, whatever the bubbles, from vintage champagne, to prosecco and decent sparkling wine, it's guaranteed to go down a treat for the toast, so make sure you've got enough in there to wish the happy couple wedded bliss for years to come.
And it wouldn't be a list of wedding reception drinks, without a section for those who are driving, too young, or simply don't drink. Whether you're serving the underage or the teetotal, there's no reason why it still shouldn't be fun, so imagine up some wondrous mocktails and fruity flavours – let your creative juices flow!
We like to to make sure the drinks being served at a wedding are out of this world to go with our delicious dishes. That's why we now offer to bring our own bar, along with food, to give us every opportunity to make the day super special. Get in touch to find out more!