In the words of the Irish playwright George Bernard Shaw: "There is no love sincerer than the love of food." This has to be a great reason why Grand Catering is central to a great wedding. After all, I don't know anyone who isn't miserable when they're hungry and a wedding should be a marvellously happy occasion!
Not only is good food at a wedding an excellent talking point, it can also be a brilliant ice breaker when you have people there who have never met before. And, of course, happy, full and contented wedding guests are much more likely to want to get into the swing of the party.
Set yourself apart from the rest
While the music, fun and laughter is flowing, it's always an idea to keep the good food and drink flowing too.
Fact is, it can always create conversation, because basically most people love to eat!
You'll also want to ensure it's animated, positive conversation that's going on, rather than a disappointed, negative one. So, set yourself apart from the rest and do your planning in advance. Make sure that you have guaranteed that the food you serve at your wedding is going to be enjoyed by your guests as well as you.
Check for any food allergies or dietary requirements. Sometimes people add an extra little form in with the wedding invites for guests to send back with their replies.
Make the food stand out too. Perhaps it could tie in with the theme of your wedding, fit in nicely with the table decorations and overall decor, or just be a statement about the bride and groom as a partnership. If food is to be behind good conversation, it needs to be special and thought about. You could even try something that you know has never been done before.
At this point it's useful to have a wedding caterer who listens, someone who you can work with and bounce ideas off, as well as being someone who is prepared to try new and exciting food ideas. This is the point at which the strict set menus that some catering services provide goes straight out the window!
Also, remember to give thought to the timings of your wedding and ensure that there's not a period of time when your guests will be waiting around and going hungry (this is where a cocktail hour between the ceremony and reception is a fab idea)!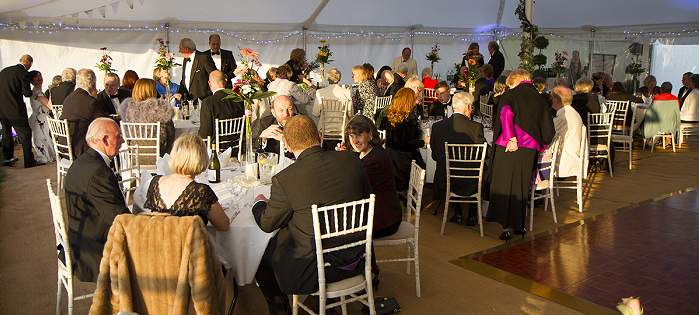 Create great conversation and greater memories
Food with unique added flair is an excellent opportunity to create great conversation and great memories, because trying new tastes and flavours, or seeing something presented in a different way, is a pleasure for the senses.
Our wedding catering services stand out because we understand that each wedding is unique and we work closely with our clients to discover exactly what it is they want to see and how they would like it done. We want the food to be perfect for you and your guests on the day, served beautifully and with no hassle whatsoever.
Get in touch today to add some pizazz to your wedding
To find out more about the services we provide, chuck a few wedding food ideas around, or even try out some of our magnificent creations, get in touch today to add some pizazz to your wedding and get your guests talking about it for years after.