Helen and Mike's Funky Bowl Food Wedding Menu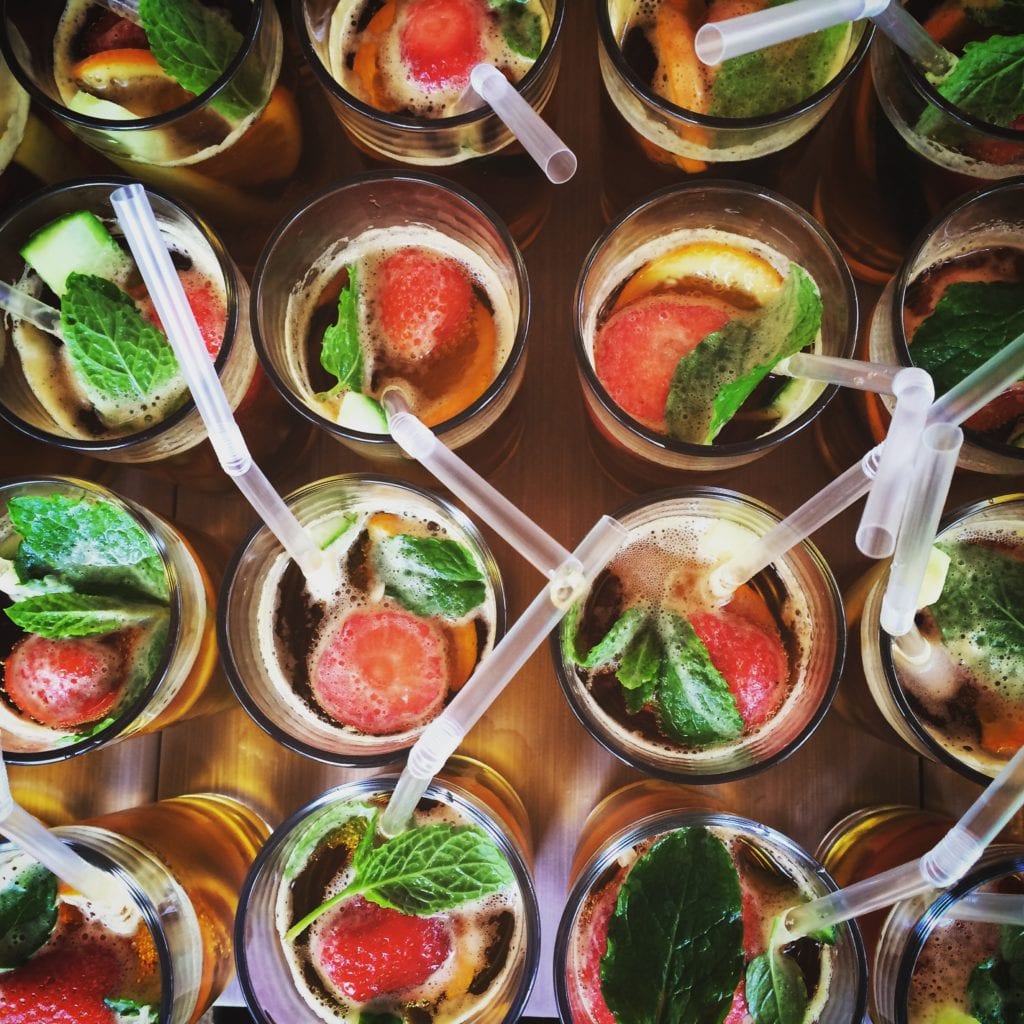 Helen and Mike were married on their family farm in a gorgeous tipi. When they first came to meet me, they didn't know exactly what they wanted in a menu but they knew what they didn't want – they didn't want a traditional sit down affair, it had to be fun. This made my eyes light up, I love meeting a couple who want exciting food, it's right up my street. So we created a ultra funky bowl food wedding menu.
This was the ideal menu as they didn't need to choose one specific thing for their guests to eat instead they could offer loadsa choice with something for everyone. We started with a Pimms station at the entrance of the tipi – all the fruit was cut long and chunky or left whole so it was much easier to eat once the Pimms was finished. Bonus!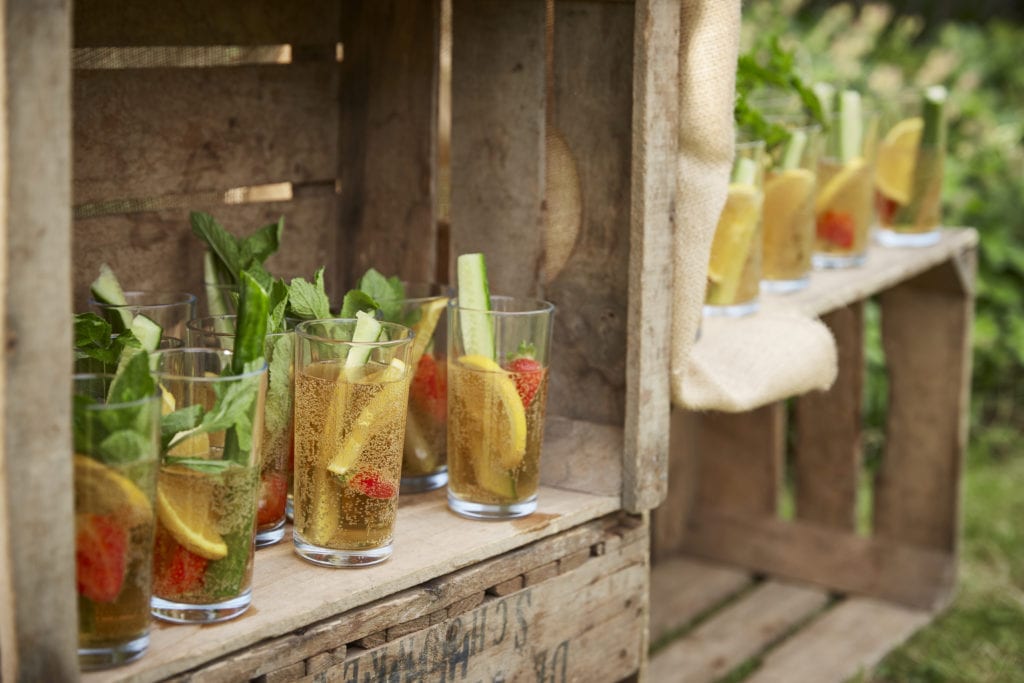 Followed by a menu that was packed with flavour and serious style. From beef filled Yorkshire puds and chorizo arancini to fish tacos and burger sliders with the works, they made sure their guests were well fed. The dessert was wicked fun – build your your sundaes with sprinkles, jelly and candy complete with cans of squirty cream – messy and loads of fun.
What did they eat?
Canapés
Yorkshire Pudding filled with Braised Beef Steak
Chorizo & Basil Arancini, Basil Mayonnaise
Dolcelatte & Fig Bruschetta, Fine Herbs & Balsamic Dressing
Smoked Haddock & Chive Fish Cake, Lemon Mayonnaise
Hoi Sin Duck Pancakes, Cucumber & Spring Onions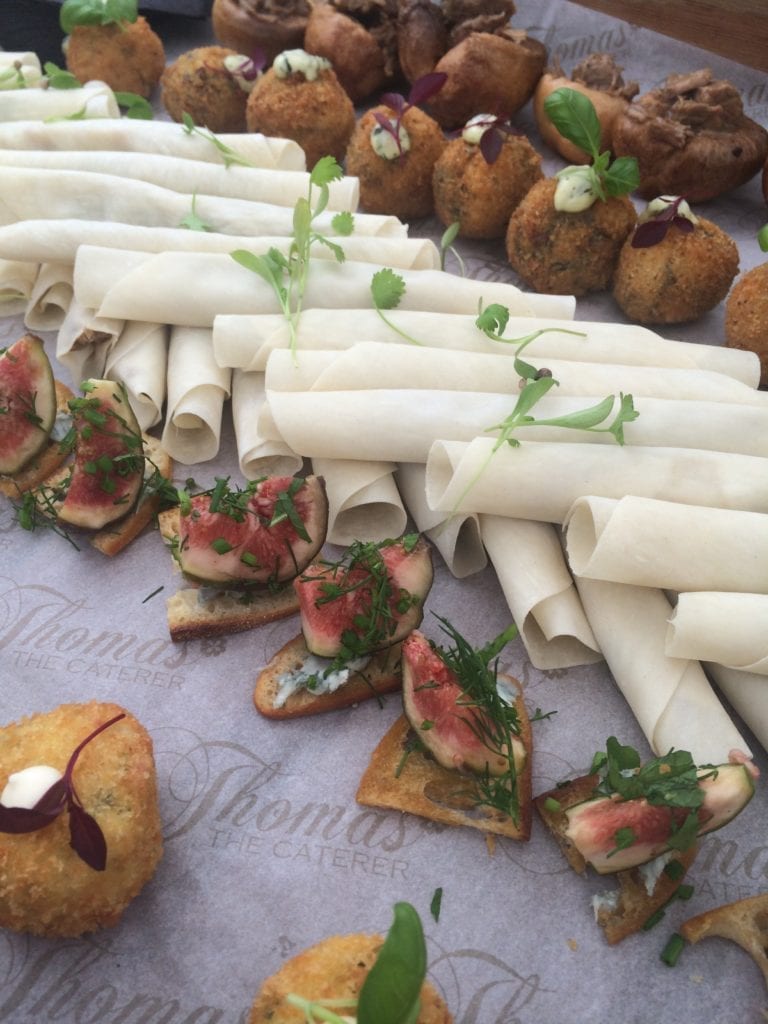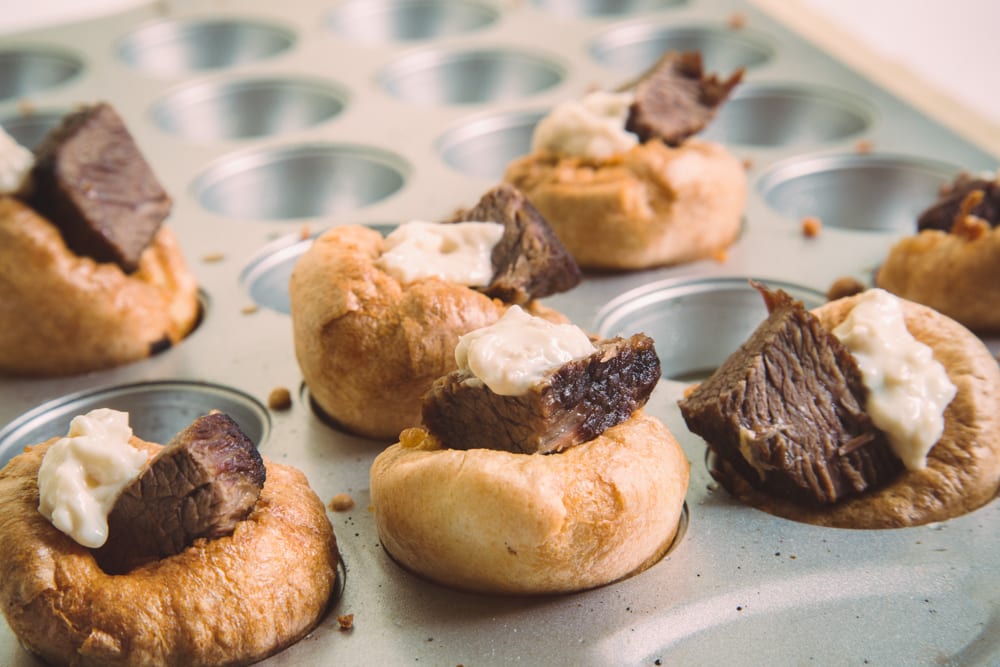 Main Course
The mixed up bowls!
Fish Taco, Guacamole & Lime Salsa
Pork Roasted with Ginger, Mango, Pineapple, Bean Sprout & Noodle Salad
Cheese Burger with the works – Swiss Cheese, Gherkins & Burger Sauce
Halloumi & Mediterranean Vegetable Skewer served on Cumin Scented Cabbage Slaw
Thai Green Chicken Curry & Steamed Basmati Rice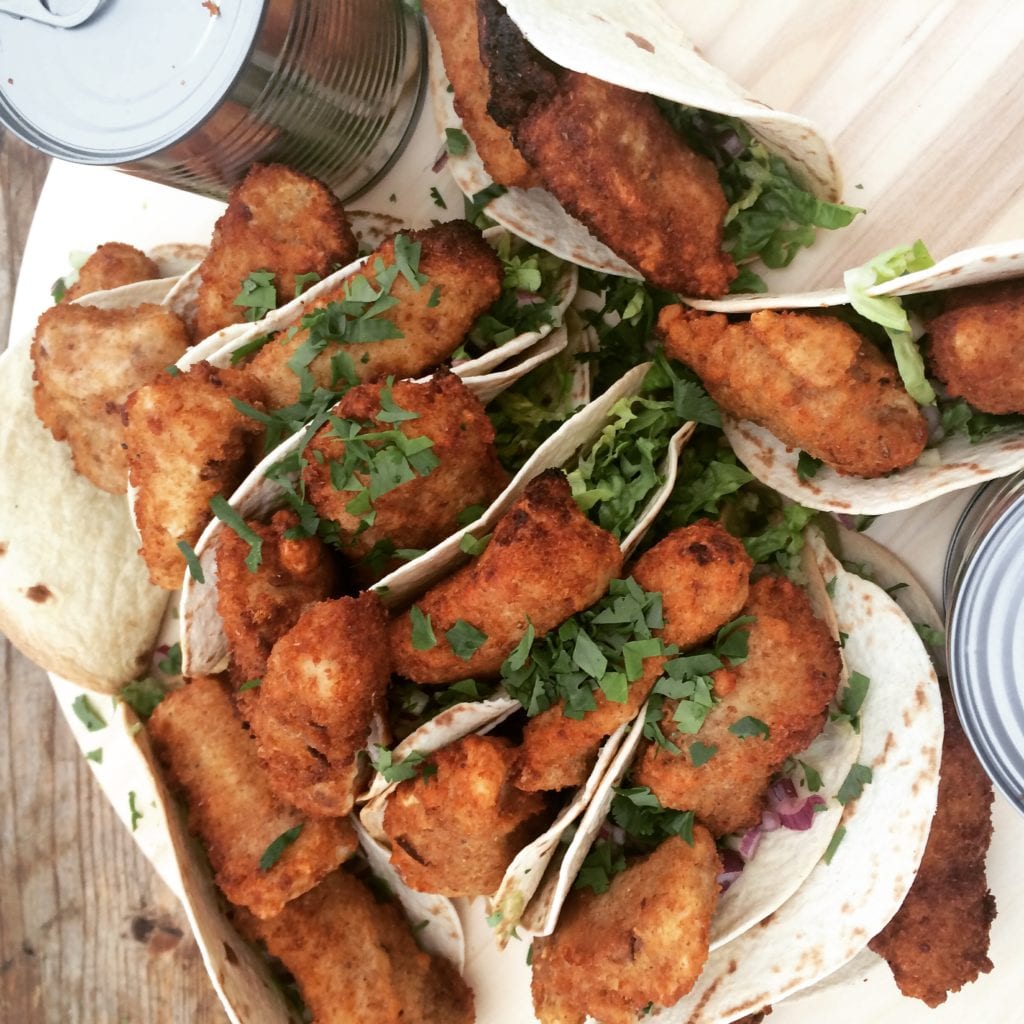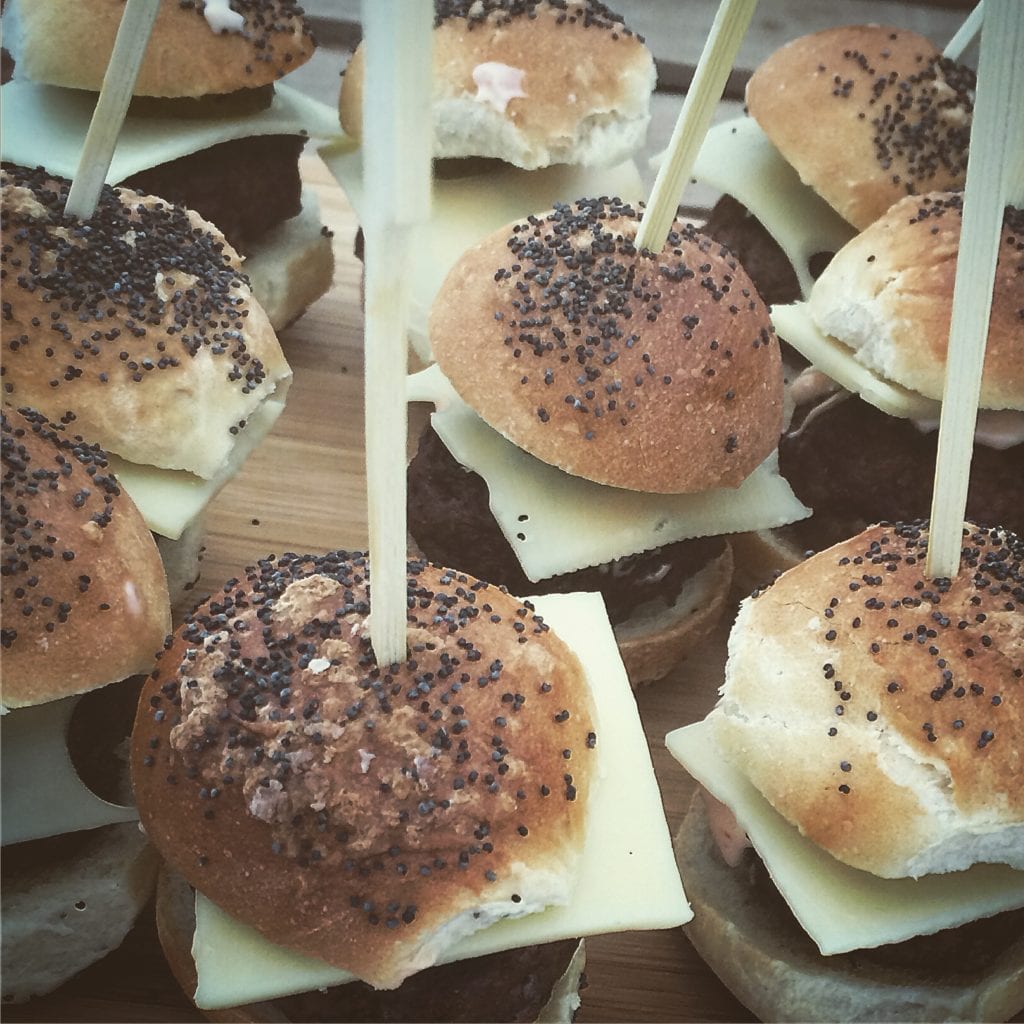 Dessert
Build your own Sundae
Strawberry, Chocolate & Vanilla Ice Cream
served with sprinkles, chocolate sauce, nuts and raisins covered in chocolate, meringue pieces, jelly tots, candied pecans, brownie bits & cigarette wafers.
And a can of squirty cream on each table.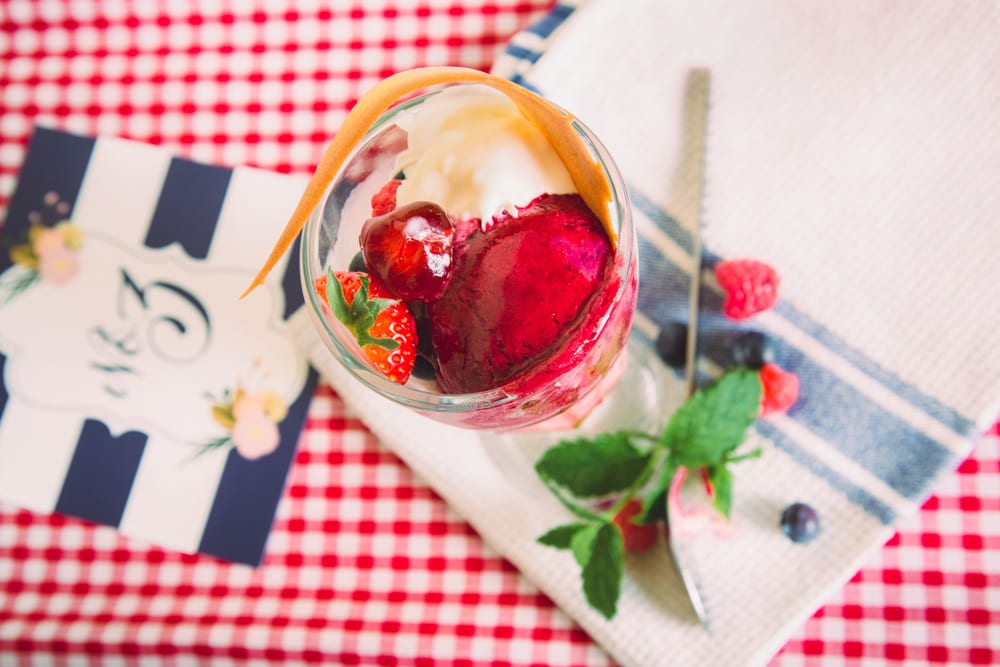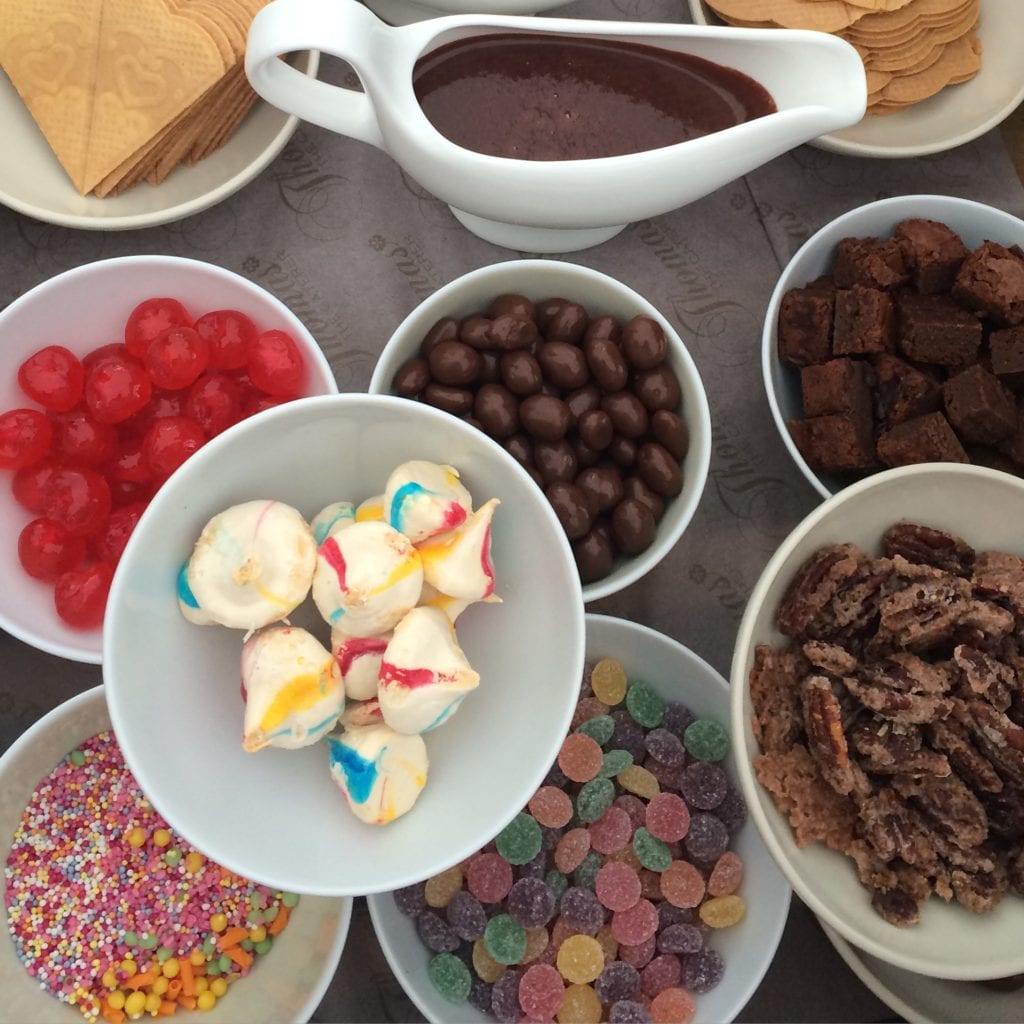 Evening Food
Fish & Chips with Mushy Peas!
served in cones for the evening buffet
And the verdict?
"Michael and I would like to say a huge THANK YOU to Thomas and his team for the amazing food on our wedding day. The guests loved our quirky menu and it suited us perfectly.
Deciding on one dish to serve all 160 of our guests was something we found daunting. From the moment we met Thomas he was enthusiastic and full of ideas and immediately we knew the other caterers we had spoken to didn't stand a chance.  It's obvious that Thomas loves food.
One of Thomas' suggestions was to have a 'small bowl menu' choosing five of our favourite dishes and serving our guests small portions of each of them. Thomas found it easy to put together a menu after we had described the foods we loved to eat.  So we and our guests ate- fish tacos, burgers, noodle salads, veg/hallomi skewers and Thai green curry- which was ALL amazing.
The dessert was so fun and turned everyone into big kids- We chose DIY ice cream sundaes! The squirty cream was a big hit and we have photographic evidence to prove it!
Creative, laid back, flexible (able to amend our chosen menu to meet all the awkward dietary requirements of our guests) and reliable, without hesitation I would recommend Thomas the Caterer for your wedding."
Helen and Mike Sedgewick xx