Are you looking for outside catering in Nottingham? In these strange and unusual times, many people are choosing to hold their special event in the great outdoors and there are some marvellous ways to make the most of things when the sky is your ceiling! 
Your outside catering could be organised for all sorts of occasions, such as a wedding breakfast, birthday party, special anniversary or corporate event. These days we all deserve something special to look forward to. And when you want to be guaranteed your outside catering in Nottingham will go with a swing, it's all about finding the caterer who will provide the catering, served in the way that you want. 
When it comes to weddings, for example, the numbers of guests allowed might be smaller, due to the current restrictions, but on the plus side it's a fab opportunity to steer away from bland all encompassing food choices. 
When numbers are smaller and more intimate, you can really take the time to tailor the food to the tastes of the people who are there and choose your favourite or more unique dishes that will make your wedding 100% original and bespoke.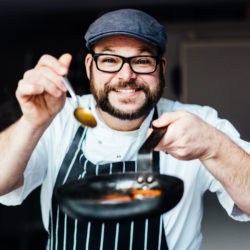 Things to consider with outdoor catering 
If you want your outdoor catering in Nottingham to be completely right, there are a few things to consider before diving in and choosing your caterer. We've mentioned that they should be flexible and creative – willing to find a solution that completely fits your vision. 
If I'm honest that should go without saying with a decent caterer, whether it's catering in Leicester, Nottingham, or Derby that you need. Offering set menus is so restrictive and boring – meaning the caterer can give no real thought to making the event special. An event should be tailored to what you want, not to what suits the people who are helping to organise it or provide services on the day.
Other things to check include the following: 
The logistics of the venue you've chosen – is there access to electricity, for example, and can your caterer work around this? 

What is the style and theme of your wedding or special event and can the caterer create a menu which fits in with this?

What is your budget? Can your caterer provide what you're looking for at that price? 

What is the food like? Book a tasting session with the caterer before you make your decision. 

What experience does the caterer have – can they give examples?

Benefit from recommendations and read up on any reviews that have been left.

If you or your guests have any specific dietary requirements or allergies, can the caterer meet these needs and still provide something utterly unique and delicious?

Is the caterer able to help with ideas and inspiration? 

Do they provide catering or waiting staff? 
Check availability for your date
As we mentioned before, it's always a good idea to try before you buy, so get in touch with the team at Thomas Towers to book a free tasting session for the food you want at your wedding or other special event.
We love the chance to toss a few ideas around and let potential customers get a flavour for what could be in store, so give us a shout to check availability for your date for outdoor catering in Nottingham and book a taster session today!