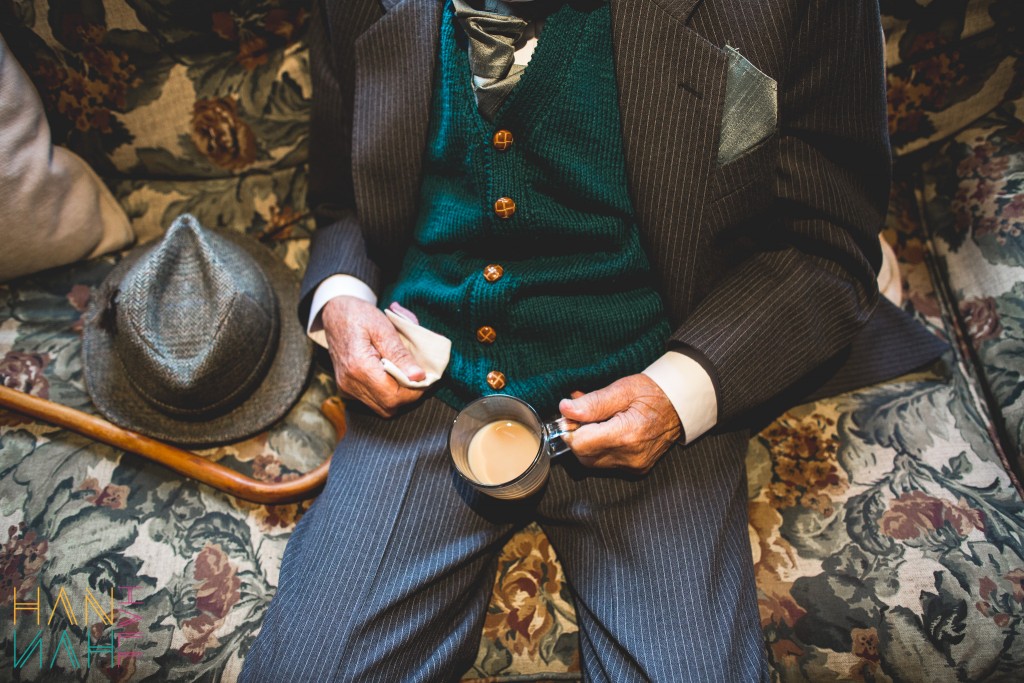 Hannah Hall is a super star, I have seen her and her business flourish over the last few years since she contacted me via Facebook, so in the very first Thomas the caterer interview Hannah has kindly answered a few questions set by me to give you a real idea of what she gets up to at Hannah Hall Photography HQ.
How did you get started as a wedding photographer?
I had a baby and some serious photo envy of other mums who owned DSLRs who knew what they were doing! I used to write a little parenting blog and starting putting my photos online, which generated some interest in lifestyle shoots. My first lifestyle clients became my first wedding clients too. I shot their wedding with one camera, one lens and one spare battery… Looking back it was crazy really, but I shot it on the understanding there were virtually zero expectations. I booked a lot of work off their wedding gallery. That was 2014 and I shot three weddings. This year I'm shooting 41!
Tell us a little about your background.
I'm a classical musician who grew up as a Cathedral chorister, then trained as a secondary school music teacher. I was always the girl with her camera on a night out, but the quality of photographs were questionable! I have no formal photography qualifications, in fact, I actively avoided the suggestion of teaching on the A level photography course three years ago! I left my job as Head of Music after 6 years in the classroom and 8 years teaching in some capacity to pursue my photography in March 2015… It's been a whirlwind two years.
How long have you been trading as HHP?
Little old me celebrates three years in business in July.
And what exactly do you do at HHP?
*deep breath* I take photos, edit photos, dance badly on the dancefloor, am my own PA, am in charge of marketing and social media, blog, keep my kit in check, am my own tea girl, design albums… All on top of being as full-time mum as possible to my two daughters.
What inspires you to do what you do? What really gets your gears going every day?
I hate my wedding photographs. They're no better than functional, and seven years later, none of them are up in the house. It always sounds like a nasty sales pitch when I say it out loud, but this is what makes me want to deliver the most wonderful pictures to my clients as I'd hate to think that any of my couples could ever feel like I do about my own wedding pictures. You can take the educationalist out of the classroom but it doesn't mean they want to stop learning and I love that there's no limits with photography. You can always improve, be better, try something new… It's a bloody cool job to have!
What do you love most about your job/business?
No two days are ever the same… No job is ever the same. I get a new office every week. I get to spend time with people on the happiest days of their lives and share some of the most special times with people that I've gotten to know over the time they've been planning their wedding and that's really amazing and a real honour. I found teaching a pretty lonely profession in many ways and I was amazed at how wonderful and friendly the wedding industry is… So many of us are lone workers yet the network of friends I have in wedding industry people as well as other photographers is just incredible.
What advice would you give couples on their journey wedding planning or in search of a photographer?
Your wedding is about YOU so your day should be what YOU want. It's so easy to feel pressured by family and friends but be strong about the stuff you feel passionate about… Your guests should remember it's your day.
When it comes to choosing a photographer, it doesn't matter how much you love their pictures, you've got to love them too. Make sure you chat with them before you sign on the dotted line as if they annoy you, it's going to make them pretty tedious to have around on your wedding day! The best photos are taken when you feel comfortable and I don't think you can ever feel comfortable around someone who you haven't clicked with 100%.
What's hot and who's hot in your industry right now?
What's hot? So many great photographers our their nailing candid photography, really next level stuff that's so exciting and makes me wish I'd been at that wedding. Who's hot? My friend Tim Dunk. His work is raw and authentic, really mind blowing and I don't think he knows just how great he is. Everyone should check him out…
What ambitions do you have for your business?
I've worked really hard over the last two years to grow the business to the point that I don't *need* to shoot anything aside from weddings. Obviously there are some jobs that I still love taking on and will still take on, but this year my ambitions are skills based… I really want to improve my low light ambient shooting ahead of the winter, for example. I'm also really keen to do more teaching; I've just run my first beginners DSLR workshop and I'd really like do more of that. I miss sharing knowledge with people!
Are there any bucket list activities you have to tick off in the land of HHP?
I have a whole bucket list of weddings I'd love to shoot. Right now I'm really into Peaky Blinders, so I should probably add a 20's wedding to my list… Not a luxury Gatsby wedding though, a pistons and gambling and slightly taboo kind of affair….
How would your friends describe you?
Fringey, speccy, firey, and ferociously loyal with a big heart, which I mostly wear on my sleeve.
You can find Hannah on her
snazzy new website www.hannahhallphotography.co.uk
 The old Telephone 07834 982518
 A-N-D