Wedding planning advice
The other week we wrote a wedding planning advice blog on ice which is just one example of a little detail that can make a huge difference to your big day.  Here's some more wedding planing advice on more of the little stuff.
We often spend hours contemplating the biggies such as the venue, the food, the dress but don't always think about all of the little stuff.Things like ice, water and waste disposal aren't exactly exciting or glamourous but if ignored can have a big impact on your wedding day, bringing extra stress that no bride or groom needs.
Luckily, we've thought about it for you and have a few tips or wedding planning advice that may just save you some "Shhhucks, I wish we'd thought of that" moments once the confetti has settled:
Sort the small stuff too.
Glasses
Hiring your own glassware? Always over order. For example, if you've got 120 guests, go for 300 champagne glasses, there will always be people who want a top-up but have misplaced (left on the bar/in the toilets/behind the tipi) their glass and possibly a few breakages – ooppps! The same goes for the bar, staff will of course work hard to turn around glassware but do you really want them to stop service for half an hour while they collect, wash and dry 50 beer glasses instead of keeping the drinks flowing?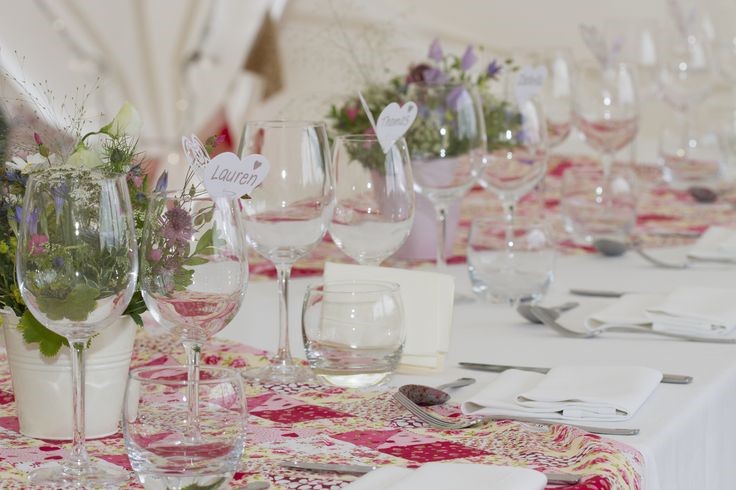 Drinks
Speaking of bar, probably our best piece of wedding planning advice have one! Are you thinking of stocking your own alcohol? Our advice is keep it simple, stick to one brand of white, one red wine, a couple of lagers and basic spirits (unless you have a favourite tipple of course). Getting carried away with loads of different vodkas or gins and a wine cellar worthy amount of vino will only end up in more wasted drinks. Imagine having to throw away tons of half empty bottles of wine – the sacrilege!
Tables
No not the ones you and your guests are seated at, the others like a table for your cake, guest book, tea and coffee station or for your caterers to use inside the catering tent/kitchen. Make sure you've ordered enough and the right size.
Linen
When and who will be dressing the tables? Your catering team, wedding planner/stylist? or you and your family/friends?  Make sure all linen is scheduled to arrive in plenty of time and always order extras for those tables mentioned above (the cake table etc) as well as any spares should there be any spillages – Red wine, soup, gravy…not a problem, the waiting team can have the table changed in a flash as long as there's a spare table cloth.
Centrepieces
Ok, not such a little thing but think about the style of your food service when deciding how to dress your tables. If you are having family style sharing or tapas style with loads of platters and plates, a huge imposing foliage or giant candlesticks are going to prove tricky to manoeuvre around. Your waiting team will usually end up having to move them onto the side or even the floor to make room for the food. Not the same impact sitting in the corner of the tipi 🙁
The Cake
I'm sure you'll have thought loads about what the cake will look and taste like but have you thought where you'll store it to keep it cool (especially on a hot summers day)? Ensure there is a cool place or even better fridge space and if you want to keep the top tier remember some tupperware – just hand it to the catering team and they'll do the honours.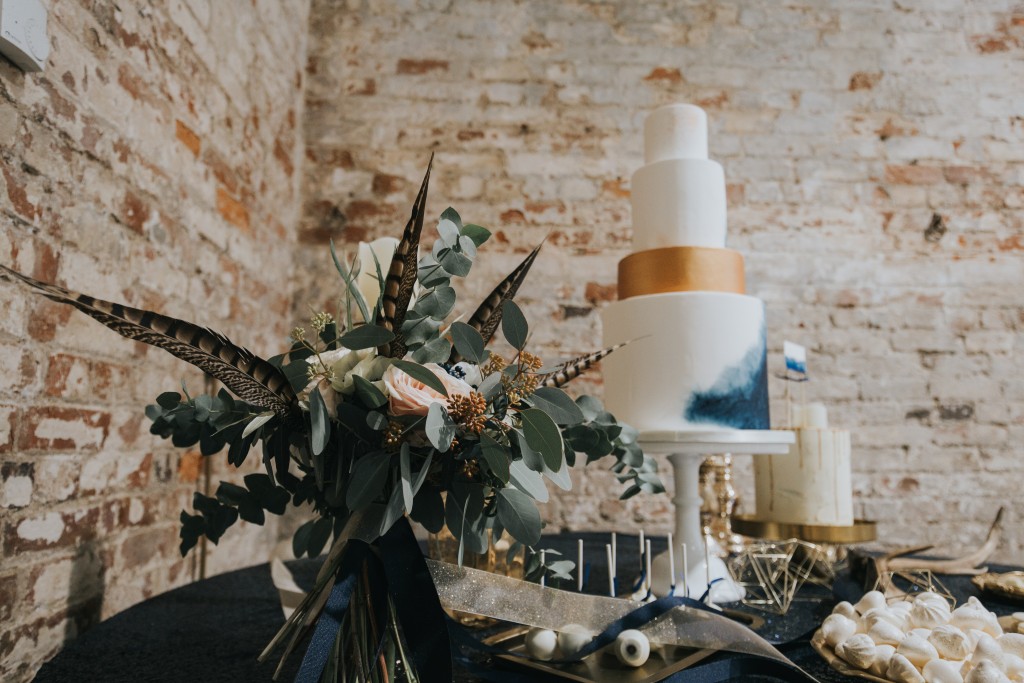 Cake credit Rubylous cake company
Carpets
Once your beautiful marquee is erect and the lovely pristine carpet is down you don't want it to get all muddy before your guests arrive to see it in all its sparkling brand shiny new glory. Invest in some shoe covers – you know those super sexy blue plastic things workmen pop over their feet to avoid treading dirt through the house. It will be the best few pounds spent honestly!
Water
When ordering water for the tables always order at least four bottles per table (usually two still, two sparkling) depending on numbers. Your waiting staff will usually use two bottles as guests are first seated then need enough for a top-up mid service.
If you are having an outdoor wedding in a field or on farm-land make sure you have access close by to safe drinking water as your caterers and bar staff will need this. If this really is impossible (you are literally in the middle of nowhere) then advise your suppliers as soon as possible as they can bring water with them as long as they know in advance. A supplier will probably only bring enough to cover their needs so stock up on plenty of bottled water.
Waste disposal
The least glamourous thing to consider but what is the plan for disposal of rubbish at the end of the wedding? The venue or land owner will want everything back in pre-wedding condition so you'll need to ensure no bin bags or empty beer cans are left behind. Usually, each supplier is responsible for their own rubbish – even if a venue has their own cleaning staff they won't be too happy to dispose of 20 bags filled with empty beer bottles or ice cream tubs.
You'll need to find out exactly what the venue expects and communicate this to all external suppliers. Anything you are supplying yourself (drinks, table dressing, napkins) will be your responsibility to clear. Call in some help from family and friends to form a mini clean up crew. If you've got a lotta rubbish think about hiring a skip – much easier in the long run than multiple trips to the tip with cars full of junk (not the most romantic way to start married life).
So there you have it – a few teeny tiny, often overlooked details that can make a big difference. Hopefully we've provided some helpful tips. If you have any questions or we can help with any catering related queries get in touch.
If you want to chat about all things wedding then get in touch.