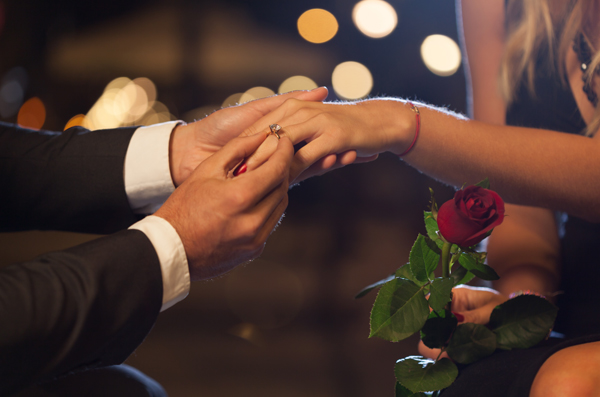 Oh my, now this has got to be one of the most exciting moments of your life. One which you're so going to remember for like EVER!
The day your partner proposes to you, the time, the place, the way it's done, all of it, super special and totally amazing. No matter whether it's picture perfect, intimate, gaff filled, attention grabbing or completely personal to you, it's something that will only happen once and it's something you'll be telling the grandchildren about, that's for sure!
So you've got that sparkler on your finger, (or maybe you're the one producing the ring and popping the question), but what happens next? Using more years wedding experience than we care to admit to, here is our list of what to do when you've just got engaged! 
Things to do after the wedding proposal!
For starters… 
Take time to make the most of the loved up moment, so you'll remember it always.
Spend time enjoying being an engaged couple – it's going to take a while until you stop staring at your finger.
Make sure the ring is the right size, if not, get it altered.
Get the ring valued and insured, just in case.
Call everyone who would appreciate being told personally – like your mum!
Then blast out the big news far and wide over Facebook, Twitter, Instagram – in fact, why not go the whole hog and set up a wedding blog!
Grab yourself a manicure, as you're not the only one who will be checking out your hand for a while.
Get your proposal story ready for the hundreds who will ask how it happened.
Start dreaming of the amazing times that lie ahead, which of course include the big day and honeymoon after!!
There's alot to do
Its all very confusing isn't it?!? I know I have been there before too, way before I had a catering business my wife and I planned our Tipi wedding without really knowing what we were doing!
Time to plan
Discuss how much money you have to spend on everything. in total, maximum budget, will your folks help? have honest and frank discussions about how much you are able to spend on your wedding and that's your number.
Get down to the nitty gritty what kind of wedding do you want.. beach/ hotel/ tipi/ stately home garden party? Put your feelers out, find out how much certain things cost at what times of year.. Again this will become a real sticking point as to what sort of wedding you can afford and where it's going to be etc.
If you think you can afford what you have in mind begin to make calls, ask questions book meetings Get involved read up on all things in your style of wedding have a good look round blogs too!
A great place to begin to make ideas for your wedding is to create a Pinterest board, pinning all your ideas onto one or two boards with different themes will really help you to imagine your wedding and how it will unfold.
Get your self a journal too write down anything you think you might want to have or make an appearance at your wedding have a look at this video by me for inspiration
Another great idea is to ask your friends who have recently got married what their advice is. Did they meet the unreliable Dj or the bar man that uses cheap vodka? all the bad and the good is valuable to know!
Budget and what you want are definitely the two things to look at first, setting dates and finishing touches are definitely after you have got yourself and date and a venue, even my part comes at the early stages.
So in brief
Set your budget and stick to it.
Find a venue , love jot them down and book it!
Find your suppliers to provide you with the necessities such as catering, bar man, celebrants. photography, then move onto dress, invites, decor & cakes.
Great food high on your agenda? Settle for only the best!
Once you've decided what matters to you for your wedding, now is the time to get the right team on board early to help make it happen. If you want the best, you know there's no booking them last minute, so, for example, if you want wedding catering that offers something imaginative, creative and exciting, it's never too early to start planning and going for taster sessions.
Contact Thomas Towers Today!
For some fantastic wedding food inspiration, pop along to Thomas Towers for a chat and have a little taster or two while you're at it.
Oh and congratulations!!!
if you want to get in touch and find more about what we do and how we can help you wow your guests with delicious food then fill out your details below and we will be back in touch very soon