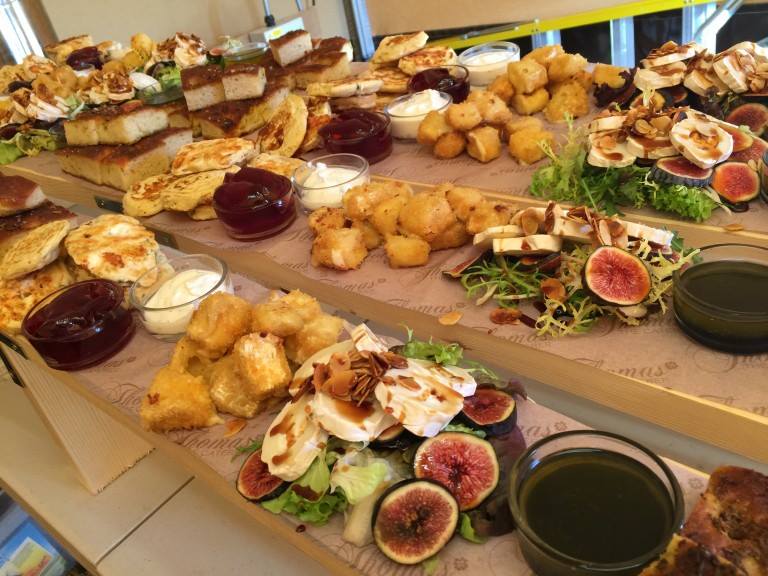 Whether it's for a corporate occasion, or special family event, when you need buffet catering in Leicester, make sure it's super gorgeous and guaranteed to impress. So, less of the soggy sandwiches and more of the kind of food to get everyone's tummies rumbling, whatever their age, tastes or dietary requirements.
Why buffet catering in Leicester is a great choice
Now, no beating around the bush here, it's vital to choose your Leicester buffet caterer wisely, because, whether it's a wedding feast, charity event, birthday celebration, funeral tea, important meeting or work knees-up, people are always going to get an impression of the occasion from the food that they're served at the venue.
This is why you should never settle for set menus (yawn) or go for a buffet caterer who you aren't certain comes highly recommended.
Making your buffet food about what's right for you and your guests is rule number one. And here are a few more benefits of buffet catering in Leicester when it's done right:
There's plenty of choice to suit all kinds of tastes – which is great for large groups.
Professional buffet caterers will be able to offer guidance on flavour combinations and options.
Encourages mingling among guests as opposed to a formal sit down meal.
The whole catering side of the event is taken care of.
You can plan a buffet specifically to suit your budget and the nature of the occasion.
Trust that all aspects of food hygiene and food safety have been taken into account.
A catered buffet often comes with the opportunity to make use of a professional waiting service.
As mentioned above, when picking a menu and style of buffet food that's right for you, you should be able to choose corporate buffet catering in Leicester that folk are guaranteed to enjoy, which could range from finger food and sandwich lunches to barbecue food and breakfasts.
It should also be available for whatever meal or time of day you need it.
When buffet catering is perfect for the occasion
There certainly is a perfect time and place for a buffet… Firstly, buffet catering is great for when you have lots of guests with lots of different dietary requirements. If you're worrying about making sure everyone is catered for, then the last thing you need is a limited selection of food.
Buffets are also particularly good for social events when time isn't an important factor, but you'd rather people relax, mingle and enjoy.
Another instance where Leicester buffet catering is ideal is when the occasion won't involve sitting down. A standing reception is a very popular way to do things, because it encourages the free flow of conversation around the room. Here the food element can be a secondary thing with more focus on what the event is all about.
We can do buffet catering for your next corporate event
With many years of buffet catering experience under our belts, we would be more than happy to discuss options for your next corporate event or social occasion. We take pride in being able to offer a wide range of choices which allow us to ensure every one of your guests is properly catered for. Get in touch with us today to find out more.