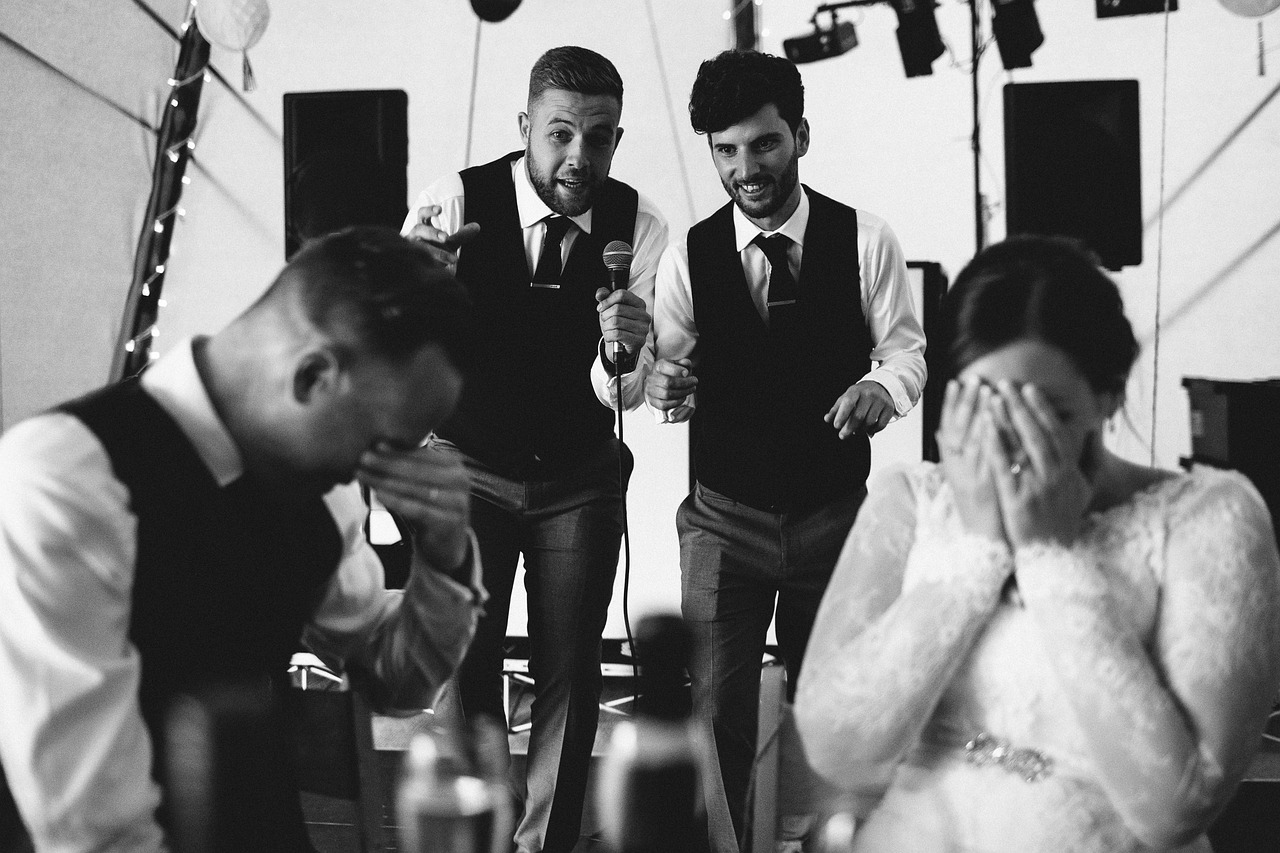 So, you've been picked to be one of the main players in the wedding party. You're all set to be the best man and the next job is the best man speech. But where do you start? Don't worry, here's our best tips for a best man speech!
It's a tradition that has been around for centuries from back in the time when the bride would be stolen from a neighbouring community and forced into marriage (nice, huh?).
The best man would be the one to rope in to help the groom steal the bride from her disapproving family – and he was often an awesome swordsman too.
Thankfully, these days, we like to think that the bride would be a more than willing participant, so don't worry about brushing up on your sword skills just yet.
Best Man Speeches
Despite kidnapping and swordsmanship no longer being on the agenda, still the tradition of the best man lives on as the guy closest to the groom.
He's the one whose job it is to stand up and paint his friend in the best possible light to the bride's family and other guests.
But, if you've been given the honoured role, you might be a little daunted by the thought of standing up in front of a crowd of people, most of which you might not know. As such you could be wondering what's best to say in a best man's speech to do your mate proud.
Well, having been to a few weddings in my time and seen some awesome, side splittingly funny, cringeworthy and downright calamitous speeches, here are a few things that you should and shouldn't do.
Our tips
The major tip is to avoid offending everyone there, but believe it or not it's easily done. It might seem really funny to mention that time when recreational drugs were dabbled in, the groom spent a night in the cells, or had a close encounter with the neighbour's cat, but believe me, it doesn't go down too well with some of the rellies. And don't ever mention exes. Ever. Really.
Here are a few more things to avoid in a best man speech according to Team Thomas:
Don't get drunk.
Don't perve over the bridesmaids/ bride/ bride's mother (just don't)!
Avoid being crude or crass – just imagine your granny listening.
Don't ramble on for hours – there are a few speeches to be made at a wedding so keep your best man speech to the point and interesting.
Try not to read from sheets of paper – this can make you sound boring. Instead have crib cards with bullet points.
Try to avoid the nerves – practising well before hand can often help with this.
And here are a few things you should try to do:
Compliment the bride in a pleasant way.
Mention what a lovely wedding it is.
Introduce yourself and your relationship to the groom (eg, oldest mate, cousin, brother etc).
Gather PG rated, humorous and light anecdotes from friends and family along with a few of your own.
Be confident.
Have a decent structure to your speech, so you don't end up off on a tangent.
Remind your audience what a good guy the groom is.
End the speech on a positive note, wishing the happy couple all the very best for the future.
Funny Speeches
Funny speeches always go down well – if they're funny. So, try it out on a few people first and make sure you're not the only one laughing at your own jokes.
(And please. Pretty please avoid the 'I took her home, my father didn't like her' one unless you really want to make everyone cringe…)
Check out some great examples which we found on YouTube to give you some inspiration.
And for further information on the wedding catering services that we provide and the odd best man tip here and there, feel free to get in touch with me for a chat!