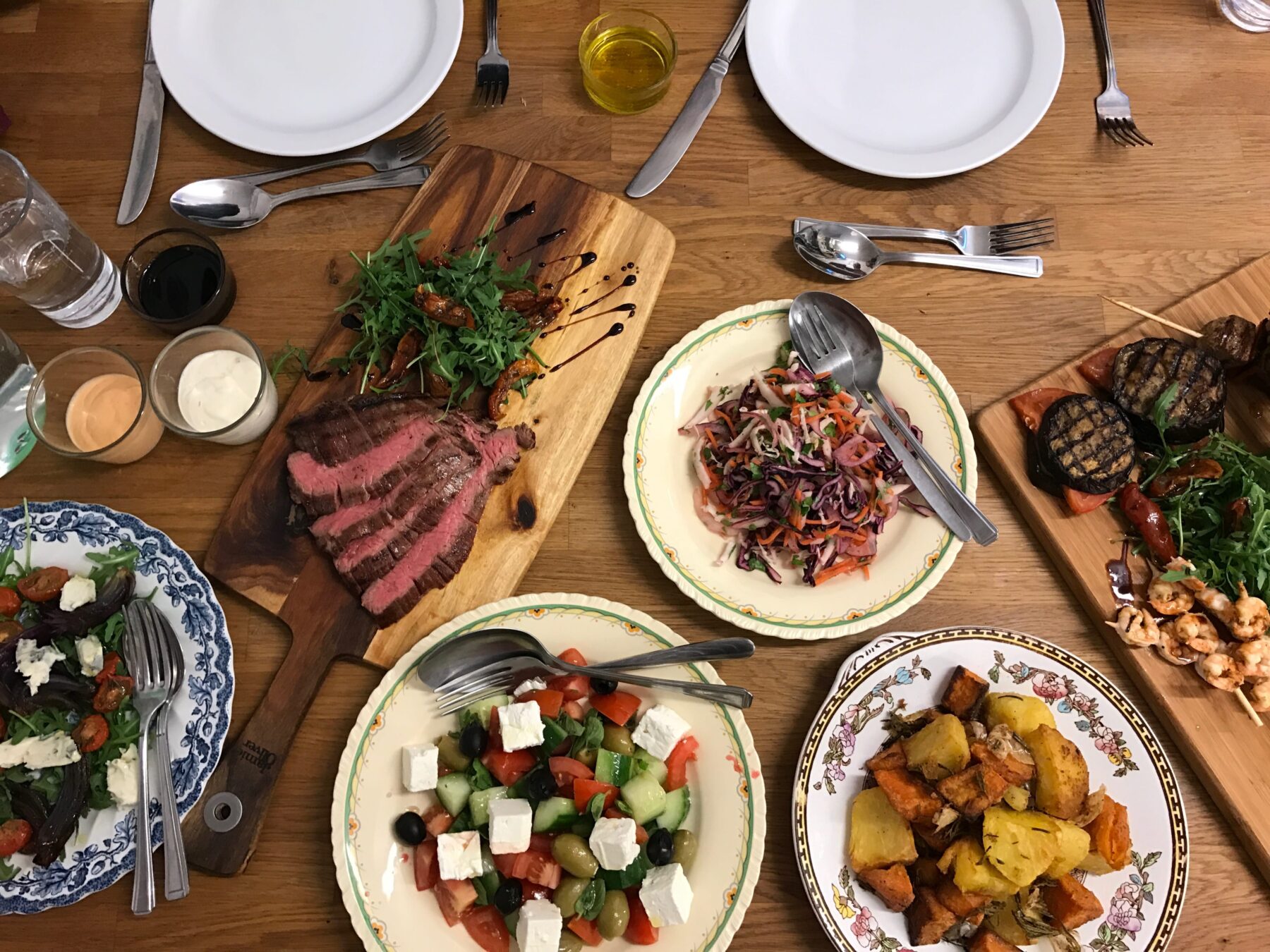 If you're looking for some awesome wedding breakfast ideas, we've got a fair few up our sleeve – and one thing's for sure – you should NEVER EVER settle for something that's not quite right.
The meal you offer your wedding guests after the ceremony is referred to as a wedding breakfast, but there doesn't have to be sausage, eggs and bacon in sight (unless that's what you want).
The wedding breakfast symbolises the couple starting a new day together from the moment they take their vows, whatever time of day that is. The wedding feast is their first meal as newlyweds and that is why it is referred to as a wedding breakfast.
Wedding breakfast ideas to blow your mind
So, we've established that a wedding breakfast isn't necessarily actual breakfast in the traditional sense and as such, it opens up a whole world of wedding breakfast ideas to try.
Whatever style or menu you choose, make sure your wedding caterers in Leicester create it to be all about you as a couple. Some people opt to go with their favourite food, while others choose dishes representative of their family roots or the memories they hold dear as a couple, such as travels around the world.
Don't be afraid to ask for something out of the ordinary and, unless it's perfect for you, don't settle for standard menus.
So what sort of wedding breakfast options are out there?
First off, think about the style of your wedding and the sort of food that would suit it best – for example, formal or informal, indoor or outdoor.
Consider the kind of seasonal produce that is around at the time of year the wedding is taking place, talk with your caterer and discover the many more options in addition to a standard sit down meal.
Menu Ideas
If you're stuck for wedding breakfast food and wedding reception drinks ideas, here are a few favourites we have done in the past,
Meat Feast…
It's time to forget the thought of standing around clutching limp hot dogs and burnt burgers, because having a BBQ can be so cool, tasty and diverse these days. Take Jen and James, for example, who had a marvellous sit down BBQ wedding at the stunning East Bridgford Hill.
We conjured up a wide selection of delicious canapes for guests on arrival, put on a relaxed antipasti platter starter and the main event included:
BBQ grilled Flank Steak with salt & pepper,
Marinated Chicken skewers, siracha mayonnaise,
Lemon and lime king prawns, lime mayonnaise,
Rosemary and garlic marinated halloumi and mushroom skewers.
Smoked aubergine and tomato grill.
Vegetarian and vegan options…
It's always important to consider the dietary requirements of your guests, after all, you want everyone to enjoy themselves and not go hungry. From canapes to the main course, there's a massive diversity of choice when it comes to vegetarian and vegan food. Check out these ideas for some examples.
Middle Eastern inspired…
When you want to pay tribute to your family roots, create fond memories of travelling the world, or just absolutely love the flavours from other continents, choosing a Middle Eastern inspired menu is a wonderful choice. Our team has masses of experience of bringing show stopping Middle Eastern wedding catering to life as you will see.
If you're looking to inject some real flavour into your wedding breakfast, then be inspired and be creative with your choices. For more information, get in touch with the team at Thomas Towers today.