We absolutely love winning awards here at Thomas Towers and, not wishing to sound big headed, but our trophy cabinet is starting to burst a bit at the seams!
When it comes to wedding catering, you can never win enough awards. And we're pleased to say it's time to roll out the champers, streamers and bunting again, because we've had yet another to add to the list of accolades.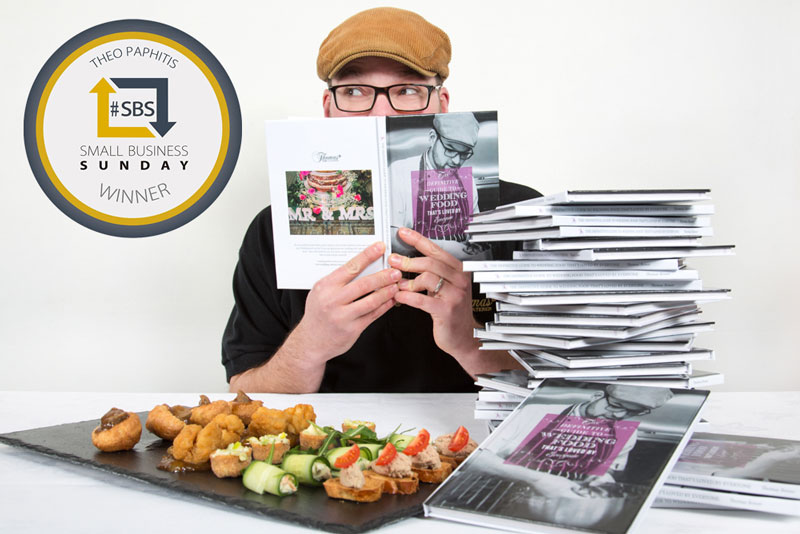 This time it comes in the form of a massive thumbs up from the Big Kahuna himself – Dragon's Den star and super successful entrepreneur Theo Paphitis!
In his bid to big up small businesses, every Sunday, between 5pm and 7.30pm, the Chairman of famous brands such as Ryman Stationery and Robert Dyas picks a small business that tweets him @TheoPaphitis and describes their business in one tweet.
The competition is called Small Business Sunday (or #SBS) and small businesses all over the UK take part, all hoping for a chance to be one of the lucky winners who, once selected, can then have their comment retweeted.
Theo reviews and chooses his favourites on a Monday night and, as he has over 500,000 followers, this retweet means some awesome publicity for those he picks.
He is also a mentor and investor in many other businesses which were made famous in the Dragons Den, including Wedgewelly and Fit Mix Pro – and it's clear to see that his intention to help people achieve business success doesn't end there.
On top of the retweet, we can't wait to get the chance to meet him at some point next year, as part of the award!
Our other fabulous awards
We are also super proud about the fact that our awesome brides and grooms saw fit to make us award winners in a whole host of big wedding industry competitions in recent years.
Examples include:
The English Wedding Awards
The Wedding Industry Awards – which are like our version of the Oscars and a HUGE deal in wedding land.
In the Wedding Industry Awards, our Leicester wedding catering team have been named as regional champions for two years running!
So, as a result, we are mega keen to defend our title in 2018, as we continue to offer brides and grooms the sort of first class, truly bespoke service they deserve.
You might not already know, but our secret mission is to make wedding catering awesome for half a million hungry guests by 2040 and we're well on track to achieving just that.
So if we catered your wedding between 24th October 2016 and 23rd October 2017 and you were pretty darn impressed with the show stopping display that you received from us, please do us a huge favour and vote Team Thomas.
It would mean the world to know we have given you and your guests a fantastic experience, so remember to tell your friends and family and get voting!
With your help we can keep on being the best of the best. And of course, if you want to find out more about the wedding catering we provide, get in touch with me for more details.