Exciting Wedding Catering Ideas Leicestershire
Get your guests saying "daaammn, that's good" with wedding food that's next level awesome. Here's some exciting wedding catering ideas Leicestershire brides and grooms have been going crazy for.  We're talking sizzling Asian dishes, American pit style BBQ's and middle eastern extravaganza.  Warning this blog's gonna make you hella hungry…
Let's be honest, we've all been guests at a wedding where the food was just meh. Don't let that be your wedding! Wave a big fat farewell to the ickle canapes so small you've no idea what you've just eaten, to the squeaky chicken with zero flavour or the sad looking cheesecake (OK you can have cheesecake but it needs to be god damn tasty cheesecake!).
Whatever crazy, exciting and downright awesome stuff you love to eat get that on your menu.  If you are more about the chicken yuc sung than chicken supreme go with an Asian vibe. Think burritos are the bomb then blow off the beef and two veg and opt for a Mexican fiesta of flavour.  Inject some adventure into wedding menu.
Your Day, Your Way Hey!
Don't play it safe trying to please everyone. I'll let you into a little secret…you can't. You'll never please everyone 100%. There'll always be someone who'd prefer their beef cremated or who hates cheese (honestly these people exist!). Go with what you love. If grannie really will only eat a cucumber sandwich, don't worry, we'll make her one.
See just how crazy amazing wedding dishes can be. Feast your eyes on these bad bhoys. Red hot wedding catering ideas from real weddings across Leicestershire, Northamptonshire and beyond.
Asian Fusion Feast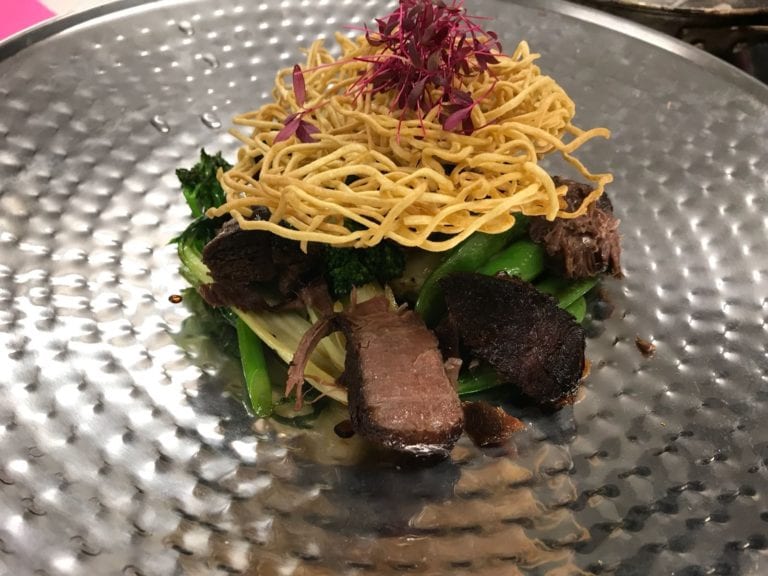 Sticky pork and spring onion bao, sizzling red snapper with pineapple curry and hazelnut chicken in a crisp lettuce wrap. If you just smiled as you read that, you've come to the right place. Venture out of the much-loved Chinese and Thai dishes (although these are awesome too) and consider the fresh flavours of Sri Lanka, Malaysia and Vietnam. Create a menu that's a lime and ginger scented melting pot of pan Asian flavour.
Becky and Knud designed an unreal Asian Banquet. You can See the full menu here. 
Here's just a snippet
Appetizer
Steamed and salted endamame beans
Chicken yuc sung
The mega main

Honey and soy braised beef shin, wok tossed greens, crispy noodles and vanilla capers
Green papaya & noodle salad cashew nut and spring onion
Stir fry Chinese cabbage, chilli and garlic
Slow braised pork belly, kimchi and apple soubise
Mixed mushroom stir fry with bean sprouts and water chestnuts in a ginger and soy sauce
Plain steamed rice
As a finale
Passion fruit, yuzu & ginger deconstructed cheesecake served with almond & coconut macaroon
American Pit Style BBQ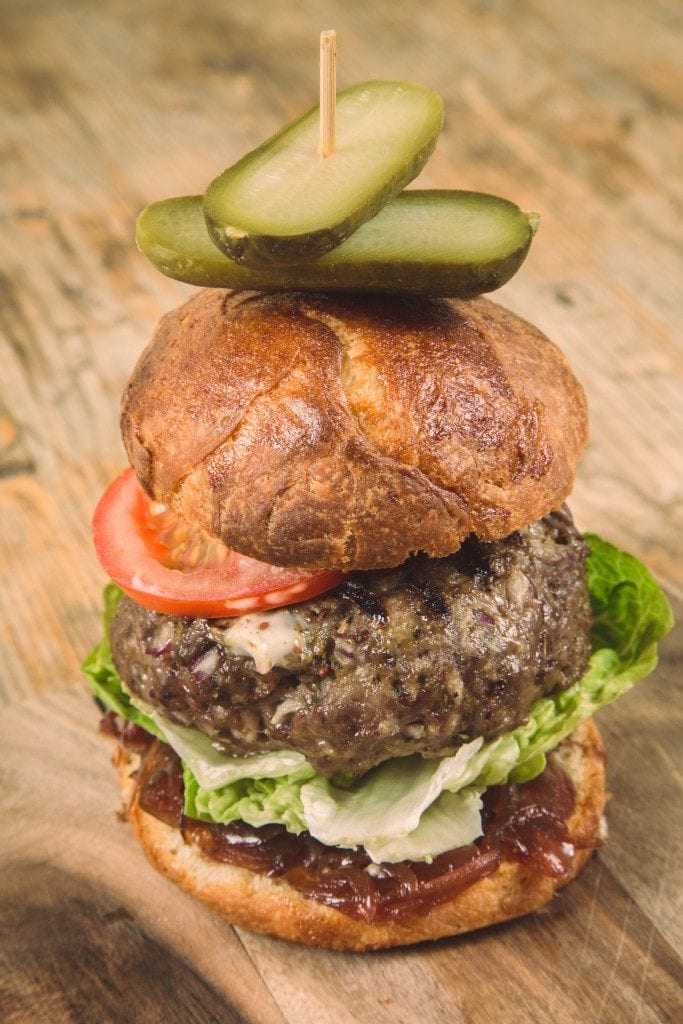 Yee Haw! BBQ menus are literally smoking hot stuff. Perfect for those who like their meals extra meaty but easy to adapt for veggie and vegan guests (think the ultimate beetroot and jalapeno burgers and soy and sesame coated veggie kebabs).  Liz and Si's menu was the American dream. Their own sneaky take on the ultimate burger the big mac with loada BBQ'd meat and all the sides.
BBQ Pulled Pork,
Jerk Chicken Thighs
'Big Mac' inspired burgers-with onions, tomatoes, gherkins, mustard, cheese and a special big mac inspired sauce
Spicy bean burgers (v),
French Fries,
Corn on the Cob, Pickles,
Corn bread and crunchy Slaw
Hungry for a little more? Also see this 4th July  American style BBQ on this video
Middle Eastern Extravaganza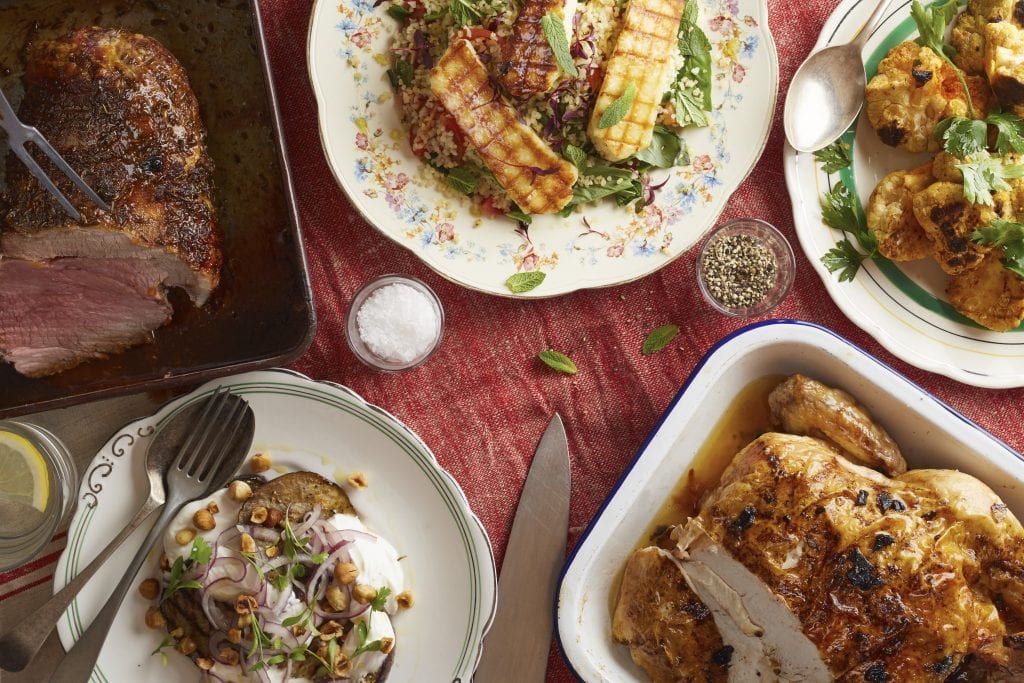 Middle Eastern food is sooo incredible, the colours and flavours make a wedding feast fit for a (Arabian) princess.  Fill your tables with as much variety as possible so that your guests can't wait to dive in. Start with a mezze of flat breads with tons of humous and tasty dips followed by a sharing style main.  Pick your meat – slow roasted Moroccan spiced lamb, zatar chicken or even pork in crackling for a daring twist. Then the snazzy side dishes, almond tabbouleh, Persian rice, Lebanese Kibbeh and the tastiest salads like pomegranate, feta and mint or aubergine, chilli and saffron yogurt. Magical!
Natalie and Joe served up this dream middle eastern inspired menu. See some other gems here
Starter served on table top sharing boards
Baba Ghanoush, Humous,
Flat breads
Minted lamb koftas
Tomato Salad, Rice stuffed peppers
Herb filled Potato Cakes
 The Main Event
Aubergine Parmigiana
Paprika Roast Chicken and Chorizo
Baked Persian Rice
Green Beans & New Potato Salad in a Garlic and Herb Dressing
Tomatoes, Cucumber, Roast Red Onion Yoghurt
Chargrilled Courgette in Mint, Lemon, Olive Oil and crumbled Feta
Lamb's Leaf, Cucumber and Pumpkin Seeds in a French Vinaigrette
Dessert
Lemon Curd, Chantilly Cream, Raspberry Meringue 'Neaton Tidy'
Grazing Tables and Boxes
 
Imagine the gasps as your guests enter the dining room and see this beauty! A table totally covered in the yummiest food ever. All locally sourced, delicious cured meats, cheeses, freshly baked breads, dips, fruits and vegetables plus sweet and savoury delights. A belting banquette that celebrates the very best of British summer. Loving the food but not sure on the set-up? Worry not either go for a mini table top sharing boards or even individual grazing boxes or baskets – a portion all for you, what's not to love?!
Here's one we made earlier:
Grazing Table
Roast Mustard & Herb Beef,
Cured meats
Camembert and sweet chilli crostini
Pickled Vegetables, Olives, Sun blushed Tomatoes
Crudités
Thomas the Caterer homemade Breads
Crisp breads & Grissini
Mixed cheeses, Fresh fruits
Humous. Beetroot puree
Sweet Potato, red onion, feta and pumpkin seed salad, pomegranate molasses
Potato salad with crème fraiche and herbs
Pork Pie
More amazing grazing here!
Wow! Well that was just a glimpst at some of the exciting wedding catering ideas Leicestershire couples have been bringing to their big day. Cracking stuff hey? Want to chat through your ideas and design a unique wedding menu get in touch.
We can't wait to get creative.