Here are some real wedding menus of weddings we have done in the past, we loved doing these weddings as the food truly told the couples story so far.
Please note: We are a bespoke wedding catering company so all menus are written from a blank piece of paper to something that will really wow your guests and have them talking about the food at your wedding for years to come.
Mirlah and Nik
Mirlah and Nik are high school romancers. Together from a very early age, they share a vibrant and colourful history and indeed future which shows off in the style of their wedding – a central American fiesta, inspired by their travels.
They had a vision, they wanted food stands… kind of street food style where people could come up and have a smaller portion of many dishes. Nik is also a mad popcorn fan so we came up with a few flavours placed them all around the venue along with some spiced roasted nuts. All the canapés were served in ball shapes and transformed into brightly coloured Maracas.
The Canapés
The "Maracas" all served on sticks
Chicken & Lemon Confit Bonbons,
Smoked Paprika Mayonnaise
Chorizo & Basil Arancini, Roasted Garlic Mayonnaise Mini Mozzarella Balls, Sweet Chilli & Mint Sauce Salmon & Lime Mousse, Coconut Crumb
The Food Stands
"Antojitos"
Black Bean Chilli, Guacamole, Lime Salsa & Herby Pancakes Pulled Pork Tortillas, Banana & Coriander Salsa, Apple Salsa & Flaming Hot Salsa
Nik's Nacho Hut! Sour Cream, Guacamole, Cheese, Jalepenos, Tomato Salsa
Jerk Chicken & Jambalaya Rice & Creamed Corn
& Red Pepper Relish
El Fin – The Desserts
Served family style
Churros in shot glasses with Chocolate Sauce Margarita Granita
Passion Fruit Cheesecake
we served this on dry ice just because it's fun!
The Evening
The Ultimate Chilli Con Carne served with crusty bread in New York style takeaway containers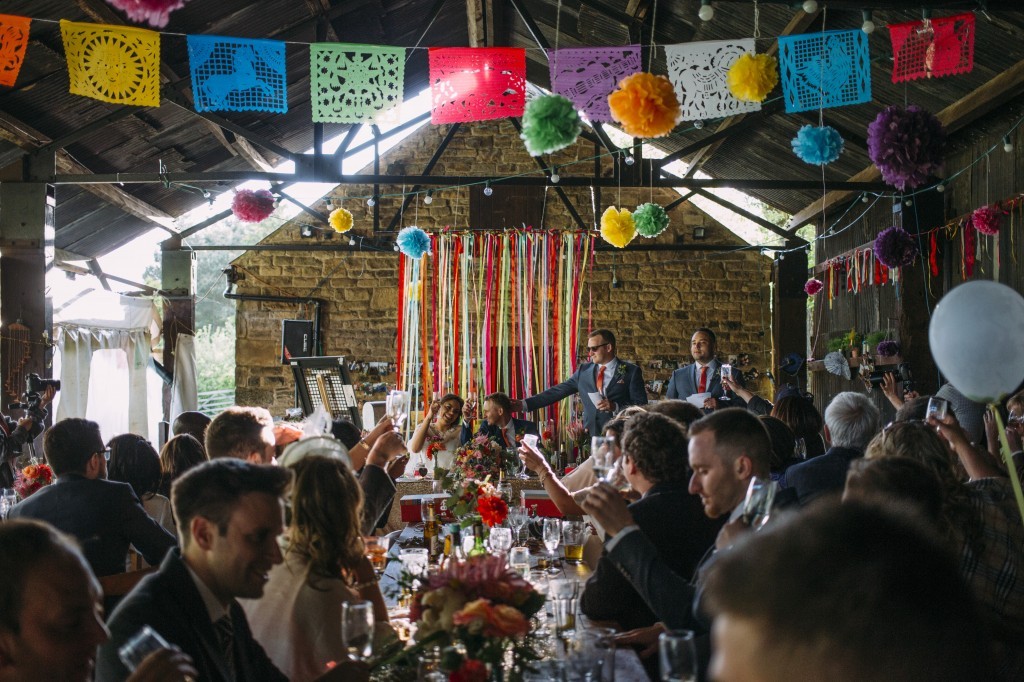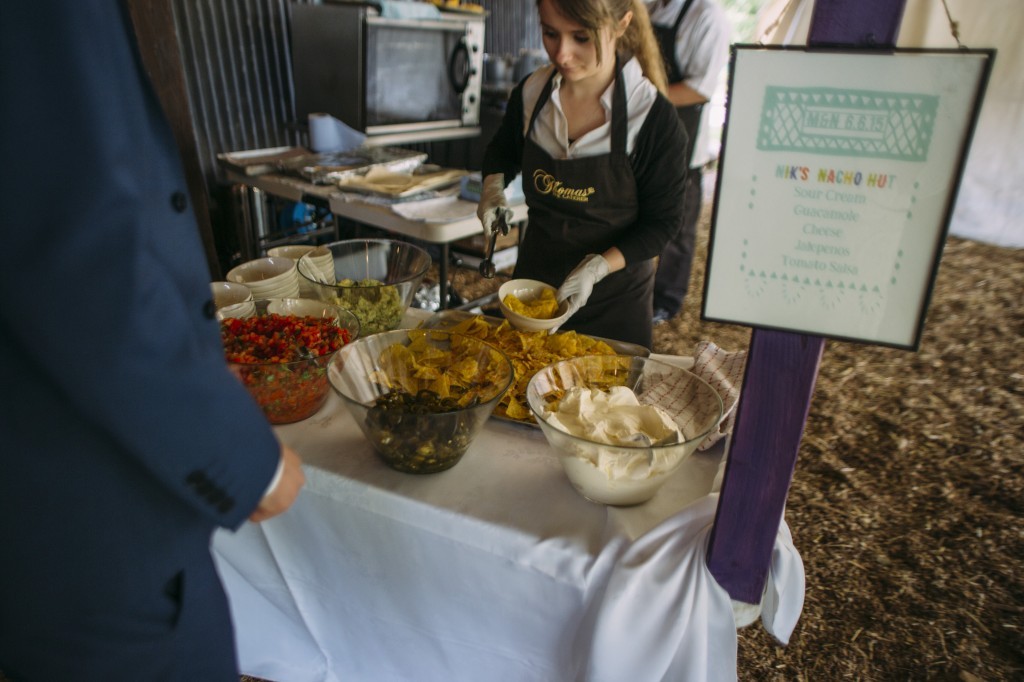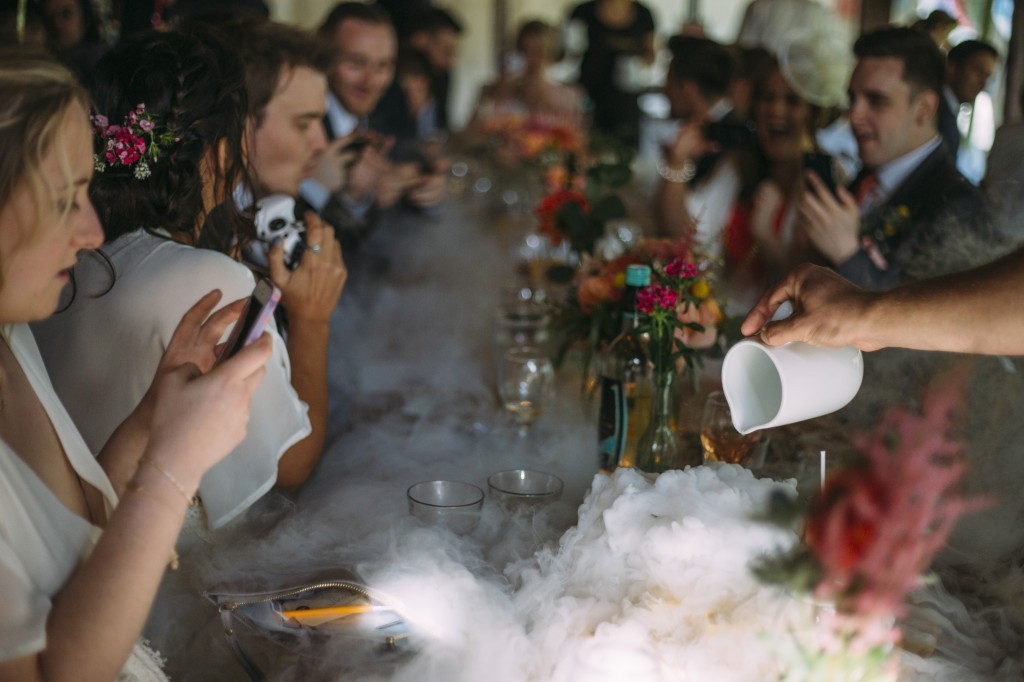 Jade & Dan
This lovely couple had an inspired idea for what they wanted for their wedding and I was totally game!
Afternoon Tea as their Wedding Breakfast served on cute vintage china, with some majorly tasty treats and a Caribbean BBQ to rock the socks off their guests in the evening and show a completely different side to their personalities!
Wedding Breakfast
Afternoon Tea
Cut Sandwiches
Jubilee Chicken
Ham & Apple Chutney
Roast Beef & Horseradish Sauce
Red Leicester & Homemade Fruit Chutney
Light bites
Red Onion & Goats Cheese Tarts Lincolnshire Sausage Roll Quails Egg Scotch Eggs
Dessert
Cakes
Lemon Drizzle Cake
Thomas's Famous Chocolate Brownies Honey & Lavender Madelines
Mini Fruit "vacherin" Meringue Nests Mini Sultana Scones Jam & Chantilly Cream
Tea and coffee served in vintage china
Evening Food
Caribbean BBQ
Jerk Chicken, Creamed Corn,
Spicy Aubergine & Okra Curry, Rice & Peas,
Sweet Potato Crisps, Sweet Potato Mash, Mango & Papaya Salad Flat Breads, Chilli Sauce Bottles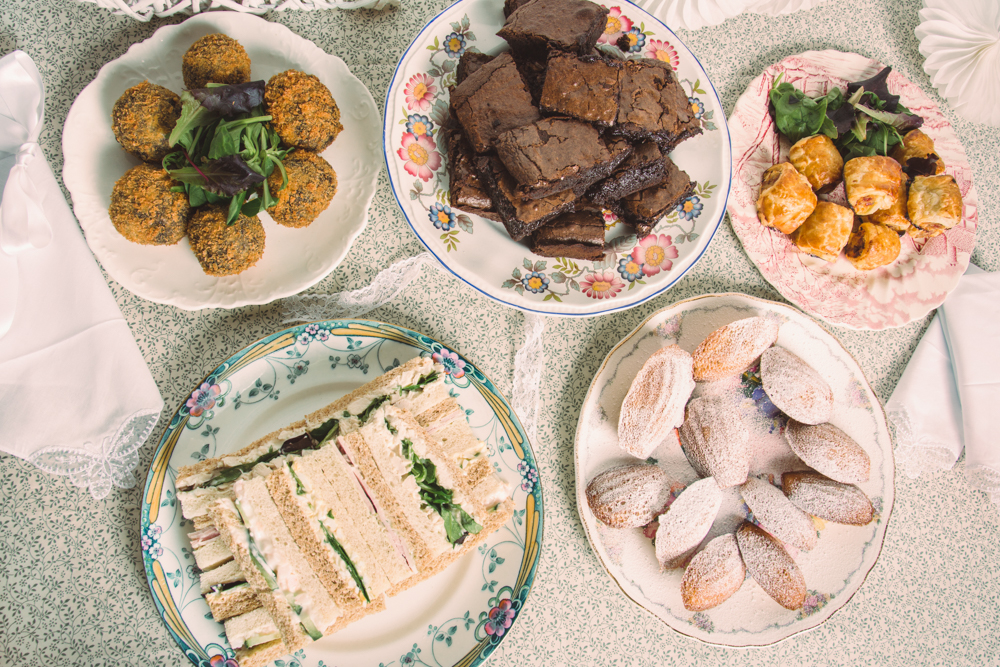 Natasha & Dean
Natasha's father is from Abu Dhabi and Natasha is mad for the Middle Eastern cuisine.I also share her passion for this style of food so making a menu based on her tastes was
no hardship!We kept the canapés quite approachable for their guests with a few of the classics before a Middle Eastern Extravaganza that was truly an attack on the taste buds.
Canapes
Mini Yorkshire Puddings filled with braised Beef
& Horseradish Sauce
Smoked Salmon & Herb Mascarpone Blini
Goats Cheese & Red Onion Crostini
Oven dried Tomatoes & Parmesan Tart Fine Balsamic Vinegar
Main Course
The Middle Eastern Extravaganza! Chicharronse (Lemon & Cumin roasted pieces of Pork Belly) Cumin Roasted Lamb Leg
Chicken Thighs roasted with Saffron Hazelnuts & Honey Courgette & Pine Nut Tortilla
Roasted Aubergine Herb Yoghurt, Pomegranate & Almonds Ratte Potato, Mint & Feta Salad
Autumnal Tabbouleh, with Figs Almonds & Cinnamon Char Grilled Cauliflower, Dill, Cherry Tomatoes & Capers Flat Breads
Filo Cheese & Herb Berek
Dessert
Eton Mess served in jars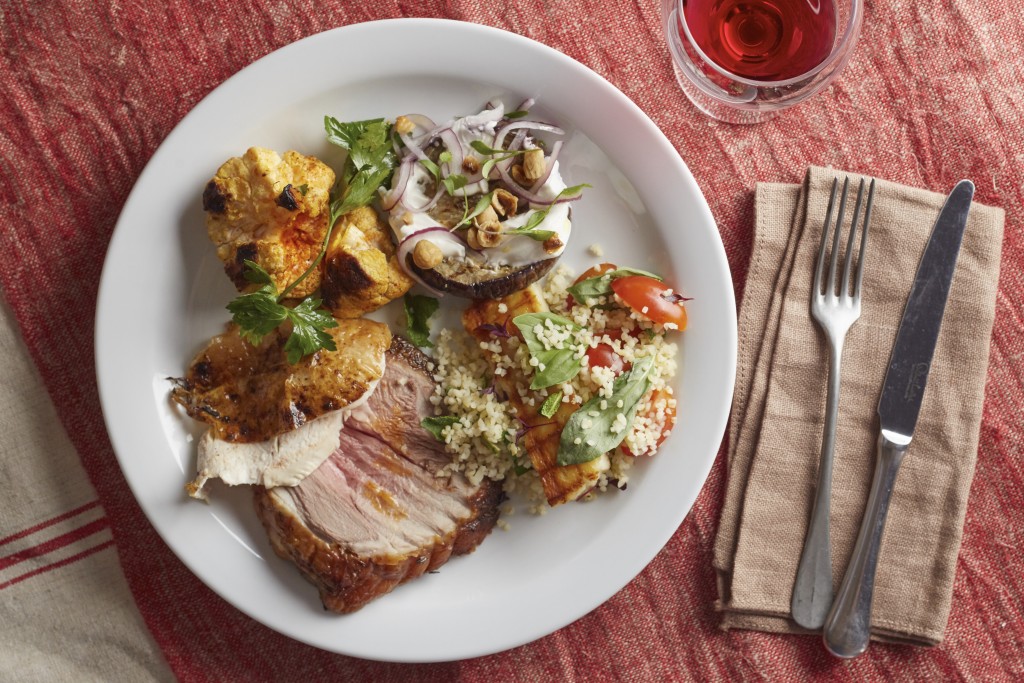 Ellie & Tom
There was soo much thought love and attention that went into Ellie and toms wedding including 1000 hand folded cranes.Their Menu was definitely them too with canapés from their travels their love of a good pie and scotch eggs "agogo" in the evening!
Canapes
Sushi – Salmon and Pickled Ginger
Polish Beetroot Soup
Falafel and Herb Yoghurt Dressing
Vegetarian Gyoza with Sweet Chilli Dipping Sauce
Smoked Lamb Rilletes Blueberry Compote on Sour Dough Toasts
Milk and Cookies for the children
Starter
Served to share amongst your guests.
Chorizo roasted with Potatoes and Broad Beans, Ratatouille Aranchini with Rocket, Garlic Butter King Prawns and Focaccia Toasts.
Main
Individual Pies
Beef, Red Wine and Mushroom and Chicken and Tarragon served with Mash, Veggies including Purple Sprouting Broccoli and Lashings of Gravy.
Desserts
The "Gray" British bake off
Cheese and pork pie cake
Falafel Scotch Egg, Black Pudding Scotch Egg, Pulled Pork Scotch Eggs